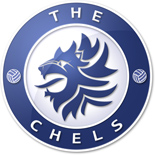 TheChels .net is the blog site of TheChels.org
Here we have news, reviews, features and interviews, as well as opinions from our writers, and you our readers, all centred around Chelsea Football Club.
This website and our collection of related websites; TheChels.info – the biggest Chelsea Wiki on-line, and TheChels.tv – our video site, all launched on the 1st Jan 2010 and were the first stage in the evolution of TheChels.org.
We've since added TheChels.co.uk - our daily stats and facts blog, as well as SEVEN top quality Twitter feeds in TheChelsOrg, ChelseaYouth, ChelseaStats, ChelseaRumours, ChelseaAnalysis, and ChelseaPolls, and of course we also have a Facebook fan page too.
Speaking of Facebook, we also now have our own excellent Chelsea Supporters Social network over at TheChels.me – go and check it out!
TheChels.org -The Chelsea Organisation