This series of articles will hopefully look to address the tactical nuances that will face the Blues before
every game.
What better way to start then to address our biggest rivals for the title: MANCHESTER UNITED (H) 19/12/10.
The biggest tactical dilemma that Carlo will face is simply how to counteract United's expected shape.
United will surely line up very similar to the formation below, with Nani and Park possibly switching flanks to try and contain Malouda/Cole.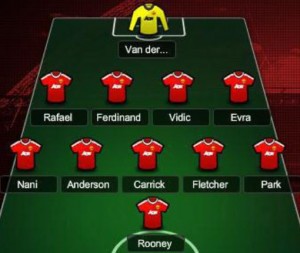 Ferguson has previously attempted to mark our full-backs, and the ensuing wide areas, with a lot of success. However, Nani is reticent to provide cover for his full-back, so I am expecting him line up opposite Paulo Ferreira.
Ferguson will look to stifle our midfield, with the one-man foul machine Darren Fletcher employed in his usual hatchet role. Anderson has shown recent improvement and will like to drive forward with the ball given the opportunity. Park is a willing worker, similar to Dirk Kuyt, who seems to pop up with goals in big games.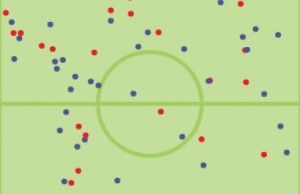 I would expect his first thought to be tracking Malouda or Cole and to stop any progress down our left hand side.
I expect United to look to press the ball and dominate the central area of the pitch.
Looking specifically in the middle third of the park against Arsenal, we can see that they clearly won the majority of challenges in midfield (blue = successful challenge/red = unsuccessful challenges).
United's strength is in their ability to win physical challenges, even under great pressure. Fletcher will therefore be a key ingredient in the outcome of the match.
If we can negate his defensive influence or better yet, if the referee actually books him as soon as he makes a reckless tackle (given his ability to physically push a referee and not get booked I doubt this…) we should remove one of their major strengths. Mikel, Ramires and Essien will need to rediscover their form in the Arsenal game earlier this season for this to occur.
United's defensive record in recent weeks is impressive, but they are leaking goals in a similar fashion and it is in precisely an area we are strongest. Goals against Aston Villa, Blackburn and Arsenal's best chances all came down United's right hand side.
This is surely a reason for Nani to switch flanks with Park, as the prospect of Malouda and Cole attacking down this flank should give us some joy. I think Rafael is potentially a good full-back in the making, but at present he is certainly their weakest player. We must look to exploit him at every opportunity.
KEY ISSUES:
1. MIDFIELD BATTLE – This will be the area where the game is won or lost. United will either succeed to dominate the physical side of the game and subsequently possession or we will compete with them and gain the upper hand.
We were much improved against Tottenham, and we will need the same improvement again if we are to come out on top here. Essien looked better against Tottenham in general and will need to be at his marauding best to tackle the obvious menace of Fletcher.
Mikel needs to rediscover some of that early season form that saw people agreeing, for once, that he was a very good player. His performance against Arsenal was immense and if he can replicate that quality we should not lose the battle in the middle of the park. If Essien and Mikel play well, we will have an excellent chance of victory.
I do not believe Lampard will start, therefore Ramires will once again deputise. He is showing signs of improvement, but United will provide a far more robust test than he has faced so far. If Essien gets the better of Fletcher and Mikel puts Anderson in his pocket, we will have a chance.
2. WIDE AREAS – Our goalscoring threat will certainly come from out wide. Nani will also provide their biggest threat with his direct running style. Having stopped Bale from exerting any real influence at the Lane, Paulo will once again have his hands tied.
Ramires should look to double team Nani when he has the ball. Rafael is their biggest weak link in a very solid back line. We must ensure that Malouda and Cole have every opportunity to run at him. He concedes free-kicks and generally looks uncomfortable against top tier opposition.
I thought Malouda played particularly well at the Lane and looks near his exceptional best. If we can get out wide men into the game we should be able to get at the United back four and cause them problems.
3. TEMPO, MOVEMENT AND SCORING FIRST – We must try and push the tempo of the game and get the first goal. To do this we need to get our movement ahead of the ball back.
Anyone who has been to a game in the past four weeks, and has had the benefit of seeing the entire pitch, will notice that our midfield and front line have barely moved ahead of the ball. If our midfield link with our attack and our movement returns, expect Essien and Mikel to have good games.
What we cannot afford to do is let United dictate the pace of the game, soaking up pressure and then springing on their counter-attack. An early goal would be priceless as it should encourage United onto the front foot.
Drogba needs to escape the attention of Ferdinand and Vidic and try and peel onto Evra as often as possible. Mikel in particular is very adept at chipping the ball into Drogba, so this should work well.
THE TEAM: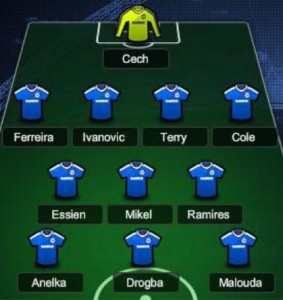 I doubt Lampard is fit enough to start from the beginning and is a perfect impact substitute to bring on if the game isn't going our way. Saying that, if he comes through the practice match he is expected to play in, who could write Lampard off from starting?
Bosingwa is expected to be back by Sunday, but again in the same vain as Lampard, is he ready to start? It will mean that we have three genuine substitutes for the first time in a while: Kalou, Lampard and Bosingwa.
If we use our width and retain possession under pressure in midfield I can see us winning this one by a narrow margin.