A few days ago we ran a survey and asked as many Chelsea supporters as possible to give us their opinions on the proposed buy out of the Chelsea Pitch Owners, and also any possible stadium move.
We were amazed at the response to the survey with over 1000 people filling it in, although some were only partially completed we have included those questions answered in the results, this is why there is a varying number of answers to each question.
What is immediately clear from the results is that supporters in general aren't against the move, with over 50% fine with the move so long as it's well designed and in a suitable location, many also want the club to communicate their plans to us or at least be honest about its intentions with us, which many feel is currently not happening.
The club constantly trots out the reasons it can't stay at Stamford Bridge, such as health and safety issues about exit routes, the railway line and underground lines causing problems and all the other often discussed problems with Stamford Bridge. Most respondents would like to see the club publish evidence of these facts in order to believe them, we simply don't trust their word on the matter.
Many supporters feel we should both have a say in the new stadium and also the running of the club as a whole, and despite the recent subterfuge with the CPO, belief in Roman Abramovich is still strong.  The same cannot be said of CEO Ron Gourlay though, with less than 1/5th of respondents claiming to trust him.
We appreciate this survey is only a cross section of supporters and in no way represents the feelings of every supporter or group.  If you are a supporter group or organisation, or a CPO member, then we will be happy to share the raw data with you (minus names and email addresses) for your own analysis.  Please get in touch if you feel this would be of use to you.
The Burning Question: Chelsea & The CPO: Results;
Question 1. What are your initial thoughts on Romans bid to buy the CPO?

Question 2. Do you believe the club has exhausted all options in terms of increasing capacity at Stamford Bridge?

Question 3. Would you like to see the evidence of this presented by the club to prove their case?

Question 4. Do you believe the club has identified a site, despite denying it?

Question 5. Do you feel the club intends to move further than the three mile radius from Stamford Bridge?
Question 6. How do you feel about Roman having complete ownership, and a unilateral say in the running of the club?

Question 7. Does it worry you what happens in say 50 years time, should Roman not be around any longer, who will own the club?

Question 8. Do you think it is important that supporters have a say in the running of the club?

Question 9. If the club were to move stadium, do you think it is important supporters get to have a say in the location of the new stadium?

Question 10. If the club were to move stadium, do you think it is important supporters get to have a say in the design of the new stadium?

Question 11. Do you understand what the CPO is?

Question 12. If you are aware of the CPO, do you feel that CPO board of directors have failed to discharge their duties to the CPO?

Question 13. Do you feel there needs to be more time for supporters to make such an important decision?

Question 14. Do you trust Roman Abramovich?

Question 15. Do you trust our chairman; Bruce Buck?

Question 16. Do you trust CEO; Ron Gourlay?

Question 17. Do you believe Roman and the board of directors have the clubs best interests at heart?

Question 18. Do you want to move to a new stadium?

Question 19. If there was to be a new stadium, how large should it be?

Question 20. What is an acceptable distance to move Stadium?

Question 21. Which of the following would describe you?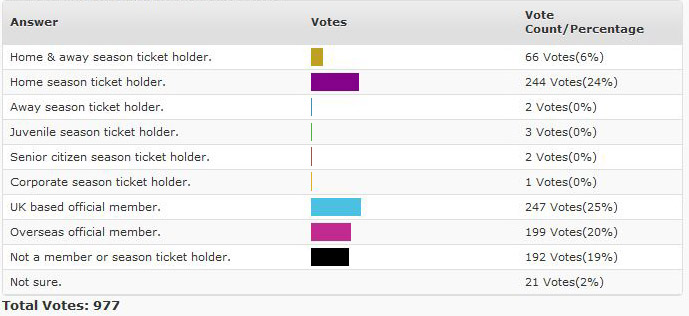 Question 22. How many games do you go to a season?

Question 23. How old are you?

Question 24. How long have you supported Chelsea FC?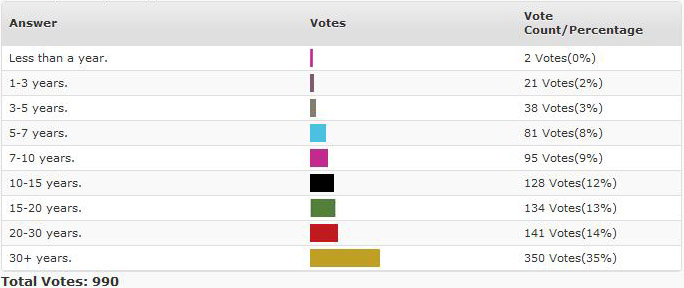 Question 25. If you all had a vote on selling the freehold of Stamford Bridge and the name of Chelsea FC to Roman Abramovich right now, how would you vote?

Our thanks go out to all those who took the time to fill in the survey, as well as those on the various Chelsea sites around the internet who were kind enough to link to it, or otherwise encourage people to complete the survey, it's much appreciated.