For those who have seen the film featuring Ricky Tomlinson as Mike Bassett the England manager, you will remember a quote from the film during a press conference, he states; "This country will be playing Four Four F***ing Two" and leaves.
This got me thinking; should Carlo raise an eyebrow at this quote and get his thinking cap on and the clogs inside turning at a pace?
Does he stick with what he knows and remain sternly focused upon sticking with the system he has used almost every game since his arrival; the 4-3-3, or does he change the system to get our multi million pound striker back amongst the goals?
It also makes me think; would 4-4-2 be a match winner on its own with the players at Carlos disposal? I cannot think of a team in the Premier League in 2011, who play the formation that a magazine was named after. Whereas once upon a time all teams in the league would start with 4-4-2, I doubt any will do so this weekend.
Although some will adapt this formation in principle it still won't be the traditional four defenders, four midfielders and two strikers. Most teams now play with a diamond midfield with one player staying deep, or even two players staying deep if you play for Manchester City.
Others have a flat five across midfield and a lone striker, others have a five man defence and Barcelona have eleven attackers.
To try and combat this and conquer Europe we need to step back in time to 1999 under another Italian coach. Up until recently our best season for a while saw us play a traditional 4-4-2 with no holding midfielder player as such, although one was attack minded and one defence minded they were more often than not in the middle of the pitch together.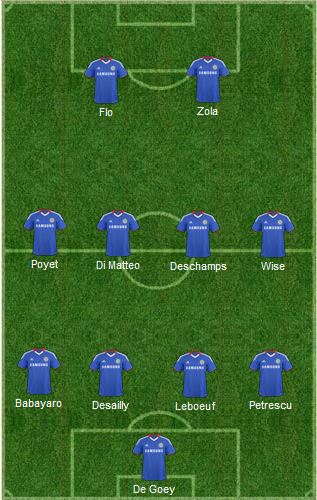 There were no wing backs, although both liked to bomb forward, there were no strikers playing on the left wing and dropping deep, and it was great to watch that team achieve FA Cup success and relative success in Europe, getting to the quarter final stages.
So let's fast forward twelve years and the introduction of more and more complex tactical formations and systems with sweepers, holding midfield players, diamonds, floating roles and more, we seem to have over complicated the beautiful game somewhat.
Under various managers we have used all sorts of weird and wonderful tactics.  Recently we've gone back to beating the opposition with simple football that in principle, and Mike Bassett's opinion, works.
So Carlo both myself and Mike would like to see us continue to use the following formation; 4-4-2!
How ironic would it be for Chelsea to use a formation from a film, who's quote was said by a huge Liverpool supporting Scouser,  and that could see Liverpool old boy Fernando and co to go on and lift European footballs biggest club prize.