Ever since Roman Abramovich bought Chelsea Football Club in June 2003, one rumour has persistently risen and fallen as regularly as the tide; that Chelsea will leave Stamford Bridge.
Many reports have, over the years, linked us with a move just up the road to the Earls Court site.
However a recent story in the Daily Telegraph put those rumours to rest once and for all, stating that the site owners had revealed a plan to build 7,500 new homes as part of the regeneration of the 77-acre plot.
This of course leaves very little room for any stadium on the Earls Court site, not even one as laughable as Loftus Road, and more importantly for us means that Earls Court is no longer a viable facet in this story.
Now, leaving aside all the well documented potential issues with the Chelsea Pitch Owners, what we're going to look at is what's been said, what's happened, is happening, and how the situation has changed in recent months.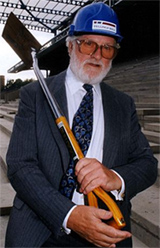 When Ken Bates unveiled his vision for Stamford Bridge it seemed an unrealistic target and one that was a million miles away. Those of us still contributing our hard earned to the blue buckets of the 'Save The Bridge' campaign were simply happy to still have a team and a stadium to call our own.
The modern ground and 42,000 capacity was way beyond what many of us could have ever dreamed of some ten years earlier, and having been almost bankrupted by building the East Stand, many were sceptical.
With all due credit to Bates, not only did he foresee it, his drive, determination and at times his sheer bloody mindedness saw the project through many fights with local councils, planners, residents and more, to deliver on his promise of a top class stadium, with a little help from Matthew Harding, of course.
The difficulty in expanding Stamford Bridge has however, been a thorn in the side for the Abramovich regime ever since the day he bought the club.
With a limited site area, only one exit way from the ground, and due to the ever increasing reach of the health and safety brigade, regulations have put paid to any expansion and has actually decreased the capacity by a few hundred over the years.
With United having a capacity of 76,000 at Old Trafford, and Arsenal now able to seat 60,000 at the Cameldome, Chelsea are lagging behind by over 18,000 on Arsenal, and 34,000 on United.
In financial terms, averaging out at £40 per ticket, Chelsea are earning £720,000 less than Arsenal, and £1,360,000 behind United. Over the course of a season calculating league games alone, this works out to £12,960,000 extra revenue to Arsenal, and £24,480,000 for United.  That's the cost of a new Didier Drogba, every season.
With this in mind, and the fact Chelsea need to generate more funds as part of UEFA's financial fair play initiative, something has got to give. Naming rights are a short term financial shot in the arm, but will only go a very short way in addressing the disparity between the incomes of our club, and those classed as our primary challengers for silverware at the end of the season.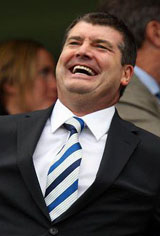 Now this isn't just the opinion of your average two bit blogging hack, even our Chief Exec agrees; "The difficulty the club's got is that we're competing against Manchester United and other clubs who operate from larger stadiums than ourselves" said Ron Gourlay at the tail end of last year.
"There are three revenue channels: broadcasting, where we compare well with our competitors; commercial, which is sponsorship, where if you look at the last figures posted Manchester United were about £66 million, we were £61 million and I think Liverpool were about £54 million."
"The biggest challenge is match-day revenue and we're limited with a capacity of 41,800" noted Gourlay; "It's very important that if there was ever a move for the club, it would have to be in a close location and that's never really opened up. I'd prefer to stay at Stamford Bridge, although we could fill a 55,000 or 60,000-seater stadium on a regular basis."
Now the key point here is that there has never been a viable location for our 'new' stadium. With Earls Court now out of the equation, Imperial Wharf, Chelsea Barracks and also Battersea Power Station all previously considered, but ultimately turned down for various reasons, options for the move were dwindling.
However that all changed, and we have been led to believe that the club are looking at two sites that have recently been earmarked for total redevelopment and regeneration, that could comfortably house a new stadium.
The first is White City (adjacent to the A40) as rumoured by Telegraph recently.  The local regeneration and development plan can be viewed on the Hammersmith & Fulham website.  We've taken a Google Map of the area to show how it compares in size to our current stadium, and that of Wembley too.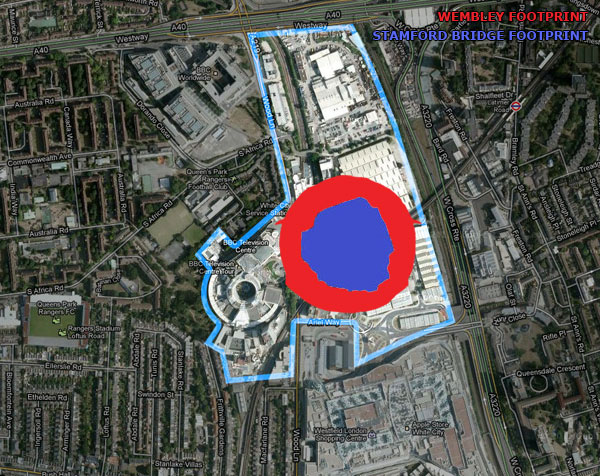 Clearly the site is large enough to house a new stadium, albeit a slightly tight squeeze if the new stadium is to be larger than our current one, and the area benefits from good transport links with White City (central line) & Wood Lane (Metro/circle lines) tube stations nearby, this also neighbours the Westfield Shopping Centre which has itself only recently opened after a massive redevelopment.
The second area, and the one we've heard is the more likely candidate for the new site, is at Old Oak Common, just north of the neighbouring Wormwood Scrubs Park , between Old Oak Common Lane and Scrubs Lane.  The redevelopment plan for this area can also be viewed on the Hammersmith & Fulham website too.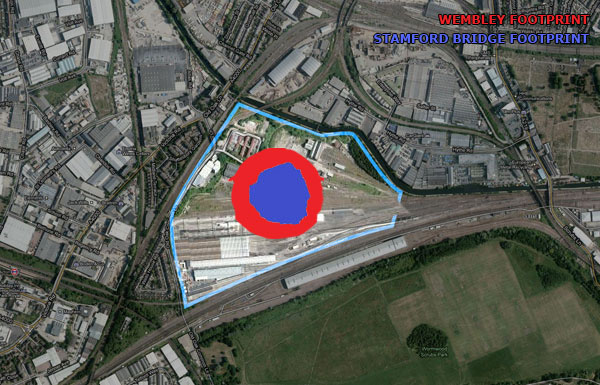 This is close to the existing Linford Christie stadium, also has good transport links surrounding it in Willesden Juntion, North & East Acton stations, and as the area will be undergoing wholesale regeneration, it's expected there may be more stations in the pipeline as the area is surrounded by existing railway track. Crossrail is also likely to place a station there.
Both locations are roughly 4 miles (as the crow flies) from current Stamford Bridge location, yet are closer to Wembley than Stamford Bridge, and not far at all from QPR's ground; Loftus Road, prompting some fears about an eventual ground share should it happen.  The NW10 postcode for the Old Oak Common site could itself be a sticky point for supporters.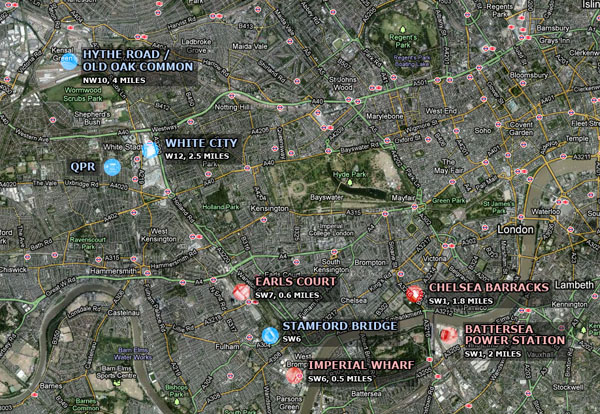 Now with the areas of land being relatively cheap in comparision to Stamford Bridge, and Old Oak Common especially inviting investment rather than being sold as prime real estate, and with the land value in SW6 among the most valuable in UK, the affordability of the project starts to become very viable.
There is a very real possibility that the sale of land in SW6 could itself generate the funds required to not only buy the land in new location, but also got a long way in funding the build of the new stadium too.  From a financial perspective, and remember that is Gourlay's prime outlook, a new stadium looks not only possible, but cost effective.
Even if the net outlay is something approaching £200million once the sale of Stamford Bridge is completed and the new stadium built, then this cost could feasibly be recouped within only eight years, and as UEFA allows spending on stadium development and it doesn't count against a club in their new financial rules, there aren't many barriers in the way of this project.
The whispers we have also heard about the move is that the club have commissioned Lord Norman Foster of Fosters & Partners to design the new stadium, his experience includes Wembley, and he is also down to redesign Barcelona's Camp Nou, as well as building the flagship stadium for Qatar 2022.
We've heard that the club will look to announce this news once the season has ended.  If this is to happen, what's vitally important is that the supporters are consulted and we get to have a sufficient input in the design of the new stadium.
Roman and the board need to understand that leaving Stamford Bridge is a highly sensitive issue for many supporters, we don't want an identikit stadium to those at Wembley and Emirates, soulless arenas where people spectate rather take part in the match and its atmosphere.
If we are to move, it MUST be to a stadium that meets not only ambitions of Roman and the board of directors, but also that supporters will be happy to call their home for the next 100 years.