Bolton's signing of Wheater may mean that the former Middlesbrough player will start on Monday ahead of Knight, but the absence of Davis in midfield should see a start for Tamir Cohen in a central midfield berth.
I would expect Cahill, Robinson and Ricketts to all start the game in the back four. Davies is a certainty to start up front and Elmander will perform two functions as a strike partner and as an extra midfielder when Chelsea has the ball.
Jaaskelainen remains one of the sharpest goalkeepers in the League, who surprisingly has not moved on to a top four club in his time. The time to move has arguably passed him, but he still remains one of the finest goalkeepers operating at the moment. With nearly 500 appearances for Bolton he remains an experienced and agile rear guard.
Predicted Team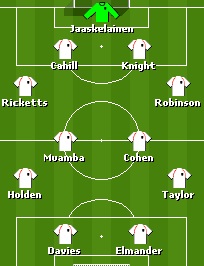 Cahill is presently the flavour of the month insofar as centre-backs go, someone presently heavily linked with Arsenal. For me there is still rawness about his game that sometimes manifests itself in poor decision making, but overall he is a solid player with international aspirations.
Zat Knight is going through a renaissance at Bolton this season and was recently quoted as saying this was the best football of his career. A clear threat from set-pieces, his hulking presence and physical prowess make him a very tough opponent. Robinson is a tough tackling and robust sort of defender, limited going forward but very resolute defensively. He lacks pace and can be exposed by a tricky opposite number, arguably the weak link in a back four imbued with power.
I expect Muamba to anchor the midfield to allow the likes of Holden and Taylor to provide support to the front line. Muamba possesses decent athleticism acting as a shield to the back four, but most importantly he adds a ball winning element to the Bolton team. I am presuming Cohen is going to operate in Davis' absence, with Taylor and Holden operating from wider areas. Taylor is a known threat from set-pieces and his end product is usually very good. Holden is a player in the Albrighton category for me, potentially very good with a nice technical side to his game.
The lynch pin in the Bolton side remains the inimitable presence of Kevin Davies. Possibly the most physical forward in the Premier League who poses a real threat to any side he plays against. Probably one of the more difficult players to play against, simply due to the fact you essentially are conceding maybe 60-70% of balls knocked into him.
With doubts over Terry's fitness, the prospect of lining up with Bruma and Ivanovic is quite worrying. Heskey peeled onto Bruma earlier this season and caused him a lot of issues in the air. Bolton are far better at getting players in and around the second ball, so we must hope that Terry is there to partner Ivanovic to negate the obvious problems that await.
Elmander is something of an enigma, capable of the sublime but also guilty of some of the ridiculous. Possessing the ability to twist his way through a defence and score a wonderful virtuoso goal and the next minute losing the ability to control the ball. He is a physical threat and when playing well is a more than capable player.
Bolton look to play at a quick tempo and waste little time in looking to move the ball forward from front to back. This does not necessarily mean they are a "long ball team", but clearly as shown by their incomplete passes against Stoke (below), there is an urgency to move the ball long distances quickly.
The majority of these failed passes are fairly lengthy attempts to move the ball down the park. With Elmander and Davies up top, the amount of crosses is also something to note. Terry, if fit, and Ivanovic will need to be at their very best to combat the two forwards they are likely to be facing. Bolton tend to look to play wide where possible and Taylor will pose a serious problem to Bosingwa. Jose will need to start closing his man down, rather than allowing an easy cross if we are to limit Taylor's impact on the game.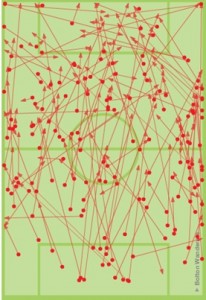 Bolton is a team that work hard to maintain discipline in front of their own back four. Even in their loss to Stoke they proved very resolute in the area just in front of their final third. Our lack of creativity will pose a problem if, as in recent weeks, our midfield and attack look entirely disjointed. There is almost a perfect line across their final third where Bolton consistently wins the ball back (below), something Muamba and company are adept at.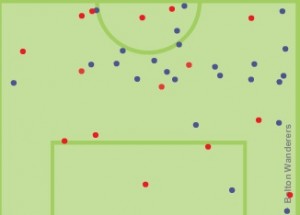 Coyle's side will maintain discipline throughout and I would not expect them to abandon their tactical rigidity simply because they are playing at home. It is paramount that we score early. Absolutely paramount. Bolton will look to win the ball in this area and play quickly on the counter-attack, as evidenced by the direct passes correlating with the above and below chalkboards. While many Chelsea fans bemoan the fact we operate with a defined holding player, this will be a game where his presence is a necessity to prevent a quick break and pick up on the second ball that is likely to occur around Davies.
KEY ISSUES
1. Momentum – We need a win. It is as simple as that really. We need to build on some of the encouraging signs we saw in flashes during the Blackburn game. We need to find a way to spark ourselves from the opening of the game. Too often we lack tempo, incisiveness or just a general bloody mindedness in what we are doing. The ponderous build up is crying out for a leader, someone with invention and with recently injured and out of form players assuming the role little is happening. The foundation of our title win was rooted in an excellent back four and clean sheets. After shutting Blackburn out it is imperative we keep a clean sheet against Bolton.
2. Creativity – Where is it? On the bench? Playing for the reserves? In the youth team? What is patently obvious is that the players out of form have not become bad players overnight. What remains a conundrum is what do we do to change the current situation? Continually playing the likes of Anelka, Drogba and Malouda is not helping them rediscover their fluid form. Lampard, if fit, is still games away from making the same sort of impact he has done in recent seasons. All this aside, we are still creating solid chances during games but are lacking the confidence to convert them. Two instances against Blackburn highlighted the difference in Drogba from this season and last. In players like Kakuta, McEachran, Sturridge and even the pace of Lalkovic we have hungry kids who want to prove that they are first team calibre. Sturridge in particular should be commanding a start.
3. Pressure the Ball – I think much of the reason we have looked so lackadaisical in possession is our inability to really apply consistent pressure to the ball. It is something that Ramires is doing particularly well of late: not only winning the ball but picking up the scraps as well. When we actually harry opposition and look to make them play at our pace, they cannot live with us. In fact, this probably relates to the age old theory of "playing your own game". How many times in this patch of form have we simply waited to react? The only problem is that the reaction was never forthcoming. What we need is more leadership from the middle of the park, the old Michael Essien to return. Having Ivanovic and Terry play out of their skins is meaningless if the commitment is not filtering through to the midfield. Even when Essien was having a particularly bad game, you could still count on him to physically dominate the midfield area. That ubiquity has deserted his game post-injury. We need it back. Now.
My Team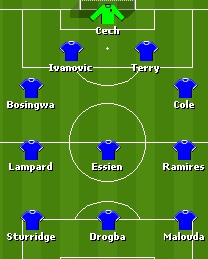 I believe Anelka will start over Sturridge and Mikel will fill in for Lampard if he is not passed fit for the game.
I would personally play Sturridge as I think his pace and directness is something we are lacking at the moment. He would more than likely garner a lot of attention from Robinson, drawing a booking from the full back. It really is now or never for Sturridge in my eyes. The front line is misfiring and needs a catalyst: Kalou is not the answer, I would argue Sturridge is at least worth a try.
The Harding Question
Via @_scanz on Twitter: With Essien being out of form and Ramires and McEachran constantly improving, would you consider dropping Essien?
This is one of those questions that have been mooted around the ground for the past few weeks. Just what has happened to Michael Essien? When you think of Essien you think of that strike against Arsenal, that volley against Barcelona, putting Steven Gerrard in his pocket at Anfield and generally being the best box-to-box midfielder in the world. So what has happened to him? Most alarming for me is that post-injury he has seemingly lost the ability to pass the ball, long or short. I cannot remember watching Essien give the ball away as often as he has in the past few weeks.
Would I drop him though? It would take a very brave man to consider dropping Essien now that he is actually fit. We spent so long bemoaning his absence that I think it would be a bit rich to drop him now he isn't firing on all cylinders. If there is one player we need to rediscover form, it is Essien. McEachran and Ramires have both shown themselves to be consistently up to the demands of first team football; Ramires in particular has been impressive the past few weeks. Now Mikel is fit there is the option to drop Essien, but the injury problems of Frank Lampard may mean that isn't a likely scenario.
For any future Harding Questions please email tweedy [at] thechels [dot] org.