This game, without question, is pivotal for both sides. For United it gives them a chance to hammer home their title credentials; for Chelsea it is a chance to not only creep back into the top four but signal their intent for the remainder of an underwhelming season.
With Chelsea's switch to a flat 442 last week, Ferguson will have a few more questions to answer before he sets his team up. United adopt a customary 451 in bigger games, but given our recent form will they be slightly more adventurous?
United will line up very similar to the above, fitness permitting, Nani and Giggs providing width with Rooney playing the lone man up top. Ferguson has previously attempted to mark the wide channels with a lot of success.
Nani is less inclined to play both ways but will be their main outlet going forward. Ferguson will look to stifle our midfield, with Fletcher and Carrick acting as a combative screen and the gambit of their attacks.
Expected side: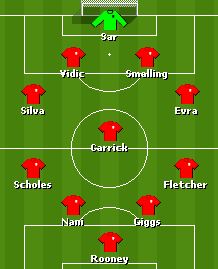 United will look to press the ball and exert their influence the central area of the pitch. Looking specifically in the middle third of the park against Wigan, we can see that Carrick's return to form and range of passing allowed United to play the game at their pace. Carrick will focus on retaining possession first and foremost but he will spread the play if it is on.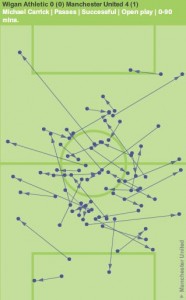 Where we may have joy is if we encourage a role reversal with Scholes and Fletcher. Scholes is an excellent passer of the ball, but when forced long from deep he tended to find his target a lot less. Likewise, encouraging Fletcher to come forward and look for the intricate pass could well work in our favour. Forcing Fletcher out wide or tight centrally should severely limit United's play going forward.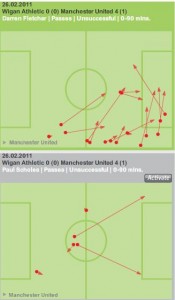 Someone in our midfield needs to step up and match the work rate and industry of Fletcher: I personally think he is quite limited, but he is an effective player. If we can negate his defensive influence or better yet, if the referee actually books him as soon as he makes a reckless tackle (given his ability to physically push a referee and not get booked I doubt this…) we should remove one of their major strengths.
Lampard, Ramires and Essien will need to play intelligently when defending. When we played in a flat four we afforded too much space "in the hole". Someone needs to take the responsibility to drop without the ball, almost to a compact diamond, to counteract United's movement.
KEY ISSUES
1. MIDFIELD BATTLE – This will be the area where the game is won or lost. United will either succeed to dominate the physical side of the game and subsequently possession or we will compete with them and gain the upper hand. We were much improved against Copenhagen, and we will need the same improvement again if we are to come out on top here. I doubt we will use a flat midfield four, as I assume United will play 3 centrally; giving United a man advantage could be dangerous using the Liverpool game as a precedent.
Essien looked better against Copenhagen in general and will need to be at his marauding best to tackle the obvious menace of Fletcher. He is a long way off his best form, but if he is effective defensively it will be a great help. Ramires is proving game by game what a shrewd signing he has been.
In a Chelsea team playing well he could be exceptional. I think he needs to shadow Nani, use his pace and acceleration to at least make Nani check when he has the ball. Lampard's contribution against Copenhagen showed that there is life in the old dog yet. A sublime pass to Anelka set up our second goal and a more fluid display shows encouragement.
If we can break up United's flow on the counter-attack we will go a long way to halting them in their tracks. I would like to see us pressure the ball, particularly when Fletcher is in possession and attempt to stop Scholes/Carrick passing the ball.
2. WIDE AREAS – We must look to try and play with width if we are to create anything against a stubborn United side. Nani is arguably the player of the season thus far, but Ashley Cole will provide a far sterner test than he regularly faces. Let's hope Ashley hits the target in this duel.
The central areas are likely to be very compact and I doubt we have the guile to penetrate what is a very resolute screen. Full backs could very well provide the answer to who wins this game. In Evra and Rafael United possess two very forward thinking full-backs: Cole and Ivanovic must pose them more problems then they need to deal with. Which full-back is seen furthest forward with the most regularity could be the clearest indicator of how the game is panning out.
3. SCORING FIRST – We must try and push the tempo of the game and get the first goal. To do this we need to get our movement ahead of the ball back. Fulham in particular highlighted the utter lack of movement ahead of the ball that we suffer from. No amount of incisive passing could improve the movement ahead of the back four.
Hopefully Luiz and Terry could provide a unique answer: JT in recent weeks has surged from the back and Luiz looks like he could potentially beat an entire side. The United counter remains devastating and we must guard against the potential threat of them turning defence into attack quickly.
An early goal would be priceless as it should encourage United onto the front foot. Smalling and Vidic, as good as they have been (particularly the latter), are susceptible to a well-timed run down the side of their respective channel. This is why Torres must start.
THE TEAM: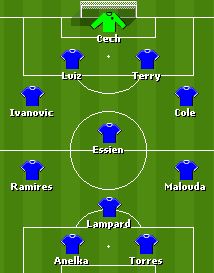 Torres and Anelka showed signs of an understanding developing in Copenhagen and I think Drogba may be consigned to a bench role. However, do not be surprised if he does start the game. I think Anelka and Torres may prove problems, stylistically, for Vidic in particular. Vidic notably copes well with the physical threat of Drogba, so facing two trickier players whose movement looks to be gelling should test him.
I think we will line up in some 442 variation, but I stress that playing a flat midfield four against a potential midfield five will be troubling on present form. Rooney's tendency to drop deep will mean that one of Lampard, Ramires or Essien will need to be alert to the giant hole that was present against Copenhagen.
Ultimately I think this will be a tight game that will be won by a very tight margin. The team who scores first will more than likely win the game and chances should be quite rare. I expect the game to be concentrated within the midfield area, so we must be individually better than them.
I am interested to see how Luiz copes with Rooney and in particular to see his use of the ball in a tight game. He has impressed greatly in his few minutes on the pitch, but this will be a test from all areas on the park. His all around play looked quality on his full debut, the big test comes on Tuesday.