A little departure from the normal Harding Perspective today, taking a firm look at what went wrong in the first leg and how we can rectify these issues for the return leg on Tuesday.
Firstly, we should not kid ourselves at the difficulty of the job at hand. Given the level of the performance required against United on Tuesday, the warm-up against Wigan hardly served as perfect preparation.
An outing more akin to a pre-season friendly in terms of tempo, drive and urgency was certainly not what was needed. United on the other hand played as well as they have done in recent memory at Stamford Bridge, cantering to a victory over Fulham where they rested several key players.
The stonewall penalty aside, the difference in the game was purely that United took their chance. We were poor, but could easily have scored with the few chances we created. Our finishing for large parts of this season has been criminal; we presently lack creativity, so any chance we do create needs to be finished. An over reliance on Drogba and Lampard to score/create has been found out recently. Uncharacteristic misses by Lampard (though credit for the clearance off the line) and Drogba have left a void that no one in the present side seems capable of filling.
There has been much talk about Fernando Torres recently as the goal drought continues, with Patrick Barclay going as far as saying it was "the worst signing, by a long, long way, in the history of football." While Patrick is entitled to his opinion, the anti-Chelsea bile that imbues almost every article he writes is bordering the absurd now. If you happen to read this, do try a little harder to hide your obvious disdain for everything Royal Blue.
Being completely blunt Torres has disappointed since his move in January, but I for one am not totally surprised. Paying £50m one could rightfully expect an instant impact, goals galore, steering Chelsea to a Champions League final and back into the title race. As things have transpired that has not been the case with pundits and journalists alike loving every second he does not score. I should remind Chelsea fans and the media alike that he is on a 5½ year contract. He needs a summer off from football and a rigorous pre-season, but also Chelsea need a complete rethink of how they play. Benayoun played for a matter of minutes yesterday, but spotted two passes that Torres latched onto and was unlucky to score. I will leave it there.
The Blueprint…
The Shape: Attack with Caution
The overriding mentality of many Chelsea fans heading into this game will simply be "just win the game" and seemingly that is at an all costs mentality. Without question we need to attack and score early, but we must play with some defensive shape or United could win this at a canter. I am opting for a 433 formation with one player holding, probably Mikel or Ramires, but I will be very surprised if Ancelotti does not start with Essien.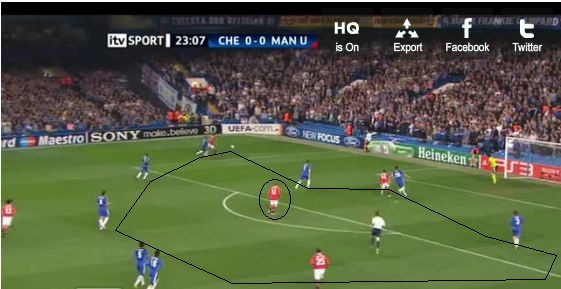 Taking the horrific defending of Bosingwa out of the equation, this was symptomatic of exactly how United managed to get so much joy against us playing 442. In the above you will see Essien and Lampard, the two central players in our shape, between 10-20 yards away from the player in the hole (Rooney, circled). The consistent problem, defensively, with our 442 is that neither Essien nor Lampard are naturally patrolling the space in front of our back four.
When this happens around the penalty area, inevitably a shot on target is produced. It often happens higher up the pitch, where Rooney (or whoever is in the hole), but the amount of space they consistently found all night was telling. Allowing a player of Rooney's calibre the amount of space (below) is utterly astonishing. Playing an actual holding player will completely nullify this advantage they have had in the past two games. Even though we beat United, think of the space Rooney found himself in for his goal.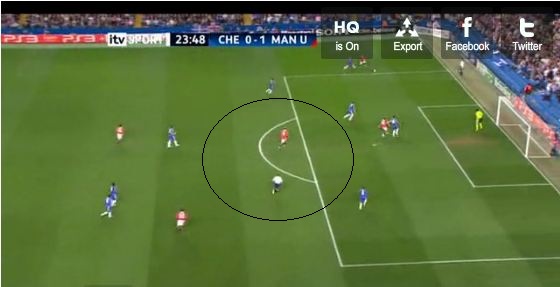 The lack of a ball winning midfielder at the base of our midfield presented United with ample opportunities to win every second ball in dangerous areas. This passage of play led to United scoring from an offside position.
John Terry wins the header, naturally, but with no holding player and Ivanovic sweeping the ball drops straight into an area that Rooney once again picks up on. The DM, above, would have been in and around this area as opposed to on the periphery as Ramires/Essien are in this clip.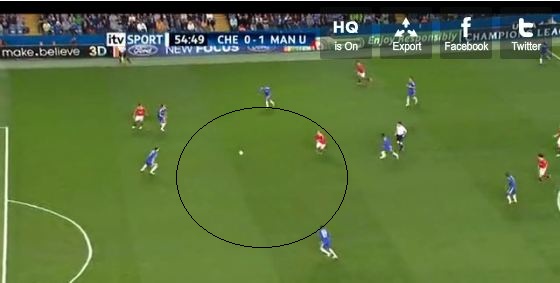 If we have a holding midfielder anywhere in that circle, which there would be if we deployed one in a 433, Rooney does not get on the ball and the chance does not manifest itself. The fact remains that when playing a 442 in the fashion we do, the centre-back pairing are left exposed to a dangerous player operating in the hole. Rooney is finding form and has/can/will cause us headaches if we do not deploy someone to counteract him when United have the ball.
One of our biggest problems in this 442 is a complete lack of natural width in the side. The below clips shows one of the few times we manage to slip Lampard in between the lines, he needs to take one touch and deliver it to the space highlighted, but Ramires and Ivanovic both have natural central tendencies.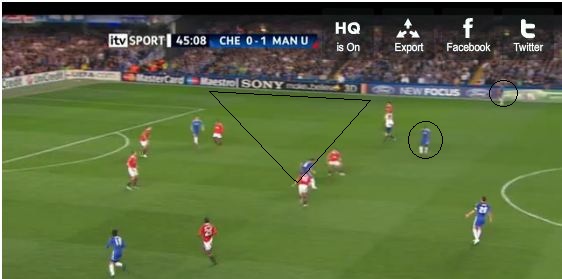 We had success in the few instances that we actually pressed the ball as a team, particularly high up the pitch. Allowing players like Giggs, Scholes and Carrick infinite time on the ball is only going to lead to United retaining and maintaining possession. We cannot let them set the tempo and dictate the flow of the game. The Cole example below led to an opportunity for Drogba.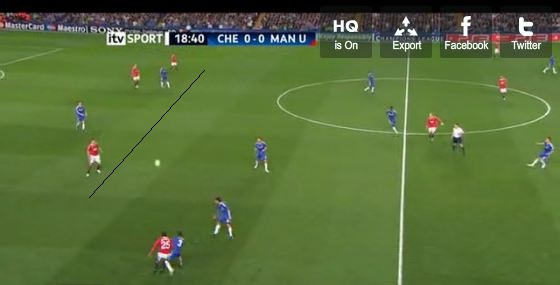 Cole wins the ball high and where United would normally have 2/3 players around the line, only Carrick is present. Our ponderous build up play allows United to set their stall out rigidly in front of the back four, so mixing our pressing up and trying to win the ball high means we have a chance to attack United when they are unorganised.
If we can turn defence into attack quickly, we can actually get at the United back four as illustrated below: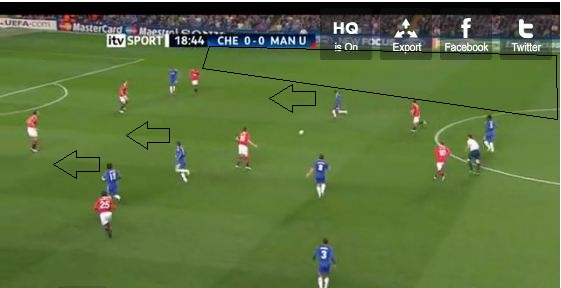 The chasm of space on the right hand side is something that comes from United's style of defending particularly narrow. We need to play with wingers or someone who will actually stick wide to fully exploit United. The above passage of play led to the Drogba shot, as he ghosted past Evra in the wide channel.
What we need to do, most importantly, is to actually commit bodies forward. Even when Drogba shot, there were very few Chelsea players in advanced positions.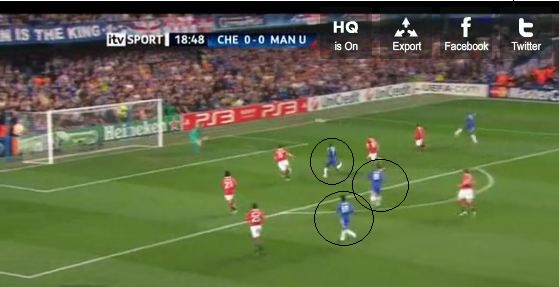 The Team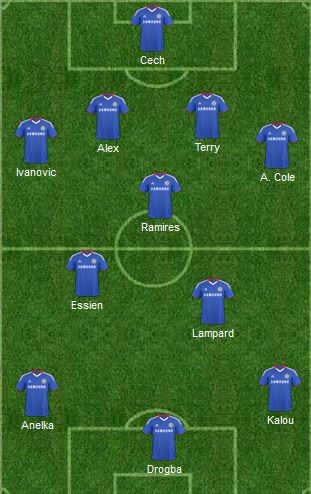 I personally think we need to play 433 and unless Benayoun starts, Drogba needs to play. Kalou must start over Malouda and Anelka needs to rediscover some semblance of form or our right hand side will continue to look imbalanced. I cannot see Essien not starting, even though form suggests otherwise and genuinely would like to see Ramires hold and Essien bomb on. Essien's distribution from the base of midfield has been lacklustre; Ramires' industry and footwork will mean he's far harder to pick up and could be the gambit for our attack.
It goes without saying that this will be a huge game for Anelka/Drogba. If they perform for more than 10-15 minutes, we have a shot. Wigan was not a decent omen, but it would be very Chelsea to play so poorly and then go put in a tie winning performance. Somehow, someway, we need to inject some sort of urgency into our performance. Tempo is a guy word bandied about in football, but in our last two performances it has been sorely missed.
If we score early, who knows what will happen, but United are expert in crafting results out that they need. If we get a result it will be a momentous achievement, given our form going into the game. Genuinely think it will be a struggle, but one that we can win if we address the obvious problems of playing a 442 against United.
Prediction? Depends on which Chelsea turn up. If we play as we have done, we are as good as out.