There are many for whom the close season is an intolerable burden. I try and fill it as much as I can with family visits, spending time in the gym and culture. Then there is the matter of an attempt to get away. I find June a better time as the weather in Continental Europe should be good (in theory) and it's a bit cheaper compared with July and August due to the mayhem of the school holidays.
When I returned from Sorrento last June – a week where the beauty of the Neapolitan Riviera combined with the awesome ruins of Pompeii and the fulfilment of a lifetime ambition to climb Mount Vesuvius – I was so desolate that I almost instantly arranged this year's holiday. Italy again, but the Veneto, where I hoped a sandy beach in Jesolo – home of Mario Balotelli – would tempt me into doing less running around than my normal holiday mode.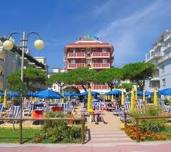 Back to that week last year – I saw the future of television in Britain and it wasn't a pretty sight. My trip coincided with the World Cup and I expected to find it wall-to-wall on RAI, the national broadcaster. Imagine my surprise to find that they were limited to one match a day. Everything else was on Sky. And their "green button" interactive service provided constant highlights and analysis, including the bizarre Italia 24 option, which did pretty much as it said on the tin. Constant and utter devotion to the Azzurri, 24 hours a day. Then there was the matter of Wimbledon, also on two Sky channels, with an interactive service showing other games.
My stay coincided with the now legendary Mahut/Isner game. I'd be getting ready for dinner, and it was on. I'd come back, several hours later, and they'd still be banging away. Back from a trip into town next day, there they were hogging the screen. Shame one of them had to lose, really. Anyway, the moral is that if government of all persuasions don't retain the Protected Rights list, give it another 10 years and everything will be PPV. Here endeth the lesson.
I had a pretty rotten winter on the health front, getting an early bout of flu in November that wiped me out at the time of our away defeat at Birmingham and costing me a post-match evening out with the family. It returned with a vengeance on Christmas Eve, leaving me prostrate over the holidays, and it was probably not much before the trip to Copenhagen (subject of a Travels with the Chels next season) that I was really better. So I was looking forward to getting away to a hot sun, a sandy beach, a blue sky and crystal waters, with the possibility of a day trip to Venice and who knew where else.
Bizarrely the weather here at the time of my holiday last year was hotter than it was on the Neapolitan Riviera, and I viewed the weather forecast for the Veneto with some concern, forecasting as it did some hot days, then vicious thunderstorms. However, I arrived at Marco Polo from where it only took an hour to reach Jesolo by coach. By 2pm I was on the beach, which rather overcast at first, but by 3.30, the sun was out, blazing away.
I was lucky enough to be staying in a really good hotel, renowned for its cuisine, and dinner that night was a taste of things to come. Four courses, every night. A huge antipasti buffet offering fresh salads (although I was a little wary in the light of the e-coli scare sweeping Europe that week), savoury tarts, dressings, bread. Followed by a choice of two pastas, a rice dish and a soup. Then a main course, choice of a meat dish, a fish, a vegetarian option or a cold plate. Then there was the matter of the pudding. Another buffet. Can you believe it? A PUDDING BUFFET!!!! Choice of three cakes, three mousses, three ice creams, fruits, and then a multitude of tiny, perfect cocktail deserts in shot glasses – pannacotta, chocolate mouse, crème caramel. Help yourself to as much as you want.
I took a tiny helping of ice cream, a little fruit salad and a tiny pannacotta. Wine cheap compared to other hotels. Prosecco in the bar after for €2. Happy days. And the first couple of days were. The weather was hot and sunny as promised, and I spent Saturday on the beach. Got a bit singed, as no matter how much I slap on the Factor 30, I always contrive to miss a bit of skin and this time my right hip took the brunt of the sun moving away to the West in the afternoon. By Saturday evening I looked like Lydia Carter in Angela Thirkell's "Summer Half" – a hideous but healthy sight.
Even though I was on holiday, I still like to go to Mass, and the nearest church, Sacro Cuore di Gesu (Sacred Heart of Jesus; ironically the name of my home parish in Birmingham) was a 10 minute stroll from the hotel.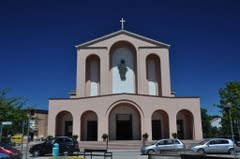 The word "catholic" means "universal" – this is a good thing as it means wherever you go, you'll have a pretty good idea of what's going on. And if you speak a few words of the language, you can join in. Sacro Cuore were considerate enough to provide hymn books as well as a text of the Mass which meant if I could wing the tunes (I've got perfect pitch, which helps, although anyone who's ever sat next to me during a game would probably dispute that), I'd be almost able to pass myself off as a local. It was a lovely service, but a bizarrely the tune of the Communion hymn, "Il pane come Signore" (like the Bread the Lord) was "Whilst Shepherds Watched Their Flocks By Night". And it was about 80°F outside.
I spent the rest of the day on the beach , stuffed myself again at dinner, and afterwards took a little stroll through the town. The local newspapers boards declaimed "Balotelli fistichetta in Jesolo". Poor boy, he does seem to attract trouble.
Although I'd woken up with a sore throat on Sunday, for which I blamed the flight and the heat, I had decided to go to Venice for the day on Monday. I'd worked out the route so I could go on my own rather than the Shylock terms of the holiday package excursion (£40). Travel costs for my trip would cost about £20. Having been to Venice before, I didn't need a guide. I set off in hot, humid, conditions and took a number 5 bus to Punta Sabbioni to meet the No. 15 ferry to San Marco.
Whilst it was a little breezy out on the lagoon, it starting clouding over the nearer we got to the centre of Venice, passing the football ground on the outskirts (only accessible by boat; personally I've always longed for Venezia to have a renaissance. That would be a memorable European trip).
I had long wanted to visit San Giorgio Maggiore, which dominates the skyline from the Riva Schiavoni, where the hotel I've usually stayed in during trips to Venice is located. I was disappointed with the church, a gloomy, badly lit cavern, and just as I was about to stick 50 cents in the slot to light the altar, the visitors were thrown out by a lugubrious individual who boomed " CLOSE! CLOSE!" to leave us in no doubt it was lunchtime. The sky was becoming increasingly threatening, and I decided on a hasty retreat back to Piazza San Marco before the weather broke. As I was heading for the vaporetti pontoon, suddenly there was a huge flash of lightning, followed by a massive clap of thunder.
I was slightly concerned about being out in the Basin during a storm, and prayed the No. 2 boat would come quickly, which happily it did. The thunder and lightning continued during the short trip across the Basin, and just as I got of the boat, I felt the sting of heavy raindrops – and me dressed for a summer day, wearing sandals. I was in Venice, for heaven's sake. I wanted to look smart. The San Zaccaria stop isn't one of the best protected, and I crammed myself under the awning of the ticket office with several others, and hoped for the best.
In my end of season awards, The Babys, I nominated the West Ham and West Brom games as hot spots of the season, mentioning their accompanying storms. Those two days had nothing on this. The skies opened and literally vomited water for 15 minutes, with one massive thunderbolt that shorted the electric lights of the ticket office and left me feeling quite scared (strangely enough I wasn't too keen as electrocution as a holiday memento). However, eventually the storm ended and my sandals and I slopped off in the direction of Florians, the famous café in San Marco. In spite of a couple of previous trips to the city, I'd never been there before, and as a consolation for the vile weather, I decided I'd treat myself to lunch, despite the daily lavish breakfast in Jesolo.
I had a smoked salmon and artichoke sandwich, with a cappuccino (as this has taken over as the international drink, there now seems to be less stigma about ordering one after noon). Charmingly served; however, I'm not entirely sure it was worth the €26 I was charged, which included a €6 supplement for music. No wonder the management were shepherding the players out into the square to get playing again as quickly as they could. I think I'd have rather eaten in silence. However, it was something to mark off what I sadly realise is now becoming a bucket list.
The rain had started again, albeit less insistently, so I decided on a trot around the arcades in San Marco (if you've seen the Bond film Casino Royale, these will be familiar) to buy a few gifts for family and friends prior to making a dash for the Basilica. Unfortunately the rain had started to come down more heavily again, and I wasted another 15 precious minutes before it had lightened enough to get me across the square.
Sadly several hundred others had also happened upon the idea of sheltering in the Basilica, and as I was fairly wet by that stage I waited under the canopy of the Doge's Palace till the queue shortened sufficiently to allow me to get in with only a couple of minutes in the pouring rain. By this time the sore throat I'd been nursing was kicking in quite a lot and I wished I'd got a packet of insert preferred brand of sweets to ease it. However, I wasn't going to waste any more precious Venice time. It would have to wait till tomorrow.
The Basilica di San Marco truly is one of the world's great churches. There are some places you go like the Duomo in Florence which are not only bone-chilling cold, but totally lacking in any atmosphere of piety, filled as it was during my visit with school parties comprising bored teenagers chattering away. They had to whisper "silence" over the tannoy to get them to shut up, but the hush only lasted a minute or so before the volume rose again.
However, in spite of the number of tourists that habitually crowd San Marco, the atmosphere is always delightfully mindful of a house of God (as is The Duomo in Milan, which will appear in next season's Travels). There's no admission charge to the Cathedral itself, but for those wishing to visit the Loggia with its legendary bronze horses and wonderful mosaics, its just a few Euros.


It's also well worth paying the nominal to see the Pala d'Oro and the Treasury,
The view from the Loggia over Piazza San Marco itself is absolutely sublime. I've been lucky enough to travel extensively in Europe over the last few years but I don't think I've ever seen such an enchanting view. However, that was in July 2006 when I visited the Basilica on the first day of my maiden trip to Venice. The sight that greeted me this year was a soggy square, dotted about with umbrellas, with a trimming of disappointed tourists in the arcades.
By the time I'd had my fill of the Basilica and bought a few bits and bobs for Old Mother Baby, it was time to catch the boat back to Jesolo. I've seen Venice at its best over the last few years. This time I'd caught it at its worse, and it was a sad and sorry baby who headed back over the Lagoon.
To be continued….