Part 1 concluded with your humble narrator shivering on the Ferry back to Jesolo. Then to make matters worse I misjudged the bus stop and ended up having to get off at the one after Piazza Mazini, leaving me with a 15 minute walk back to the hotel. It hadn't just been showers local to Venice, the whole of the Veneto appeared to be under water. A sign on a traffic roundabout near the resort read "Arc di Noe" with an arrow next it. I hauled myself off to the shower but couldn't even be bothered to dress up for dinner, settling for more comfortable clothes. A slab of uninspiring chicken (the only culinary failure of the holiday) didn't help lift my mood, although the post-prandial limoncello helped a bit.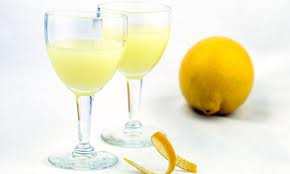 The next morning a weak sun shone over Jesolo. I had planned a quiet day, with a trip to the pharmacist to get something for my throat, followed by a walk along the via Andrea Bafile and a trip to the beach later. My Italian held up sufficiently well to get an antiseptic mouthwash, a visit to the Tabac armed me to postcards and stamps that I intended to write later on the beach, and the walk enabled me to pick up more trinkets for the family. And an umbrella. Two Euros. Pink roses. Very nice. However, the further away I got from the hotel, the darker it grew, until just coming up to midday, I heard a rumble of thunder. I picked up my feet and trotted back towards Piazza Mazini as quickly as I could and arrived back in 15 minutes – pretty good going for over two miles. Just as I was hitting the Piazza, the rain started splashing down, and I headed into the hotel lounge. One or two other guests were starting to drift in, and I sat down, ordered a cappuccino and started to write. Sadly, the weather turned into a repeat of the previous day. Torrential rain and fierce electrical storms. We guests chatted amongst ourselves about the awfulness of the weather. I spoke to one couple who'd been on the organised excursion the previous day and were distraught about their probably only opportunity to visit Venice being ruined. Everyone hoped the weather would be better for the trip to Verona and Lake Garda the next day.
Two hours and 12 postcards later I gave up on the lounge and drifted upstairs to treat my throat, have a lie down and watch the tennis at Queens Club on Eurosport. It was an oddity of the hotel that whilst you could get BBC1, and the reception was perfect during the day, but once evening arrived the picture went all fuzzy.
Whilst I made more of an effort to dress for dinner, by this point I was feeling so low and unwell I ate an unprecedented five puddings out of sheer depression and retreated to my lair to watch Italy –v- Republic of Ireland on RAI. Looked as if wherever that was being played was badly affected by the weather. Turned out to be Belgium and Italians had taken the weather with them.
We interrupt this column to bring you a commercial break. Since when did the Mancs become the house team of Turkish Airlines? I only ask because they seem to be involved in some kind of tie-up which has resulted in an advert which presumably no-one dares run in England with a playful scenario where a ball falls out of an overhead locker (they're probably lucky it wasn't Dennis Wise) and all kinds of shenanigans lead to a near-miss involving said ball and Saint Bobby Charlton, only narrowly avoided by a finger-tip save by Raymond van der Sar. Three days into my holiday I'd developed an almost Pavlovian response of turning the TV over as soon as I saw their ugly faces. And speaking of commercial breaks, RAI are now showing ads during games. If the physio's on, or a ball gets booted into the crowd, they're off with a 10 second flash. Given that ITV have already tried ads during live sporting events when they covered Formula 1, it's only a matter of time till a broadcaster in Britain is brave/stupid enough to starting broadcasting ads during football. Wonder which station it'll be?
Meanwhile back at the holiday, something weird had happened to my body clock, and I was waking at my usual hour of 7am, which of course was 6am in England. This was normally a nuisance but on the Wednesday I needed to stir myself to be down for a swift breakfast at 7, so I could leave at 7.45 to meet the coach for the excursion. I swiped a couple of packets of biscuits in case I felt hungry later (new verb "to swipe": to purloin items from a breakfast buffet on holiday for consumption later in the day) and joined a small throng by the bus stop. Jeff, our knowledgeable rep, had even turned up to ensure all his flock got on safely.
I'd looked at a map before I left England and saw that Verona was quite a long way from Jesolo, and Lake Garda was even further. It's 159km, or roughly the same distance from London to Birmingham, the 8am pick up being was designed so we'd arrive in Verona about 10.30, giving us 3 full hours in the city before the journey to Garda. And indeed the A4 was a bit like going up the M1, lots of cars and lorries, the main difference being that you could see the odd Castello, Palazzo or church in the distance. We had a brief (skanky) loo stop at Vicenza services with a Signora who looked like she was used to demanding money with menaces from coach parties desperate to spend a Cent.
After Vicenza, Stefano, our "good guide" as Katya Princip puts it in Malcolm Bradbury's "Rates of Exchange", handed out maps of Verona in order to give us some sense of orientation and to show the route of the guided walk as far as Juliet's House. Bang on time, we arrived in Verona and the coach dropped us off by the Roman Wall. The sun was blazing and I basted myself in Factor 50.
I've wanted to visit Verona since I saw the Inspector Morse episode "The Death of The Self", which is set in Vincenza and Verona, and uses Verona's spectacular Arena as part of the plot. Our walk took us there in just a couple of minutes, and as soon as the guided part was over, my intention was to head straight back there for a proper visit. Having paused briefly to bookmark the area, the party strolled on towards the Casa di Giulietta just off the lovely Piazza delle Erbe, past all the shops. Amazing how I seem to find the shops wherever I go.
Entry to the Courtyard at the Casa di Giuletta is free, but it's incredibly crowded thanks to the army of lovestruck teenagers and gullible fools who should know better. There isn't any evidence that she really lived there, although her tomb is located in the Capuccin Church just inside the City wall. Whilst attempts to get a picture of her statue were fruitless as I didn't want to include total strangers rubbing her tit (it's supposed to bring you luck), the balcony is extremely pretty, and well worth getting a picture of.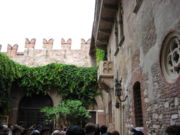 The walls leading to the courtyard are covered in messages from people hoping it will bring them love and luck. Idiots. All they're doing is vandalising a historic building.
I headed back towards the Piazza delle Erbe. This is a really lovely square, in fact one of the loveliest I've ever seen and it was filled with stalls selling local produce and souvenirs. Only the thought of having to lug stuff around for several hours prevented me from making some purchases.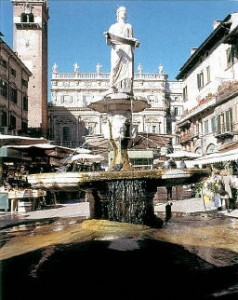 I was tempted to make my way over to the Duomo, but mindful of the fact I'd spend at least an hour in the Arena and had to be back at the coach for 1.30, I re-traced the route we had taken and swiftly found myself back at our starting point.
The Arena is the world's third oldest remaining amphitheatre behind the Colosseum in Rome and that in Capua, north of Naples. However, the Verona Colosseum is much, much than an archaeological curiosity. Every Summer, they stage a renowned open air opera season from June to September, with an emphasis on Italian Grand Opera, i.e. heavy on Verdi and Puccini, but throwing in other international favourites such as Bizet's Carmen (set in Spain, written by a Frenchman). The season was due to open the next week with a celebratory gala, but in the meantime, the technicians were moving scenery for Aida (the Grand March of which is sang by football fans all over Italy) into the Arena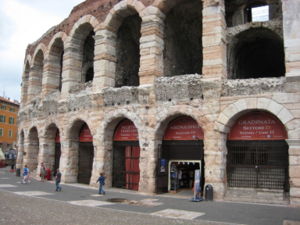 Whilst seats can cost in excess of € 200, it is possible to buy a ticket for €20. However, this will involve sitting on a stone step for several hours. I imagine that praying for a dry night will also be involved. No less fascinating are the inner walkways of the arena; you can imagine the Romans wandering around them in the same way that we wander around the concourses of Stamford Bridge, talking to their mates, waiting for the action to begin.
Of course the main difference is that the crowds are a bit less bloodthirsty these days. The week's inclement weather had also had the unpleasant effect of making the nineteen hundred year old open-air venue leak; and it was distinctly chilly. But I wandered around the stadium earmarking the seats I might prefer if I ever make it back there (I long to see Nabucco; unfortunately the August fixture list has prevented a quick dash out there later in the summer. There is also the question of European fixtures. Are Verona in the CL, by any chance?)
Once I had gazed my fill I found myself with 45 minutes to spare so decided to go off in search of an ice cream to soothe my throat. There's a pleasant bank of restaurants on the piazza outside, and I wandered into one and ordered a pudding of peach, cream, ice cream and chocolate sauce, designed to look like a fried egg. Delicious.
After the snack, I returned to the City wall to rejoin the coach. The medieval town of Sirmione on Lake Garda is only 30 minutes from Verona and once the coach was parked, those of us who'd opted for the motorboat ride headed for the quay.
I'd never been in a motorboat before (another for the bucket list), so I was quite excited. We passed the yellow house once owned by the great diva, Maria Callas, one of many famous former residents. The Lake was a bit choppy to begin, but is thermal in parts, so it becomes very calm. We were told to look over the side to see if we could see the bubbles from the thermal springs which is sometimes possible, but no-one could; probably due to the clouds that had gathered overhead. The trip took us around the coast of the lake around Sirmione, and ended with us travelling through the town's castle by boat and under the drawbridge, eventually pulling up from where we'd left.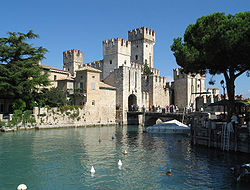 We still had an hour and a half to visit the town, and I decided to have another ice-cream (that throat still needed help) and a walk around. However, before I got very far, I stumbled upon the town's delightful and tiny church. The sun had come out by this time and light flooded in through the stained glass window, illuminating the Madonna & Child. Unmissable.
A surprisingly large and reasonably priced ice-cream (€2.50 for two large scoops) accompanied me around the little town. We'd been told there wasn't much to see, but there were many delightful little shops and charming views, and I was genuinely sorry not to have longer there.
We were picked up back at the coach park set off back towards Jesolo, but back on the motorway there seemed to be an odd noise. It turned out there was a problem with the door of the luggage hold. We had to pull into the service station and wait for another coach driver to come and diagnose whether our coach would have to be taken out of service or whether we could go on. We were due back at the hotel for a gala buffet followed by a party by the pool on the rooftop, so needed to be back for 7pm. After a 20 minute anxious wait they manage to locate the problem and we set off again. Unfortunately due to the coach having had to slow down prior to the unscheduled stop, we'd lost another 10 minutes and didn't arrive back until just before 7pm. Sadly, when we arrived back at the hotel we were greeted by a notice advising that due to the week's awful weather (there had been some rain in Jesolo again during the afternoon) the party was off. But they'd be showing Invictus in the conference room to compensate. The gala buffet at any hotel is usually on the head chef's night off, with the sous-chef taking responsibility, and Anna certainly pulled out all the stops. Sadly for me, I'd overdone it on the ice-cream and only had a small helping of sea-bass, a little salad and some cheese. However, Paolo, the maitre d'hotel, took her on a well-deserved lap of honour of the dining room to cries of "bravo" (or more properly "brava").
Thursday was always going to be a day spent packing and doing last minute bits of shopping. I wanted to buy limoncello for the family, which you're always better off buying in a mercato, biscuits for the office likewise. I love Italian supermarkets, and the one over the road had a good selection of comestibles for home and work. Whilst browsing, I was accosted by a late-middle aged Englishwoman with a northern accent. "You speak Italian, don't you?" she said in an accusing tone. I assented. She and her husband were looking for some paprika flavoured crisps and not speaking or reading any Italian, needed help to find them. This was something I'd pondered whilst in Verona. Whilst I was having my ice cream pudding, a party at the next table, who sounded American, insisted in ordering everything in English. At my hotel, very few guests seemed to speak any Italian. To be honest with you, it doesn't take a huge amount of effort, time or money to learn a few simple words and phrases which can make a huge difference. "Yes", "no", "please", "thank you", "can I have?, "I'd like", "hello", "goodbye". Even if it breaks down after that, wherever you go the locals can see you're trying. If you're going anywhere in continental Europe, i.e. Spain, Italy, France, Portugal (the sort of places where the Chels end up), get yourself a Collins gem, and you can teach yourself. Or look them up on the internet on Google language tools.
After the supermarket. I paid a visit to a shoe shop further up the road where I'd noted an elegant pair of cream sandals. A bargain at €15. And a pleasure to be addressed as "ragazza" by the late-middle aged lady running the store. I thought I'd be a bit too old for that.
I managed to spend an hour or so on the beach. The cloudy skies and cool damp sand of Thursday was a remarkable contrast to the brilliant sun and sand that was too hot to walk on of Sunday. The predictable packing nightmare (just about managed to cram everything in; one trip I promise I will return with exactly as much as I leave with) followed and then it was time for the final dinner. Afterwards, in the bar, I ordered my usual post-dinner limoncello, and was touched to be presented it gratis, with thanks for my custom and how much they'd enjoyed my efforts with the language!
Sad were the farewells the following morning as we bade goodbye to the restaurant staff, checked out and towed our luggage to the waiting coach. Fittingly, as we were boarding the coach it started to rain. The transfer to Marco Polo seemed to take less time and before long it was the usual haul through security, where, on this occasion, I managed to thoroughly embarrass myself. I put my hand luggage on to the x-ray conveyor and walked safely through the arch. I stood waiting at the other side, but nothing was coming out of the machine. I was chatting with a couple whilst waiting for my luggage, and the wait seemed to go on and on. Finally, a customs official called "E-book? E-book", and to my mortification, I realised that my Kindle, which I'd put in my handbag, was causing the blockage. Weird, because you're supposed to be able to leave them in hand luggage without causing security issues. Maybe the Italians have different rules. So I put it on a separate tray, passed muster, and departed in embarrassment.
By 1pm, I was back in England. The dull and rainy weather had followed me back. By Monday, I had to go and see my doctor, only to be told my cold had turned into a severe chest infection (good job I haven't had a fag since the day Jose was sacked). On the plus side, the family liked the presents. The weather has been so inclement I'm still using the umbrella, but I haven't had a chance to wear the sandals yet.
And all you can do after the holiday is think about where you go next. Personally, I think a little jaunt into Europe with The Chels is called for!