Chelsea's Under-18 team extended their unbeaten run at Cobham to five games on Saturday morning with a hard-fought 1-1 draw against Birmingham City.
Mesca's first-half goal, his maiden goal for the Blues, was cancelled out in the second half and ensured that the visitors took a deserved share of the spoils.
Having made his long-awaited comeback from injury for the reserves in midweek, Marko Mitrovic started a match for the first time in ten months.
He led the line flanked by Bobby Devyne and goalscorer Mesca, whilst there were also places for schoolboys Adam Nditi and Alex Davey in defence.
Birmingham began the game as they would mean to go on, adopting an impressive and enthusiastic closing down action which forced Chelsea to play deeper in their own half of the pitch, whilst struggling to build through the midfield.
Devyne had the first sight of goal, coming in from the left with good effect and firing a sharp effort at goal which was well dealt with by Nick Townsend in the Birmingham goal.
The match had failed to really get going in the opening twenty minutes, as both sides traded possession in the middle of the pitch, but had little about them in the final third.
Anton Rodgers went close with a dipping, in-swinging free kick from the left which landed on top of the goal.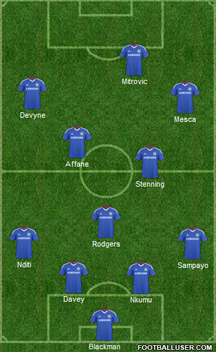 However, as the game approached the half-hour mark, there was a breakthrough. Good work down the left once more released Nditi, and he stood a cross up to the far post where Mesca was able to arrive with a stooping header into the unguarded net.
The Portuguese midfielder has missed considerable time injured during his brief time in England, but having returned from his latest layoff last weekend, will have been delighted to grab his first goal of the season.
It was to be the only notable highlight of a forgettable first half. Jamal Blackman ensured the lead would be held until the break with a smart stop at his near post, whilst Mitrovic and Devyne both saw half chances quickly turn into nothing.
Swedish striker Mitrovic would not emerge for the second half, as he was only scheduled to play 45 minutes as part of the final stages of his rehabilitation.
Norwegian midfielder Henrik Breimyr replaced him, slotting into midfield, whilst Amin Affane would be pushed further forward to support Mesca, now the lone striker.
Birmingham opened the second half in aggressive fashion and quickly had a hold of the match. There were moments when Chelsea may have extended their lead, particularly when Townsend dropped Devyne's shot before denying Breimyr a chance at the loose ball, but otherwise it was a game controlled by the team in white.
They were unlucky not to be on terms just before the hour mark, but with the goal gaping after a bit of penalty area pinball, Ben Sampayo threw himself in front of a shot to pull off a remarkable last-gasp block.
At the other end, Chelsea were denied a goal of their own by the lineman's flag. Breimyr's tap-in was ruled out for an apparent foul on the goalkeeper, although nobody was quite sure where it occurred.
Dermot Drummy made his second change, bringing on England Under-16 defender Ali Gordon for Archange Nkumu, but Birmingham equalised as soon as he came onto the pitch.
Having already played over an hour for the Under-16s elsewhere on site, the newly-arrived schoolboy was not necessarily a fresh arrival, and he was outfoxed by the visiting number seven, who dribbled through before finishing coolly.
The goalscorer had been his team's best player throughout and had deserved his goal.
Having drawn level, Birmingham appeared content with their lot, and went into their shells. It allowed Chelsea to come forward at will, and invited them to seek the game's third goal.
Stenning shot wide from the edge of the area, whilst more speculative long-range efforts from Nditi and Rodgers soared over the crossbar.
Devyne was having a lot of fun running at the opposing left-back, weaving in and out with great balance and agility, but he was all too often crowded out when he reached the box, with a noticeable lack of support.
Nditi saw a glorious late effort skid inches wide, as he struck the ball as cleanly as possible from fully thirty yards after a poor clearance, but it seemed destined to be a game ending in a stalemate.
Injury-time pressure from Chelsea would threaten again, but they were unable to breach a solid Birmingham rearguard and the referee called time on the match.
It was a performance which showed more resilience and defiance than was on display at Arsenal las weekend, and after a first half where they will admit that they didn't play 'their' football, Chelsea responded well in the second period.
Rodgers played a very tidy, intelligent game in a deep midfield role, whilst the attitude and work-rate displayed by Devyne and Affane throughout was commendable and rubbed off on their team-mates.
Their opponents were a well-drilled, athletic and confident outfit, and against such opponents, a draw is often a positive result, and that was very much the case today.
Team: Blackman, Sampayo (c), Davey, Nkumu (Gordon 65), Nditi, Rodgers, Stenning, Affane, Mesca, Devyne, Mitrovic (Breimyr 45)
Subs not Used: Loudon
Goal: Mesca '32