For the fourth time in five years, Chelsea have reached the Semi Final stage of the FA Youth Cup.
As has become the norm now, there's been no shortage of drama along the way as the comeback kids have produced staggering turnarounds against West Ham United and Nottingham Forest en route to the final four.
In fact, the Blues have only led for less than an hour of this year's competition, with the vast majority of that coming against the Hammers. Two penalty shootout wins and two matches won inside the last ten minutes have come true to form as Chelsea have actually trailed in seven of their last nine Youth Cup matches.
This, perhaps expectedly, has produced a team spirit and resolve which is as high as could be going into Friday night's first leg at Old Trafford, where last year's run came to a crashing halt.
After a 3-2 victory at Stamford Bridge featuring two goals from schoolboy defender Nathaniel Chalobah, Chelsea lost 4-0 to the Reds as they became slightly overwhelmed with the occasion and the strength of the opposition.
There were a number of high-profile names involved in last season's tie, with Josh McEachran, Milan Lalkovic, Billy Clifford, Ravel Morrison, Paul Pogba, Will Keane and others all making the headlines. This time, however, the floor is turned over to a host of younger, smaller, and very technically gifted players which presents an intriguing match-up.
Neither side is in particularly good form ahead of the two-legged clash, with United having gone without a league win since November and Chelsea inconsistent but in good recent nick. Both teams have, however, gone all-in for the competition and have often rotated their teams for league outings.
Adi Viveash's charges warmed up for their trip north with a 3-0 win over Reading at the weekend with the team expected to start at Old Trafford, and it's a largely familiar one for regular viewers of this season's cup campaign.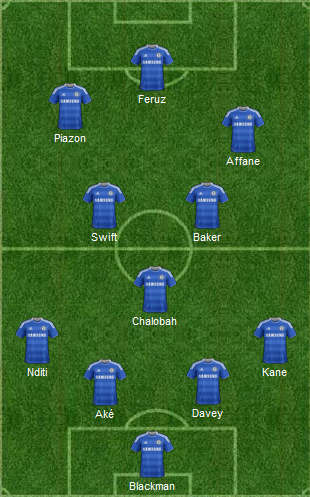 Jamal Blackman's increased involvement with the first team squad brings added experience to a young youth team, and despite a few mistakes here and there so far, he is a key part of the team, especially behind a defence which is likely to feature three first-year scholars.
Todd Kane continues at right-back in his final year of eligibility, with Adam Nditi on the opposite side. Nathan Aké has been ever-present in the youth cup so far, and having been partnered by both Chalobah and Daniel Pappoe so far, he is set to be joined by Alex Davey this time around.
Davey has impressed in his first year as a full-time scholar, and has recently been involved with Dermot Drummy's reserve team. His range of passing and, indeed, his ability to move the ball quickly from the back, is an asset which will be well utilised as Chelsea will look to stretch the play regularly.
This allows Chalobah to move into midfield, a role he is far more effective in at youth level because it allows him to influence the game a lot more. Whilst he may eventually settle at centre-back, his natural athleticism, drive and technique is best used in an attacking manner and the results of him playing further forward can be seen in the comebacks against West Ham and against Nottingham Forest.
The captain will be joined by regular midfield duo John Swift and Lewis Baker, who have been the star men so far this season and of whom much is expected.
Swift has made the headlines and caught the eye of many Blues fans for his sublime dribbling and passing skills, but Baker is just as important and is in sensational form of late.
The pair have been used as part of a two-man midfield base as well as a more advanced pair, and it's in this latter shape that they'll likely play with Chalobah anchoring behind them.
Baker will command the ball at every opportunity, demanding involvement and is prepared to shoulder responsibility. His awareness is excellent and because he is equally as capable on either foot, he is especially effective at playing forward into small areas of space.
Swift, meanwhile, is more obviously dynamic and possesses top-level body control and touch. Watch closely for his body feints which give him just enough space to dribble through crowded areas. He's also robust in the tackle and not afraid to get involved, so if necessary, he may drop back alongside Chalobah to form a two-man midfield base, leaving Baker further forward.
Looking to benefit from the ample midfield supply – and particularly from Swift's slide-rule through balls – is front man Islam Feruz. He has three goals in this season's run including a brace against Forest and whilst he will be the shortest player on the pitch, he makes up for it with incessant running and effort.
When he gets the ball, he packs a punch as well. Instinctive in front of goal and good at finding space, he genuinely believes he will score in every match and carries exactly that threat.
Either side of him are wingers Amin Affane and Lucas Piazon. They've blown hot and cold throughout the season but are both in good form of late and will continue in their roles as inverted wide men, with the left-footed Affane playing from the right and Piazon from the left.
The design behind this is to utilise their dribbling and shooting to full effect, as both are highly capable. Of course, it makes little sense to deploy them as traditional touchline huggers as the target of any crosses is the diminutive Feruz.
Off the bench, Alex Kiwomya's pace and running will almost certainly make a difference, and all of his eight goals this season have come as a substitute. Ismail Seremba offers a more versatile attacking role and Tom Howard is in good form, whilst a host of defensive options are available.
Unfortunately, schoolboy midfielder Ruben Loftus-Cheek continues to be sidelined with a hip problem and will once again be absent. He was fantastic in the first half of the season and had developed a fine understanding with Swift and Baker as a trio that rotated around with familiarity and comfort.
As far as the hosts are concerned, Jack Barmby has been the key man in front of goal so far, leading the club's goalscoring charts at academy level and netting crucial goals throughout the competition.
Gigantic winger Gyliano van Velzen – one of few who return from last season – scored the equaliser and assisted an injury-time winner against Charlton to set up the tie against Chelsea, whilst creative midfielders Mats Daehli and Adnan Januzaj (if fit) are easy on the eye and are as creative as they come.
Schoolboy Nick Ioannou has been thrown in at centre-back with impressive results and despite being on the small side, he'll have the bigger Tyler Blackett alongside him, with Luke McCullough captaining the team.
Last season, the then Under-18 manager Dermot Drummy shouldered much of the blame himself for 'the wrong tactical approach' at Old Trafford. Whilst the pitch isn't actually much bigger than Stamford Bridge, the vastness of the surroundings lend themselves to that feeling and players may tire quicker.
Look for Davey and Chalobah to stretch the pitch with passes to Affane and Piazon, and for Swift and Baker to be as influential as always in the middle. Their battle against Daehli and Januzaj – if fit – will be one to watch as all four are excellent on the ball and will doubtless impact what will be a fascinating tie.
You can keep right up to date with everything throughout the night by following @chelseayouth on Twitter.