We're back with another season of football set to begin at Category One level and if the previous seasons are anything to go by it'll be an intoxicating ten months with no shortage of drama and plenty of promise.
Here at TheChels.net we're taking a look at what to expect from the 2014-15 season and we finish with a comprehensive look at Chelsea themselves.
Standards are high down at the Chelsea academy, as has been made abundantly clear down the years with scarce few prospects having made the jump to regular first team football at Stamford Bridge. Precocious teenagers they may have been but making the grade at this particular club hasn't been easy.
Those standards though extend down through every age group at Cobham and not only did last season's Under-21 team deliver a national title that set the bar as high as possible for this year's team to emulate but amongst them were four or five who Jose Mourinho claims 'must be Chelsea players'.
Lewis Baker, Jeremie Boga, Isaiah Brown, Andreas Christensen and new kid on the block Dominic Solanke have had the summer to make an impression on the manager and whilst the same opportunity was extended to a dozen others in the post-World Cup period, it was this group that was singled out for abundantly high hopes. Each played some role in the successes of last term and whilst it might appear foolish to expect the same again, especially in terms of some individual production, new chief Adi Viveash has a seriously strong squad at his disposal.
Viveash moves up from Under-18 football after three seasons in which he claimed two FA Youth Cups, finished runner-up in the other season, and qualified for a UEFA Pro Licence. He succeeds the departing Dermot Drummy, who takes over as the club's new Head of International Coaching as a part of the Chelsea Foundation. Drummy worked tremendously hard in his time as Under-21 supremo and was rewarded with what he considered two titles in his final campaign after leading the Blues to top spot through 21 games as well as guiding them through the playoffs.
Some of last year's influence has gone; John Swift has joined Rotherham on loan for the season and others will join him on that well-trodden road. Christensen and Aké meanwhile are to be a regular part of Mourinho's first team training group and are likely to be involved here and there for Viveash's side in much the same way Aké himself was in the second part of last season.
Fortunately, a host of Youth Cup winners are ready to step up and take over the mantle of keeping the good times going and the trophy cabinet well stocked. Jordan Houghton, Kasey Palmer, Charly Musonda and Charlie Colkett all grew in stature as 2013-14 reached its zenith and each has shone in pre-season action this summer. They offer versatility, leadership and game-changing ability and will make the transition from squad parts to key members at this level by this time next year.
Capturing the Under-21 Cup will doubtless be considered important, as is a good showing in the new Premier League Under-21 Cup. Some of those eligible will be desperate to avenge a disappointing last eight exit in the UEFA Youth League but whatever the logo on their shirt sleeves might say, the ultimate goal is to provide The Special One with a consistent line of production for integration into the first team.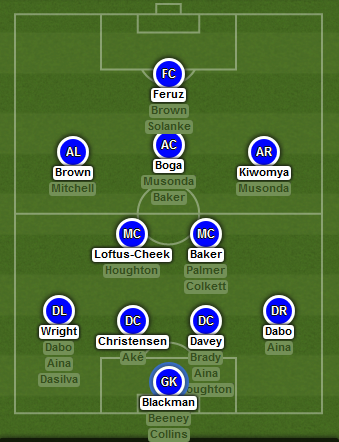 (Not necessarily indicative of chances of playing but merely to represent depth)
There's impressive depth across the board with plenty of Under-18s bidding for increased playing time and a step up. History tells us that they'll be given every opportunity to do so as the season goes on and the more senior Under-21s secure loan moves but for now expect Viveash's group to include a number of those who spent the first part of the summer with the big boys.
Whether Jamal Blackman, Mitchell Beeney or Brad Collins is in goal the team is well set from the start. The first two have come along tremendously with daily training alongside Petr Cech and Christophe Lollichon whilst Collins has impressed in pre-season and is making intriguing progress.
A versatile group of defenders allow for various combinations to be used depending on the unique circumstances of every match and to that end you're likely to see Fankaty Dabo and Ola Aina spend time at both full-back spots with Aina also able to feature at centre-back (as he did so well towards the end of last season). Alex Davey and George Brady have formed a good partnership over the past few weeks and will likely be the preferred pairing whenever Andreas Christensen and Nathan Aké aren't available.
The duo have been promoted to the first-team squad on a permanent basis in terms of training but will still turn out for their own age groups here and there as Aké did last season. He'll likely play some minutes at left-back but with Kevin Wright back to full fitness and Jay Dasilva hot on his heels he could also be used more effectively in defence or in midfield.
A midfield trio of Ruben Loftus-Cheek, Lewis Baker and Jeremie Boga is unlikely to be bettered by anyone in the country and there's plenty more where they came from. John Swift's loan move to Rotherham opens up a regular spot for one of Kasey Palmer, Charly Musonda and Charlie Colkett to make their own and each has enjoyed a productive pre-season. Colkett has been consistently good and has been entrusted with the captain's armband more often than not.
Alex Kiwomya and Isaiah Brown should man the flanks with any of those mentioned above (except for Loftus-Cheek) ably positioned to fill in or rotate, and Brown should also see a bit more time at centre-forward in competition with Islam Feruz and Dominic Solanke, who will step up from Under-18 football with very little left to prove at that level.
He's not the only one either; that hurdle has been emphatically cleared by a number of eligible players and so once again Chelsea are set to have one of the country's youngest youth teams, this time led by one of the country's youngest youth coaches.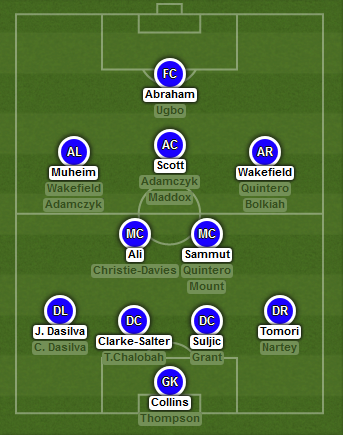 (Not necessarily indicative of chances of playing but merely to represent depth)
Joe Edwards hasn't yet turned 30 but finds himself entrusted with a team that has reached three consecutive FA Youth Cup Finals in the past three seasons. He's no stranger to success himself, having led the Under-16s to assorted victories at home and abroad in his time as an academy coach, and it's many of those same players he'll continue to work with going forward.
Collins will get the gloves for as many youth team games as he's not needed at Under-21 level but a pair of schoolboy stoppers are waiting in the wings for their own moments in the spotlight. Jared Thompson has already debuted for the U18s as a 15 year-old and Nathan Baxter hasn't been far behind him.
Jay Dasilva and Jake Clarke-Salter should at least start the season at this level after playing key roles in the FA Youth Cup triumph and their relative experience will be required in a defensive unit that appears very youthful. First year scholars Ali Suljic and FIkayo Tomori have the size and authority required to lead and the like schoolboys Trevoh Chalobah, Josh Grant, Richard Nartey and Cole Dasilva can play almost anywhere across the back.
A veritable slew of young England internationals litter the midfield possibilities with Mukhtar Ali, Isaac Christie-Davies, Kyle Scott and Jacob Maddox capable of playing as a 6, an 8 or a 10 in Chelsea's familiar academy system. Ruben Sammut – a Scottish youth representative also eligible for England – is a candidate to captain the team and there will also be room for Mason Mount (who will be capped by England this coming season).
They're all technically proficient, able to impact proceedings in defence and attack and most important already very well versed in Premier Academy League football. They'll provide the stability upon which the team can be built with a little stereotypical 'overseas flair' ahead of them. Faiq Bolkiah has spent much of his career in the South East but imports Hubert Adamczyk and Miro Muheim arrive from Europe with burgeoning reputations and game-changing ability.
Charlie Wakefield's ability to play almost anywhere on the pitch should assure him of game-time when fit, and former Barcelona youngster Josimar Quintero provides a potential x-factor with international clearance now apparently secured.
Tammy Abraham's timely return from injury has been a boost to the whole squad and given he matched Solanke's output at Under-15 and Under-16 level, the lanky forward is one to watch. Iké Ugbo netted as an Under-15 himself against Bolton back in March and has been unstoppable in friendlies as he makes the conversion from midfielder to forward look far too easy.
As always, the best place to keep up to date with everything going on in the academy is here at TheChels.net and on Twitter @chelseayouth.