The latest arrangement in the affiliation between Chelsea and Vitesse Arnhem has this afternoon taken Bertrand Traore to the Gelderlanders on loan until the end of the season, with Gael Kakuta and Sam Hutchinson returning from their stays overseas.
We know pretty much what this means for the trio as far as Chelsea are concerned – Traore gains experience and exposure for potential future first team involvement, Hutchinson will likely seek another loan move where he can play, having spent the first half of the season working back to fitness, and Kakuta will endeavour to find a new permanent home to end years of frustration with the Blues.
What does this deal do for Vitesse, though? Peter Bosz' side have had a sensational 2013-14 season to date as they earned a share of the Eredivisie's top spot at the winter break, tied with Ajax as they are on 37 points. Despite having one of the smaller squads and budgets in the league, they've been able to maintain the pace so far, albeit with the assistance of one or two key players borrowed from Stamford Bridge.
Regular readers of the Loan Report here at TheChels.net will be aware of Lucas Piazon's Player of the Season-type form, with eleven goals and eight assists in all competitions a sensational return for his first five months in the Netherlands. Patrick van Aanholt has also stepped up considerably, scoring four goals of his own whilst holding down his own end defensively and earning a first Dutch cap at full international level.
However, as December rolled into town, Bosz started speaking with regularity about how reinforcements would be required during the winter transfer window, and that they would be forced into discussions with Chelsea about the chances of taking one or two more players.
An already thin squad – a young one at that – had been shorn of its talisman early in the year when Theo Janssen suffered cruciate ligament damage, ruling him out for the season, and they then lost forward Mike Havenaar to a lengthy suspension close to the end of the first half of the schedule. They've done a sterling job to get by with Piazon stepping up so admirably and with the emergence of a third Chelsea prospect in Christian Atsu, but fresher legs were still required.
On the face of it, sending Traore – another left-footed attacking midfielder – to Arnhem seems a little counter-productive. Certainly, the departure of Kakuta speaks volumes as to the level of competition in that area of the pitch, with the Frenchman having already lost his place to Atsu. Bosz favours a 4-2-3-1 approach with Piazon on the left of Atsu in the attacking areas, playing alongside the Ecuadorian right-winger Renato Ibarra behind Havenaar.
Unless Traore is going to rival Piazon or Atsu for playing time – bring up the aforementioned question of the loan being counter-productive – it's assumed he'll take the place of Ibarra on the right. A good player on his day, he is nonetheless an inconsistent performer who doesn't quite fit in with the rest of the team, and although he brings pace, directness and a good shot, Traore has all of that in his arsenal and a whole lot more.
Nominally, that would see the Burkinabe start from the right, but it's a role relatively familiar to him and it makes good use of his strength and shooting ability cutting inside. There's also a chance we could see him on the left with Piazon playing as the centre-forward, as he did in the last games before the mid-season interval with Havenaar serving the first of his suspension.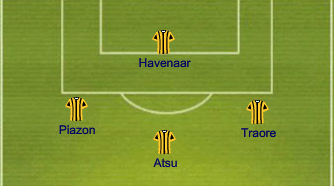 At worst, he allows the manager to rotate a bit more, with the Georgian pair of Valeri Qazaishvili and Giorgi Chanturia seldomly used and the intriguing young Serb Marko Vejinovic pressed into action deeper in midfield alongside Davy Propper due to Janssen's injury.
That in turn is another area in which we might yet see a Chelsea reinforcement arrive, and with two Blues returning to base, it feasibly leaves Vitesse with the scope to add another to bring their tally back to six. It's unlikely to go any higher as their chosen approach has been deemed unsporting by some of their rivals, but it wouldn't be a surprise to see someone like Nathan Aké join Piazon et al until May either.
As always, you can keep up to track with their progress every weekend here on TheChels.net and on Twitter by following @chelseayouth.