For a third successive season, Chelsea find themselves in the FA Youth Cup Final; the showpiece occasion in English academy football.
It's a run unprecedented in the modern era with no team having reached three finals on the bounce since Manchester United ran roughshod over all comers in the fledgling days of the competition in the 1950s. Many fine teams have come along and occasionally featured twice but the Blues – who also possess a longer run of five finals and a semi final in the last seven years – are back once more to attempt to bring home a trophy they surrendered last season to Norwich City.
West London neighbours Fulham on the other hand are in their maiden final and whilst it's been a long time coming overall, an air of inevitability has surrounded their ascent in recent seasons following fine success in the Barclays Under-18 Premier League. Many of the players likely to feature over the two legs were a part of at least one title win at that level and with the taste of success already having been savoured, they're back for more.
It promises to be a fantastic spectacle of entertaining moments and whilst it remains a cliché, it really will be a fine advert for youth football in this country.
How They Got There
Chelsea haven't dropped a single result on their way for the second successive season. They began with a 4-0 win over non-league Dartford in December and continued their prolific form in front of a goal a month later as Sheffield Wednesday were duly dispatched 4-1 at Aldershot's Electrical Services Stadium.
The draw for Round Five saw them hit the road but a 2-0 victory away to Cardiff merely served to provide an even longer road trip to Newcastle in the last eight. It was a tense and controversial occasion in which they found themselves trailing at half time but the traditional resilience and never-say-die attitude of previous campaigns was drawn upon for a 3-2 triumph at St. James' Park.
It lined up a mouth-watering Semi Final clash with Arsenal but whilst the two teams may have appeared well-matched on paper, it proved anything but as Chelsea strangled their opponents into submission, winning 2-1 at Stamford Bridge and 1-0 at the Emirates Stadium to book another final berth.
Fulham kicked off with another West London derby but were rarely threatened by QPR in a 4-1 win at Loftus Road. They stayed within the M25 in Round Four with a tricky-looking trip to Tottenham Hotspur but edged through by the odd goal in five only to find themselves given an even harder test away to Manchester City.
A Moussa Dembele-inspired late show gave them a second successive 3-2 win and the chance to finally play at home in the Quarter Finals. They were rarely at their best in a 2-1 win over Huddersfield but Dembele scored twice more to set up a two-legged Semi Final against Reading.
Things looked bad for the Whites midway through the first clash at the Madejski Stadium as they found themselves 2-0 down and a man light after goalkeeper Marek Rodak was sent off, but they battled back to take a 2-2 draw back to the Cottage. Another frantic ninety minutes ensued as Reading this time played with reduced numbers yet found themselves 2-1 up on the night and 4-3 on aggregate, but Dembele completed a hat-trick and showed his importance to the team once again.
Team News
The core of both teams is well established and the expected line-ups below are largely predictable with the exception of one or two selection dilemmas brought upon by injury replacements forcing their way into the picture. Chelsea had to do without the services of defender Dion Conroy and talismanic playmaker Jeremie Boga against Arsenal but schoolboy Jake Clarke-Salter excelled in Conroy's stead and a re-shaped midfield without Frenchman Boga completely bossed both ties and would be hard to break up even if he returns to full health in time.
Fulham have the ability to pick and choose their full-backs to suit their need with Irish youngster Noe Baba capable of playing on either side in a more defensive capacity whilst Ryheem Sheckleford and the talented Jordan Evans offer more going forward. First-year scholar Josh Smile was given the nod in midfield for the Semi Finals and is in good form but versatile forward Dean O'Halloran has played well against Chelsea in previous meetings and brings both a top-rate work ethic and an ability to put the ball in the back of the net.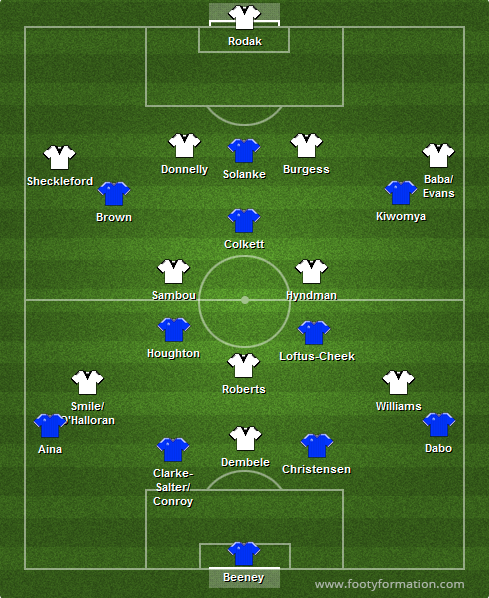 How Do Chelsea Win?
Adi Viveash likes his teams to get on the ball and dictate the tempo with quick and incisive forward passing and creativity through the middle in order to create favourable match-ups out wide, where his forwards and full-backs combine technical flair with athletic prowess to great effect.
The midfield trio of Jordan Houghton, captain Ruben Loftus-Cheek and Charlie Colkett were tremendous against Arsenal and will likely all feature again. The former two put in most of the legwork and have the engine to get from box to box throughout, whilst Colkett will line up slightly ahead of them trying to find pockets of space between the lines in which to unlock the defence. He's also scored four in his last six and likes to get into the box when given the opportunity.
With so much attention needing to be focused on the middle of the park, Ola Aina and Fankaty Dabo are encouraged to affect the game from full-back and assist Isaiah Brown and Alex Kiwomya in joining Dominic Solanke as goal threats. Aina and Dabo are elite physical specimens who are equally capable on either side of the pitch depending on need, whilst Brown loves to come in from the left and Kiwomya's speed and ability to score make him one to watch.
Solanke, a schoolboy forward with 18 goals to his name for the youth team this term, had scored in every round prior to the Semi Final and possesses unusual characteristics for one so young. Gifted on either foot, he can play as the lead striker or in a more withdrawn role and his movement often creates space for any number of team-mates to exploit.
Fulham are a much better team going forward than they are defensively – as their ten goals conceded in the competition shows – and by winning the midfield battle against Solomon Sambou and Emmerson Hyndman, Chelsea will look to play on their own terms and seize the advantage through sheer volume of chances created. Arsenal kept things respectable only because of goalkeeper Josh Vickers and Fulham's Slovakian stopper Marek Rodak can expect a heavy workload.
How Do Fulham Win?
Fulham have overcome elite competition more than once already in their Youth Cup campaign and can draw on experiences against Tottenham, Manchester City and Reading to prove to themselves they can add Chelsea to the list. Their strength lies in the front four and in Dembele and Patrick Roberts they have the only two players on the pitch with Premier League experience. Dembele is a prolific hitman who can score every type of goal whilst Roberts is arguably as good as any player of his generation; his dribbling and propensity to provide 'wow' moments make him stand out. They give the Cottagers a very strong chance.
They make up two of a front four that will also include former MK Dons youngster George Williams and one of Josh Smile or Dean O'Halloran. Williams is another with first team experience, having scored in the FA Cup proper as a 15 year-old for his former team and is similar to Roberts in style whilst often benefitting from the space left by defenders trying to deal with his more high-profile team-mates.
Smile may get the nod over O'Halloran from a defensive point of view as he offers better insurance in filling in as a third central midfielder alongside Sambou and Hyndman. Sambou is a broad, squat pitbull of a midfielder who breaks up play and distributes quickly whilst the American Hyndman is more cultured and plays with more artistry. They complement each other well but have their work cut out against Chelsea's trio and so coach Steve Wigley may look to use Smile in a narrower position to even up the numbers.
Like their Blue opponents, they have full-backs who like to get forward, with Evans a former winger who has found a new home further back on the pitch. Neither he nor Baba or Sheckleford are quite as imposing as their Chelsea counterparts and it may be an area they look to protect, especially considering their strength in the middle. Liam Donnelly is an experienced head who has plenty of Under-21 experience and drops down to the Youth Cup squad to replace regular league starter Elijah Adebayo alongside the towering Cameron Burgess, who has a long stride and a casual style that meshes well with their desire to build from the back.
Donnelly and Burgess also pose a considerable set-piece threat and they particularly like to hit long angled deliveries to one at the far post to nod back across to the other in front of goal; a tactic that works even better when Adebayo replaces Donnelly. Chelsea have enough height in Solanke, Brown, Aina and Loftus-Cheek to defend against it but it will require mental focus as much as anything.
Where Can I watch it?
ITV4 have full coverage of both legs starting tonight at Craven Cottage before the second leg next Monday at Stamford Bridge. Both matches kick off at 7.45pm and if you're of a Chelsea disposition, you can also watch on Chelsea TV.