In early September, Brentford owner Matthew Benham held a question and answer session with the club's supporters. A city trader turned betting professional and football league team supremo, Benham has ushered in a forward-thinking era at Griffin Park where many of the sport's accepted conventions have been brushed aside in the search to find the all-important edge.
During the discussion, he was asked about young Patrick Bamford and whether he'd had the opportunity to bring him in on loan. In the course of answering he proffered some insight into how he views the operation Neil Bath and company run down Chelsea's Cobham training base:
"Chelsea's academy is by far the best in England. We hope to build that relationship. Neil Bath and his team have done a great job there, and have always been very good to us. I love their philosophy.
The FA could learn a great deal from them. They have a lot of humility – which isn't a word that usually springs to mind when people think of Chelsea. They are constantly looking to improve in every way they can, rather than saying "We are the best" which is very common in football, especially English football. They take a lot of care on the development of the players as people and not just footballers – for example – more focus on education than most."
Benham would have been laughed out of the room ten years ago, but in the final season of what was once described by Bath as the Blues' "ten-year plan", Chelsea lead the way in youth development in this country and are top of the class in every aspect except one; one that many people feel is the most important of all.
Yet, until the club finds a way to produce players for their own first team, question marks will always be raised. Those deeply invested in the academy understand the scale of the task and the realities of life in a scene where a world-class player can be procured on a whim, but the past nine years have nonetheless witnessed a quite remarkable overhaul of what was already a decent academy at Stamford Bridge.
Decent would simply not do, however, for Roman Abramovich's Chelsea. The highest of standards would be sought at each and every level from the moment the Russian took over from Ken Bates; whilst eyes bulged at the largesse displayed in building a squad of all stars under first Claudio Ranieri and then Jose Mourinho (and the many that followed), Bath and his staff were to undertake as dramatic a change in their own day-to-day activity as there had ever been in the history of the club.
Drawing up Plans
From a cobbled-together programme incorporating at least three regular sites spread across London and the South East to a dedicated facility with no expense spared in order to produce the stars of tomorrow; it was quite a change, as Bath told the official Chelsea website in the summer of 2013:
"I had some early meetings with them and Peter (Kenyon) had appointed me as Academy manager. When Peter started to talk to me about the plans the club had in terms of building the facility and investing in the youth programme, it was really exciting. I remember having an interview and explaining how I would like to see it done.
'It was fairly quick that we looked to move from Harlington to Cobham. I remember being here when it was old university grounds. It was wooden sheds, more or less, and a building that was changing rooms downstairs and a social club upstairs. The office we had was two desks at Stamford Bridge.
'A year in we were drawing up plans, looking at other clubs across Europe and England, seeing how other academies and facilities had developed. We came back to our board and said I and the staff I work with have got this idea. We presented it and had the support from there. It was fantastic."
By mid-2005 Chelsea had decamped from near Heathrow down into the rather more plush surroundings in Surrey with work underway on an Academy and Community Pavilion set to open in the summer of 2008. The wheels were firmly in motion but in order to legitimise things on the field an aggressive recruitment policy was implemented; the cream of the crop from home and abroad were identified and sounded out, beginning with one of the game's premier talent scouts.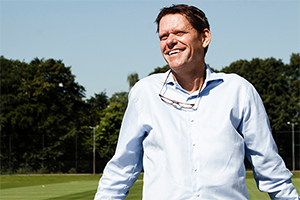 Frank Arnesen
Frank Arnesen's resume remains impressive to say the least. His star may have faded considerably but any man who can lay claim – in some part at least – to helping uncover Ronaldo, Arjen Robben, Ruud van Nistelrooy, Jaap Stam and countless others deserves his place in history. In 2005 he remained a highly coveted Director of Football at Tottenham and after a fair amount of legal wrangling he shifted to the blue side of London to become Head Talent Scout.
A broad-ranging set of responsibilities allowed him to recommend that John Obi Mikel and Salomon Kalou were brought to SW6 whilst the first of more than thirty teenage scholars arrived from far and wide. Ryan Bertrand caught the eye playing in an Under-16 friendly from Gillingham; a six-figure sum was quickly finalised. Scott Sinclair, Michael Woods, Tom Taiwo and Ben Gordon were joined over the first few years by European flair in the form of Jeffrey Bruma, Patrick van Aanholt, Miroslav Stoch, Sergio Tejera in a flurry of activity, although Arnesen would explain the wider aspirations of the transfer activity:
"It's not just about catch-up, it's about having the best youth-development programme in the world. To try and make the top quality of recruitment and academy so we can get the best players in and develop them so they are good enough to get into the first team."
Chelsea finished joint-top of their Under-18 division at the end of the 2005-06 season and were only denied a place in the post-season playoff for honours by virtue of an inferior goal difference to Southampton. The Reserves pushed for a first national title in twenty years twelve months later and 2007-08 saw the Blues reach a first FA Youth Cup Final in some fifty years.
The contributions of a young forward who would eventually turn out for Chelsea's first team prevented them from getting their hands on their first trophy but the Spartan cabinet would soon be open for business and, before very long, considerable expansion.
Coaching Development: Producing the Stars of Tomorrow off the field
One of the most important yet most commonly overlooked benefits of the improved academy was allowing for academy staff to become full-time employees with dedicated responsibilities. Bath himself had started out as a part-time coach in 1993 but with money came the opportunity to lay solid foundations from the very first step on the coaching ladder all the way up to Under-21 level.
"It's not just about facilities, we had to improve our coaching philosophy and we also had to improve the quality of player."
Long-time servants of the club like Bob Osborn, Frank O'Brien and Cyril Davies were joined by fresh blood; Dutchman Ruud Kaiser initially took charge of the youth team whilst promising Swindon Town development officer Jim Fraser was also brought in to a high-ranking role. Steve Clarke was promoted from the Under-18 ranks into Mourinho's inner circle; eventually going on to forge a managerial career of his own, and he wouldn't be alone in doing so.
Brendan Rodgers arrived from Reading and set about a career which would take him to Liverpool and within a slip of a Premier League title by his early 40s. Paul Clement, a former PE teacher and part-time coach, is a current reigning champion of Europe as Real Madrid's assistant manager after rising from Chelsea's Under-16 ranks and working at every level on the way up.
Steve Holland's baby steps into management at Crewe saw him flounder but a spell coaching Chelsea's Under-21s set him up to become a trusted part of many a manager's first team staff since, and there are budding managerial prodigies lining up to follow in their well-trodden footsteps. Michael Beale was promoted to Liverpool's Under-21 chief this summer, as was Adi Viveash (owner of a UEFA Pro Licence, no less) at Cobham, whilst his former deputy Joe Edwards takes the youth team's reigns at the tender age of 28.
Edwards represents the best of what Bath seeks to achieve. A former schoolboy who wasn't extended the offer of a scholarship, he has instead spent more than a decade in the academy coaching at every age group and isn't the only ex-player on the scene. Andy Myers, Jody Morris, Tore Andre Flo, Jon Harley, Ed Brand, James Simmonds and others have all seen both sides of the white line and their presence in educating the players of tomorrow is one of the most vital aspects of the rounded experience a Chelsea academy footballer receives.
Arnesen steps back, Bath comes to the fore
With Bath's fingerprints all over the impressive progress being made at Cobham, Arnesen's role was becoming increasingly uncertain by 2009. His job title changed to Sporting Director, effectively removing his academy influence, and a year later he left at the end of his contract with his work arguably completed.
The new academy building had been open for two years, the coaching setup was in place, and it was time to see the results on the pitch. At first team level there were occasional opportunities for teenage cameos but lower down the ranks, one club was beginning to stand out.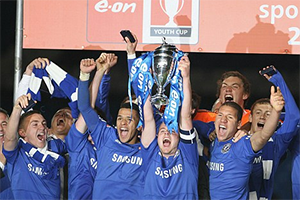 Conor Clifford's late piledriver secured a first FA Youth Cup title since the 1960s and twelve months later Todd Kane lashed in a similarly spectacular strike en route to Holland's Under-21s besting Blackburn Rovers on penalties to win the Reserve league. Further down, each and every junior age group below them were returning home with winners' medals as the influence of the changes began to take real effect.
Arnesen Out, Emenalo In: the loan system and talent acquisition
Arnesen was no longer required, his initial remit having been fulfilled and the academy now having been established as an elite facility charged with developing the Chelsea players of the future. National and international titles rolled in at every age group and accolades aplenty from all quarters would ensure Bath could go about his business running the show with full confidence.
At first-team level though a Sporting Director was still required and so Michael Emenalo was introduced to the masses. Having initially emerged onto the scene as Avram Grant's right-hand man supporters were sceptical of a guy who had a modest playing career and an even less spectacular coaching resume to his name. Slowly but surely the former Nigerian international established himself as an efficent operator in rebuilding Chelsea's ageing squad with elite young talents like Eden Hazard and Oscar whilst also undertaking the next step in the Blues' future plans; future-proofing themselves for the next ten years.
Ulises Dávila, Stipe Perica, Jhon Pírez, Matej Delac. None of them are ever likely to be household names but their (continued) presence on the playing staff at Chelsea are as indicative as anything else of striving to seek an advantage on the competition. Chelsea currently have twenty-six players out on loan; they had more than thirty depart on some 40+ moves during 2013-14, and the majority of those heading off to temporary homes are developmental prospects who are perhaps viewed as a commodity more than a genuine prospect for the first team. The plan has already more than reaped a reward with the £7m outlay on Thibaut Courtois one of the bargains of the decade whilst more extravagant expenditure on the likes of Romelu Lukaku and Kevin de Bruyne has still managed to return a healthy profit when sold on.
EPPP and the expansion of the education system
Bath, meanwhile, was helping to lead the crusade for fundamental change in the country's academy system. The Elite Player Performance Plan was introduced by the Premier League in 2011 amidst much controversy and nay saying from some smaller clubs with claims of the changes favouring the likes of Chelsea at the very top end of the scale. On a practical level, the changes – introduced by Bath and a panel of half a dozen other high-profile faces in youth football – allowed for a wider domestic scouting network to be implemented with previously inaccessible players now easily able to be recruited, whilst training ground access to schoolboy players was expanded considerably.
Chelsea had previously enjoyed a strong relationship with local schools and were able to bring their most talented boys to Cobham two or three days a week. EPPP however allowed them to take that further and forge their own educational facility on-site; a step which would allow 14, 15 and 16 year-olds to spend every day of the week at the training ground, splitting their time between the classroom and the pitch.
Gerry Harvey, Head of Education, explained the steps undertaken to ensure they were meeting the highest of standards:
"'I went to Clairefontaine in France, I looked at the Dutch system where they have sports schools, and the German system,' he continues. 'I went to Barcelona for four days where they have a private school that they take over and send the children there, so Neil Bath gave me great scope to go and actually see what the best model was. I didn't look solely at football either, I was pointed towards the Yehudi Menuhin music school down the road from Cobham and the Royal Ballet School in Richmond.
Admittedly, I couldn't see the ballet school and football having any similarities but I completely pre-judged the situation and was so wrong. The beauty of their school is they do four hours of ballet a day, five days a week, from Year 7 to Year 11 and, even though we only wanted to take in boys from Year 10 and Year 11, it was a model that I liked because there were a lot of similarities with what we are trying to do.
Other clubs send their boys out to local schools but I didn't like that idea. What happens is a lot of the boys go back to school after training and think they're going to be big football players so neglect their studies. They feel like they don't need to do their homework and ultimately they underachieve academically and I didn't want that.
Here we place a huge emphasis on homework. We have supervised classes three times a week and, if the boy doesn't do his homework, then his football suffers and we can control that. We also eliminate this swagger of the boys going round their own school thinking they've made it because actually they're in a school with 20 others who are in the same position."
It's already proved a tremendous success. Examination grades have gone "through the roof" according to the Premier League's director of youth development Ged Roddy, whilst exposure to higher standards of football has increased dramatically with more than twenty schoolboys featuring for the Under-18 team last season. Not content with allowing their best and brightest find a comfort zone, the Dominic Solankes, Jake Clarke-Salters and Jay Dasilvas of the group have been challenged with stepping up to the next level ahead of time. Solanke's return of more than 30 goals for club and country last season led to involvement with the first team in pre-season (alongside Dasilva) whilst all three played crucial roles in a third FA Youth Cup success in five years.
Impressing for Club and Country
As Matthew Benham's thoughts in that Brentford question and answer session demonstrate, people have sat up and taken notice. Chelsea have been the single most represented club at England international level over the past five years with each age group from Under-15 through to Under-21 commonly littered with Blues prospects. The most recent batch of call-ups saw more than a dozen academy products called upon and they're not just there to make up the numbers either; Solanke and Izzy Brown were central to the Under-17s winning their European Championships back in May and many more are pushing for similar successes at Under-19 and Under-21 levels.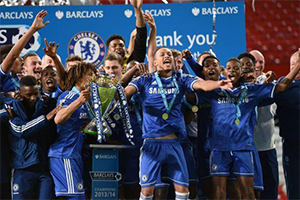 That third youth cup title in five years was a third appearance in the showpiece occasion in succession; Norwich City's 2013 triumph ended aspirations of what could have ultimately been a three-peat, and it was followed a few weeks later by Drummy's Under-21 team securing their second national title in recent memory with a fine win at Manchester United's Old Trafford stadium. The UEFA Youth League may soon follow; the Blues were runners-up in the NextGen Series before cutting a swathe through more formalised continental competition only to be ejected from the fledgling operation by Schalke, a team they had already beaten twice that season and have since thoroughly eviscerated in this year's iteration.
Can anyone really break through though? What does the future hold?
To put it simply, there are few clubs anywhere in the world capable of stacking up against what Chelsea have achieved in the past decade. As ever though, the big question still remains as pertinent as ever because John Terry remains the last product of the academy to establish himself as a regular in the first team. Others – most notably Ryan Bertrand – have flirted with a breakthrough but until the nearly 34-year old Terry is joined (or replaced) by any one of a number of burgeoning young talents, the job will be incomplete.
Arnesen once indicated it was his and the academy's desire to provide the first team manager with one player from the youth setup every season. He might be able to claim that was achieved too, for since 2010 Borini, Bruma, McEachran, Hutchinson, Bertrand, Blackman, Aké and now both Baker and Christensen have been incorporated into affairs. Yet their opportunities have remained minimal.
Peter Kenyon once also claimed that Chelsea would "break even" by 2010. He was a year or two out and unfairly chastised for his marginally premature optimism, and we can really apply the same to Arnesen. Aspiring to succeed is all the academy can do; they are undeniably at the forefront of youth development in England and the 'ten-year plan' has been a remarkable success. The rest is down to the players themselves realising their potential and there being a tangible, open pathway into the first team. Not just the squad, not just training every day, but playing a significant role in determining the fortunes of the club on the pitch.
The barriers these young starlets have to overcome have been well documented – even on this very site as recently as April – and certainly none of them will be handed a gift-wrapped starting berth. Mourinho 'should blame himself' if Baker, Solanke and Brown do not become regulars for Chelsea and England. He says "they have to."
Seeing will be believing, but nearly ten years on from Abramovich's arrival beginning to impact the younger side of Chelsea Football Club, they couldn't be set up any better to make it happen.