In the final part of our Academy Season Preview here at TheChels.net, it's time to take a more detailed look at a Chelsea team set to compete for honours on every front yet again. It promises to be something of a transitional season at each age group but there is undoubtedly sufficient talent for silverware to once again be not just a standard target but a realistic proposition.
Adi Viveash's Under-21s relinquished their league crown to Manchester United back in May and, as he prepares for his second season coaching at this level, he has already offered something of a warning that he views this particular group of players as a longer-term project:
"It's a very different group this year; very young – extremely young – and it's going to be a challening season no doubt. The Under-21 league is getting harder, the quality is going up with (the addition of) promotion and relegation; no disrespect to West Ham and to Fulham but Reading and Middlesbrough are better sides that have come up.
I do think it's going to be a challenging year this year and we're going to have to learn on our feet. There's going to be a lot of development but a lot of coaching as well and that's the job, but hopefully we'll see quite a lot of improvement as the season goes on. I think it'll be more of a twelve-month project rather than seeing results very quickly."
It's clear to see the basic thinking behind his caution; of his ten leading appearance-makers last season, Jordan Houghton, Dominic Solanke, Izzy Brown and Andreas Christensen have already departed on loan, Charly Musonda and Jeremie Boga are expected to follow, whilst Ruben Loftus-Cheek and Ola Aina will spend the majority of their time with the first team (as Nathan Aké, who played just five Under-21 games last season, did).
It's a significant alteration to Viveash's group and leaves him looking at this group of players for the campaign ahead: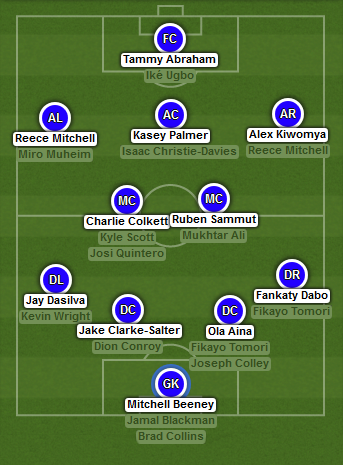 (Note the above is merely a representation of available players and not an indication of immediate hierarchy)
If any of the above happen to remain at the club – Aina seemingly the most likely – then clearly they will come into the reckoning as starters in their respective positions, but elsewhere everybody else steps up one level. Last season's supporting cast become main players whilst a number of those who this time last year were putting pen to paper on their first-year scholarships will make the jump into (near) full-time Under-21 football. It wouldn't be a tremendous surprise to see Bertrand Traore feature now and then to get minutes he'll sorely lack otherwise, and to begin with at least there will be the usual stragglers from the loan group yet to go out featuring in August fixtures.
Mitchell Beeney will start the season in goal with Jamal Blackman dipping in for the odd appearance when his duties as third-choice first-team goalkeeper allow. Perhaps deeper into the season, maybe around Christmas or the New Year there will be a chance for Beeney to go out on loan and experience men's football for the first time, at which point Brad Collins will step up and take over.
A back four of Fankaty Dabo, Fikayo Tomori, Jake-Clarke Salter and Jay Dasilva (with Ola Aina able to play in any one of those positions) finished the season very impressively last term and almost helped the Under-21s over the line in the fight to retain the title. There's a nice balance to the group with tons of versatility; Dabo can cover either full-back slot, as can Tomori in addition to playing in the middle. Dasilva has experience on the left flank and, this pre-season, as a central midfielder and the unit as a whole features two left-footed players as an extra positive.
Dion Conroy will see plenty of action as an option at centre-back with a loan move also high on his list for the year, and left-back Kevin Wright is fit again after an injury-plagued 2015. Highly-rated Swedish arrival Joseph Colley has spent the summer with this group in the same manner as Andreas Christensen did when he first joined and is likely to be placed on the fast-track to similar effect.
Charlie Colkett should captain the team, building on his experience as the leader of the FA Youth Cup group this season, and he'll be the main hold-over from last season's extremely talented and successful midfield. Houghton's move to Gillingham on loan leaves an opening for a more defensive-minded player to earn playing time and Ruben Sammut is probably ahead of Mukhtar Ali as things stand.
Kasey Palmer, scorer of a string of sensational strikes seemingly every week, will take over the mantle as chief playmaker and has duly relished the additional responsibility in pre-season. Expect the likes of Isaac Christie-Davies and Kyle Scott in particular to make things hard for Viveash, and Josi Quintero is now eligible to play after two years of paperwork and visa wrangling rather hampered his Chelsea career to date.
Reece Mitchell and Alex Kiwomya have both been productive in friendly action and figure to start as the respective wide forwards of the group, with Swiss youngster Miro Muheim also ready to impress.
Viveash spoke at the start of July of his expectation for Tammy Abraham to be 'the main number nine' in his group for 2015-16 and, with goals in every one of the club's five summer warm-up fixtures, he's already picked up where he left off. Iké Ugbo will deputise and continue his own fine development as he becomes a full-time scholar.
This group will also provide the foundation for the Under-19s' defence of the UEFA Youth League title. Only Beeney, Dabo and Mitchell are entirely ineligible to feature as UEFA have made provisions for three over-age (Under-20) players to be registered in the 40-man squad, effectively allowing Viveash to retain the core of a team that was remarkably dominant against Europe's finest and rarely looked like stumbling along the way.
The same cannot be said of the FA Youth Cup group though. Having retained the famous trophy and clinched a fourth success in six years, Collins, Aina, Colkett, Musonda, Boga, Brown and Palmer all graduate to leave a hungry, new generation to pick up the baton and ensure that they maintain the strong recent record in the competition. As much as anything no player wants to be part of a group that doesn't do so, and that will be a constant driving force for Joe Edwards and his group of fourteen new scholars.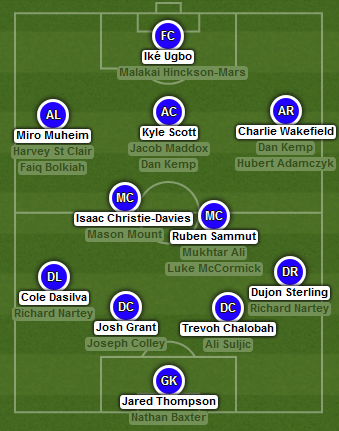 (Note the above is merely a representation of available players and not an indication of immediate hierarchy)
Jared Thompson takes over the starting gloves from Collins and was very impressive in his dozen or so outings last season. Nathan Baxter will deputise and get his own chances in the league having made his own Under-18 debut in the last match away to Aston Villa back in May.
If all good title challenges are built on a strong defence then Chelsea stand a fine chance of challenging for the Under-18 league as well as the Youth Cup. Edwards is blessed with a staggering array of supremely capable defenders, many of whom were front and centre in the spring when stepping up to cover for those on cup duty. Josh Grant was amongst the leading U18 appearance-makers and may captain the side; he like so many others can play right across the line but is at his best in the middle, as is probably centre-back partner Trevoh Chalobah.
Like his older brother Nathaniel, Trevoh – an England Under-16 regular and occasional captain – is at home pretty much anywhere on the pitch but has shown a predilection for more defensive duties and it's to the Blues' benefit that he does so. Throw in the exploits of Colley and the additional year of experience of compatriot Ali Suljic and it has the makings of a formidable group even before looking at the full-backs.
Jay Dasilva should leave Under-18 football behind, the Youth Cup notwithstanding, but it would be a nice touch to see him turn out alongside Cole, one of twin brothers a year his junior. Cole can comfortably play in either full-back spot and is equally confident on his right and left foot, playing a similar but slightly more physically robust game to his more experienced sibling. He should play on the left most of the time, allowing Under-16 standout Dujon Sterling to slot in on the right. Rarely has an Under-15 player (as he was then) looked as confident or as good as he did last season, making waves at Under-19 level, and even though he doesn't become a first-year scholar until next summer, he may well be at Under-21 level by that stage.
Richard Nartey offers a dependable and confident alternative in every position, as does Marc Guehi, an England Under-16 defender who made his youth team bow last season aged just 14.
Kyle Scott, Ruben Sammut, Mukhtar Ali and Isaac Christie-Davies should all return to youth team football and reprise their roles as outstanding midfield contributors to start the season, but it won't be long until one if not all of them move up to join Viveash's group permanently. When they do, a budding group of first-years will replace them, hopefully led by England Under-16 international Mason Mount. Unfortunately, he suffered a potentially serious knee injury on the eve of pre-season which has thus far prevented him from exhibiting his brand of dynamic goalscoring play at a new level, but with any luck he'll be back sooner rather than later.
Luke McCormick's versatility allows him to feature in all phases of play but he's at his best in a central midfield role, and ahead of him look for Jacob Maddox to provide the transitional threat into the attacking third. A natural dribbler with his own eye for goal, he can also play wide but will be best used as somebody who gets to see a lot of the ball and influence play in that way. Daniel Kemp will be something of an understudy in that position but will get his fair share of playing time out wide as well.
The wide forward roles are filled with a group of players who, for one reason or another, generally didn't get as much action as they wanted last season and will now aim to kick on before Christmas and move onto bigger things in 2016. Miro Muheim and Charlie Wakefield are very much on the verge of doing so already but Faiq Bolkiah and Hubert Adamczyk have work to do, with the younger Harvey St Clair ready and able to put them under concerted pressure after a handful of goals in pre-season.
Iké Ugbo reached double figures with his goal return last season and will be targeting 20+ this time around, whilst Malakai Hinckson-Mars can and will play across the forward line. Turning an eye to the next generation again, Martell Taylor-Crossdale scored some 40 goals at Under-15 and Under-16 level last season including a bundle for England, and, as is the Chelsea way, can be expected to step up from schoolboy football in the final year before being eligible to become a scholar.
Plenty of other younger talents will, as always, get their moments in the spotlight before moving up in 2016 and it's part of the fabric down at the academy. By ensuring the players are duly challenged without being allowed to stagnate, they take on sterner challenges and become better players earlier than the majority of their contemporaries. It ultimately means a deeper and more varied talent pool for the likes of Viveash and Edwards to pick from and ensures that Chelsea should be a contender for every competition they enter.
As always, you can keep fully up-to-date with everything going on at the academy both here at TheChels.net and on Twitter by following @chelseayouth. The new season begins on Saturday at Norwich for the Under-18s and at Liverpool twenty-four hours later for the Under-21s; don't miss it.