"In the first-team squad we have seven under-21 players who have 26 starts and 12 substitute appearances this season, and 43 appearances on the bench (when they were) not used."
It was a curious riposte from the beleaguered Jose Mourinho on Monday when pressed as to why he continues to struggle to integrate youngsters into his Chelsea first team squad. It's not the first time a manager has come prepared, armed with statistics to shoot down questions from anxious journalists, but the subject matter rarely warrants such a studious reply.
Then again, this isn't just any batch of young players. This is the most expensively-assembled production line of loan talent seen in football history, painstakingly acquired over the last few years and outsourced across Europe and beyond, with a full backroom staff led by Eddie Newton at Cobham to oversee the sizeable operation.
This is also the most successful group of home-grown teenagers in English developmental football for a generation. Chelsea's four FA Youth Cups, two Under-21 league titles, UEFA Youth League success and regular dominance of schoolboy-age football in the past decade has seen their academy ascend to become the marker against which every other club is trying to aspire to. Neil Bath runs a tremendous operation and heavily influences youth development across the country, being a leading force in the Elite Player Performance Plan, and the Blues regularly provide almost twenty players to England across all age groups at each international period.
As of yet, though, scant few of those precocious youngsters have bloomed into life at Stamford Bridge, hence the regular questioning. It can hardly be through a lack of talent; application has been mentioned on several occasions with someone like Loftus-Cheek, but the talk is often of opportunities. Last week, Michael Emenalo adopted the role of the Grinch this festive season, stating that none of the players would be 'handed Christmas gifts' by way of first-team minutes, and Mourinho has adopted a similar stance prior to rattling off those numbers on Monday.
Jose said he "wasn't comparing (Chelsea) to other big clubs" but "when you have a lot of top players, where it's difficult for the youngest to have chances, we are giving opportunities to players". Well, with that in mind, how do Chelsea compare?
(All statistics are for all competitions and were taken from before kickoff on November 24th and apply to players who were aged 21 or under on August 1st 2015)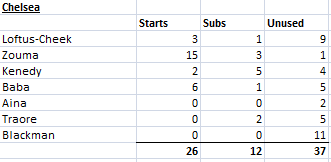 (Stats via Chelseafc.com)
The 43 unused substitute appearances aside (the numbers don't quite add up as stated but it's a matter of small significance), it's been a lot of Kurt Zouma and Baba Rahman. That's not news. Let's look at the rest of England's top six:

(Stats via Soccerway.com)
The numbers, indeed, do not lie. Chelsea aren't doing anything special when it comes to doling out first-team minutes for their younger players; in fact, they're slightly behind the curve compared to Manchester United, Tottenham and Liverpool, with Arsenal and Manchester City chasing their coat-tails. It's slightly more damning when you remove the relatively insignificant tally of unused substitute appearances.
All six sides have at least one expensively-acquired young signing leading the way and there can be little doubt that Kurt Zouma, Anthony Martial, Memphis Depay, Emre Can, Dele Alli, Calum Chambers, Alex Oxlade-Chamberlain and Raheem Sterling would start for a great many teams.
That's beyond the point here though. The slight levelled against Mourinho is that he's unwilling to take a leap of faith on a more formative prospect, be it from the academy or elsewhere. His stats are all well and good but when fully 88% of starts and 84% of all appearances have been handed down to Zouma, to Baba Rahman and to Kenedy – more than £30m of signings – it comes across as the Portuguese shifting the goalposts somewhat in to deflect attention away from the true nature of the discussion.
How do Chelsea compare to Europe's heavyweights? Well…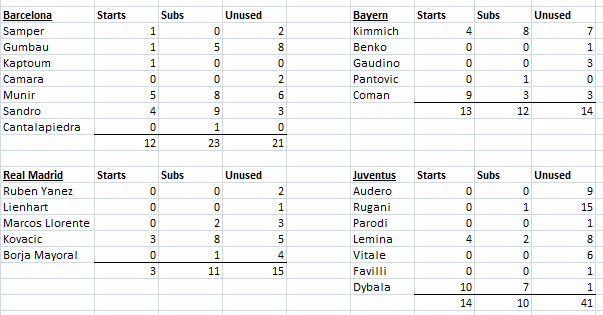 It would appear favourably, but again, it's important to scratch away at the surface of the numbers and analyse the truth hidden within them. Real Madrid are an especially individual case; one of football's biggest spenders despite their productive academy, and the results have by and large vindicated their activity. They're perhaps the closest comparison to Chelsea in general but the Blues have typically lagged a step behind them on and off the pitch.
Juventus have done pretty well for themselves whilst taking into account that Serie A does not feature a standard reserve or Under-21 league after the Primavera (Under-19) age group. For this reason, whilst Chelsea have 33 players out on loan, Juve have almost 60 and, alongside their summer transfer activity reducing the average age of their squad, they've also been responsible for giving Paul Pogba the opportunity so desperately required to turn him into the world's most sought-after midfielder.
Barcelona and Bayern Munich might not have the numbers this season but you need only look at the construction of their respective squads and the manner in which they've dominated Spanish and German football – and European – in the last decade – to know they're the standard-bearers. Barca built perhaps the most complete team ever with an academy core lending itself to providing Spain with unrivalled international success in the same era. Bayern's glut of home-grown Germans – Lahm, Badstuber, Muller, Schweinsteiger, Kroos – then provided the foundation for club and country to be able to unseat the Spanish at the top table.
It's entirely valid to want to ape Real Madrid more than Barcelona if Mourinho and Chelsea want to. It's a model they've effectively adopted since the very beginning of the Abramovich era with transfer-market largess and managerial revolving doors commonplace as much at Stamford Bridge as at the Santiago Bernabeu (Messrs Mourinho, Ancelotti and Benitez have occupied both hot-seats and it's not by chance). What rankles though is the pretence that the academy matters to Mourinho and Emenalo.
Talk is cheap and it's been in plentiful supply. Nobody can be blamed for asking those that matter why they've not been willing or able to integrate more successful. Mourinho's sole remit is to win – and he's done that more often than not – but empty platitudes about having a responsibility to the academy, or meaningless statistics designed to placate the uninformed masses do little more than serve as a note of embarrassment.
If he doesn't consider Loftus-Cheek to be ready for the first-team squad, why involve him at all? Why stop him going on a loan he increasingly looks in need of? Sure, he suits the boss' desired physical profile (stamina notwithstanding), but in not using him for whatever flaws he considers not worthy of a risk, Mourinho is hamstringing his own squad whilst the likes of Lewis Baker, Marco van Ginkel, Nathaniel Chalobah and Mario Pašalić continue away on loan.
That quartet, along with maybe Charly Musonda and Charlie Colkett, all have a case for claiming they're more 'ready' to play for Chelsea than Loftus-Cheek (as does Jeremie Boga if you consider Loftus-Cheek an attacking midfielder…), but none of them are 6'3″ and in excess of 13 stone and so are effectively rendered worthless to the manager. His involvement has come as much for his physical upside as his technical prowess, a view which may trouble those who fly the flag for the smaller, more easily (and often) ignored prospect.
The time might well never come for the club to put up or shut up. If they recover the season, qualify for the Champions League and blow a wad of cash on a shiny new signing who leads them to more silverware, who's going to care whether Ruben Loftus-Cheek or Charly Musonda get to play? That's been Mourinho's end game throughout his career and it's served him well but, as he struggles through his most testing season ever, the questions are increasingly louder and the answers barely audible.