It took less than ninety seconds for Harry Kane to make his England debut more memorable than he could possibly have imagined. Tottenham fans have been quick to tell the world 'he's one of their own', and if the young forward keeps things up, the fans at Wembley will almost certainly end up following suit before much longer.
Patrick Bamford's Nottingham Forest days mean he's unlikely to ever hear that from Chelsea's supporters and that's before we even entertain the idea he'll even get to play in front of a Stamford Bridge crowd, but his Championship performances this season have at least given plenty of people a great many reasons to talk about him. 39 days younger than Kane, he represents one of the most in-form young English centre forwards in the game and, with the race for promotion to the top flight as close as it could possibly be, he stands to be front and centre between now and the end of the season.
The standard Chelsea youngster preface is applied; even if he fires Boro to promotion, his chances of breaking into Jose Mourinho's plans remain extremely slim. The most pertinent questions, however, are whether he's good enough to deserve to be in contention, whether he's done enough whilst away on loan to warrant the suggestion in the first place, and whether he has anywhere near the potential to 'pull a Kane' and catapult himself into the game's upper echelons.
Since embarking on his first real spell in professional football with Milton Keynes Dons a little more than two years ago, Bamford's star has been on the rise. Initially alerted by his prolific form for Forest in the 2011-12 FA Youth Cup, a barrage of goals at Under-21 level quickly convinced Blues brass that his development was best served by an early exposure to the senior game. Four goals in 14 appearances encouraged manager Karl Robinson enough to bring him back for the start of 2013-14, and it was then that things really began to motor along.
Seventeen goals in thirty games for a third-tier side attracted interest from above and the Grantham-born forward swapped the bright lights of Buckinghamshire for those of Derby's iPro Stadium in a bid to help his former club Forest's bitter rivals towards the Premier League. Despite never being given a run of games in his favoured centre-forward position and instead being asked to 'do a job' on the right of a forward line, 8 goals in 23 games saw County come within seconds of a place in the top flight before Richard Keogh handed it to Queens Park Rangers instead.
An intriguing summer followed; one in which Bamford revealed Mourinho had offered him the chance to stick around in SW6 to compete with Diego Costa and Loic Remy as the club's third-choice striker, but the return of Didier Drogba meant another loan spell. Enter Middlesbrough, where a relationship had developed with ex-Mourinho acolyte Aitor Karanka, and once again, the target was promotion.
With sixteen goals to his name this season, Bamford possesses a career strike rate of almost one in two, but a more detailed breakdown of his Championship performances compared to high-profile contemporaries is rather favourable to our subject.
(Statistics from the beginning of the 2013-14 season)
[table class="table table-striped"]
Player,Minutes Played,Goals,Mins Per Goal,Penalties,AdjMpG
Patrick Bamford,3556,22,162,0,162
Troy Deeney,6483,43,151,8,185
Jordan Rhodes,6970,41,170,6,199
Ross McCormack,7346,38,193,3,210
Chris Martin,6663,38,175,7,215
Lewis Grabban,5808,34,171,8,223
[/table]
Only Troy Deeney of the most prolific forwards in the division can boast a better goals to minutes-played ratio over the last two seasons and although Bamford's sample size is somewhat smaller, his record has improved as it has grown. He is also the only one of the group not to have taken (and therefore scored) a single penalty in that time; removing penalties scored from the respective tallies leaves Bamford well clear of his competition.
And when compared to four other English forwards of note who have played in the second and third tiers in recent seasons, he comes out smelling of roses again.
[table class="table table-striped"]
Player,Dates,Club(s),Minutes,Goals,Mins Per Goal
Charlie Austin,2009-10 to 2013-14,Swindon/Burnley/QPR,13328,91,146
Saido Berahino,2011-12 to 2012-13,Brentford/Peterborough,1076,6,179
Harry Kane,2010-11 to 2012-13,Leyton Orient/Millwall/Leicester,3100,14,221
Danny Ings,2011-12 to 2013-14,Bournemouth/Burnley,6186,26,238
[/table]
Charlie Austin has racked up more minutes and goals at that level of competition than his rivals and that in itself is reason enough for his continued impressive production, but again, if we remove his 12 penalties from that tally it brings him down to a goal every 169 minutes, leaving Bamford in the clear.
So far so good, right? We've been able to establish that Bamford measures up to his competition in front of goal at lower levels and at the very least has done everything asked of him throughout each phase of his career, so what's stopping him getting into the Chelsea first team squad or at the very least a top-flight opportunity? What are his weaknesses and why would a manager shy away from him?
The regular knock on him thus far is that he's not particularly gifted in an athletic sense; he doesn't possess top-end pace and he's not the strongest, a point made by Derby at the end of his stay and refuted by the player himself ever since. After working to improve his physical presence last summer in the wake of those comments (as well as under instruction from Chelsea themselves), he has made strides in that department but it's safe to say he'll never be mistaken for a Diego Costa or a Drogba.
That in itself is a major roadblock whilst Mourinho calls the shots. His lone forward must be able to occupy both centre-backs for long stretches; they must be focal points for the team to play into and they must be able to make things happen for themselves. A who's who of the best at doing just that can be reeled off from the Special One's career to date; see Benni McCarthy, Drogba, Zlatan Ibrahimovic, Diego Milito, Karim Benzema, Cristiano Ronaldo, Gonzalo Higuain and now Costa.
The supporting cast reinforces the argument; Derlei, Hernan Crespo, Mario Balotelli, Julio Cruz, David Suazo, Emmanuel Adebayor, Demba Ba and Remy will never be found lacking for physical attributes. In all cases, top-flight experience aplenty was already under their belts and they could be relied upon at every level of the game. Bamford, on the other hand, has not one Premier League minute to his name and that in itself is another significant weakness. Chelsea intend to compete at the highest standard of club football and Mourinho in particular demands players with personality, aggression and desirably experience of having been there and done that. It's that as much as anything that regularly prevents young prospects from coming through at the Bridge, with the manager just last week admitting to not being comfortable calling upon the services of Dominic Solanke in a big match because he didn't consider him ready.
This though, we're told, is a different Mourinho overall. After a decade asserting himself as the best manager in the world, he wants to settle down in his second spell at Chelsea. He wants to build something for the future, utilising one of Europe's finest academies and the burgeoning level of produce coming through at Cobham. Half a dozen of the best have already made debuts since his return and whilst plenty of lip service has thus far been paid, few remain convinced that things will ever truly change.
What can Bamford bring to make up for his so-called physical deficiencies? For starters, he's one of the brightest and most articulate footballers of his age and it translates directly into his approach on the pitch. He has a refinement and a subtlety which he applies to his craft in a manner unlike many, let alone those at the beginnings of their careers. Examples abound throughout his goals whilst out on loan:
http://www.youtube.com/watch?v=pGTnJjkIVo8
Against Norwich he completely sells his defender down the river by faking a darting run to the near post just enough to create the extra time and space he needs to connect with the cross. He then took the art of dummying to the next level at home to Norwich's fierce rivals Ipswich later in the campaign by spinning away from Tommy Smith's attentions before picking his spot, and goals against Derby and Gillingham showcase excellent close control and considered finishing with the odds against him doing so in both.
Those who he has worked under are in little doubt of his top-level credentials. Current boss Karanka talked up his willingness to sacrifice his game for the team after the recent victory at Derby, saying of his young charge: "I've been speaking with him since he arrived here and he understood from the first moment that he was going to play in the best position for the team. When he plays up front he plays well because he's a quality player. The main thing is he understands his role for every game," whilst his defeated former manager Steve McClaren talked of "the sort of quality that he is capable of producing" in deciding the outcome.
During his time at StadiumMK, Karl Robinson described him as a "special talent" and England Under-21 supremo Gareth Southgate expanded to opine on "a goal scorer…someone who doesn't need too many chances to make his mark".
Loanee liaison Eddie Newton carries more weight than most with his comments but he too has been taken by Bamford's attitude: "He's adapted. This is a big word we use in the loan process; being able to adapt not only to different surroundings but being asked to play in a different position or take on different tactical information."
"The fact that he went to Milton Keynes to start off with was the best thing that he's done. To go down to make sure he was going to get games…his development just excelled at MK. It's a good place to develop, it's a good club, he developed himself physically – he understood he wasn't physically ready – and he got noticed."
Playing amongst higher-quality team-mates would naturally help balance out the step up in quality he would face, but would he be a good fit for Chelsea's formation and playing style? Playing for Karanka is a good start with many similarities between the master and the apprentice in their respective approaches, and a little help from Squawka shows startling similarities between Bamford and Diego Costa in where they score their goals from.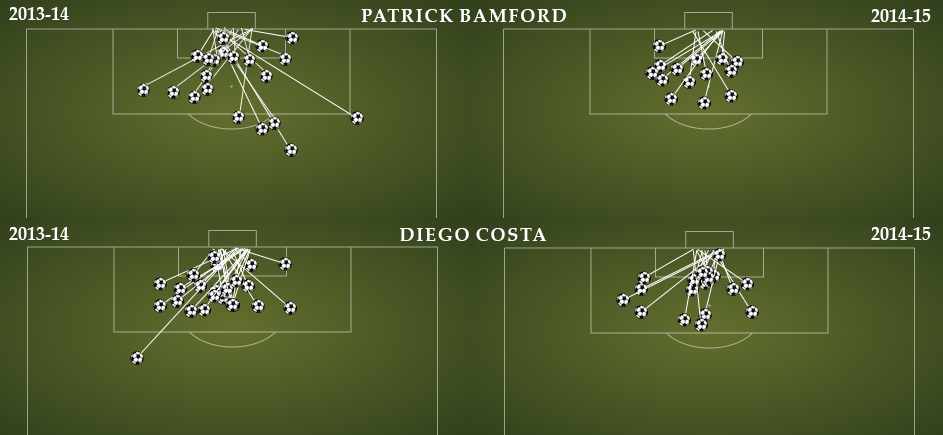 At different teams last season both were more varied in their approach, netting from close in as well as a smattering from a little further out, whilst this term in more similar set-ups they have tended to convert from very similar areas in the heart of the penalty area with a slight preference towards the left side.
Few would have expected Harry Kane to have the season he's gone on to have. Even fewer would expect Bamford to be able to do it himself and truth be told he's not going to get that chance. His best hope of Premier League football in 2015-16 will come on loan elsewhere; ideally at Middlesbrough if they go on to secure a top-flight berth of their own but elsewhere if not, as he's proven himself quite capable of handling the Championship by now. He has enough about him to play a part for Chelsea if allowed to, and whilst he might not be of the right physical profile for Mourinho to entrust him with senior duty (the likes of Solanke and Izzy Brown appear to be making strides because they are), a different manager at a different club could take advantage in a big way.
Patrick Bamford is nearly ready for his big shot and all evidence points towards him taking it with both hands. It's up to Chelsea whether or not it will be in their blue.