So here we go again. The 2016-17 academy season is about to get underway and, as usual, Chelsea are set to be front and centre at almost all levels once again as they bid to continue to assert themselves as the premier youth setup in England.
Having retained their Category One status for another three seasons they're armed and ready to mount another defence of an FA Youth Cup crown they've now won for three successive years, and they would be preparing to do the same with their back-to-back UEFA Youth League crowns. Unfortunately, the demise of the first team, and the fact UEFA have no provisions for the title holder to defend their crown mean the Blues will be a most notable absentee from Europe's foremost youth tournament, and a great shame it will be too.
Instead, the club will be taking part in the revamped English Football League trophy. Sixteen Under-23 sides (more on that later) have been invited to join League One and Two sides in senior professional competition for the first time but the entire process quickly unravelled into something of a farce. The scheduling of many of the fixtures around international breaks and the enforced use of first-team stadia has led to the majority of leading academies to say 'thanks but no thanks' and decline participation as a result of not being able to field their best players but, at the last minute, Chelsea were able to come to a compromise with the EFL and will face Swindon, Exeter and Oxford in the group stages this autumn.
It'll add an extra angle to what will be a new campaign with a slightly revamped league schedule too. The Under-21 Premier League is no more; the Premier League 2 era has been ushered in with the same bold aspirations and intentions as its predecessor did four years ago. The actual structure remains the same but the age cut-off is now Under-23, whilst three over-age outfielders and one goalkeeper are still allowed to feature.
It's a partial return to the old Reserve League set-up of yore but with a slightly tempered age bracketing involved. Fixtures are to be kept to the Friday to Monday weekend window where possible (let's see how that holds up during the winter months when fixtures pile up at lower league grounds increasingly worse for wear) and the usual three have to be held at the first team stadium. The Premier League hope to encourage a more professional product with older, more experienced players featuring before going into first-team football rather than heading out on loan, but that's quite a leap of faith to make.
For Chelsea, a strong finish to the 2015-16 campaign promised much and coach Adi Viveash was pleased with the work put in by a young and generally inexperienced group of players last season. A year ago he warned that it was going to be a tricky season with a lot of real coaching to bring players along, and that's exactly what transpired. An odd schedule laden with home matches before Christmas saw the Blues embark on numerous road trips in the early new year, but it built a resilient group which finished a respectable fifth after running out of steam towards the end.
Arguably the biggest challenge for any Under-21 coach is to adapt to an ever-changing squad at a moment's notice. Having lost Andreas Christensen, Jeremie Boga, Dominic Solanke, Ruben Loftus-Cheek, Jordan Houghton and Izzy Brown this time last year, Viveash had to do without Charly Musonda for the second half of last season and will do the same again, whilst Kasey Palmer, Alex Kiwomya, Reece Mitchell, Jordan Houghton and many others have gone onto bigger and hopefully better things this time around.
It leaves Viveash and new assistant coach Ian Howell – replacing the Vitesse-bound Andy Myers for a year – a fresh-faced group facing up to the responsibility of handling a big step up. It's rewarding to send players off into the big wide world of adult football and even more so to produce four academy debutants – as they did last season in Bertrand Traore, Jake Clarke-Salter, Tammy Abraham and Fikayo Tomori – but the slate has been wiped clean and it's time to mould more potential stars.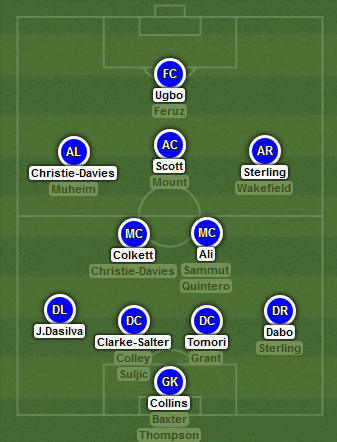 (Displayed in the two formations most commonly used last season, is to show positional depth and is not necessarily representative of actual hierarchy)

Brad Collins emerged as a reliable and often match-winning pair of hands in goal last season and, with Mitchell Beeney and Jamal Blackman out on loan, he figures to get the bulk of the work again. Nathan Baxter's excellent season as a first-year scholar led to a professional contract and a summer working with the group and he figures to have a slight edge on Jared Thompson, an equally capable goalkeeper who will be hoping for fewer injury problems than he went through last season. New signing Marcin Bulka has the physical presence and potential to make significant strides in a short space of time and may get a look of his own too.
A transitional summer in defence may yet sees the likes of Clarke-Salter, Jay Dasilva and Tomori head off to experience their first tastes of professional football, whilst Fankaty Dabo and Dion Conroy could also secure moves before August is out. Dabo and Dasilva have been regular features in pre-season but otherwise there's been a much more youthful look to the rearguard and it's a pair of 17 year-olds who signed long-term contracts this summer who have led the way. Trevoh Chalobah and Joseph Colley are both versatile, commanding and extremely competent, have Under-21 experience to their names and will be increasingly important to Viveash's plans in '16-17.
Fellow academy graduates Josh Grant and Ali Suljic won't be far behind whilst it would not be a surprise at all to see Dujon Sterling get an early crack at this level after a stunning season last time out whilst still an Under-16 schoolboy. He might initially be utilised in a more attacking role but, as he can play at full-back and centre-back, his ability to contribute anywhere and everywhere will play right into his hands.
Without Palmer, Houghton, Mitchell and Kiwomya in midfield, the Blues will turn to a core of players who have achieved plenty at Under-18 level and already made overtures towards doing the same upon stepping up early last season. Kyle Scott leads the way on that front; he should take over Colkett's role as conductor, whilst Mukhtar Ali quickly established himself as a Viveash favourite last term and will bring composure and control to proceedings.
Josi Quintero's dogged, terrier-like attitude is endearing, Ruben Sammut is an effective destroyer and leader, and Isaac Christie-Davies makes things happen in attacking areas. Mason Mount and Jacob Maddox, meanwhile, sparkled in the spring and connected so effectively together that they too should be considered candidates for Under-21 adventures, lending a youthful creativity and vigour to the group. Maddox will be a step behind after sitting out the summer injured but Mount, still only 17, has established himself as a rising star throughout July and early August.
Charlie Wakefield and Miro Muheim will endeavour to bring their goalscoring form with them having left youth team football behind them, taking their places on the wings in replacing some very dependable and capable predecessors. They'll have to do so too as Iké Ugbo projects as the sole goalscorer in the group; with Abraham (already gone), Solanke and Islam Feruz unlikely to be here come September it falls upon the 17 year-old to pick up where they left off. His 24 goals last term and relatively productive summer in pre-season give confidence.
Elsewhere, there's been a changing of the guard at Under-18 level for the new season. Joe Edwards has moved up to work closely with the club's loanees and England's youth teams as part of his progression towards qualifying for a UEFA Pro License, allowing Jody Morris to take charge having worked as his assistant for the past two seasons. Former academy scholar Ed Brand is, in turn, his new number two after working both with the junior age groups and the Under-19s in a match analyst role as Neil Bath's grand plan to produce the coaches of tomorrow as well as the players continues to take shape.
On the pitch a generation that only knew of FA Youth Cup success has graduated, passing the torch down to continue the tradition. It promises to be a really young team led by those talents already pushing for Under-21 inclusion.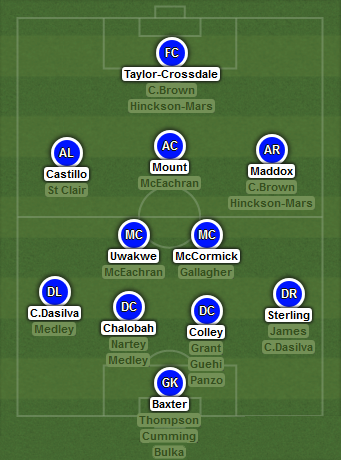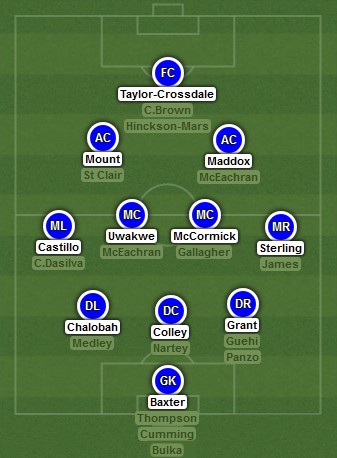 (Displayed in the two formations most commonly used last season, is to show positional depth and is not necessarily representative of actual hierarchy)

Baxter and Thompson will duke it out for Youth Cup supremacy but newcomer Bulka and Jamie Cumming will likely see a lot of time in the league on Saturday mornings, the latter after dipping his toes in the water at the back end of last season. An England Under-17 international, he's confident and very capable, whilst Bulka will settle in before showcasing his full arsenal and allowing his size and technique to dominate.
Edwards and Morris often used a 3-4-2-1 formation last season to both exploit the breadth and depth of talent available to them and to overwhelm opponents in attacking areas, and whichever approach Morris and Brand adopt this time around, they once again have the tools at their disposal to play with. Chalobah, Colley and Grant will form the core of the FA Youth Cup team but Richard Nartey, Marc Guehi and Zech Medley will get plenty of minutes too, as will Under-16 standouts Jonathan Panzo and Marcel Lavinier (England Under-16 internationals both) as the campaign goes on.
Cole Dasilva can and will play at either full-back position and first-year scholar Reece James has emerged as a very keen right-back, neatly combining a demanding attitude with rugged athleticism and a technical foundation borne of playing in central midfield. Expect Medley and Guehi to also see time in wide defensive roles as and when need dictates.
Midfielder Luke McCormick was one of the real success stories of last season. A late decision to award a scholarship to after trialling elsewhere, he had to bide his time for an opportunity and had to put in the work to come along a little slower than some of his high-profile team-mates, but come the end of the season, he was captaining the Under-18s and putting in tremendous performances as a workhorse in the middle of the park.
He'll reprise that role again, most likely as skipper, and should work well alongside the graft of Conor Gallagher, the intelligent flair of Tariq Uwakwe, and the laconic stylings of George McEachran. Josh's younger brother is a very similar operator and has the same unassuming, easy-on-the-eye left-footed gait about him, and can play anywhere in the midfield.
Mount and Maddox will also be crucial to any hopes of retaining the Youth Cup and, when they're otherwise occupied, Juan Castillo, Harvey St Clair and Malakai Hinckson-Mars will fight to impress in attacking areas. Castillo is a left-footed playmaker who arrived from Ajax this summer and has already displayed plenty of strength and panache to mark him out as a regular menace to opponents; St Clair scored eight goals last season as a bit-part player, and Hinckson-Mars spent time at Crystal Palace whilst working on his strength to hopefully make good on his professional contract and make a meaningful contribution.
In each of the last three seasons the Under-18s have been blessed with a steady and often spectacular stream of goals from their lead centre-forward(s). Solanke, Abraham and then Ugbo set the standard, and Martell Taylor-Crossdale is ready to do the same. A pre-season goal glut followed regular England Under-17 strikes and 40+ goal campaigns for the junior age groups and, like those that went before him, his instincts in and around the penalty area are uncanny.
Charlie Brown, brought in from Ipswich Town, will bring something different – he's more of a livewire, a left-footed sparkplug – and much is expected of England Under-16 forward Callum Hudson-Odoi if and when he makes that leap.
The immediate goal will be to finish atop the Southern league table for a third successive season, putting in the hard work between now and Christmas to provide a foundation for the second half of the campaign, when silverware comes into the equation. Having bested Manchester City in the Youth Cup twice in a row, the Citizens are a force to be reckoned with this term and will be stoutly defending their league title whilst making an all-out assault on wrestling the cup away from the Blues.
To do so, however, they'll have to dethrone the standard-bearers in English academy football right now. Chelsea set the bar and look in good shape heading into the new football year. This is a well-rounded, home-grown group that looks to have considerable mental fortitude and determination to achieve their ambitions for '16-17.
You can, of course, follow it all the way here at TheChels.net and on Twitter @chelseayouth with ten months of excitement, drama and progress ahead. It's going to be great.