For many, a third consecutive FA Youth Cup Final between Chelsea and Manchester City will only serve to confirm their fears that the financial largesse that exists at the top of the English game has well and truly made its way down to the academy ranks, with the two biggest-spending clubs in the country now dominant at junior level as well.
Others will view it as a positive thing; almost fully five years into the Elite Player Performance Plan, the aspirations to see the best and brightest young talents in England naturally find their ways to the best academies have seemingly materialised. After all, Man City have lost just 14 of their last 100 Under-18 fixtures and Chelsea have tasted defeat on just eleven occasions over the same number of matches – and two of those were to City themselves.
They lost a combined three matches in the regional group stage of league competition this season and, as they continue to battle it out for national title supremacy, they've each sauntered to another glittering showpiece occasion in the cup. City have scored 22 goals and conceded just 4; Chelsea 23 goals to 3, and both recorded 9-2 aggregate Semi Final victories over fellow Category One teams in Stoke City and Tottenham Hotspur respectively.
As chance would have it, they've once again been kept apart round-by-round, year-by-year so that, for the third year in a row, the best youth setups can pit their wits against each other on the big stage. Chelsea have come out on top the previous two times, adding to a 2013-14 success against Fulham, and are in a record-equalling fifth final in as many years.
The often-heard criticism, though, is that neither side appear especially keen to promote their Youth Cup graduates into the first team squad and offer tangible, meaningful minutes at the top level. Only Kelechi Iheanacho of those to feature since 2014 can really lay claim to having made a serious impact for the big boys and he was signed as a 17 year-old after starring at the FIFA Under-17 World Cup, only featuring in a couple of youth team fixtures.
It's not quite that simple though. Rewind the clock back a decade and the players to successfully come through from a Youth Cup Final team and establish themselves at the same club are at a premium. A great many have gone on to have very successful careers elsewhere, and that in itself is admirable and a fine achievement, but traversing the path from Saturday morning football to Saturday afternoon prime time is a more elusive venture.
(Players are deemed 'established' in the season where they first make 15+ league appearances for their club)
(*Pogba is deemed established at Manchester United only having returned there in 2016)
The average age of a debutant tends to be around the same time or shortly after Youth Cup Final outing, but players on average have to wait another eighteen months at least before they can begin to influence the first team manager, who will usually be someone completely different by the time they get there from the time they left Under-18 football. It's also demonstrably easier to begin to make the step up at lower levels, with Iheanacho and Jack Wilshere the only players to start regularly as teenagers.
If we go back even further to the fabled Manchester United 'Class of 92', their respective first-team debuts came at almost the exact same age and, although the average age of establishment appears younger, if you exclude Ryan Giggs – who had made his first team debut before winning the Youth Cup – it moves closer to the more recognised total. They also broke through twenty years ago, when English football wasn't nearly as strong as it is now, nor was it as awash with money. They would have, of course, broken through and become legends in any era, but the simple fact of the matter is that it's exponentially harder to do that now then it has been at any previous time in the history of the English game.
That, ultimately though, is the task facing the players set to take to the field at the City Academy Stadium on Tuesday, and Stamford Bridge the Wednesday week afterwards. They'll look back fondly on their memories of growing up in various shades of blue, but the goal remains the same for player and coach; provide the first team with top quality footballers.
Tale of the Tape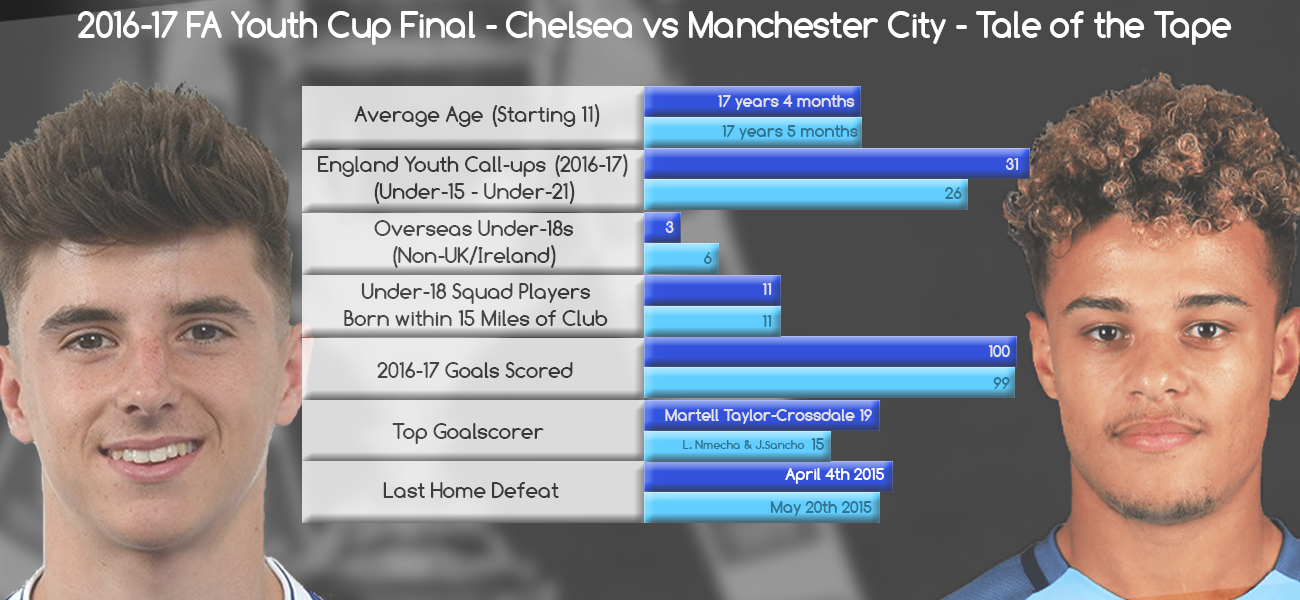 We're dealing with two excellently-matched teams here. The average age difference is a negligible matter of days; Chelsea will have the youngest player on the pitch if Callum Hudson-Odoi starts but City will include more first-year scholars overall, whilst the Londoners will enjoy the physical advantage in general; this is a small and impish City team. There is a healthy balance of returning players from last year's contest and an infusion of fresh first-years, and the equilibrium simply continues from there.
Chelsea have plundered an incredible 100 goals this season, with City just a single goal behind. They've shared theirs around a lot more at the top end; Lukas Nmecha and Jadon Sancho have 15 apiece whilst Phil Foden, Lorenzo Gonzalez and the now-departed Joe Hardy have all also reached double figures. Conversely for the Blues, Martell Taylor-Crossdale's league-leading 19 goals haven't been enough for him to earn a regular Youth Cup place, with Iké Ugbo's seniority leading him to 10, whilst Charlie Brown has also weighed in with 10, 90% of which have come as a substitute.
The two each turn up with eleven players born within a short 15-mile difference of the first-team stadium and there are scant few overseas imports in their squads; City have six to Chelsea's three, but these are academies founded and built on the principles of developing locally-sourced talent, to which their combined 57 England youth call-ups from Under-15 to Under-21 age groups this season testify.
With neither side having been beaten on their own pitch in two years, things really couldn't be more keenly poised going into Tuesday's first leg.
Manchester City

The Citizens have faced a few injury concerns in the build-up to the Final but, when everyone's fit, they have a formidable mix of individuals with the country's best and most dynamic attacking game-changers. Their 'second choice' front four would start for almost every other academy side in the country and include two players who have spent time with the first team squad this season.
They're not too shabby in defence either, keeping twelve clean sheets overall, with eight of those belonging to first-choice goalkeeper Arijanet Muric. The Swiss stopper of Montenegrin origin joined as a second-year scholar last summer and cuts an imposing presence, standing in excess of 6'4" with a simply humungous wing span. He commands his penalty area with authority and patrols the defensive third with a technical assuredness reminiscent of Manuel Neuer, pushing his defensive line up the pitch and forcing opponents back. Chelsea, in their defeat at the Academy Stadium on April 8th, tried all too often to beat him from range or tight angles, which proved futile as he dealt with all comers easily, and they will have to fashion clearer opportunities to beat him over two legs.
The back four has been the problem area for manager Lee Carsley though. Captain Joel Latibeaudiere has been in a race against time to shake off a recent knock and, quite simply, without his athleticism, composure and positional sense, the rest of the group looks vulnerable. If fit, he'll be partnered by Edward Francis, who has worn the armband in his absence and is an England youth international regular. Tall and elegant with an eye for a long pass, he's been adding the nastier side of the game to his bow in recent times to really be able to compete as a proper central defender does. If either miss out, Joe Coveney will come in, but he's been in a patchy run of form of late, leading to suggestions that midfielder Sadou Diallo could perform emergency duties in a pinch.
They could also turn to Demeaco Duhaney if needed, but the EDS regular is better used at full-back, where he can operate on either side to a high level. Blessed with a powerful and strong presence, his experience in an otherwise youthful defensive unit will be integral to their chances of success. If he plays at right-back, Irish youngster Tyreke Wilson will bring his hard-working, no-nonsense game to the table at left-back, whilst Colin Rosler, Jeremie Frimpong and Ash Kigbu provide depth.
Welsh midfielder Matt Smith has also spent time at full-back this term but does his best work in the midfield engine room. An Under-14 signing from West Bromwich Albion, his small stature belies an incredible work rate, technical wizardry, and tactical intelligence that has marked him out as one of City's players of the season. His emergence has proven crucial as last year's scholar of the year Jacob Davenport has spent much of this term battling niggling injuries, and it would be a surprise to see a risk taken on him for such a big match.
Tom Dele-Bashiru should man the other anchoring midfield spot, particularly after having scored against Chelsea last time out. After a protracted contract dispute blighted his early season, he's bounced back well and provides more going both ways than Diallo does by comparison, giving him the nod as the box-to-box powerhouse in Carsley's midfield. Spaniard Iker Pozo can slot into place as and when required and is a fine player in his own right, but his time will come next season rather than in the congested midfield of the 2016-17 vintage.
Then we get into the fun stuff. Jadon Sancho, Phil Foden and Brahim Diaz are, in a word, scintillating. Foden is a local lad from Stockport, at the club a lifetime, and is joined by the former Watford winger Sancho and ex-Málaga kid Diaz in a triumvirate that has cut a swath through any and all comers. Diaz scored three times against Chelsea last season and netted a hat-trick in a Premier League 2 meeting back in February and has a first-team debut to his name this season too, but all three are as smooth as silk dribbling with the ball, sharp as a tack with their decision making, and will need careful attention paid to them if the Blues are to keep them quiet over the course of 180 minutes.
That Luke Bolton, Will Patching, Ian Carlo Poveda, or Benjamin Garré can't get into the team with great regularity speaks volumes. Joe Hardy left for Brentford knowing his future was brighter elsewhere and even schoolboys Taylor Richards and Henri Ogunby would warrant more playing time in lesser squads. City have untold options to change the course of a match and are more likely to outscore you than they are to shut you down and eke out a narrow victory.
Lukas Nmecha's 15 goals have largely come during this cup run, with Swiss forward Lorenzo Gonzalez nominally the first-choice in league outings. Nmecha is somewhat similar to Dominic Solanke in his size and presence, but also in the way he gobbles up the smallest of half-chances in and around the area. Gonzalez is a different animal, short and squat with the build of a Xherdan Shaqiri, making himself a nuisance and scoring at almost a goal per game overall. Schoolboy Bobby Duncan nets for fun at younger levels and may force his way in for a cameo if required.
Their strengths very much lie in their attacking output, with the individual flair and intricate interplay in the attacking third their hallmark over the past two years. Last year's losing team included Aaron Nemane and Isaac Buckley-Ricketts in the wide attacking roles but, with respect to them, Sancho and Foden are classier operators in every regard.
They will, however, need to address some defensive frailties, conceding fully half of their goals to other top academies in Manchester United, Everton, Liverpool and Arsenal, whilst Stoke scored twice in three of their four meetings. Powerful forward Jordan Greenidge grabbed four of those and it's a combination of players of his stature latching onto deliveries from wide of the area on either wing that has seen them undone at the back more often than not this season. Chelsea carry two terrific crossers of the ball in their ranks (more on those below) and that will be a key area to watch going forward.
Chelsea



Some will argue that the Southern section of the Under-18 Premier League is weaker than the North, but that debate aside, Chelsea have been a class apart again this season as they won a third straight regional title. They did so with the best defensive record in Category One football, with a glut of goals highlighted in a 13-0 rout of Brighton, and contributions from every department. They favour a 3-4-3 formation akin to Antonio Conte's first-team shape, but Jody Morris' version is a more attacking one and the academy's use of the shape pre-dates the Italian's arrival in London by at least two full seasons.
Morris has also rotated his Youth Cup squad more often than predecessors Joe Edwards and Adi Viveash ever did, citing the need for everyone to be ready to be called upon when required, but also to reward those deserving of involvement in a year where the squad lacks a dominant star like Tammy Abraham, Charly Musonda, Solanke or Jeremie Boga. They do have five certain starters who they will lean on heavily, but every other position is up for grabs.
That extends to the goalkeeping spot too; Jared Thompson has four starts to Jamie Cumming's two, but both are safe pairs of hands with fine records and can be called upon to provide reliability and match-winning performances. Thompson's knack of saving penalties has proven important time and again and that could be a factor, particularly in the second leg, but Cumming has collected nine clean sheets in sixteen appearances and has come along very well.
Trevoh Chalobah will definitely start at the heart of the three-man defence and has saved his best displays for the cup this season. An Under-23 regular despite not turning 18 until this coming July, he oozes composure and authority and was a hair's breadth away from following his brother Nathaniel in captaining the squad, but even without the armband he's a go-to guy in this year's team and makes everyone around him better. As the competition has gone on he's been joined by Reece James and Josh Grant and they project as the likely starters at this stage.
James has put in his best work as an attacking wing-back this season but, in this particular squad, his strength, aerial prowess and diligence works wonderfully in the 'Azpilicueta' role, whilst Grant will be the oldest player on the pitch and has already appeared in two Youth Cup Final matchday squads. He's very underrated, able to slot into place in any position and play to a high level, and is another captain for Morris to call on, having skippered the youth team throughout last season. Marc Guehi, Joseph Colley, Richard Nartey and Jonathan Panzo will wait in the wings for a chance and are all worthy, particulary Nartey – who has been in good form for the Under-23s – and they all come together collectively as the best group of defenders in the country, emphasised by a run of ten clean sheets in eleven games to open the 2017 calendar year.
In a 3-4-3, the wing-backs are arguably the most important players to get right; they have to get up and down the full length of the pitch from start to finish, overloading in attack but getting back to do their defensive work at the other end. In Dujon Sterling and Juan Castillo, Chelsea have the prototypical duo who have grown in influence throughout this run, the latter in particular the star man against Tottenham in the Semi Finals. They are both tall, strong, can run for days, and carry a relentless attacking threat.
Sterling scored in last year's Semi Final and Final and, despite only being a first-year scholar, is already something of an elder statesman in this team. Cole Dasilva, younger brother of Jay, is the first reserve for both spots and recently scored three goals in as many matches, whilst James and Grant can help out if required.
There's a lovely balance to the central midfield options, led by Jacob Maddox, who grew to prominence in last year's winning run. He operates deeper in this team, entrusted with the box-to-box midfield role, where his slight stature makes him look a questionable selection, but his hard work, tackling ability and pressing knits together well with his natural dribbling style and awareness. He's been an ever-present in the Youth Cup but his partner has mainly rotated between Luke McCormick, Conor Gallagher and Tariq Uwakwe. The first two tend to do more of the defensive dirty work, getting stuck in and shielding the defence effectively, whilst Uwakwe brings a left-footed balance to the picture, improving the range and angles of distribution from the heart of the pitch alongside a penchant for the spectacular goal.
Until the Semi Finals, though, Maddox was joined by his partner in crime and this year's captain Mason Mount. In 2015-16 they joined forces behind Abraham to run rings around City in the Final, but dropped back deeper into midfield to run the show from there this time around. However, at the business end of things, Mount is likely to move further forward again in something of a free role, where he'll be given the licence to wreak havoc and ask serious questions of a shaky City rearguard. He has, in a word, been glorious to watch as a Development Squad regular over the past eight months, and will come into the Final in great form and with the confidence of a new four-year contract under his belt.
Moving him into the attacking three means one of George McEachran or Callum Hudson-Odoi will miss out, which is a stark reminder of Chelsea's own attacking depth considering they have been amongst their best players in 2017. Blessed with balance, skill, flair and an end product, they've combined for 8 goals and 10 assists in the last 15 matches, often one setting up the other, and will definitely have an impact on the destination of the cup. If Morris needs a change-up, Harvey St Clair's direct running and accurate shooting will come in handy.
Iké Ugbo is this year's talismanic number nine; he's not quite as dominant or as influential as Abraham, but he's perfect as the focal point of the attack, controlling defenders with his back to goal, and has the touch and understanding to be a threatening link-up man. He scores goals as well, with 44 in his last 67, and goals in all but one round of the Youth Cup this season. Martell Taylor-Crossdale is yet to add to his 19 league goals with a cup strike but will hope to break his duck in the Final, whilst Charlie Brown will be around to poach off the bench in an emergency.
Whereas City will focus on their attacking threats, Chelsea are as well-rounded a squad and a team as they've been in any of their recent cup triumphs, and where they might lack on a banner name, this is a reliable, versatile and spectacular group of players. They've recently seen their 26-match unbeaten run – a proper run of 22 wins and 4 draws – ended by City in a game where they created more than enough chances without really taking advantage of them, and know that the influx of their Youth Cup regulars will pose plenty of questions for the Sky Blues. Their athleticism and size advantage is notable and is often used as a stick with which to beat them – as if they're incapable of matching up to opponents technically – but the importance of that particular subject will only truly be felt when appraising whether a player can handle playing against adults a few years from now.
Their problems, as Morris has been keen to point out at regular intervals, has been not taking those chances when they come along and then regretting it later on. Even after the 13-0 against Brighton, the boss noted it could legitimately have been 20-0, and the lesson must continue to be learned in light of the defeat last time out. It's yet to truly cost them on the pitch but, with the differences between the teams so marginal, they cannot afford to be profligate in front of goal, and their ability to convert chances could be the difference between lifting the silverware come full time, or relinquishing their hold on the trophy that has resided at Cobham since 2014.
You can watch both legs on Chelsea TV and on ITV, with kickoff scheduled for 7.45pm on each occasion, and there will be plenty of coverage throughout here at TheChels and on Twitter @chelseayouth. Don't miss out.