The UEFA Youth League is back.
Following the scandalous decision last season not to allow Chelsea to defend the trophy they won in both 2015 and 2016, the Blues return to Europe's premier Under-19 competition seeking to regain a trophy they didn't actually lose. Despite racking up back-to-back successes, UEFA failed to grant them a place in the 2016-17 tournament as the club's first team did not qualify for the Champions League, whilst the Blues were not England's domestic Under-18 champions, and therefore they did not fulfil either entry requirement.
Yet the UEFA Youth League remained the solitary competition run by European football's governing body at any age level, male or female, that did not allow the title holder to defend their crown. They have now, somewhat sheepishly, made allowances for that to happen, but it comes far too late for a Chelsea generation that missed out on a chance to extend their history-making endeavours even further.
Because, make no mistake about it, no other club has come close to matching the standards set by them in this tournament. Through three years of participation, Chelsea have won 24 of the 28 matches they've played, losing twice to Schalke and drawing twice with FC Porto. They've scored 81 goals and conceded just 17 en route to lifting the Lennart Johansson Trophy at Nyon's Stade du Colovray twice, and they would have been the favourites to win it again during their absence, though enormous credit must be given to eventual champions Salzburg, who overcame Manchester City, Paris Saint-Germain, Benfica and Barcelona in the knockout rounds before triumphing.
For those new to the competition, it brings together what UEFA purports to be the 64 foremost academies in European football for what has generally been exciting and entertaining football and a high standard of competition. One side of the tournament mirrors the Champions League group stage team-for-team, round-for-round, with the top two teams in each group advancing. The other side takes the form of a knockout competition, where 32 domestic champions are whittled down to eight survivors, who then take on the eight second-placed teams from the group path in a playoff round, leaving us with 16 teams that then square off in a formal knockout bracket for the right to call themselves Under-19 Champions of Europe.
That means that Chelsea's Under-19s face Atlético Madrid, AS Roma and Qarabag in their return to the Youth League, and it's the toughest group stage they'll have faced in their four years of involvement. Qarabag are unlikely to pose a threat to anyone – Gabala were Azerbaijan's representatives last season and were roundly beaten 7-0 on aggregate by Dinamo Moscow, and they're considered to be much better than their domestic Under-19 competition by comparison – meaning they could be on the wrong end of a few hidings, but Atlético and Roma are amongst the leading Under-19 lights.
Both are regulars in the knockout rounds; neither have failed to reach at least the playoff round in their history of participation, and are typically well-represented in the respective Spanish and Italian national youth ranks. Atlético return twelve players with Youth League experience (including three players returning for a third campaign), Roma just five, but both were beaten by Chelsea in their run to the 2014-15 title and the Blues will always back themselves to come out on top against the best in the business.
They have six players of their own that have played in the competition but they're led by a man to whom everything will be new. Joe Edwards replaced Adi Viveash as Development Squad coach this summer and takes charge of the Under-19 squad that will feature most of his players. A 40-man group has been registered, with plenty of new faces along for the ride, and – perhaps significantly – most of the squad have already tasted success in the league and FA Youth Cup back at home. The academy isn't shy about developing a winning mentality, and they'll be going into this to win it, just as they do every competition.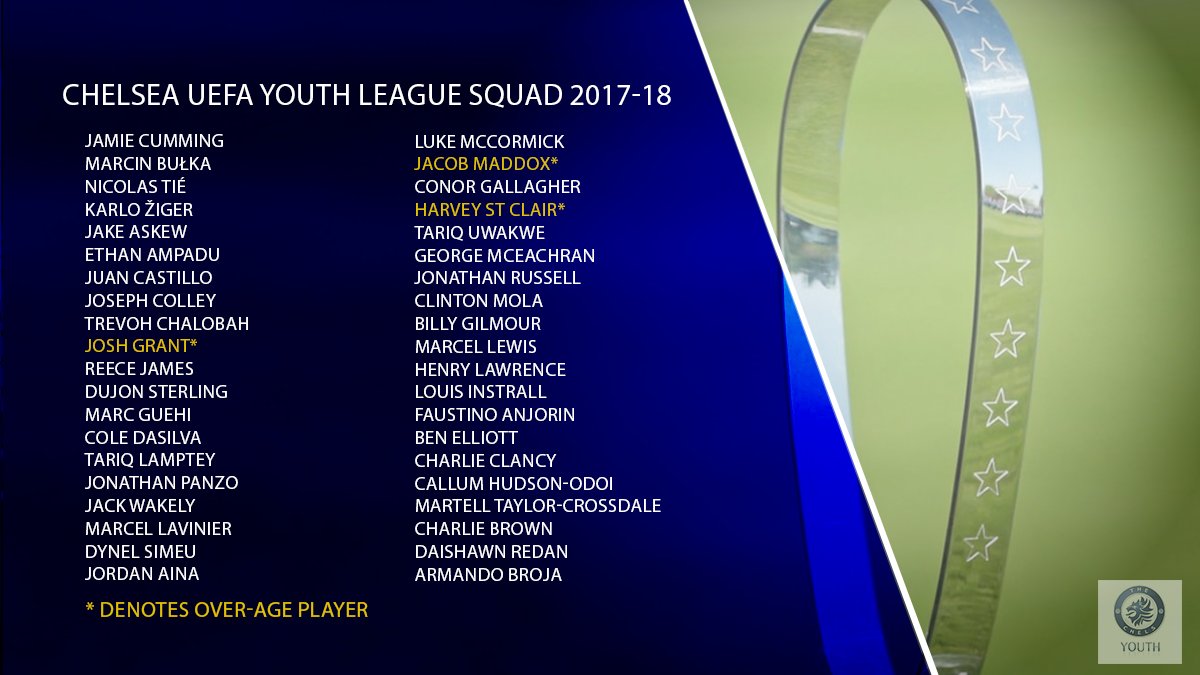 Jamie Cumming and Marcin Bułka will likely split goalkeeping duties; the Pole has received the majority of the early-season work in Premier League 2 but both are trusted custodians who can be leaned on during tough times, and bring confidence to the whole team. Nicolas Tié and Karlo Ziger are first-year scholars who will focus primarily on their league ventures this season, whilst schoolboy Jake Askew has been registered too.
Trevoh Chalobah and Joseph Colley lead the defensive group; Chalobah is the favourite to captain the team but uncertainty over his immediate future – he could easily depart on loan in January – could see Edwards hand the armband to somebody more likely to stay the course. In any event they bring an uncompromising presence to proceedings and lead an outstanding group of central defenders. Ethan Ampadu, Josh Grant, Reece James, Marc Guehi, Jonathan Panzo, Jack Wakely and England Under-16 international Dynel Simeu is as talented and robust a set of players in this position as you'll find anywhere in Europe, and it's on this foundation that Chelsea will seek to build their defence.
The depth of personnel lends itself to adopting a 3-4-3 formation and they have the wing-backs to make it truly effective. Dujon Sterling made his debut in the Youth League as a 15 year-old and played in the 2016 final before he and Juan Castillo on the left side tore opponents to shreds in the Youth Cup last season. Their combination of pace, power, skill and determination can be unstoppable when they're on their games, and there's good depth behind them with Cole Dasilva, Marcel Lavinier, Tariq Lamptey and Jordan Aina all able to deputise on either flank, as are several of the centre-back group.
Jacob Maddox is the only other surviving member of the starting eleven from the 2016 Final against PSG and his presence as one of three permitted over-age players reflects his importance to the squad. He'll take the more creative central midfield role ahead of Tariq Uwakwe and Billy Gilmour, plus schoolboys Henry Lawrence and Ben Elliott, whilst the more combative and defensive midfielder alongside him will be either Luke McCormick or Conor Gallagher, who have both really stepped it up in the past nine months, with youngsters Jonathan Russell, Clinton Mola and Faustino Anjorin waiting in the wings.
George McEachran has the capacity to 'do a Maddox' and operate deeper, as he has done so successfully for England's Under-17s, but for the time being he'll play in one of the more attacking roles, where he has been so effective in the first month of the season. He'll have to work hard for playing time with Harvey St Clair around, but there should be enough for both whilst he's away at the Under-17 World Cup in October.
Callum Hudson-Odoi will also be away for a pair of matches but, when he's around, he has the ability to assert himself as one of the very best players in Europe. His mesmerising dribbling at speed, his balance, and his ever-improving end-product makes him one of Chelsea's most important players this season. A trio of Under-16 hopefuls in Marcel Lewis, Charlie Clancy and Louis Instrall will be there if needed.
Charlie Brown and Martell Taylor-Crossdale will battle it out to start up front, although the potential use of a 4-4-2 with a diamond midfield would allow them to pair up as they have for Jody Morris' Under-18s over the past month and, although Taylor-Crossdale might appear to have the edge, Brown's all-round game and great record in front of goal make him the perfect 'under the radar' player to keep an eye on. Dutch first-year Daishawn Redan and schoolboy Armando Broja complete Edwards' attacking options.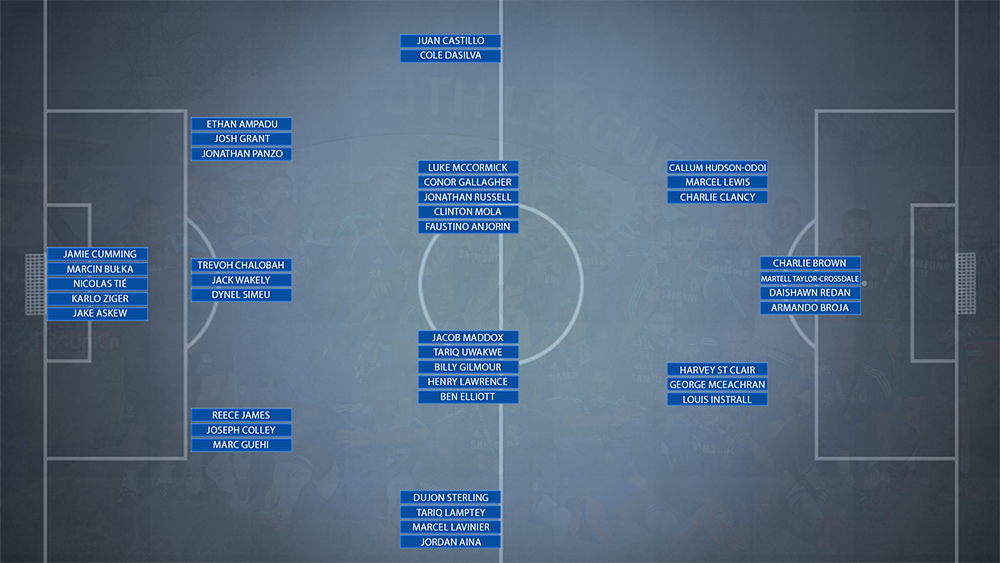 Hosting Qarabag at Cobham on Tuesday theoretically gives everyone a gentle re-introduction to continental affairs, but they will absolutely not be taking anything for granted, and know that a trip to Madrid on Matchday 2 ahead of back-to-back dates against Roma means that a winning start is imperative. Every home match will be shown live on Chelsea TV with select away matches likely to be broadcasted by BT Sport in England, local rights holders around the world, and UEFA.tv where possible, and you can always keep right up to date with everything that happens here at TheChels and on Twitter @chelseayouth.