Manchester United are the only club to have won the FA Cup on five successive occasions, dominating the competition during its infancy in the 1950s, and the success cemented a philosophy that has seen the club feature at least one academy graduate in every single senior fixture for more than 80 years.
As Chelsea embark upon a campaign in which they hope to join the Busby Babes in the history books, they can only dream of having even a fraction of the same involvement, but the academy itself remains in rude health and the Blues will be favourites to win the competition once again. They have unrivalled depth in every department, they have previous winners in the squad, and their best football is yet to be played this season.
That might come across as a surprising statement, given that Jody Morris' Under-18 group currently lead the southern section of the Premier League table by six points and have only dropped four from their eleven fixtures so far, but in all truth they simply haven't been tested often enough at this level so far; indeed, Morris suggested last week that some of the academy's training sessions have been tougher than their actual matches. Dominant to the extent that they have only lost five of their last 55 regional stage fixtures, the chasm that has opened up between them and the rest is arguably wider than ever.
Unfortunately, a restructured competition format for 2017-18 withdrew the merit stage of competition that took place in the final two months of the campaign, where the top four southern teams would face the top four northern teams in home-or-away fixtures to determine a national champion, and the league is even weaker for it. That in turn will see Chelsea afford greater resources to their challenges for the Checkatrade Trophy, the UEFA Youth League, and the FA Youth Cup, in hope of securing what would be an unprecedented treble.
Whether they have the strength to challenge on four fronts is down to the players themselves. As the stakes get higher in knockout competition formats, the league team on Saturdays often gets younger, asking first-year scholars and schoolboys to shoulder more responsibility and accelerating their development. It bodes well for Chelsea not simply that those players, in previous years, used those experiences to underpin successful Youth Cup outings later on in their careers, but that their younger players are increasingly impactful right off the bat.
Take last year's demolition of Manchester City in the Youth Cup Final. Morris struck a perfect balance of players from all three age groups and will be able to call upon Jamie Cumming, Marc Guehi, Juan Castillo, Tariq Uwakwe, Dujon Sterling and Callum Hudson-Odoi this term from his starting eleven alone.
Several of those have already moved onto Development Squad football under Joe Edwards, and will drop back down towards the business end of affairs, but for Friday's Third Round tie at Aldershot against Scunthorpe United – and possibly the Fourth Round date with West Bromwich Albion if they beat the Iron – opportunities are there to be had for a host of prospective hopefuls.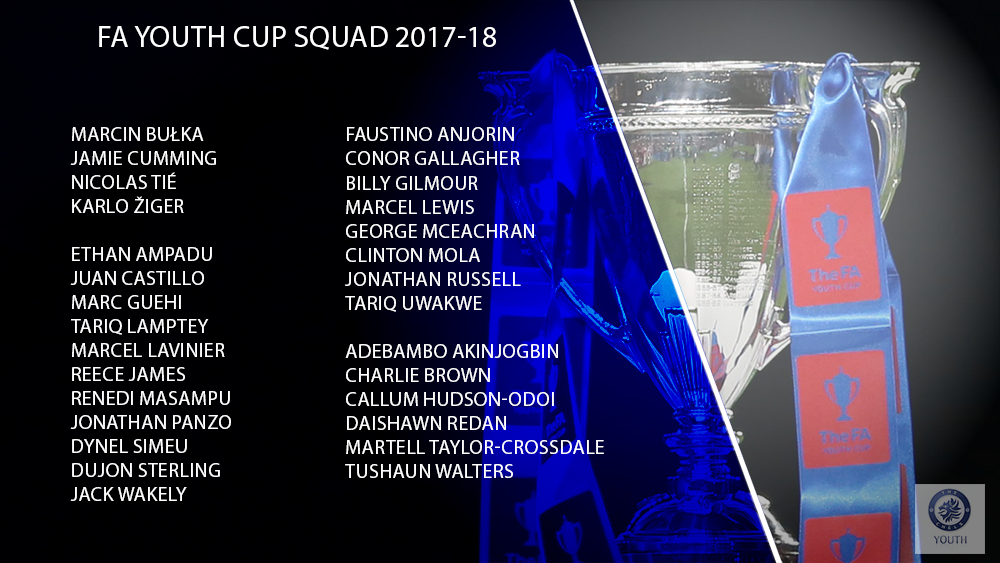 Morris has regularly switched between a 4-4-2 diamond formation and a 3-4-3/3-5-2 system similar to Antonio Conte's first team setup since taking charge of the youth team, and the latter will likely be used in the bigger matches where an abundance of attacking options can be used to overwhelm sterner opposition. The midfield diamond, however, affords a greater sense of control, and makes good use of the team's midfield options, as well as allowing two attackers to share the pitch at the same time rather than picking just one of three intriguing options.
Four goalkeepers have combined for fourteen appearances so far, and whilst Nicolas Tié and Karlo Ziger will get their turn next year, it's between Cumming and Marcin Bulka for 17-18. Cumming shared last year's run with Jared Thompson, who is now on loan at National League South club Chippenham Town, and a similar job-share could take place again. He and the giant Polish custodian Bulka have also shared the UEFA Youth League workload evenly, and the team will be in safe hands regardless.
Guehi, who force his way into the team late last season, is now an Under-17 World Champion, and a candidate to captain this year's crop from one of the defensive positions. He possesses a quiet authority and leads by example, and has managed to chip in with a few more goals this season, including one against Spain in that World Cup Final. He figures to be joined by James and Ethan Ampadu in a back three, with James so impressive in the 'Azpilicueta' role on the right of the unit, and Ampadu having already made a first-team impact since joining from Exeter City in the summer.
It's here that the depth available to Morris begins to emerge. Marcel Lavinier, Jack Wakely and Jonathan Panzo have been mainstays of the league slate so far, yet none of them are assured of a place in the cup team. Panzo has featured heavily at left-back when the 4-4-2 has been utilised, and would be favourite to take that spot again in the early rounds, with scope to play himself into a starring role as he did alongside Guehi for England. Lavinier's versatility makes him a useful option across the back whilst Wakely, an under-rated player who is composed and assured in his craft, can step in when required.
Sterling and Castillo terrorised City in the final back in April, and Tottenham in the previous round, with muscular and devastatingly direct wing-back performances that belied their tender years. Eligible once again, they'll reprise their leading roles on the flanks in any formation, whilst Tariq Lamptey could emerge as one of the surprise contributors in their stead on either side. The diminutive spark-plug has already made a habit out of embarrassing opponents with his livewire dribbling and enterprising play in the final third, and could definitely be turned to as a game-changer.
Chelsea can also boast a pair of World Cup winners in midfield. George McEachran was the heartbeat of the England midfield for Steve Cooper in India, whilst Conor Gallagher was his closer of choice when attempting to see out a lead late on. Gallagher has more to his game than just that, as his hat-trick against Tottenham last weekend demonstrates, but he'll have plenty of competition just to get into the team. McEachran, on the other hand, figures to fulfil the same role Jacob Maddox handled under Morris last year; controlling the tempo from the heart of the midfield despite being undersized for the position, relying on quality and quickness of thinking and execution to dominate opponents.
Scottish schemer Billy Gilmour can do much the same; he and McEachran have started in the same team on a few occasions in the league and, on their day, they can keep the ball away from anyone for, well, as long as they want. Uwakwe provides a left-footed balance, a bit more physicality, and a long-range goal threat, whilst Clinton Mola and Jonathan Russell are first-year scholars who are feeling their way into full-time football and will be waiting in the wings for a chance.
Schoolboys making a significant contribution to Youth Cup triumphs has become something of a trend at Chelsea; Ola Aina in '12-13, Jake Clarke-Salter, Jay Dasilva and Dominic Solanke in '13-14, Sterling in '15-16, and Hudson-Odoi in '16-17. For the months ahead, keep a close eye on Faustino Anjorin. The England Under-17 international is a powerful midfielder in the Ruben Loftus-Cheek mould, is at home in central or more advanced midfield positions, and has begun to make his presence felt in the Under-18 team already. He possesses the sort of talent that can take over a match and could be a much-needed game-changer when the going gets tough.
Hudson-Odoi, however, will be the man everyone's eyes are on. A scintillating talent who tore up the playbook as a schoolboy, he's already making light work of the Premier League 2 and Checkatrade Trophy despite giving up several years of experience, and will have his heart set on adding another medal to his collection before he almost inevitably joins the loan army ranks next summer. It's not quite a case of 'as he goes, Chelsea go', but if he's on his game, the Blues will be very hard to beat.
Charlie Brown and Martell Taylor-Crossdale have combined for almost 25 goals already this season and have done well in tandem too. Brown's natural poacher's instinct has always shone through, but his all-round game has come along a lot over the first four months of the campaign, whilst Taylor-Crossdale's goalscoring credentials have never been in doubt. His mentality, on the other hand, has been a regular concern, but it's to his credit that he's meeting the challenge and figuring out what it takes to make the necessary steps up the ladder. They'll be first in line to start, with Dutchman Daishawn Redan pushing them hard for inclusion too, with his devastating pace and direct running perhaps the most potent of weapons to bring off the bench.
How might the Blues line up if everyone were to be available and the strongest starting eleven were to be selected? Something like
Cumming; James, Ampadu, Guehi; Sterling, McEachran, Gallagher, Castillo; Hudson-Odoi, Brown, Taylor-Crossdale
Morris rotated his squad heavily last season, exposing more players than usual to the Youth Cup trail, and it paid dividends at the end of the road with so many players ready to step in and meet the required standards. Only six players that started in the Third Round win over Cardiff started the 5-1 win over Man City at Stamford Bridge five months later, so you can rest assured that whoever takes to the field against Scunthorpe on Friday night will be made to work hard to hold onto their berths.
History beckons for the academy once again. Don't bet against them writing another chapter in an increasingly legendary tale.