Sébastien Chapuis is an English football television pundit on Canal+ and SFR Sport in France since 2013. He is currently studying to obtain his UEFA A Licence. Seb is the U19s Coach of Poitiers FC. You can follow him on Twitter @SebC__.
Here's a little report from my trip to Bergerac which has been a pleasant week end, in a pretty little village I never went to before, after an equally enjoyable train journey (which I anecdotally spent sitting in front of rose water French singer Vianney – no selfie), crossing through red-watered vineyards this time (St Emilion) from Bordeaux.
First, a little bit of context about Bergerac Perigord FC. It's a 4th division team, which is the first level seeded in geographical groups. Players are generally semi-pro (dedicated non-professional contracts to play football) and play against the best reserve teams from the pro clubs (who play in 4th, 5th division). They train at very minimum 5 times a week. They've proven to be a good opponent for that Chelsea team, in terms of issues caused (some good combination play to go forward) but also for their drilled 442 template which left room for Chelsea to operate in and around.
The most pleasing aspect was to spot straight from the start Chelsea playing in 343 formation, with the same principles than the first team. This hasn't been the case before, especially under Mourinho as the first team's approach was based on setting the best players in a tailor-made system. It was successful as far as the first team was involved, but could not be replicated per se, as the first team are too reliant on the peculiar ability of the likes of Matic, Ivanovic, Fàbregas or Hazard.

Giving instructions to the development teams to play the same template than the first team can be one way to facilitate the pathway toward the first team, with players being already used to apply specific instructions. Albeit for a club of Chelsea's status, there'll always be a conundrum between scouting and signing the very best prospects (because they can) and not just those who suit the aforementioned game model, meaning there'll then always be some sort of shoehorning, adaptation or slight reservations in isolation (in regards to the first team coach's job security).
Anyway, in the first hour of the game, Chelsea played with the same patterns as the first team, whilst also emerging with a similar defensive behaviour, albeit more in terms of positioning than execution. In possession, Omeruo – who had a quiet game overall in the centre (and went down injured during the first half only to be subbed at the interval) – essentially played the ball across the back three to let Colley and Ampadu play the ball forwards. Colley and especially Ampadu displayed the ability to pick out the far side wing back with inch perfect diagonals which have been applauded by the attendance on several occasions.
Unlike against top flight teams who have the ability and organisation to close down midfielders quicker than Bergerac did, Chelsea didn't need to play up-back passes with wing-backs in order to release the ball to midfielders in opened up space (Azpi-Moses-Azpi-Fàbregas). The sharing of duties in midfield looked clear both in and out of possession, with the vocal Ruben Sammut moving laterally whilst McCormick focused more on vertical movement, taking care of staying one step ahead of his counterpart. Most of the forward passing could then pass through defenders straight into midfield, then try to reach out for the attackers.
Some the link up play to get in the box almost reached McCormick on a couple of occasions. Chelsea also produced a few good sequences in the first half, but unfortunately, a mixture of a good semi-pro team's defensive trap and a young referee staring at the ball led to 'basketball' blocks to kill what would have been nice coordinated third man movements to find a runner from behind. The front three wasn't the most standout aspect of Chelsea's performance despite the undeniable quality we know Nathan, Islam Feruz and Joao Rodriguez have; all three roamed upfront and didn't really attempt to link up altogether. Nathan was often asking the ball in a more central position, most of the time facing his own goal and didn't looked keen on getting on the half turn. Out of possession he was often central, but barely closing down anyone.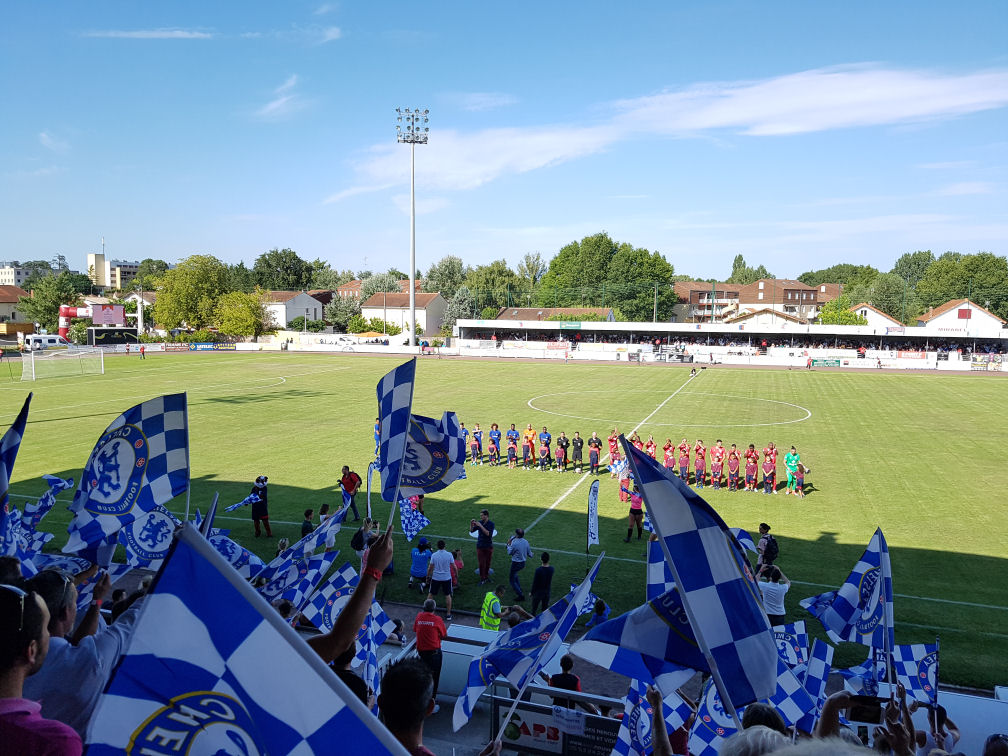 Feruz showed glimpses of why he was once rated, with bursts of pace and couple of turns having popped up in space in the correct timing, but nothing convincing enough overall. His afternoon was gravitating more towards battling and grappling with the tall Bergerac centre-back, according to who Feruz exaggerated the one arm he got in the face by rolling on the floor on several occasions. This caused a bit of tension between the two, eventually ending up with Feruz being speared by a high boot on the midway line a few moments later.
Some of Joao Rodriguez's first touches warranted him the warmest round of applause amongst all players substituted throughout the afternoon when he came off. That said, most of his lay-offs (square ones, not exactly suited to avoid pressing) didn't find a team-mate. Nevertheless, his agility, close control, and ability to turn very quickly were certainly worth the money as far as I was concerned.
The front three's work off the ball was very much what you'd expect from them in a warm evening exhibition match in darkest France at the end of July, which consequently put a little bit more work on the midfielders' hands, especially after the hour mark. I thought Bergerac would eventually score one consolation goal partly because of this, as they managed to play their way through the wings and put a few dangerous crosses. Defensively, Chelsea didn't really feel threatened by Bergerac in situations akin to a meeting between an amateur team and a professional one several tiers above in a cup tie. The mixture of more pace, better anticipation and aggression made it very hard for the locals to get past defenders shoulder-to-shoulder, even if the ref called a few fouls for the home side (for non existent fouls, as far as two equally-built teams would face each other).
Colley was the standout defender and was probably the most effective player on the park, winning every aerial duel he was involved in, rushing out to intercept, and very agile to nick the ball with the tip of the foot without ever drawing a foul against his team. Some of his clearances were already top-level, dealing effortlessly with crosses, volleying them away first time with the shin pads straight in the corner of his own half for Rodriguez ready to break away (top flight defenders do it effortlessly, that's definitely part of the centre-back's skill set).
I was also most impressed by Ampadu. There must be a reason he's rated – and it's not only the haircut – and having been given his pro debut so early. For the layman spectator in attendance today, you'd have expected him to be some 20-year-old at the club for a several couple of seasons so much he looked part of the team already. Not only did he show a lot of composure both to play the ball under pressure first time when needed, or clear it away, but his communication was noticeable to say the least. Gesturing with his arms in a way that would be reminiscent of David Luiz in possession to instruct his team mates (especially Castillo in the first half) to take better positions. On defensive situations such as set pieces, he took the matter in hands at the very end of the game when Bergerac applied pressure, for his team to hold a higher line.
Defensively he might need to improve his upper body strength and use his arms a bit more often to make it easier for himself to deal with aerial duels in the future (having not had the flick on a couple of situations because he was imbalanced as he was jumping), but that's certainly something which is certainly set to be improved after signing for Chelsea. Just like Cesar Azpilicueta, Ampadu has also been able to launch throw-ins at a third of the pitch length on a couple of occasions, on situations where he was the closest to play it and it made sense to try to find runners in behind.
Reece James was a bulldog as a follow-up to his similarly good showings at the U19 Euros when called upon, proving to be a pain for whoever was getting the ball with him closing down from behind. On some situations of high press he was even closing down Bergerac's fullback whilst Colley was taking care of the winger, though he did collect a yellow card after a couple of fouls for tripping attackers (and one rash tackle to prevent his team getting overlapped from the wings). He spent the second half on the right of the defence after Cole Dasilva came on for the (likely) injured Omeruo. Dasilva shares the same body type as his brother Jay (apart from the preferred foot), but looks probably a bit behind as far as sheer quality is concerned at this stage.
Castillo initially struggled with his positioning, surprisingly not taking adventurous positions, which led to a vocal admonishment from Ampadu after half an hour on the clock, but he escaped a few times on the wing, with spectacular speed with the ball. A few chances were made after the hour mark with Isaac Christie-Davies replacing McCormick, Martell Taylor-Crossdale replacing Feruz and Harvey St Clair taking Castillo's place at left wing-back. It was the latter who opened the scoring, virtually straight after coming on, by tapping in a cross from the right at the far post.
Rodriguez came off for the trialist Benny Ashley-Seal, who was energetic upfront and scored after a nice little run in behind, slotting past the goalkeeper in a cool fashion with five minutes to go.
Between the posts, Matej Delač had a strong performance in the box, especially on his line. Despite a few slight mis-understandings with his defence, he was able to reach out for loose balls and wasn't afraid to bump into attackers either. The disappointing thing was probably his play with the ball at his feet, with a couple of mis-hit diagonals for wing-backs on goal kicks. Mitchell Beeney stayed on the bench throughout and was the only player not involved.
As for the coaching staff, the team was led by Eddie Newton assisted with Paulo Ferreira and Christophe Lollichon. The high standards could be seen in a variety of ways, using the two cooling breaks to give instructions being one. Goalkeeper coach Lollichon even followed the physios around the pitch when the game was stopped to speak to Delač. Newton was vocal to have his team more organised on set pieces, right up to the very last moments of the game, despite Chelsea having a two-goal lead in an exhibition match.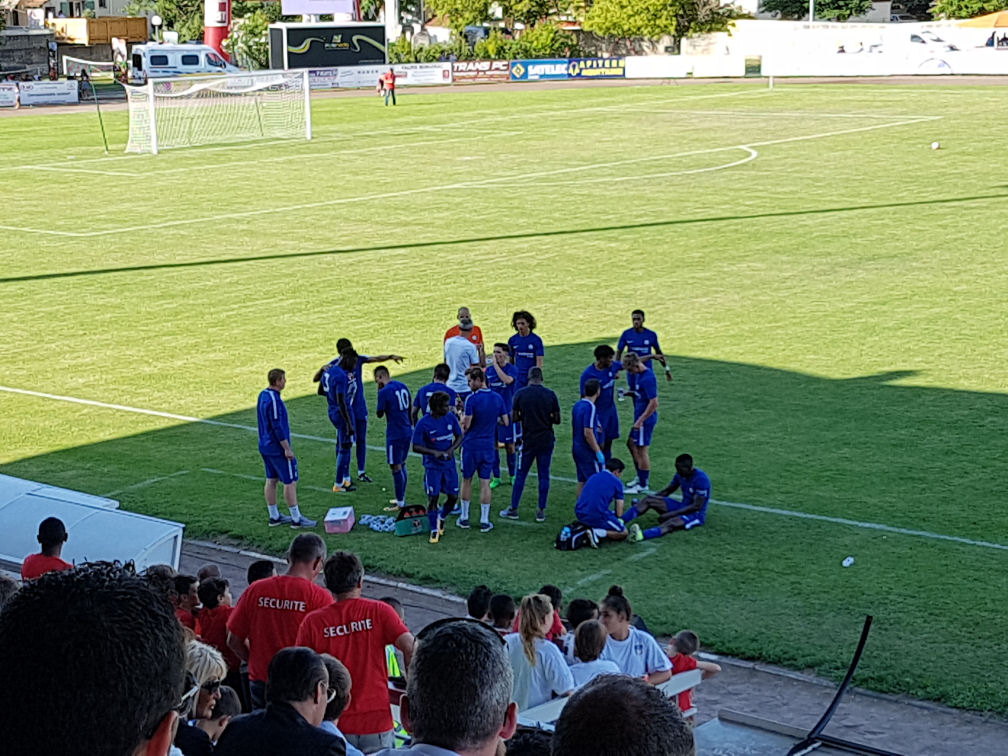 Overall, it was a pleasing exhibition game with a good atmosphere, nothing too cringe-worthy on or off the pitch, and good organisation. I'm now coming back home with half a dozen plastic flags and a few (more) goodies I couldn't restrain myself to grab on my way out.