For one club, it's business as usual. For the other, it's a return to the biggest stage in English academy football for the first time in decade.
For Chelsea, it's about history. It's about the opportunity to emulate the Busby Babes of Manchester United in the 1950s, and it's about the chance to win a fifth successive FA Youth Cup. For Arsenal, it's about re-establishing their credentials as one of the leading youth setups in the country after a fallow period by their lofty standards.
It's the first meeting between the two London titans in the showpiece occasion in the Under-18 calendar, a curious statistic when you consider that they have featured in 19 of the 65 finals in the competition's rich history, and it's been a long time in coming. They've finished first and second respectively in the Southern section of the Premier Academy League in each of the last two seasons, and were both FA Youth Cup Semi Finalists last season. On that occasion, Chelsea overcame Tottenham Hotspur whilst Arsenal fell to Manchester City, but this Friday and Monday will see them finally square off for capital – and national – supremacy.
Road to the Final
Chelsea set the bar a long time ago and have made it their business to raise it each and every season. This will be their seventh consecutive appearance in the final, and they have won five of the previous six, only slipping up against Norwich City in 2012-13. Their remarkable consistency is only surpassed by the swashbuckling way in which they seemingly manage to better the feats of their predecessors with each new campaign.
The class of 2014 scored 24 goals en route to a dramatic 7-6 aggregate win over Fulham, but one year later that tally was raised to 27 thanks to the prolific Dominic Solanke and Tammy Abraham in attack. That year was the first of three successive victories against Manchester City in the Final; 2016 saw just seven goals conceded, before the 2017 vintage set a new record winning margin for a Semi Final (9-2 against Tottenham) and followed it up with a 6-2 dismissal of City over two legs, blowing them away with a 5-1 mauling at Stamford Bridge last April.
This year they've become just the second team ever to reach the Final without conceding a goal. They've plundered 26 at the other end, beginning with a 4-0 win over Scunthorpe United back in December, and beginning the new year with a 7-0 demolition of a good West Bromwich Albion side. Tottenham were again sent packing 2-0 in February before West London neighbours Fulham felt the full force of the blue wrath as they were given a 6-0 hiding on a freezing cold Wednesday night a fortnight later.
That set up a two-legged Semi Final against Birmingham City, who owed their last four berth to something of a kind draw, and their 3-0 and 4-0 defeats within the space of six days underlined the difference in class between the two teams.
Arsenal's path to this weekend has been far rougher by comparison. They saw off an under-rated Sheffield Wednesday team 2-1 in Round Three before narrowly avoiding elimination away to Liverpool in Round Four, drawing level five minutes from the end and eventually prevailing 3-2 in extra time. They repeated that scoreline at Middlesbrough in the last sixteen before benefiting from the FA's decision to eject Reading from the tournament after they fielded an ineligible player. Their Quarter Final opponent was Colchester United, who were unable to avoid a 5-1 beating, and they faced another upstart team in the Semi Finals too as Blackpool stood between them and a date with Chelsea.
The Seasiders had been the fairytale story of the Youth Cup this season, registering wins against Southampton, West Ham, Ipswich and Blackburn that belied their Category Three status, and they proudly held the Gunners to a 2-2 draw at Bloomfield Road before succumbing to a 5-0 reverse in the return leg with their race run. In direct contrast to Chelsea, it was Arsenal's only clean sheet in their run, and one of just nine all season, compared to 21 recorded by the Blues.
A Blue Day Again?
Jody Morris' youngsters have lost just five matches since the former first-team midfielder took sole charge of the Under-18s in the summer of 2016, scoring more than 200 goals in the process, and recording a clean sheet every other game. They have become as formidable a threat as you're likely to find at this level, and only recently saw a three-year, 56-match unbeaten home run come to an end. They have the breadth and depth in quality to beat you in any number of ways, and whereas most clubs will have a favoured Youth Cup starting eleven that they go to when required, Morris has been unafraid to rotate his players around to give everyone a taste of the bigger stage so that they're well acclimatised if called upon.
Jamie Cumming and Marcin Bułka have shared the goalkeeping duties for the most part, with Karlo Ziger getting a look against Birmingham, and Cumming would figure to be the favourite to start at least the first leg after providing the heroics in last weekend's UEFA Youth League Semi Final victory against Porto. Both youngsters are fine goalkeeping prospects; Cumming perhaps the more reliable and well-rounded, but Bułka has come along very well at times during his first full season of play at the club, and is a commanding presence when on form.
Happy to switch between any number of formations not only week-to-week, but within games themselves, Morris has most often favoured a general 4-2-3-1 shape of late, but with some subtle tweaks in the attacking third (more on those later). The back four typically features two dynamic full-backs who get forward with purpose; whether it's Dujon Sterling or Tariq Lamptey on the right, or one of Juan Castillo, Jonathan Panzo or Clinton Mola on the left, the full-backs (or wing-backs in a 3-4-3) provide a crucial outlet for the way the Blues look to play. They influence play in every phase of the match, providing extra numbers in midfield, overloads in attack, whilst retaining a solid defensive presence.
Reece James and Marc Guehi will man the centre-back spots if it is a flat back four and rarely will you find two young defenders with their combination of physical superiority and defensive nous. James, the captain of the team, can also be used as a dynamic presence out wide – most notably with his impressive crossing ability – but he's also an assured and assertive defender who excels in aerial situations. Guehi, meanwhile, is an Under-17 World Champion who reads the game smartly and has impressive body positioning to close the door on an opponent before it opens. Panzo would likely feature in any potential back three with Ethan Ampadu out for the season, with Marcel Lavinier and Jack Wakely capable in reserve.
Conor Gallagher, Billy Gilmour and George McEachran have, in various combinations, comprised the central midfield partnership not just through this run, but for much of the season, and they set the tempo for the rest of their team-mates. Gallagher's influence cannot be understated; he is a highly-consistent performer who is adept at both winning the ball and then using it with purpose, whilst Gilmour and McEachran are more your archetypal schemers who are very easy on the eye and do everything with smart and efficient technique.
The three attacking midfielders ahead of them are often fluid and versatile, with star man Callum Hudson-Odoi almost certain to start on the left, and the other two spots up for grabs. McEachran could be deployed in the number ten role (as he has on a regular basis this term), whilst Morris leans towards Tariq Uwakwe on the right, where he can use his sturdy frame and powerful left foot to cut inside to positive effect, but schoolboy Tino Anjorin will want to have a say too. Described by his manager earlier in the season as one of the best finishers in the squad, he's notched a goal or an assist in four of his five Youth Cup outings and, at the very least, will be a game-changer from the bench in any of the attacking roles.
Strikers Daishawn Redan, Charlie Brown and Martell Taylor-Crossdale have combined for some sixty goals this season – with Hudson-Odoi also chipping in with nearly twenty of his own – and competition is rife for a starting berth here. Redan has often been favoured for the biggest games this season, but Brown is in excellent form, and has developed into a clinical finisher who has made considerable strides in his work off the ball.
Red Redemption?
Arsenal, undeniably the strongest academy on the pitch for the first half of the 2000s, struggled to maintain those same high standards in the years that followed, as both Chelsea and North London rivals Tottenham moved into the ascendancy in the capital. To their credit, they have found their way back to the top table, with a hearty representation of players at England youth age groups, and another burgeoning group of youngsters who are either beginning to make waves in the first team (Eddie Nketiah, Joe Willock, Reiss Nelson) or elsewhere (Marcus McGuane joined Barcelona in January).
This group will be hoping to go one better than those that went before them in clinching a first Youth Cup since 2009, when Jack Wilshere and company saw off Liverpool. They have plenty of offensive firepower but have some questions to answer at the back, whilst they're likely to struggle against Chelsea's midfield quality. Their game will be about quick transition on the break, using their pace and skill in wide areas to full effect, with a pair of in-form attackers looking to make life hard for the Blues.
Joao Virginia will start in goal, as he has for the past two seasons, and is generally a capable performer who also likes to start moves with the ball at his feet. He does have a habit of making rash decisions and coming for balls well outside of his area, and has occasionally gotten into bother as a result, but he's a much more assured and experienced custodian than either of his more youthful deputies, Daniel Barden and Arthur Okonkwo.
Vontae Daley-Campbell and Dominic Thompson figure to be the starting full-backs; Daley-Campbell has some similarities to James in his build and playing style, and Thompson has taken a little longer to get going but has emerged more recently as a highly competent and dependable player who rarely makes mistakes. Daniel Ballard will captain the team at centre-back after overcoming an initial release at Under-16 level, and some injury problems afterwards, to become an old-school leader who plays with passion and desire for the shirt. He will be joined by former Chelsea defender Zech Medley, who chose to cancel his scholarship with the Blues after just two months, opting for a perceived clearer pathway on the other side of London.
Manager Kwame Ampadu – Ethan's father – has mostly been able to get away with playing more attacking players in central midfield in the later rounds of this run, but away to Liverpool and Middlesbrough in his toughest assignments, he's called upon Matthew Smith and Robbie Burton to control things in the middle. They're both industrious box-to-box types with a bias towards the technical more than the physical, and it's here that they could find life particularly hard against Morris' side. They're not especially deep at the position either; James Olayinka could add some size and drive to the group, and Josh Benson is ostensibly still available despite having spent the last month with Burnley ahead of his release at the end of the season, leaving just the swiss army knives Harry Clarke or Zak Swanson to cover if required, or the bolder inclusion yet still of promising schoolboys Yunus Musah and Miguel Azeez.
Emile Smith-Rowe has occasionally been used as a number eight by Ampadu, and although it would be a bold choice for this tie, the England Under-18 international has all the ability in the world and could be Arsenal's biggest hope of winning. Likened by many to Kevin de Bruyne for his technical prowess, his smooth dribbling style, and his unerring shooting, it's most likely that he'll operate as a number ten, but a bold attacking team selection could use him along with a Trae Coyle further ahead.
Their other strengths lie out wide. Xavier Amaechi and Bukayo Saka are set to feature for England in their hosting of the European Under-17 Championships in the next few weeks and they have been livewires this season, combining for nineteen goals in a variety of roles. Tyreece John-Jules has ten Under-18 goals of his own in addition to a handful at Under-23 level, and is adept either as a wide forward or in a more central role, leaving Ampadu with plenty of decision to make as to how best to attack Chelsea.
Folarin Balogun is his top scorer with 13 goals this season, and he is very much a number nine, a player with a good first touch and a sound awareness of how to operate as a lone front man. Jordan McEneff and Armstrong Okoflex can inject pace and invention from the bench.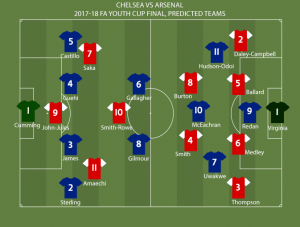 Head to Head
Chelsea have lost just one of the last thirteen meetings with Arsenal at Under-18 level dating back to 2011, and were victorious in their only league meeting this season back in September, when Guehi and Gilmour struck in a 2-0 win. Their return league clash is scheduled for next Wednesday and will be an entirely meaningless affair with the South league title long since decided.
Their most recent head-to-head in the Youth Cup came in 2014, when goals from Charlie Colkett and Alex Kiwomya saw off Chuba Akpom's opener at Stamford Bridge, and Colkett again scored in a 1-0 win at the Emirates to set up that memorable final against Fulham. A pair of Milan Lalkovic goals also saw Chelsea home in their 2011 Fourth Round tie, whilst you have to go back to 1965 for the last time the Gunners prevailed in the completion, when they were eventual winners after seeing off Peter Osgood and John Boyle in the Semi Finals.
How to Watch
Tickets remain on sale for the first leg until 4pm to personal callers at the ticket office only, whilst members and season ticket holders can also acquire a free ticket for the return leg at the Emirates Stadium on Monday until Sunday. Chelsea TV will broadcast both matches live, as will ITV4, with Jacqui Oatley fronting their coverage. Kickoff in both matches is scheduled for 7.45pm UK time and, as always, there will be comprehensive coverage from start to finish here at TheChels.net and on Twitter @chelseayouth.