Here we go again then.
For the third time in four seasons – and for their third successive participation in the competition – Chelsea are preparing to take part in the UEFA Youth League Final. The Blues were victorious in 2015 and 2016, against Shakhtar Donetsk and Paris Saint-Germain respectively, but were then denied the opportunity to defend their title in 2017 due to a combination of the club's first team failing to qualify for the Champions League proper and the lack of a qualifying berth for the defending champions.
UEFA have since remedied the latter, a measure that could prove useful to Chelsea this year with Antonio Conte's senior charges set to miss out on the big show again, but Joe Edwards' side will go into Monday's showpiece finale against Barcelona with the mentality that they are defending silverware they never lost. Salzburg were outstanding in claiming the Lennart Johansson Trophy last season with the Blues in exile, but Chelsea will have felt that last season's domestic treble-winning vintage would have been amongst the favourites to make it a European three-peat, and they're intent on making up for the mistakes of others this time around.
Yet this hasn't been their finest of campaigns. The 2015 vintage was perhaps the greatest academy side assembled by the club in modern history, with five of the starting eleven having already become senior internationals, and the 2016 crop that followed up their triumph was built on a strong defence that only conceded six goals throughout the run, whilst leaning heavily on the talismanic Tammy Abraham in attack.
This group has faced more adversity, has been asked to draw upon greater reserves of resiliency, and that in itself might be its defining feature. A tough group stage draw asked plenty of them against Atlético Madrid and Roma – who inflicted their first defeat in the Youth League since the March 2014 Quarter Final exit to Schalke – whilst the knockout rounds have seen them go away to Real Madrid and win 4-2 after being reduced to ten men, before Friday's Semi Final against FC Porto saw them come through the toughest of situations.
Staring elimination in the face at 2-1 down with ten minutes remaining, they gave themselves a lifeline with Josh Grant's 86th-minute equaliser, and lived to fight another day in a penalty shootout. Even then, though, they were on the verge of going out after Charlie Brown and Reece James saw their spot kicks saves. Jamie Cumming, however, produced the heroics with three saves to line up a mouth-watering decided against Barcelona.
Team News
The most pressing matter facing Edwards ahead of his first final in charge of the Development Squad is how to replace Trevoh Chalobah. The England Under-19 defender was shown a very dubious yellow card in the first half of the Semi Final, his third caution of the competition, and he will be unavailable for the Final as a result. Having played in midfield in both the Round of 16 win against Feyenoord and the last eight win in Madrid, he had been restored to central defence in the absence of the injured Ethan Ampadu, himself out for the rest of the season with a broken ankle.
Their combined absence causes something of a headache for the Chelsea manager. Although nominally a much better defender, Chalobah's physical presence and drive through the centre of midfield has provided much value, notably helping the Blues to their late comeback on Friday. With a gaping hole in the middle of his back three, Edwards has the option of calling upon 19 year-old Joseph Colley (3 starts this season) or 17 year-old Marc Guehi (2 starts) as a straight like-for-like replacement. Guehi is in the better form of the two, and doesn't necessarily lack for experience despite his age, having won the Under-17 World Cup with England last October, scoring against Spain in the Final.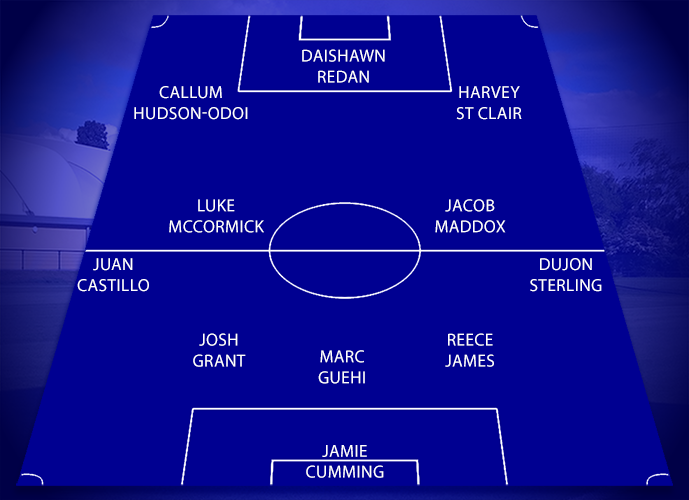 Edwards could also start as he finished Friday's match, when Reece James dropped into the three-man defensive line alongside Dujon Sterling, with first-year scholar Tariq Lamptey on the right wing. It was Lamptey's Youth League debut after an outstanding Under-18 season under Jody Morris, but it would be a bold decision to start him here, and to limit the destructive attacking talents of James and Sterling to more reserved defensive duties. Alternatively yet still, Chelsea could move away from the 3-4-3, and go back to the 4-2-3-1 shape they're equally-well versed in.
The shape of things to come
It makes a certain degree of sense on a fundamental level against a Barcelona team playing their classic 4-3-3 formation. They found particular success against Manchester City's 3-4-3 on Friday – although that owed much to City's own unfamiliarity with the shape as well as some atrocious defending – and Chelsea could find the addition of an extra midfielder could be decisive in controlling the match.
In their toughest group fixtures away to Atlético Madrid and Roma they brought George McEachran into the side, and he could be a key factor here if selected, just as he was in that Under-17 World Cup Final win against Spain. His comfort in possession and his ability to make quick and intelligent decisions under pressure is a vital attribute that might see him provide more value against Barcelona than the in-form Conor Gallagher – primarily a box-to-box destroyer – would.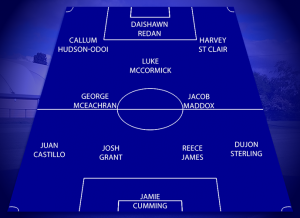 Juan Castillo's defensive development has been encouraging over the past few months and, if Chelsea do operate with a back four here, he must be dutiful at both ends of the pitch. Barcelona are notably stronger down their right side compared to their left flank, but they will also have rarely come up against players of the quality of Castillo and Callum Hudson-Odoi. The recent first-team debutant was uncharacteristically quiet against Porto but has all the ability required to steal the show in the Final, and will be relishing another clash with Mateu Morey, the Spanish right-back in European and World Under-17 finals in 2017.
The Opposition
Barcelona also had a challenging group stage line-up, and were given something of a fright by both Juventus and Sporting CP, but were more impressive in seeing off Paris SG and Atlético before a wild 5-4 win against Manchester City on Friday that highlighted as many flaws as it showed off strengths. Their much-lauded defence that had yielded just one goal before heading to Nyon shipped four and looked wide open until City were reduced to ten men, when they were still able to add two to their tally, and there were plenty of instances during their group stage fixtures in particular where poor finishing let them off the hook.
All five goals against City were gift-wrapped by some of the more questionable defending you're likely to see and, whilst credit must be given where appropriate, the fact they were unable to put them away whilst enjoying a three-goal lead and a man advantage will be of concern to them. A naturally gifted technical outfit, as any Barcelona side will be, they do lack something in terms of physicality and intensity, and will scarcely have come up against a side that can mix strength and skill quite like Chelsea can at their best.
They like to move the ball in typical triangles through the midfield, but are also far from afraid of adopting a more vertical approach when certain situations develop. Captain Óscar Mingueza likes to take charge of that from his position at centre-back, and they were quick to punish City for leaving acres of space in behind their wing-backs on Friday, although it must be noted that Lorenzo Gonzalez and Benjamin Garré are natural forwards who have little defensive experience, and as such City's 3-4-3 was effectively a suicidal 3-3-4 formation for most of the game.
Still, they recognised and took advantage of those weaknesses , and both Morey and Alejandro Marqués were relentless in exploiting the space down the right, looking to feed the bullish forward Abel Ruiz or the breaking midfielders Riki Puig and Álex Collado, who was maybe their best player overall. Carles Pérez scored twice and has a burgeoning reputation as one of La Masia's finest, but it was Collado who looked a threat every time he picked up possession in central areas.
They often dropped back to a 5-4-1 shape in defence, with Alejandro Orellana slotting in between the two centre-backs, but City had plenty of joy exposing them down Juan Miranda's side; the left-back lacks pace and was given a tough time by Gonzalez before his dismissal. Livewire substitute Rabbi Matondo caused some problems on the other side when he was introduced, and Hudson-Odoi as a more rounded attacking threat could find similar success.
Barcelona will provide few surprises. Their game is built around dominating possession, probing with patient retention of the ball before seeking incisiveness with vertical passes when the opposition's defensive discipline breaks down. Chelsea must retain a solid shape out of possession and afford them very few opportunities to find space in between the lines, but they'll also have confidence in their own ability to play the game on their terms.
Where to watch
BT Sport will broadcast the game live in the UK from 4pm, with a number of worldwide broadcasters also showing the contest to an audience of millions. There will also be comprehensive coverage throughout the day on Twitter @chelseayouth.