A report on Thursday's Sport BILD carried rumours that FIFA are to 'crack down' on the excessive loaning of players by top clubs by limiting them to a maximum of eight per season, something that would supposedly cause no end of problems for the likes of Chelsea (40 out on loan currently) and Juventus (26), apparent player hoarders that they are.
Cue hysteria: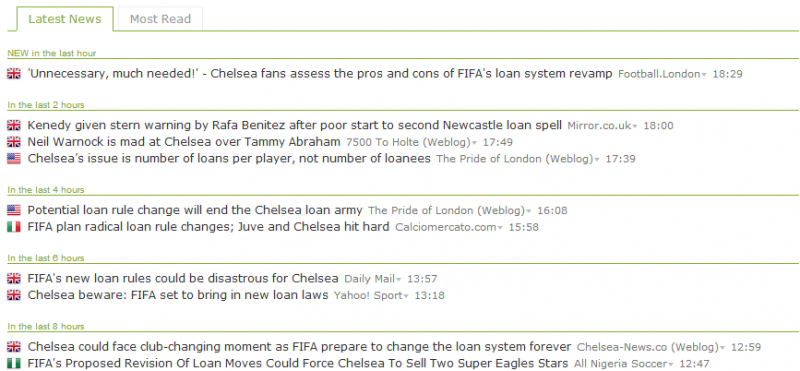 Ignoring for one moment that Manchester City, Watford and Wolves all have more than 20 players on loan this season but have gone without mention, as social media staff across the country lap up the opportunity of free and easy clicks, the few people who took the time to read the original story will have noted an important exception to this proposed rule change:
"Talents under the age of 21 who have been trained by their home club and have been under contract there for an extended period of time may continue to be borrowed in unlimited numbers to further their development by collecting match practice elsewhere."
Let's not spend any longer on this than is necessary. Of the current 40-strong Loan Army, 16 of them register as Under-21 by UEFA criteria (born on or after January 1st 1997) and have been trained by Chelsea for long enough to qualify under any 'extended period of time':
– Tammy Abraham, Nathan Baxter, Izzy Brown, Trevoh Chalobah, Jake Clarke-Salter, Brad Collins, Jay Dasilva, Reece James, Jacob Maddox, Mason Mount, Josimar Quintero, Ruben Sammut, Kyle Scott, Dujon Sterling, Fikayo Tomori, Iké Ugbo.
We can take eight more from the remaining 24 that we might assume Chelsea have a vested interest in retaining for the medium to long-term:
– Ola Aina, Tiemoue Bakayoko, Lewis Baker, Michy Batshuayi, Kenedy, Charly Musonda, Kasey Palmer, Kurt Zouma.
That leaves the remaining 16 that would leave the club 'in crisis' should they depart:
– Victorien Angban, Jamal Blackman, Charlie Colkett, Fankaty Dabo, Eduardo, Kylian Hazard, Michael Hector, Tomas Kalas, Todd Kane, Matt Miazga, Nathan, Kenneth Omeruo, Danilo Pantic, Mario Pašalić, Baba Rahman, Joao Rodriguez.
(Lucas Piazon is a part of the first-team squad and Marco van Ginkel is long-term injured)
Almost 70% of the 110 players to have gone on loan from Chelsea in the last decade have been academy-developed, and the departure of Michael Emenalo as technical director last November signalled the end of the speculative yet expansive operation to bring in established young(ish) talents from elsewhere, primarily to ease Financial Fair Play concerns, but also to increase the chances of one of them landing in the first-team squad. If you throw enough mud…
It's no coincidence that the two transfer windows since he left saw no signings of that ilk arrive at Cobham, but there were none last summer either. Kylian Hazard's autumn arrival and continued presence was mostly as a favour to his brother, and so you really have to go back to January 2016 when Miazga joined from the New York Red Bulls to find the last signing that would be affected by a change to the rules.
Chelsea have been keen to permanently shift a number of the 'leftover' players but, in a market where the money in England continues to grow yet dwindles elsewhere, clubs have been reluctant to pay the asking price when they know they can get them on reduced terms for a season.
If their hand is forced by new legislation, they'd simply drop their asking price and part with them and, while they might lose out on a couple of million, it'd be the biggest hardship they'd face in adjusting. As the next generation of academy players come through, and continue to go on loan at younger ages to further challenge their development, the Loan Army would still be able to comfortably top 25, and climb into the 30s without too many problems.
Crisis? What crisis.