In the brand-spanking-new trophy cabinet in Chelsea's Cobham academy building, two Lennart Johansson Trophies take pride of place on the top shelf. There is space for a third to sit between them but, instead, a forlorn runners-up plaque lurks almost embarrassingly behind them, as if trying to hide itself among so much success.
The Blues head to Nyon in Switzerland this weekend for the fourth time in five years hoping to win a third UEFA Youth League but, more than that, they will be trying to right the wrongs of a year ago. Then, although they were at the Stade du Colovray, it was in name only. They didn't turn up when it mattered. A Semi Final win over FC Porto required penalties and sounded the alarm bells that all was not as it should have been in the camp, and Monday's Final against Barcelona resulted in a 3-0 defeat that left manager Joe Edwards and his players reeling for some time afterwards, such was the disappointing nature of their performance.
They didn't do themselves justice and they knew it. The bitter taste of defeat has fueled this season's challenge, but they've taken a different road back to Nyon, one that hasn't been entirely without a few bumps along the way. Chelsea's failure to qualify for the Champions League at first-team level meant the Under-19s had to take part in the Domestic Champions Path of the UEFA Youth League, rather than the half of the draw that mirrors the Champions League. The preliminary rounds were navigated with ease, as Scandinavian outfits Molde and Elfsborg were beaten 14-1 and 9-0 on aggregate respectively, but as 2019 calendars went up, they found the going tougher by comparison.
Monaco were perhaps the hardest draw they could've had in the playoffs for a place in the last sixteen; Michael Emenalo's summer spending spree in the principality would lead to his eventual demise, but not before their academy had been flooded with new arrivals from all around Europe, including the €20m signing of Willem Geubbels from Lyon and the capture of Jonathan Panzo from Chelsea themselves. Geubbels limped out of a 3-1 defeat at Cobham after just twenty minutes in what was arguably the Blues' performance of the season, a much better effort than they were able to produce against fellow French outfit Montpellier a month later.
It took some late heroics from the returning Luke McCormick to push on into the Quarter Finals, and he was at it again when Dinamo Zagreb looked to have upset the odds in leading 2-0 with a quarter of an hour left at Chelsea HQ. A pair of goals from the skipper and some audacious penalties eventually got them over the line and sent them back to the Finals weekend for a fourth successive time – having not been allowed to defend their title whatsoever in 2016-17 – and standing between them and a fourth Final are…Barcelona.
https://twitter.com/btsportfootball/status/1113473096546181120
Due to Chelsea's UEFA-enforced absence three years ago, the Catalan giants hold the record for winning the most matches in tournament history, and have triumphed in the competition itself as many times as the Blues overall with two apiece. The aura surrounding the club extends through the age levels and the psychological impact of going up against them is never understated. You know what you're getting into when you step out onto the pitch against them and it's never an easy match. That being said, they should feel rather fortunate that they're here at all.
It hasn't been a classic run for them by any standard. A failure to beat Tottenham home or away in the group stages will give Chelsea plenty of confidence, having stood toe-to-toe with their London rivals in Premier League 2 action home and away, and their only win away from home came in Milan against Inter back in November. Of greater relevance, though, was their Semi Final against Lyon, where they were lucky to sneak through at the last.
Lyon, it has to be said, were probably the best team in the whole of the UEFA Youth League this season. A depth and breadth of talent ran throughout the squad, from the 20 year-old Hamza Rafia to the precocious Ryan Cherki aged just 15, and they ran riot in the first half at Barca's Mini-Estadi without taking full advantage of their opportunities. They were made to regret that after the break, giving up two incredibly soft goals from poorly-defended corners and, although they hauled themselves level again with four minutes remaining, a dubiously-awarded penalty in the fifth minute of stoppage time broke their hearts and let Barcelona live another day.
They provided the blueprint for Chelsea to work out how to avenge last year's Final though. Barca will dominate possession against anybody, anywhere at any time; it's a fact of life you almost have to accept on the way in, and strategise for accordingly. Lyon, like Chelsea, do not want for athleticism, and a 4-2-3-1 became a 4-4-2 over the course of the ninety minutes to allow them to press in central areas, force mistakes, and use their pace and individual flair in wide areas to maximum effect.
Barcelona take risks. Left-sided centre-back Oscar Mingueza and full-back Mika Medina outside him joined forces with the talismanic Alex Collado – head and shoulders above any other player in Blaugrana but will miss out on Nyon due to age restrictions – to provide a potent attacking threat down that side against Lyon, but they did so in such a way that they were readily exposed on the break. They play high and wide, often driving through the middle of the pitch with the ball, and had Yaya Soumare been able to finish off the best of those moments on the counter in the first half of their Semi Final, Chelsea could be preparing for a third straight French opponent rather than a rematch against Barca. The return of Juan Miranda to the squad in that area of the pitch could measurably improve things, while Nico Gonzalez – once a target for English clubs – should step in for Collado.

That isn't to say they aren't a good team; far from it. They set up in their world-renowned 4-3-3, with captain Monchu orchestrating from a deep midfield role, and they attack wide through Konrad de la Fuente and Anssumane Fati. Jandro Marqués, scorer of two goals against Chelsea last year, is their top marksman this time around with three in four appearances but was well-shackled by Lyon's centre-backs, providing reason for optimism to the likes of Joseph Colley and Marc Guehi.
How Chelsea's 3-5-2 matches up against that 4-3-3 is the biggest question ahead of kickoff late on Friday afternoon. They assumed more of a 3-4-3 in the 2018 Final, leaving McCormick and Jacob Maddox up against Collado, Riqui Puig and Jandro Orellana – who is also in the squad for the Semi this year – and couldn't really get a grip on things until George McEachran came on after an hour and at 0-2 down. Able to match up man-for-man, they gave themselves a fighting chance, but the damage had long since been done. This time around, McEachran, McCormick, Billy Gilmour and Conor Gallagher give Edwards plenty of scope to enter the midfield battle on their own terms, and the quartet have been at the heart of everything good about this season.
McCormick is the x-factor. A stress fracture of the back kept him out of much of the season, with only sporadic appearances between August and April, but the symmetry of nine goals and five assists in 9+5 games reflects his absolute importance to the group aside from his captaincy and infectious character. Edwards has alternated between making him a part of the midfield three and having him play off a lead striker, and the sticking point for this one will be whether to play both of Daishawn Redan and Charlie Brown in attack, sacrificing a midfielder, or to pair McCormick with one of them and allow McEachran, Gilmour and Gallagher to get to work against Barcelona in the middle.
Brown has outplayed and outworked Redan for much of the season and merits inclusion from the start in his own right. One goal shy of becoming the all-time record UEFA Youth League goalscorer, he took full advantage of the opportunity to fill his boots in the early fixtures, but his all-round game has come along leaps and bounds and his willingness to press and to put in the work off the ball will be needed more than ever against a possession-hungry foe. Redan, on the other hand, is the more dynamic predator of the two and, while he hasn't had the most consistent of seasons and blows hot and cold, his presence in Barca's preferred build-up area would not only give them reason for pause but he's also ideally placed to expose their defence on the break.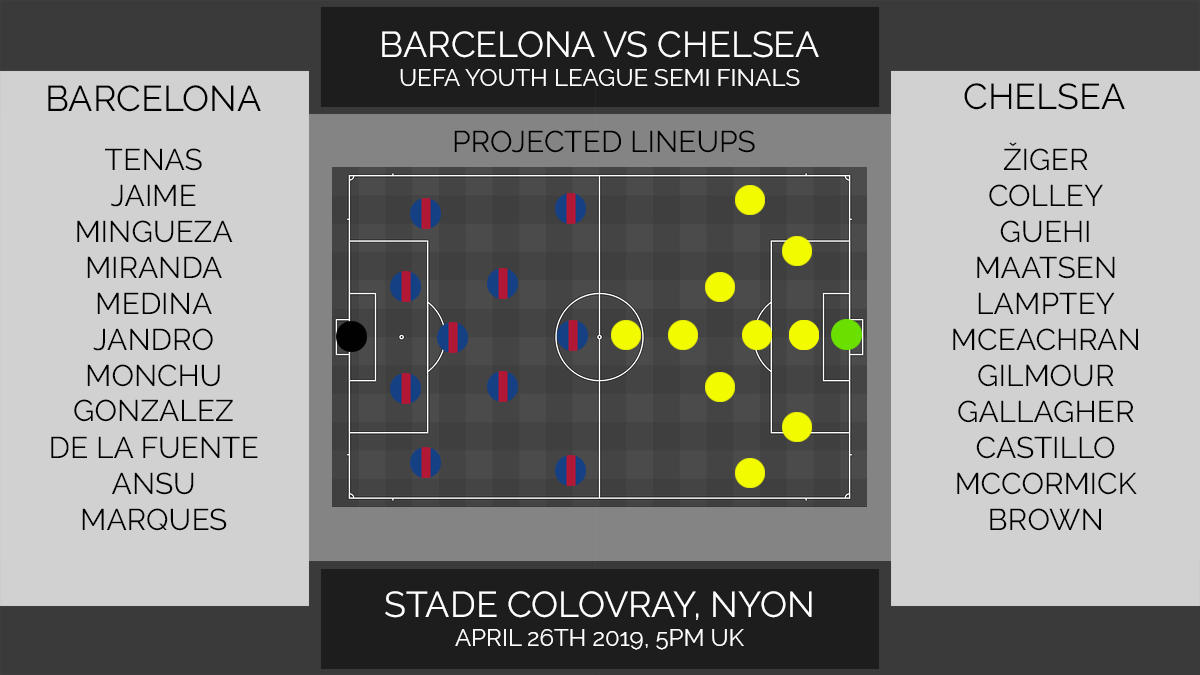 The rest of the team picks itself. Juan Castillo and Tariq Lamptey are probably the most threatening pair of wing-backs in Europe at this age level, and Lamptey will fancy himself against anyone, particularly an athletically-challenged Barcelona. Guehi has been rock-solid at the heart of the defence so far, importantly so as Colley and 17 year-old Ian Maatsen have had shakier moments either side of him, and the trio must perform to the highest of standards here. Maatsen, nominally a full-back with a preference to attack, has coped admirably with his use at centre-back of late, but found life hard against a very good opponent in Eddie Nketiah last time out in domestic football and will need more help from Castillo and the midfield if he's picked on.
Karlo Žiger will likely continue in goal ahead of Jamie Cumming because Chelsea are only permitted to field three over-age players; if Cumming is to start, one of Colley, McCormick or Brown would have to miss out altogether. The Croatian was the Semi Final hero with two outstanding shootout stops against his compatriots from Zagreb, and despite being the youngest starting goalkeeper at Finals weekend, he has grown in stature both literally and figuratively in recent months. The occasion won't be too big for him.
The match will be won and lost by whoever takes their chances. Their last meeting was a cagey affair, typical of a final, but there are goals in both teams this time around, and each side will give the other reason to believe they can be opened up at the back. Neither has relied too heavily on their substitutes – Chelsea's bench will have almost no tangible experience in Europe but they could have a wildcard in the fit-again Faustino Anjorin – and it could be the sort of match that ends of reminiscent of Barcelona's 5-4 Semi Final triumph over Manchester City twelve months ago.
By the time they kick off at 5pm (UK, 6pm CET) on Friday, they'll know whether it's Porto or Hoffenheim awaiting them in Monday's Final. Porto are dab hands at this by now, but have always been the bridesmaid and never the bride. Twice Quarter Finalists in addition to last season's Semi Final finish, they go into the match as favourites against an upstart Hoffenheim who have seen off Lyon and Man City as group winners, then Dynamo Kyiv and Real Madrid in the knockouts. It rekindles memories of Red Bull Salzburg's fairy tale run to the 2017 title; write them off at your peril.
BT Sport have all the action in the United Kingdom, with UEFA's preferred broadcast partners around the globe picking up the coverage for a worldwide audience. Check your local providers to watch in your locale, but also make sure to follow @chelseayouth on Twitter and TheChels.net throughout the weekend for the most comprehensive coverage from a Chelsea perspective. As always, it promises to be unmissable.