"We came here to get our trophy back."
Amid the euphoria of Friday's dramatic penalty shootout triumph against Barcelona, Chelsea Under-19 coach Joe Edwards reminded his players of their purpose in Nyon, Switzerland. Yes, there was an undercurrent of revenge about the Semi Final after losing a Final to the same opponents a year earlier, but more than that, this was about restoring their own glory.
To quickly recount the story, the Blues won the UEFA Youth League in 2015 and 2016, but were denied entry the following season because the club – including the first team – failed to secure qualification by any of the conventional routes. Despite being the title holders, there was no provision for them to enter under that guise – something UEFA have since addressed – and they watched as Red Bull Salzburg took their crown away from them.
Back in the mix last season, they fought and battled their way back to the Final, but gave nothing but a distantly-faded account of themselves as Barcelona cantered to a 3-0 win. The feeling as they stood defeated at full time, watching their opponents take the glory instead, didn't go away. Chelsea don't lose finals, especially at this level and, more than avenging any single match, this season has been about bringing the Lennart Johansson Trophy back to its rightful home at Cobham.
Of course, Barcelona stood in their way on Friday, and when they fell behind to Ansummane Fati's 20th-minute goal, painful memories from twelve months earlier would have come rushing back. In that moment, every player in yellow on the day had a decision to make. Did they have the resolve to fight back?
How they responded. How they stood up and said 'not today'. Barcelona should have been further ahead at half time. They should have managed the game better and not been quite as much of a slave to their identity as they were, leading to goalkeeper Arnau Tenas passing to the opposition so often, and eventually gifting an equaliser to Luke McCormick. They should have held on when Fati restored their lead three minutes later. But they didn't.
This Chelsea team hasn't taken no for an answer. They've only led for nine minutes of knockout stage football, having held off a resourceful Montpellier late in the day at Cobham in March. They had to come from two goals down in the last quarter of an hour against Dinamo Zagreb in the Quarter Finals before advancing on penalties, and it was a similar story on Friday. Chelsea have practiced them all season and have reaped the rewards over the last month. They scored nine of their ten spot kicks as eight different players assumed the responsibility. Karlo Žiger pulled three magical saves out of the bag, and they're in a record-breaking fourth final – four in a row as far as their own participation goes – on Monday afternoon.
https://twitter.com/ChelseaFC/status/1122098565566722048
Between them and a place in the history books is a team that has historically proven to be a nuisance for them at Under-19 level. In three matches against FC Porto, Chelsea are yet to record a win in ninety minutes, a feat only Barcelona are able to match. They exchanged draws home and away during the 2015-16 group stages before going all the way to a penalty decider of their own in last year's Semi Finals. Then, as it was on Friday, a late Chelsea equaliser made it 2-2 and, despite staring defeat in the face, Jamie Cumming's heroics in goal quite literally saved the day.
It was heartbreaking for Porto, who have been a consistently capable side in the five years of the competition, but have never quite been able to reach the showpiece occasion, instead having to watch their bitter rivals Benfica get there twice (though their defeats on both occasions will have provided some little solace). The fates have conspired in their favour at last this season though; a group of Lokomotiv Moscow, Galatasaray and Schalke was one of the easiest to navigate, and a knockout bracket that saw them at home to Tottenham Hotspur and FC Midtjylland led them through to Monday's last four tie against the upstarts from Hoffenheim.
The Germans had been the fairy tale story of the year, coming through a challenging group that also included tournament fancies Lyon and Manchester City, before shocking Real Madrid in the Quarter Finals. Porto handled their business with relative ease in the end, emerging as 3-0 winners and, although they're a capable side with plenty of talent, Chelsea will feel that they can beat anyone now.
The Portuguese side is very experienced; goalkeeper Diogo Costa didn't play in the Semi Final due to first team commitments, but holds the tournament record for the most appearances with a staggering 26, six more than Chelsea's most accomplished performer in Ola Aina, and is set to be back for the Final. They play a simple-looking 4-4-2 but rely heavily on full-backs Tomás Esteves and Tiago Lopes for much of their build-up play. Early possession goes through them and they move into central areas with confidence and regularity, so Senegalese midfielder Mor Ndiaye drops in between the centre-backs to provide cover.
What this does mean, however, is that they can be prone to leaving space in wide areas in their own defensive third. As the full-backs vacate their spots, opponents look to drive long searching passes in behind. Hoffenheim, like Chelsea, played with three central defenders and wing-backs, and found some success with this approach, but lacked the technical execution to take full advantage. With Tariq Lamptey and Juan Castillo in their arsenal, plus more accomplished passers than Hoffenheim's chief playmaker Samuel Lengle, Chelsea should be able to find more joy.
The midfield is industrious, unremarkable but without significant weakness, but it's in attack where Porto can be really dangerous. Romário Baró has six goals in nine games this term and is given a truly free role in the number ten shirt. He goes wherever he wants, with team-mates covering him accordingly, and has the physical and technical capacity to be a huge threat. He doesn't have any defensive responsibility, but needs to be accounted for wherever he goes, as plenty of teams have found out to their detriment.
Fábio Silva leads the line with five goals and he provides the work rate to accommodate Baró's mercurial talents. A dogged worker, he's as sharp as they come, and is a quality finisher arguably as good as any Chelsea have faced this season. The team as a whole are more combative, aggressive, and 'English' than Barcelona, and the Blues must therefore draw on all their powers of recovery from a draining Semi Final.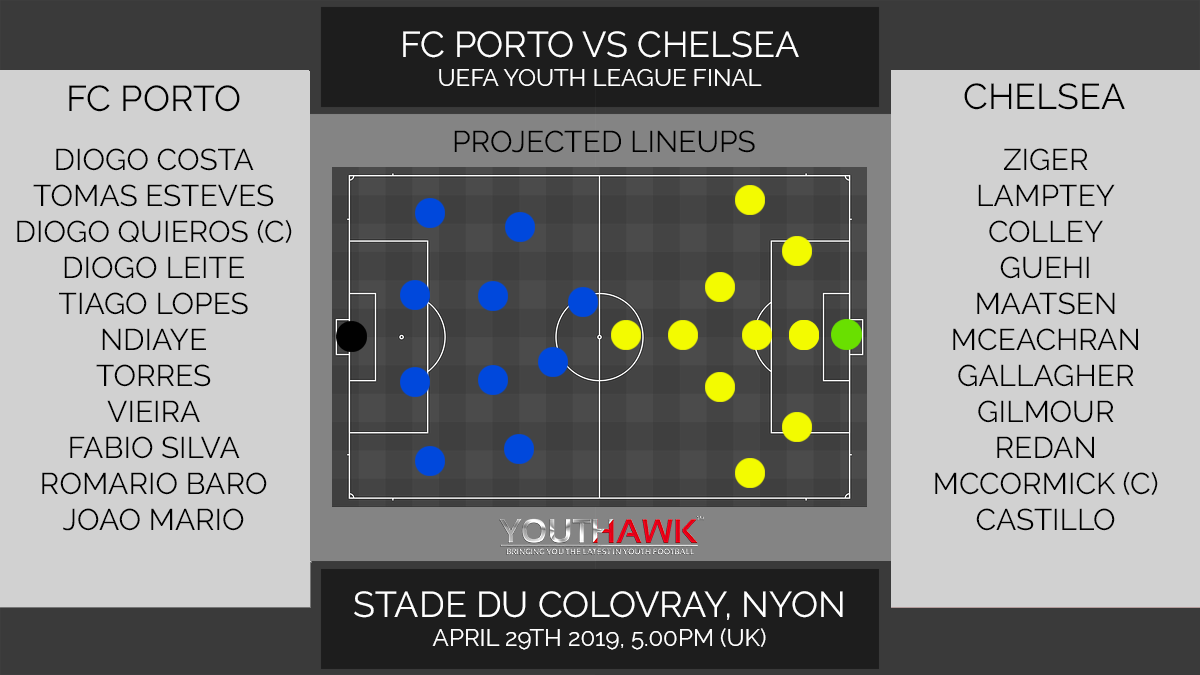 Their team should remain the same, or as close as possible. Daishawn Redan put in a full shift to press Barcelona's defenders for 78 minutes, before departing to allow Charlie Brown to do what he does best, but Brown could get the nod here if Redan hasn't recovered enough in time. They would then swap roles; Brown doing the hard work for an hour or more, Redan entering the fray later in the game to take advantage of weary legs.
Tino Anjorin will be held in reserve to make the same sort of wrecking ball impact from the bench as he did on Friday, bringing a terrifying physical presence into the game in relief of whichever midfielder is tiring the most, but this has been a close-knit squad since the first round against Molde and ten of the squad have started six or more of their eight matches along the way. It won't change much now.
There's one more river to cross and one more battle to be won in search of redemption. Kickoff at the Stade du Colovray is at 5pm UK time (6pm CET) on Monday 29th April as FC Porto and Chelsea play for the 2018-19 UEFA Youth League. Don't miss it.
https://twitter.com/ChelseaFC/status/1122049270272745473