Sometimes things just don't go to plan. Saturday's FA Cup Final is a case in point; losing to Arsenal wasn't part of the script as far as Chelsea were concerned, but it happened, and now Frank Lampard and the club have to plot a path forward and continue to make the promising progress they've shown throughout much of the extended 2019-20 season.
On an individual level, the same thing happens to scores of players every year, particularly those who go out on loan. It's one of the tougher experiences a young player can face, and a year of struggles is not necessarily indicative of their future prospects. For five such Loan Army hopefuls, the last twelve months were a challenge, but one they are all more than qualified to bounce back from next term.
Ethan Ampadu
Players of Ethan's calibre are few and far between. A senior debutant at Exeter at 15, he was in Chelsea's first team six days after turning 17 and made his Wales bow not long after. However, a loan to RB Leipzig this last year yielded just three starts and fewer than 400 minutes of football; he played just as often for Wales in 19-20 as he did at club level.
Not that going to Germany was a bad move; he spent the year embedded with a Champions League team – one that will restart the competition in the last eight and with an outside chance of winning the whole thing – and learning to play in a different system than he has previously been used to. The broadening of horizons and learning of new cultures is a fantastic experience for any young person, footballer or otherwise, and he will have learned a lot about himself in having to deal with the adversity of not playing so often for the first time in his career.
That's all a part of the loanee experience too; Eddie Newton has previously spoken at length about players needing to knuckle down and work for their place instead of ending a deal prematurely and sending them somewhere else. It would have been easy to do that with Ampadu, but he and Chelsea resisted; a starring role against Tottenham in March was the highlight of his brief time on the pitch in a Leipzig shirt, but growing up away from the game will have been a positive thing too.
There's no substitute for playing, though, and so the 2020-21 campaign becomes more important than ever. He has all of the attributes to play for Chelsea now, and with Lampard as manager anything could happen, particularly with his versatility in being able to play in defence or midfield in either a back three or back four configuration and his aggression on and off the ball. In some ways he has the hallmarks of a player like Declan Rice, who is increasingly linked with a big-money return to West London. However, turning 20 two days into the new English season, Ampadu has to play and play often.
He's barely hit 1000 senior minutes at club level despite starting with 500 at Exeter, and can ill-afford two consecutive years out of the academy game without playing week after week. That suggests a loan to a top-end Championship club perhaps, where there is a bare minimum of 48 games on offer in all competitions, and a packed enough schedule to guarantee sufficient playing time to anyone who remotely deserves it.
A serendipitous switch to Swansea, for example, would allow him to work with a manager Chelsea know and trust in Steve Cooper, who will have Marc Guehi back again next year, while it would also see him follow in the footsteps of his father Kwame, who spent four years in South Wales in the mid-1990s. He could comfortably play at a higher level, be it in the Premier League or elsewhere in Europe, but sometimes taking one step backwards is the springboard you need to take a huge leap forward.
Lewis Baker
At 25 years old, Lewis' time at Chelsea has unfortunately come and gone. Shamefully limited to just a single cameo appearance for the first team in 2014, at the peak of his academy dominance, the three years that followed his two-year run at Vitesse that marked him out again as a player with a really bright future could hardly have gone worse.
Quite why a loan to Middlesbrough was the preferred option after a 15-goal return in his second Eredivisie tour is anyone's guess; leaving him there all season despite clashing with Tony Pulis was an even more baffling decision. The lack of joined-up thinking continued into 2018-19, where he swapped Pulis for Marcelo Bielsa and, while they are about as far apart on the footballing spectrum as two managers could possibly be, they are both idiosyncratic by nature and unwavering in their demands of their players. It took a mid-season bailout to Reading to get Baker happy and playing regularly again, and it looked like he was on the way back up heading into 2019-20.
Venturing back into Europe, he found a Bundesliga home at Fortuna Dusseldorf, who also negotiated a €10m option to buy. After just eight appearances and reported clashes of opinion between player and club, that loan too was cut short in the January transfer window, and he hasn't been seen or heard of since.
There is no way that Baker at his best cannot be an asset to a team playing at a good level of football. The last few years have been emblematic of all the pitfalls of the loan system; it's time for him to get out, start anew, and recapture what once made him so exciting to watch.
Nathan Baxter
Nathan did nothing wrong this season; in fact, when he played, he played well. But, after being pressed into playing so much as a young man at the Met Police, at Solihull Moors, at Woking and at Yeovil, his fourteen appearances for Ross County last season didn't quite scratch the itch for an ambitious young goalkeeper who had previously made such impressive progress. A shoulder injury kept him out for the first three months of the season, and Scotland were one of the few countries around Europe to shut down their domestic leagues in March rather than attempt a later restart.
In between, he held his own for a struggling Premiership side that conceded more goals than any other team in the league, and lost his place to Ross Laidlaw once or twice, but was by and large the better of the two custodians. There aren't many 21 year-old goalkeepers with almost 150 senior appearances to their name; most of the English ones that have reached that milestone at the same age in previous years are now in Gareth Southgate's national plans. Wherever he plays for the next ten months, expect Baxter to remind everyone how good he is.
Charly Musonda
Legendary NFL coach Bill Parcells once opined that 'the best ability is availability'; in short, it doesn't matter how good you are if you're not fit to play. To suggest that Charly Musonda's two-year absence from the game is his fault would be harsh in the extreme – a series of setbacks after a shin injury in 2018-19 gave way to a serious knee problem this past season – but that absence has left many doubting whether the nearly 24 year-old has a future at Chelsea.
It's easy to forget just how exciting a talent he was in his teens. His mesmerising dribbling ability, his unique flair and creativity, and his end product were all on show throughout repeated FA Youth Cup and UEFA Youth League successes. He even started out well on loan, proving he could play at a very high level while impressing in La Liga with Real Betis, and scored his first and only goal for Chelsea in 2017's League Cup win over Nottingham Forest.
That was the last time life was so good for Charly on a football pitch though. Pushed aside by Antonio Conte, an ill-advised loan to Celtic materialised, one in which he was left far too exposed to the excessively robust nature of the game north of the border and, after scarcely playing for Brendan Rodgers (who previously proved himself incapable of properly looking after a player like Charly when he had Josh McEachran at Swansea), he eventually took up the offer of a switch to Vitesse, years after initially declining to do so.
Now almost back to full fitness, and with an improved physique to help him deal with the challenges ahead, the journey back to greatness is ready to pick up speed. He might never play another minute for Chelsea but the battle is now a personal one for Charly. It's time for him to prove himself all over again.
Dujon Sterling
After a promising first year in the senior game at Coventry during 2018-19, Dujon found it harder to keep things rolling in the Championship at Wigan this season, making just nine appearances in a season hit by injury and circumstance. Where he goes next will be instructive, not just in the level he plays at, but the position he eventually settles down to. At Coventry, he eventually excelled at right-back, but initially found a home at left-back, and his underlying numbers show a player who is at his best going forward but has plenty of work to do defensively.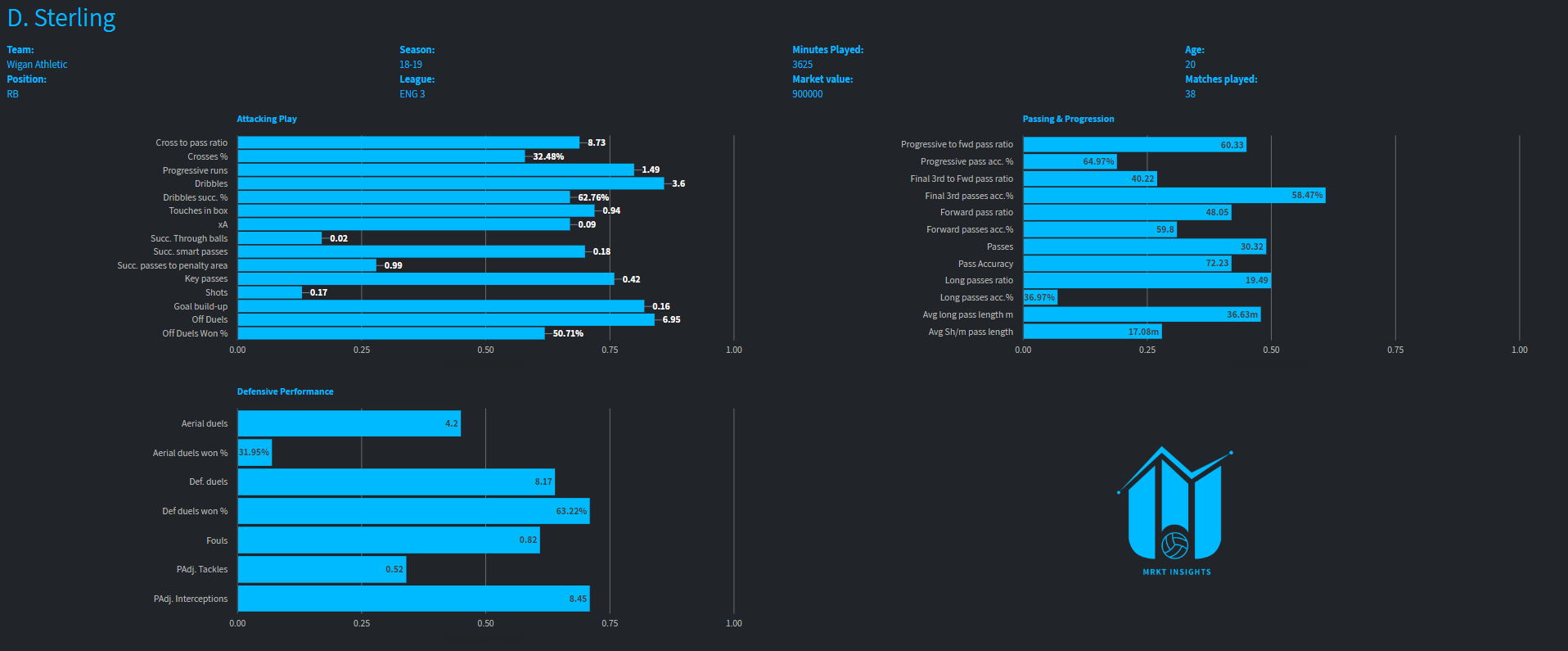 (courtesy MRKT Insights, stats are from 2018-19 at Coventry despite Wigan label)

That all correlates nicely with the player we saw wreak havoc in the academy. A force of nature who was simply too quick, too strong and too direct for most of those his own age, Sterling played anywhere from centre-back to centre-forward and pretty much anywhere in between. His traits certainly mark him out as a potentially excellent modern-day full-back but a club willing to take him on and develop him as a winger could reap plenty of rewards too.