With real football on pause, we're afforded an opportunity to reflect on the past, more so than usual. Let's look back at one of my favourite all-time academy matches; the 2014 FA Youth Cup Final Second Leg between Chelsea and Fulham.
The Background
Six years ago, the academy wasn't quite the trophy-laden winning machine it became throughout the rest of the decade, but it was firmly on that trajectory. A drama-filled run to Youth Cup glory in 2012 was book-ended by disappointment in 2011, when Paul Pogba's Man Utd ended the Blues' interest at the Semi Final stage, and 2013, when Norwich City produced one of the competition's more memorable upsets by winning home and away against Adi Viveash's young stars. League titles wouldn't become a regular thing for another year and, while they were clearly on to building something lasting, there was still work to be done.
The Opposition
This was a final with local interest; West London neighbours Fulham were in the showpiece occasion for the first time ever and had a particularly talented generation of players at their disposal; a generation Chelsea knew well, with coaches, scouts and recruitment personnel at both clubs having shared time working for each other while in competition for the best of the local produce.
The diamonds in their crown that year were Moussa Dembele and Patrick Roberts, who had each made their first-team debuts for Felix Magath's relegation-doomed outfit two months earlier. Guided by the eminently-capable Steve Wigley, they impressively navigated their way to the Final with wins away to fellow capital-dwellers QPR (4-1) and Tottenham Hotspur (3-2) before dismissing Manchester City (3-1) and Huddersfield Town (2-1) on their way to the Semi Finals. There, they edged out Reading 5-4 courtesy of a last-minute Dembele winner that completed a second-leg hat-trick, setting up a two-legged final between teams that train just ten miles apart in Surrey, and play just two miles apart at either end of the Fulham Road.
The First Leg
A week earlier, Fulham had edged into a 3-2 lead in the tie after a stirring second half in front of almost 5,000 fans at Craven Cottage. A cagey first half full of nerves was summed up by Dembele's embarrassing penalty miss – an attempted Panenka cleared the crossbar – but the game exploded into life after the restart. Jay Dasilva rifled Chelsea into the lead, only for the hosts to burst back into life with three goals in ten minutes; Dembele equalised, Emerson Hyndman's deflected drive made it 2-1 moments later, and Cameron Burgess headed them into a commanding lead ten minutes from time. An inspired late strike by Charly Musonda, however, gave the Blues a lifeline they would sorely need back on home soil seven days later.
The Teams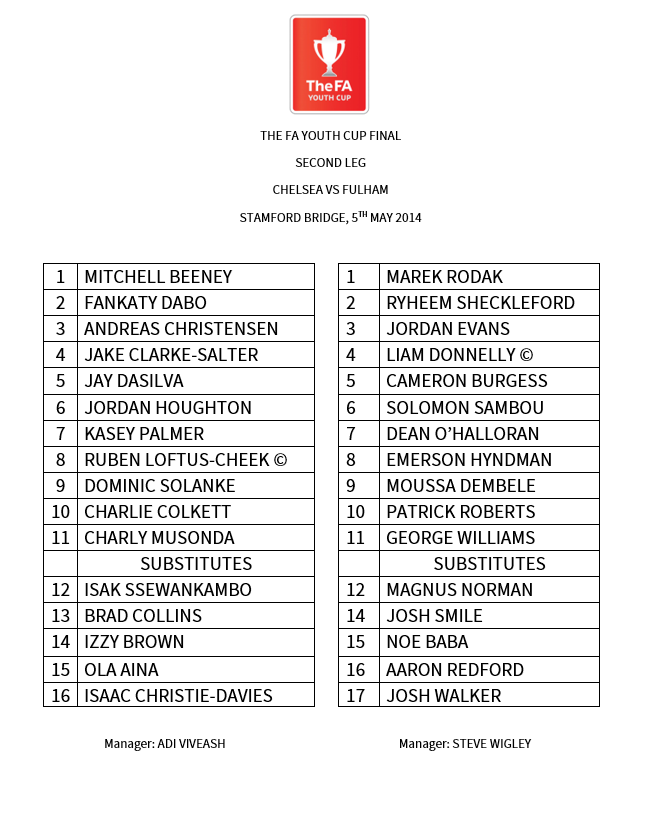 In between these two matches, Chelsea also had a national Semi Final at Under-21 level away to Manchester City, going in search of their first league title in more than two decades. After extra time and penalties, Ola Aina and Isak Ssewankambo only had enough in the tank to be named as substitutes, while Musonda and Fankaty Dabo had been substituted after an hour in order to give them a chance of being fresh for Fulham. Ruben Loftus-Cheek and Kasey Palmer were brought on at the same juncture for the same reason and, as Jeremie Boga succumbed to injury, Andreas Christensen was the only player to feature for every minute in both Manchester and London across the week.
The Match
A blow-by-blow account of the main event would likely provide enough content to see us through until the resumption of the 2019-20 season, but the highlights alone make it one of the great youth football matches of this or any era. If anyone was left in any doubt as to what sort of match was in store, Dembele's fifth-minute opener assuaged any doubts. Roberts' jinking run put Chelsea on the back foot, Dean O'Halloran stood a cross up to the far post, and the French forward guided a neat header past Mitchell Beeney from close range.
No strangers to coming from behind, they set about fighting back from a two-goal deficit for the second time in the tie, but it was far from easy against a good team with their tails fully up at this point. Indeed, they might have been down but for the post denying Roberts in the 18th minute, but on such moments do outcomes turn. Needing a little luck and a little inspiration, Chelsea got both from Musonda and Dominic Solanke midway through the first half. The precocious Belgian drove infield from the right and set up a one-two with his number nine, who duly obliged with an outrageous backheel. That was enough to draw Jordan Evans into a tackle he couldn't make, earning the home team a penalty, and Charlie Colkett beat Marek Rodak from twelve yards. Game on.
Stoked by some 13,000 fans at the Bridge, they were level on aggregate ninety seconds later. Solanke was the facilitator in the one-two again, this time with Jordan Houghton, who steered home with an astute strike from the edge of the box. Far from doing things the easy way though, they were back in the same situation two further minutes later, as Fulham equalised on the night and re-took a 5-4 aggregate lead.
In just four years, Roberts went from playing Sunday League football to joining Manchester City for some £12m. In between, his journey took him from AFC Wimbledon to Fulham, where he was one of the most exciting players you could ever wish to see at any level. A legitimate 'mini Messi' as a teenager, he had already routinely had his way with Chelsea several times over the years, and showed up on the big occasion here. Working space from the right, he found Hyndman and latched on to his clever scooped return through ball before lashing into the top corner with his weaker right foot at the Shed End.
Palmer and Solanke saw half-chances come and go before Solomon Sambou's 30-yard daisy-cutter gave Fulham back their two-goal lead, leaving Chelsea with just 45 minutes to come back from a bigger deficit than they had to coming into the contest. Desperate times called for desperate measures and Adi Viveash went all-in with a half-time triple substitution. Aina, Ssewankambo and Izzy Brown replaced Palmer, Loftus-Cheek and Jake Clarke-Salter, who were clearly short of fitness, while Fulham could only watch on with envy at having the luxury of introducing that calibre of replacement from the bench.
The frenetic, frantic nature of play refused to let up. Ssewankambo powered high and wide immediately after coming on, while Dembele lobbed wide awkwardly under considerable pressure from Beeney, who had rushed out to a long ball only to clatter the Fulham forward, who was perhaps unlucky not to get a free kick for his efforts. Sticklers for structure so often, Chelsea increasingly turned to playground football in order to wrestle back control; a series of long balls went nowhere, and individuality began to reign supreme. Ssewankambo's influence was obvious and, although he was off target again before the hour, his time was near.
Two banks of four red shirts worked diligently to frustrate Chelsea, while Dembele and Roberts grazed for loose balls in attack, as the match became an exercise in attack versus defence. The defence held out for long spells too, forcing the blue shirts wide, then pouncing on any loose touches when it came back into the middle. Chelsea were often too guilty of trying to overplay things when they did come back inside, though, until Ssewankambo took direct action. A thunderous goal from near-enough the same place that Sambou had struck from earlier set up the grandstand finale this final so richly deserved, and it was simply a question of whether Fulham could hold on to their 6-5 aggregate lead or not.
They couldn't. Solanke, a scorer in every round up until the Semi Finals, had been conspicuously absent from meaningful involvement since setting up Houghton but returned to the fore when his team needed him most. He was joined there by Colkett, who had scored home and away against Arsenal when Solanke was kept quiet in those last four ties and flashed his big-game credentials with everything on the line again. Barely a minute after Rodak had denied him with a fingertip save from a looping, glancing header to meet Dabo's cross from the right, Solanke did the same thing again, this time from Colkett's teasing, floated cross from the left. Ghosting in between Burgess and Liam Donnelly, he directed the ball just low enough to catch Rodak off-balance, to find the corner, and to make it all-square again at 6-6.
Oh, but Fulham so nearly won it again. Roberts hit the post again, his 25-yard scuff from that supposedly poor right foot beating Beeney but not the woodwork, and Dembele contrived to stumble over the rebound with the ball, goal and Youth Cup at his mercy, allowing Christensen to hack clear off the line. It was an incredible let-off for Chelsea in a mesmerising, heart-stopping match, and the dagger would come for Fulham in stoppage time. The clock showed 91.10 when Brown, who was mature and decisive from the bench and without whom Chelsea might not have won, held up another searching ball before picking out Colkett in the box. Even now, at this late stage of a mentally draining evening, he had the presence of mind to backheel the ball to catching Fulham's defenders off guard, finding Solanke, who finished high into the roof of the net for his 20th goal of the campaign.
Sure, he was marginally offside by today's VAR-enforced standards, but that only adds to the legend of a quite frankly ridiculous ninety-plus minutes of play. The usually reserved Adi Viveash jumped for joy in the dugout, where Solanke was mobbed, while thousands in attendance tried to figure out exactly what they'd seen go down.
The Legacy
Really, the legacy of this final is unrealised potential, even though it kick-started a golden era for the academy. Christensen and Loftus-Cheek made it all the way to the top, yet doubts persist about both; Christensen's less-than-ideal physical traits and often fragile confidence have made him a target for fans and opposition strikers alike, while Loftus-Cheek's injury absence will be up to a full year by the time play resumes – will he be the same driving force he once was from midfield?
Solanke is still in search of his first Premier League goal for Bournemouth more than a year after leaving Liverpool, where he wound up after a protracted contract dispute with Chelsea, while Musonda has missed two full seasons through injury himself and looks a shadow of the carefree teenager he was in 2014. Palmer and Dasilva have reunited at Bristol City with potential but work to do, Clarke-Salter is trending upwards on loan at Birmingham, while the others have carved out respectable careers at home and abroad without making the sort of impact one might have expected of them on that night in May.
Roberts, the most naturally gifted player on the pitch, ended up following a very Chelsea-esque route after moving to Man City. Initial promise on loan at Celtic saw him swallowed up by the transient nature of that very system; failed stints at Girona and Norwich saw him drop back down to the Championship with Middlesbrough in January, a level he was good enough for five years ago. It might be that Dembele is the biggest success of all; he too went to Celtic, on a permanent basis, and parlayed two goal-laden seasons there with a big-money move to Lyon, where he's since registered a one-in-two scoring run. A return to West London could yet be on the cards with Chelsea having been linked with his signature frequently in the last eight months.
Whatever happened since, though, this was the group that started a record-equalling run of five FA Youth Cup wins in succession for Chelsea. It raised the bar for expectations on and off the field, it drew considerable interest towards the operation run by Neil Bath and Jim Fraser at Cobham, and it created memories that will last for a lifetime. It was unforgettable.