Last season was interesting for the Chelsea academy to say the least. They produced five first-team debutants in Trevoh Chalobah, Harvey Vale, Lewis Hall, Jude Soonsup-Bell and Xavier Simons, they reached the FA Youth Cup Semi Finals, and they won the Under-18 Premier League Cup. They continued to supply an ever-increasingly impressive number of graduates to the senior game and maintained their position as an industry leader not just within England, but also well beyond those borders.
Yet at the same time, they saw their Under-18 league title falter in the final third of the campaign, including that Youth Cup defeat when they were five minutes away from reaching the Final. They endured a humbling UEFA Youth League exit, and they most notably avoided relegation from Premier League 2 Division One on the last day of the season, courtesy of an 87th-minute goal. There can be no light without darkness, and no joy without sorrow, but it almost goes without saying that nobody around Cobham has an appetite for a repeat scenario any time soon.
And so the summer of 2022 has been an opportunity to hit reset, to redress the balance, and to make changes designed to cultivate improvements. New players and staff have been recruited, new technologies are being implemented, and the bar is being raised. Project 2030 – Neil Bath's manifesto for a new generation of academy talent – is very much under way, and the 2022-23 campaign will be the first real test of that venture under the new ownership of Todd Boehly and Clearlake Capital.
Andy Myers has moved on from the Development Squad lead after three years in which he led his charges to a PL2 title while playing a significant role in the progress of a number of high-quality prospects, and has been replaced by Mark Robinson, who was most recently manager of Wimbledon. Having spent more than a decade running their academy before jumping into the first team hot-seat, he has a deep and varied knowledge of youth development, and holds a long-standing relationship with Chelsea that includes him work with coach James Simmonds at Plough Lane in the first half of last season.
Simmonds spend the second half of 21-22 with Tore Andre Flo at Sogndal, but has returned home and earned a promotion to the Dev Squad ranks to join Jon Harley and Jack Mesure in assisting Robinson, reprising their own partnership from a year ago in the process. Andy Ross has replaced him on Flo's staff in Norway – a coaching development pathway the club are clearly keen to build upon – and his spot as assistant to Under-18 lead Ed Brand has been taken up by Jimmy Smith, who returned to the academy last summer in a recruitment capacity after a 15-year senior career that began at Cobham.
Robinson has overseen a challenging yet productive pre-season schedule that took in wins over Köln, Boreham Wood and Dorking Wanderers, a draw against Bromley, and a week-long Stateside swing where they faced Wolves, Real Monarchs and Toronto FC II in the MLS Next Pro Series. He has largely retained the 3-4-3 shape preferred by the academy, but has already been able to add his own personal stylistic preferences to their approach, most visibly using two centre-forwards in the front three rather than the more typical pair of wide forwards. Jayden Wareham, Jude Soonsup-Bell, Mason Burstow and Malik Mothersille have all been involved, with Wareham and Burstow in particular highlighting a more recent shift in developmental recruitment that reflects the changing landscape of the PL2.
They both came into Chelsea having played senior football elsewhere; Wareham had some twenty appearances for Woking in the National League, while Burstow arrives off the back of a breakthrough year in League One with Charlton Athletic. Chelsea had eyes on them for some time – when Wareham was at QPR and when Burstow was coming through with Welling and Maidstone – but over the last two years there has been both a need and a concerted effort to bring that sort of talent into the Under-23 (or Under-21, as it is now) ranks to remain competitive against their domestic rivals in a transfer market where everyone is operating under the reduced scope brought about by Brexit regulations.
The club also moved to sign Dylan Williams from Derby back in January; he too had a taste of senior action in a troubled season at Pride Park, and it would be a surprise if one or two more didn't join before the end of the month. Eddie Beach's arrival from Southampton provides another option in goal that in turn allowed the loan exits of Lucas Bergström (Peterborough) and Prince Adegoke (Welling), while giving Teddy Sharman-Lowe more flexibility for first-team involvement, and Brighton left-back Zak Sturge finally put pen to paper on a move that almost happened in January.
Adding Sturge to Williams on the left will finally solve a problem that Chelsea have had at this age group for a good two years, and theoretically free up the likes of Vale (should he not go on loan) and Hall to play in different positions. Hall, however, has spent the summer playing on the left of a back three – the role he excelled in when he made his first-team debut – but, when everyone else is available in defence, it would be good to see him return to central midfield, where he was an outstanding schoolboy footballer for club and country.
Bashir Humphreys and Josh Brooking come into 2022-23 armed with new contracts and join Brodi Hughes and Alfie Gilchrist as regular options in the back three, while Williams and Derrick Abu have the positional flexibility to contribute there too. Xavier Mbuyamba is expected to depart, Luke Badley-Morgan has been on trial at Leicester, and could follow Josh Tobin in leaving the club after a long and generally distinguished association.
Dion Rankine, Edwin Andersson and Silko Thomas are wing-backs that can play on either side but do their best work down the right. The central midfield area is blessed with plenty of young quality, headlined by Charlie Webster, who finished last season in tremendous form and has been given the responsibility of running the show by Robinson, freeing up Xavier Simons (who has also deputised in defence), Ben Elliott, Joe Haigh, Leo Castledine and Jimi Tauriainen to play as attacking eights ahead of him. Elliott has had a particularly good summer, scoring freely and looking like he's finally back to form and fitness after some three years of injury and the consequences of such a long absence from regular football.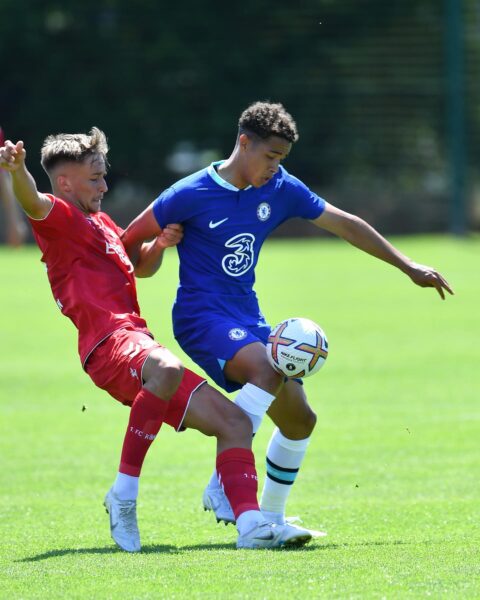 Omari Hutchinson was sensationally taken from London rivals Arsenal, and completed pre-season in Chelsea blue, but is reportedly set for a loan move after being among the very best PL2 players last year. Carney Chukwuemeka, meanwhile, seems to be pencilled in for a first-team squad role but, when he could do with minutes, the opportunity will surely be there for him to play under Robinson. If there is ever an occasion where those two reprise their PL2 duties in a Chelsea shirt, it will be box office entertainment. Neither are or would be eligible for the UEFA Youth League, though the academy will hope that the harsh lessons handed out last term will have provided plenty of learning opportunities and to build a platform to do much better this time around. The group draw and schedule will mirror the first team's Champions League calendar, leading to a jam-packed October schedule before the World Cup break.
Hughes and Hall were two of ten scholars from the class of 2021 to make the step up to Under-21 football a year early, and Castledine looks set to join them, although he might well bridge the gap between the two for a while to ensure he gets as much playing time as possible. The seven others are very much on the right track to follow suit over the next twelve months but will focus on their longer-term development by leading the Under-18s this term. The group welcomes sixteen new first-years into the fold for a fabulous injection of fresh, young impetus, and the depth is most certainly there to challenge on several fronts, particularly when including some talented Under-16s who have already made an impression too.
Three of the new scholars are goalkeepers; an unusual decision for most clubs to make in keeping that many given the lack of playing time by comparison to any outfield role, but in Ted Curd, Max Merrick and Luke Campbell, Chelsea have a plan. Curd has already played more than twenty times for the youth team over the last two years and can quickly attack opportunities at higher age groups, leaving Merrick and Campbell to feel their way into regular Under-18 duty more regularly.
Brand has operated with a back four in pre-season but has the flexibility of a squad that can comfortably adapt to a more familiar back three. Kaiden Wilson and Travis Akomeah are a pair of tall, imposing, natural centre-halves, while Harrison Murray-Campbell has been an excellent conversion to the position in recent times and brings a natural and authoritative leadership to the team. Josh Acheampong and Noah Hay can play centrally or out on the right, as can Somto Boniface on the left, and the depth in the position now will hopefully free Billy Gee up to return to midfield once back from injury. Richard Olise has been a long-term absentee too but, when he can return to playing, the team can enjoy another versatile and eminently capable asset.
Sam Rak-Sakyi offers second-year experience in controlling the midfield from the six position, where Michael Golding, Reiss Russell-Denny and Harrison McMahon will also compete for playing time, and all four can also play as advanced eights. Zain Silcott-Duberry has spent more time in that attacking central role than his more familiar duties at wing-back but has so much untapped ability that he will continue to move around to find the best way to harness it, and Brand can also call upon Tudor Mendel-Idowu and Tyrique George who provide similar positional flexibility, flair and creativity.
Ato Ampah and Chinonso Chibueze are more natural wide men who can work centrally, Ronnie Stutter is an excellent wide forward or a natural nine, and both Louis Flower and Donnell McNeilly do their best work at centre-forward but are willing workers wider or deeper when needed. If Tyler Dibling joins from Southampton, as is expected, the Blues will be adding a dynamic left-footed finisher into the fold, one who has played nearly a full season at this level, and who could conceivably move onto Dev Squad football before 22-23 is out. Jim Fraser, meanwhile, continues to recruit aggressively and there is business yet to be concluded for this team.
The new intake have enjoyed their pre-season too, firstly mixing with their older counterparts to beat Bournemouth (3-0) and Coventry (7-0) before the 2006-borns (and a few 2007 colleagues) won the Walther Bensemann Memorial International Tournament in handsome fashion last weekend.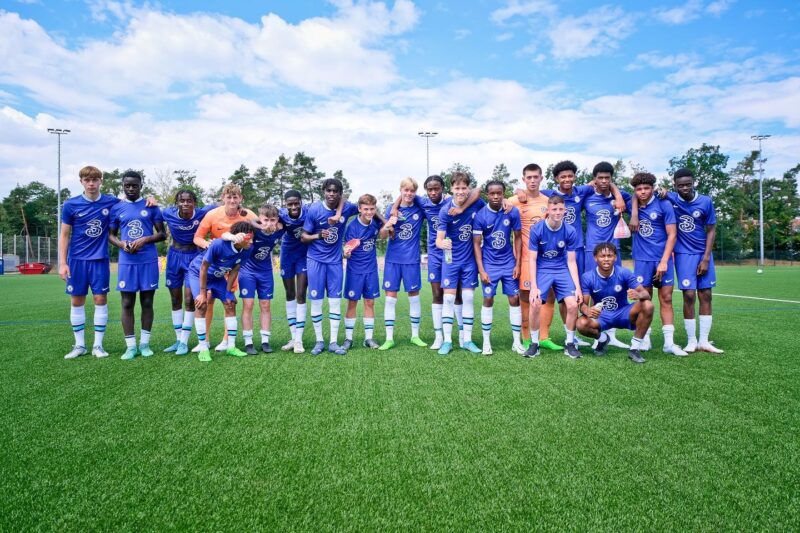 The talent is there, the depth is there and the coaching is there. If 2021-22 was a season of what might have been, 2022-23 should be a campaign of making swift amends and returning Chelsea to their rightful place at the top of the table. Winning has always been a priority for everyone at the academy and, while they continue to produce players in their droves, the personal and professional growth that happens when you regularly compete for and win high-level competitions elevates everyone.
The Dev Squad open the season on Monday night away to Wolverhampton Wanderers, while the Under-18s get off and running on Saturday 13th August away to Arsenal. An academy year is always a wild ride; come along and join us, won't you?