With the United match now on the back-burner until March, the focus switches to another of this seasons title contenders; Arsenal.
Fabianski's return in goal should be a welcome sight for Chelsea fans. His presence in goal this season has made a shaky central pairing look even more fragile, as Vermaelen's loss is felt with each passing game.
Fabianski possesses an inability to claim crosses and is a man with a penchant for high profile rickets; the Chelsea attack should be relishing his inclusion.
The Arsenal full-backs are pacey and better going forward than defensively, who generally suffer from lack of protection from their wide men. Squillaci and Koscielny have shown a lack of cohesion in recent weeks, an uncomfortable pairing that look even more uneasy when protecting Fabianski.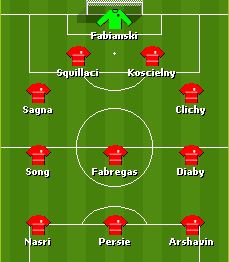 Wenger's main joy will come from the passing, interplay and movement of his front four/five. Fabregas has been below his usually impeccable standards this season, but his vision and ability to pick out a pass are exceptional.
Being shielded by Song and Diaby will give Fabregas license to link up with Arsenal's front three, who are as potent a combination as anywhere in Europe. The impressive Nasri joins Arshavin and Van Persie in a dangerous and threatening forward line.
Moving Nasri out wide may be a blessing in disguise, as he has been far more influential playing the Fabregas role in the Arsenal Captain's absence.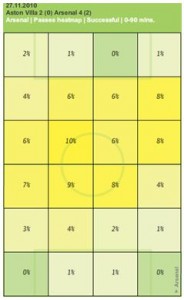 The heatmap to the right shows Arsenal at their most effective; taken from their demolition of Aston Villa in November. If Arsenal's midfield and front three control the tempo of the game, they are deadly.
Their interplay at times is mesmerising, but it relies heavily on dominating the middle of the park. If Fabregas can take possession in the key areas on the right, Arsenal will hurt us. We can see they rarely look to work the ball wide, but instead rely on working the ball primarily in the central two channels. Arshavin is particularly adept at moving into these channels and exploiting space.
Arsenal's strength, as with the above, is in their ability to maintain possession and work intricate triangles in the opponents half. Fabregas, Nasri and Arshavin in particular will need to be monitored carefully as they tend to drift from their starting positions in between the lines of the opposition (note to Michael Essien and Jon Obi Mikel).
However, in my eyes the true danger lies in the left boot of a certain Robin van Persie. Van Persie is a big match player, that is without question and his ability to score goals against top sides is particularly well documented. His movement is superb and although he is just back from injury, for me he is the biggest threat.
Mikel, Ivanovic and Terry need to ensure RVP remains facing his own goal for as long as possible, as his quick feet will trouble if he gets turned or in behind.
For all their attacking quality they do lack a big match mentality. The most salient part of Arsenal's defeat at United was their inability to pass the ball in their usual fluid manner. Moreover, if there is one side in Europe that can counteract a passing side, it is Chelsea.
The fear of Drogba is well documented, but you do doubt the psychological effect of one player on a side of professional footballers. With Drogba though, the doubts dissipate. Apparently Arsenal fans believe they have more chance of beating Barcelona over two legs than stopping Drogba from scoring?
If we are to win, and we must win, Drogba will need to play the school bully once more.
KEY ISSUES:
1. MAKE ARSENAL PLAY WIDE – We need a stellar performance from Messrs Mikel and Essien in the middle of the park.
Mikel seems to be a marmite player, he is liked or loathed, but if you cannot see his importance in big games then you need to take your blinkers off. Invariably excellent against top tier opposition, he was superb at Stamford Bridge and last season kept Fabregas firmly in his pocket.
Michael Essien has been slightly off key post-injury, but looked more like his rampaging self against Tottenham in the second half. Looking at the incomplete pass attempts from the game at Stamford Bridge, we can see the benefit of making Arsenal play both long and forcing them to cross the ball.
This requires immense positional discipline and will mean Essien may need to curb his enthusiasm for bursting forward with the ball. Clearly we should favour Terry and Ivanovic over any of Arsenal's front three/four in the air, so shifting them from their favoured channels should work to our advantage. Arsenal will probably dominate possession, but if they are playing side-to-side that is a positive thing for Chelsea.
They do not want to cross the ball, but when they eventually do you can take that as a victory for Mikel, Essien and Lampard. If Arsenal manages to score from a cross, it will be from a poor piece of defending and not by design.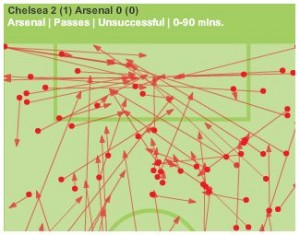 2. DIDER DROGBA AND FRANK LAMPARD – I cannot remember a player in the Abramovich era ever being as dominant as Drogba is against Arsenal. He is having a quiet season by his own admission, but the fired up Drogba versus Spurs is hopefully looking at Arsenal with a carnivorous grin.
We must not be afraid to look early to Drogba against the Arsenal back line, but this also means that we need to get players around Drogba looking for the second ball (cue Lampard). Drogba's strength, hold up play and all around bully boy self needs to be evident from the outset.
If he scores, watch the old Drogba return. If he plays well, we will win. He scored a remarkable goal at Stamford Bridge, was a general pest all game and was a menace last season. Please Didier, put your hunting boots on.
Frank, Super Frank, how we have missed you. I am not sure what speed Lampard is up to in terms of his preparation, but if one chance falls his way in the penalty box, who will doubt the best goalscoring midfielder in Europe from slotting it away?
In Frank's absence it was worrying that no other player could link with the forward line as well. It is of no surprise that our team have looked so disjointed in recent weeks. Lampard brings a balance, an experience, a class and lethality to our midfield that no one else inspires.
People will bang on about Lampard as a purely attacking force, but do take note of how he organises things defensively: I guarantee our midfield looks like it knows each other.
3. SET PIECES AND CROSSES – We are due a goal from a set piece very soon. Drogba, Terry, Ivanovic and Essien are all exceptional in the air and easily overpower/tower over their opposition. Any corner or free kick must be attacked with vigour and purpose.
I am still not happy with the quality of our delivery, but you would bank on us winning the majority of aerial contests in the Arsenal penalty box. Fabianksi is very suspect on crosses and this uncertainty seeps into his defence the more he comes under pressure. We need to pinpoint the Arsenal full backs, often isolated, and pepper crosses into Drogba.
THE TEAM: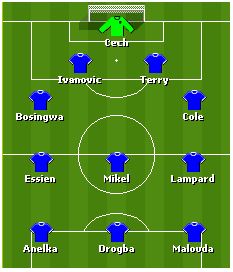 The only real question is whether to play Bosingwa over Ferreira. In all honesty I think Paulo is likely to start after his handling of the current World's Best Player Gareth Bale (I kid, honestly). However, I think given Arsenal's general pace and our preference to play them on the counter-attack, Bosingwa might be the better option.
The midfield trio picks itself and as with the above thoughts, will determine a large part of whether we come out victorious. We need a performance from Anelka, who has been underwhelming of late. Last thoughts relate to our substitutes bench, which finally has some real impact quality on there for the first time in what seems like weeks.
Ramires, Kalou, Ferreira/Bosingwa and Sturridge provide real options to alter the game if things are not going our way. We have also got players to now alter the system if we choose.
Prediction is a simple one: Drogba plays well, we will win.