When I first heard Chelsea would be missing Frank Lampard this season, I felt that we could cope without him considering the form the team was in (that was back in August).
My hope was short-lived though as Chelsea started to slump, and eventually lost their place at the top of the table, slipping to fifth in the worst run of form for 15 years.
Even after Lampard's comeback against Spurs, our performance still hadn't been up to the standard and things started to look more troublesome than anticipated.
Yet after the match against Ipswich in the FA Cup, our win over Blackburn made me feel that we might just have turned the corner, and even Carlo agreed.
Now this week came the news that we may miss the both JT and Lampard for the tough away clash at Bolton. If they do miss the match, I am not confident we will or even draw.
We don't look the same team without those two and these days none of our regular strikers are producing the goods either. Neither Drogba, Anelka, nor Kalou can pose the potential threat in opposition box. Malouda's form has been poor in recent weeks and Essien is misfiring too.
So the question is how will we line up against Bolton? No JT means we don't have any option but to start with Bruma at the back. Bruma is good talent but will he be able to survive against hard tackler Davis?
Still the defense tactic will be same, two back with Ashley and Bosingwa attacking the flanks, trying to provide crosses to the strikers. Bosingwa has been poor since his return, has forgotten how to cross and was never great in defence, so already we are looking flimsy at the back.
Talking about midfield, Zhirkov still won't be available because of injury and although Mikel is on the verge of return, will he be able to play full match? If not, who will start? McEachran? Kakuta? Or will Malouda be shifted back to midfield?
Personally I would like to see McEachran starting the game instead of other two options. Not only because he has performed well in last few games but he can sit little deeper and help control the game. Kakuta is more attack minded so he will be found more in the opposition half than in midfield, and also starting both Malouda and Kakuta doesn't quite fit in my opinion.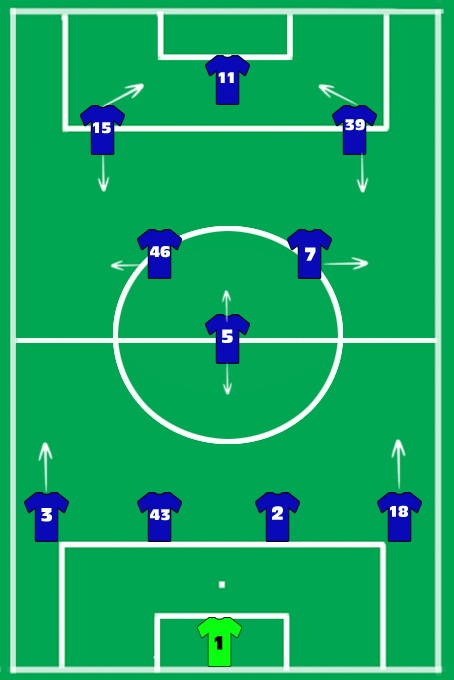 In the midfield, If McEachran starts then for me I would prefer Essien as holding midfielder than Ramires, as Ramires has shown more capacity when played in front of holding midfielder.
McEachran will stay on the left hand side of midfield and will probably be able to have more of an impact on the game from there instead of going forward. Both Ramires and McEachran, if needed then will have to play bit wide to control the wing play of Bolton.
Now talking about attacking options, I would prefer to go with regular front three of Anelka, Drogba and Malouda. Anelka and Malouda can also act as wingers to keep the midfield tight when needed.
In the absence of Lampard these two will have to drop little deeper to collect the ball but this may also create the problem while counter-attacking as there will be shortage of players going forward. This has been a critical in factor our poor form over last couple of months.
So as per my thinking, I expect we will go 4-1-2-3 against Bolton, basically using a modified version of regularly used 4-3-3.
Follow me on Twitter.