No world class manager could ask for more than a deadly trio of the strikers in same team and at his disposal.
Having signed Fernando Torres on the last day of the transfer window, Chelsea now have proved quality of attacking threat in the name of Didier Drogba, Nicolas Anelka and now Torres too.
Signing such lethal striker and fitting them in your team formation are two different things altogether, now after capture of Torres many fans would have had same question like me that, "How are we going to accommodate these players in same team?"
Well to be honest there are plenty of permutations and combinations and no matter what formation or team strategy we apply, someone in the existing team is going to be at the wrong end and will have to sit out.
Carlo Ancelotti hinted what might be the team formation when Torres starts to play, in the match against Sunderland by playing the team with same 4-3-3 but with applying some different tactics.
Let's first take a look at formation in which we played in midweek:–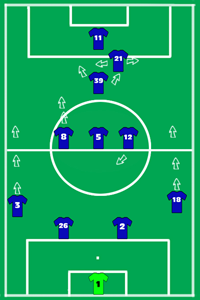 This strategy unexpectedly yielded one of the best performance ever out of Anelka as he played little bit deeper than normal striker would play.
The full backs provided the width from the back as usual and will continue to work like this no matter what is the formation. So our backline will always be like this in any kind of formation hence there is no point in discussing in detail about it.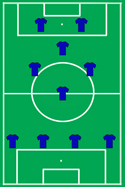 The biggest headache will be how to setup the midfield!
If we go with 4-3-3 diamond formation, Lampard can't give his optimum in it as proved by first half of the last season and so I think it will be unlikely that we will go with this traditional diamond formation.
Another formation which comes to my mind is 4-1-3-2 as shown below.
This formation will bring maximum out of Lampard as well as other midfielders like Essien, Mikel and Ramires as Lampard and Ramires will go in opposition box as much as possible by giving passes to strikers.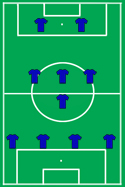 But in this formation we lack the width and all midfield is compact and also because of little more gap between the midfield and two strikers, the channelling between these won't be smooth.
Also strikers will have to drop deeper sometimes which may create lack of options to pass the ball on counter.
Another setback of this formation is that Malouda won't be able to play at his best as there won't be room for a standard winger as it's such a compact formation as said earlier.
So for me the formation against Sunderland match suits most of the players and also brings dynamism in the team.
The position which Anelka occupied could be taken over by Malouda if needed and if match demands. Also he can play bit wider from the left flank.
Torres on the other hand has great ability to play in around the box and can flow smoothly through the channels and collect passes from the midfielders with ease. So the position where Kalou played in the game against Sunderland can be taken over by Torre, but this time the player won't be dropping deeper neither he will go wider on the right flank.
This is off course all guesswork on my part, but I am sure that Carlo Ancelotti is the man to fit all these stars in the team, and can form them info a formation which will create shock and terror in the opposition area, while maintaining our own defence intact