With Monday's monumental events still burning (literally, in Torres shirts) across Merseyside, the usual fiery encounter with the Red side of Liverpool has accrued another level of animosity. Pundits, journalists and ex-players of a Red disposition have all toed the party line espoused by "King" Kenny: Torres is finished.
While this article serves to preview matches without indulging in the tittle tattle that pervades much of the written press, I must say that the majority of what has been said this week has bordered on ridiculous. The Liverpool Myth sums up much of what I feel on the situation. Any comments please leave them on the linked piece, but I am more than happy to discuss the tactical nuances of the game.
I can see Liverpool employing a 451 variation, probably 4231 in attack, with Kuyt/Gerrard supporting Suárez. Poulsen should recover from a back spasm and will more than likely partner Lucas in the middle of the park, providing cover for the Liverpool back four.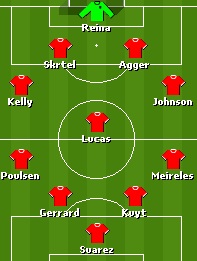 Reina remains one of the best shot stoppers in the League and can count himself unlucky on the international stage. He is athletic and blessed with superb reflexes, Reina needs little introduction to Chelsea fans as he has pulled out some superb saves from us in recent years. There is reported interest from Manchester United to take Reina as the successor to Van der Sar, but Dalglish will be keen to keep Reina as a keystone of his Anfield rebuild.
Kelly looks to be blessed with great potential at right back. Tall, a good turn of pace and strong in the tackle, he was particularly impressive against Stoke. Whether he will eventually move over to Centre Back when Carragher retires remains to be seen, but Kelly is a player I like with international aspirations. Johnson is a player we know well at Chelsea whose strengths and limitations are rather salient. Excellent going forward, but more than suspect defensively, he has found himself at left back under Dalglish.
Skrtel and Agger are likely to play, with Carragher taking a position on the bench. Both are uncompromising defenders, who are robust in the air and susceptible to pace down either side. In Johnson and Kelly they have plenty of covering legs, so their main focus will be on counteracting the physical threat of Didier Drogba.
The Liverpool midfield will be formed of two banks. I have gone with Poulsen and Lucas to sit in front of the back four. They will help contend with whoever plays at the tip of the diamond and if either forwards drops off in between the lines. Lucas was much maligned in his early Liverpool days, but has improved a lot this season. I still feel he is quite limited on the ball, certainly incomparable to Xabi Alonso, but he does the simple things well and keeps the game ticking over.
Kuyt will work tirelessly as per his normal game and has been used as a direct route when playing opposite Ashley Cole. He has a knack of scoring big goals, despite his overall lack of technical prowess. Meireles seems to be popping up with goals of late after finding his feet in a Liverpool shirt. Gerrard is showing signs of decline this season, but he still remains the heartbeat of the Liverpool midfield. Capable of defence splitting passes and wonderful strikes from distance, tabs will need to be kept on him at all times.
Suárez, for many, is an unknown quantity who people will know from his heroic goalkeeping antics in the World Cup. Whether he starts as a lone striker, or Ngog plays and he occupies a wide berth is up for debate. Particularly noted for his off the ball movement, Suárez will pose a problem wherever he is playing.
Despite the positives from Liverpool's performance their shape and playing personnel do not fully allow them to utilise the 451/4231 effectively. Stoke frequently were able to manoeuvre the ball down either flank with relative ease. Several crossing opportunities were manufactured and Stoke did progress a little too easily down the wings for Dalglish's comfort.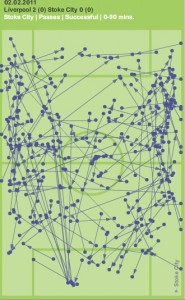 Where Liverpool are effective is in the area in front of their back four. This is where Lucas in particular has shown a drastic step forward in his game. His spatial awareness and ability to pick runners up is markedly improve, but questions still linger over his concentration for ninety minutes.
Given our ability to control possession in the middle of the park, we should be able to exploit Liverpool in the wide areas. If we are resorting to a diamond formation we must ensure that we do not narrow our game, as we have done in the past. Compressing our game into the middle of the park will play straight into Liverpool's hands. Our movement, ability to overlap and competitiveness at the second ball will be crucial in this respect.
KEY ISSUES
1. The Torres Factor – Probably the understatement of the year. Liverpool and their fans will be unbelievably fired up for this trip. The first ten minutes of this game are going to be incredibly important in terms of tempo and our mentality for the game. The Liverpool players will be well aware of the fans feelings towards us and that will only have been amplified by the capture of Torres. The bitter vitriol directed his way will only provide a slice of what the travelling fans expect to reproduce at Stamford Bridge.
It is vitally important that our midfield stamp their authority on proceedings in the opening physical exchanges. Poulsen and Lucas are not physically imposing, but they position themselves well and as seen with the above chalkboard, they are an effective buffer for the eye-of-the-needle pass.
I foresee the opening stages played frenetically, the old mantra of an early goal would do wonders for the team.
2. Wide Boys – I cannot stress the importance of exploiting the wide areas against Liverpool. I really think that given their inability to stop the procession down their touchline, we will generate a lot of chances exposing them in the channels outside their centre backs. Skrtel and Agger are not the most mobile of pairing and when pulled out of position do look slightly ragged. We will need to bypass Liverpool's holding player(s) to stand any chance of manipulating their back four.
If we are playing the diamond formation, then whoever is occupying the full back spots has a responsibility on their shoulders. Liverpool's soft spot is also one of their strengths going forward – Kelly and Johnson will want to turn Cole/Ivanovic/Bosingwa and get at them. The first goal at Sunderland highlighted the defensive flaw in the diamond; a narrow midfield means inevitably the opposition can work them into space if they have adventurous full backs.
The onus will be on us to marshal the wide channels efficiently.
My Team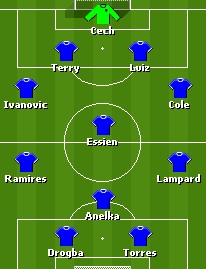 If Torres is fit, Torres should start. Jason Cundy made the point in excellent fashion on Friday Night Live, "You don't buy a £50m striker and put him on the bench." I would like to implement the diamond formation that we played at Sunderland with great success. The main reason that the diamond did not work last season was simply due to a lack of legs in midfield. Deco and Ballack did well in a 433, but the shift required in the "shuttler" roles is substantial. Now we have both Essien and Ramires available, the athleticism should not prove to be an issue.
Anelka is the interesting quandary in this situation though. His performance at Sunderland suggested a new found position for Anelka's skillset. He has a tendency to come deep and central when operating on the right of a 433, so playing him centrally to begin with in a tucked in role should not alter the dynamic of the team. What was noticeable is Anelka's ability to play between the lines in this role at the tip.
Anelka's ability to hold the ball up, turn and link play was superb against Sunderland. You can see this being a role that Anelka will cultivate over the rest of the season. There were several noticeable occasions when his dribbling skills from deep instigated quality attacking moments (Carlo©).
The obvious question in all this is simply how does Torres and Drogba cohabitate up front? Despite the shocking analysis by Phil Thompson (surprising, considering his unbiased take on this week's events), Drobga can/does operate from a wider role with aplomb. I would suggest Torres plays on the shoulder with Drogba roaming, coming deep, going wide and generally being a pest. On paper, there will not be a central pairing in the League who is looking forward to playing Drogba and Torres.
The Harding Question
Via @tom__morris on Twitter: Why didn't Sturridge get a game, when we couldn't score for toffee?
I think this question can probably be applied to a lot of the youngsters in the squad, bar perhaps McEachran. I think there was personally a lack of distrust in the majority of the young players in the squad. Playing Ferreira over Bruma is the most pertinent example I can remember. No matter how poorly we performed, the kids remained planted to the bench.
Sturridge, as we know, is a striker. Kakuta, as most people know, came to prominence in a central role behind two strikers. What do we do? Play them as wingers. I think half the problem was an unwillingness to change shape to accommodate the potential held in the kids. If we are to move to a diamond, the "tip" is precisely where Kakuta can play. Sturridge, likewise, would be perfect now playing as a striker.
Via @ChelseaStats on Twitter: Do we need to sign an out-and-out right winger?
It all depends on the system to be perfectly honest. The system is also dependent on the personnel. You could argue that post-Drogba/Anelka we would move back to a lone striker system. In which case, an actual right winger who isn't called Kalou would be a major positive. As an option, I would love to see someone like Alexis Sanchez bought in. Raw in terms of end product, but exciting and someone the crowd would love to see.
Via @nickthompson8 on Twitter: What potential player exits could trim the wage bill without weakening it significantly? Is sustainability only a dream?
Bosingwa, Ferreira, Zhirkov, Kalou and you would need to evaluate the likes of Drogba and Anelka. If they rekindle their form, I would be all for retaining them. However, if at the end of the season there are tangible signs of decline then someone needs to point out that there are an awful lot of wages tied up in the pair of them.
I have championed Drogba all season, even through his bad patches, but the signing of Torres does change things on a lot of levels. At 26 Torres represents a future not wholly reliant on Didier Drogba. There is a lot of paper talk concerning a mass recruitment drive in the summer, so will the net effect be truly felt? The net effect on wages may be a positive one if the wages are distributed amongst younger players.
Sustainability will have to become a reality, but there is much to be done on the commercial side of the club to really turn this into our future. Torres is a brilliant acquisition in this respect as the commercial windfall is already being felt. Stadium naming rights, expansion and a potential move are all mooted. We seem to be moving to a more reasonable wage structure, Torres aside, so if we can increase revenues then perhaps we may be able to be self-sufficient.
Our problem remains that we have spent excessively on wages and transfer fees without ever really increasing our revenue streams at the same right. Now we are trying to go the other way, but it could prove too little too late. We need to reduce costs and grow our income at a similar rate. It is possible, but we need to improve our marketability.
Via @daspecial1 on Twitter: Does loan exits of Kakuta, Sturridge, Van Aanholt, et al signal beginning of the end re: Chelsea careers and our youth policy?
In years gone by the endless loaning of players seems to have been the kiss of death. Mancienne, Cork, Rajkovic, Sinclair, Matic etc. Some have moved, others are likely to move on and some have moved on without kicking a ball in anger. I will put my optimistic hat on though for the aforementioned names.
Kakuta: if we are to persist with playing the diamond, Kakuta is the ideal player to develop as our number 10 or trequartista. You only need to look at his brief cameo in a central role for Fulham and combine that with his superb performances at youth level to extrapolate his potential there.
Sturridge: he has all the ability as a striker, but will never be a class winger. Personally think he needs to go on loan and show that he can score goals at this level. Two goals in two games for Bolton shows that maybe he was overlooked, in my eyes he certainly was when things were not going well. I think he is most likely to move on if he does not secure first team football at Chelsea.
Van Aanholt: for me he is our future left-back. Unfortunate to be playing in a side that features the world's best left-back, who rarely succumbs to injury; he needs to remain patient as I think he really has all the tools to be a phenomenal player. Probably a better crosser of the ball than Ashley, if he can become half as good defensively we will be laughing.
I think our youth policy is certainly improving. You only need to see our youth results to see that we are moving in the right direction. The fact remains that only a superb talent will fit straight into the first team squad. In Van Aanholt's case, I particularly feel he could play weekly for us and be a success story.
The problem his position illustrates is that can you possibly drop Ashley Cole to let him develop? No is the serious answer. So is it better for him to hang around, play a few meaningless games or play competitively on loan?
That remains the question that club have to answer. Hopefully, they are beginning to get things right.