I should state that first of all I am not entirely sure as to what formation Blackburn are likely to opt for, but I expect the personnel to be similar to the team below.
Pedersen perhaps tucked in with Olsson operating from a slightly wider berth. I expect the tactic to be similar to the one they employed against Liverpool with a lot of success: pace, pace and some more pace.
Robinson as usual has his critics, but for me he remains an excellent shot stopper and his distribution is one of the best in the League.
In Salgado, Blackburn possesses a wily old schemer who more than makes up for his physical decline with experience and pure craft.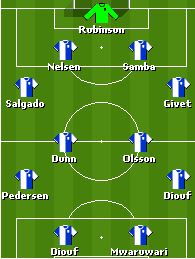 If Samba plays he will provide a huge target for set-pieces, as well as being one of the most physical centre-backs going. Nelsen is quite underrated in the league and a born-leader; quite similar to Terry in his no nonsense approach and partners particularly well with Samba. Givet is probably the weak link in what is a tough, physical and experienced back four.
The midfield is where things becoming interesting for Blackburn. Pedersen has the ability to play both centrally and wide, with his set-piece delivery of a salient danger. There have been times in the past where Pedersen looked as if he could move forward to a "big four" club, but having gone off the boil over the past two seasons there are glimpses of his class returning.
David Dunn is probably the prototypical English footballing sob story, people always looking at him and thinking what might have been. What is unarguable though is his role in the Blackburn team as the chief schemer. Still capable of turning a match on its head with one moment, he will be integral in Blackburn's game plan.
The real difference makers for me though are the Diouf's, Olsson and Benjani who provide directness and bundles of pace. We seem to be overly exposed at the moment down the right hand side. Ferreira and Bosingwa are not in the best of form at the moment and the frequency of which Blackburn exposed Liverpool's right hand side will be alarming. Diouf & Diouf are both tricky, if a little inconsistent, but they will see plenty of the ball and will go at our right side with vigour.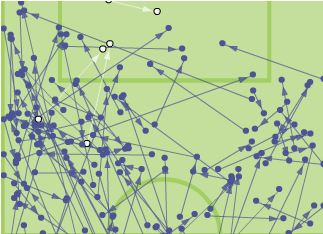 Looking at the direction of play in the Liverpool game it is easy to pinpoint the area and style of which Blackburn will employ. Pinpointing the Liverpool right, Blackburn broke quickly and repeatedly and took a lot of joy from this counter-attacking stance.
This is where the pace and directness of Diouf and co. really come to forefront. All three goals coming from areas on the Blackburn left; the concentration of passing is intense to this side and you can just about make out the directness of what is being achieved.
Whoever slots into the right central midfield spot will have to realise the threat posed by this tactic.
Looking at the overall work ethic of Blackburn is again something we will have to combat. The chalkboard below illustrates the amount of interceptions made in Blackburn's last game against Liverpool. Not content with merely winning the ball in their own half, Blackburn put pressure on all areas of the park and dispossessed Liverpool in their own half.
Eight interceptions in the Liverpool half versus Liverpool's ten interceptions in the entire game tell their own story. We at times are ponderous on the ball and will be exposed in the same way that Liverpool were. If we try to play through the middle, it could again pose us with some issues as Blackburn tend to defend well on the edge of their area.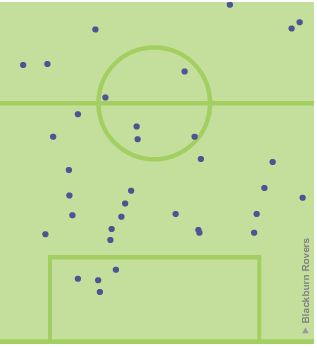 KEY ISSUES:
1. BOLD TEAM SELECTION – I often speak of confidence and what a good result breeds within a team. At the moment I believe we need to simply take a good few Mourinho style 1-0 wins to bring things back into line. In my mind this requires Ancelotti to make a bold decision regarding his team selection.
Smashing Ipswich for seven in the context of Arsenal's failing may be slightly more encouraging, but can Carlo make the bold decision and perhaps keep some of those elements that worked against Ipswich in the side? Daniel Sturridge is on fire at the moment, five goals in a reserve team game followed by two stunning goals against Ipswich, he must start. Even McEachran showed more ability in retaining the ball than our midfield has in recent months.
While I'm not advocating starting all the kids, it might be what is needed to kick-start the season. Van Aanholt is good enough, McEachran is good enough, Bruma is good enough, Kakuta is good enough and Sturridge certainly is. Two out of the five to start?
2. TEMPO, TEMPO, TEMPO – Where we are in a "bad moment" (Ancelotti ©), we seem to have lost the ability to play any sort of coherent football: we play too direct, too slow, with no creativity, pace or passion. However, the thing that is really killing us at present is our tempo of play.
Often put down to Mikel, that has recently been proven to be a myth. If there is no movement ahead of the ball, we could have Beckenbauer playing there and he still would struggle. There was no coincidence that Mikel's form dropped when those ahead of him tailed off. Nor is a shock that Essien has struggled to regain form playing primarily from the deep role.
Time to change shape? Possibly. The 433 is struggling without our usual verve and when key figures are missing, it patently isn't working. Aston Villa adopted a tactic to close down the ball at every opportunity and it was only when we really increased the tempo that we went and scored three goals. Why do we need to go behind in games to start playing well?
3. THE DROGBA CONUNDRUM – So what has happened to the Drog? Last season he was battering teams left, right and centre. This season a bout of malaria has rendered him a shadow of his fearsome self. Do we play him? Do we rest him? Does he get benched? We saw against Ipswich that we have a striker who is scoring goals sitting on the bench. How big a call would it to be to bench Drogba though? Massive, in my eyes and there is a solution…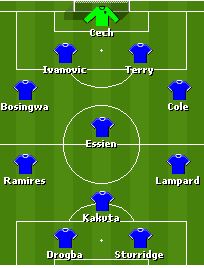 For the record, we will probably line up: Cech; Bosingwa, Ivanovic, Terry, Cole; Essien, Ramires, Lampard; Anelka, Drogba, Kalou/Sturridge. (433)
Playing Kakuta behind the strikers will finally see one of our brightest talents in his natural position, while Sturridge playing alongside Drogba could be precisely what we need in attack. Carlo had a lot of early success with the Diamond last season but has been reticent to use it.
Without the squad on top form, the three in midfield are getting outplayed on a regular basis and the keystone of our entire style of play is faltering because of this. Bringing Malouda, Anelka and Kalou on from the bench are also far more game changing substitutions than bringing Sturridge/Kakuta on as wingers.