Hot amongst the assorted topics of discussion by Chelsea supporters is seventeen year-old Josh McEachran.
The midfielder has broken through into Carlo Ancelotti's first team squad this season, capturing the imagination of many supporters with his confident, fearless displays.
However, whilst nobody doubts his ability and potential, a regular cause of debate surrounds his best position, and moreover where Ancelotti should be using him.
It's a question – or a series of questions – which are best answered by delving deeper into the subject, and citing the expertees of those of a tactical persuasion, so if that interests you, let's dive in.
Covering the background to begin with, McEachran is what you would described as a 'natural' playmaker. That doesn't necessarily mean attacking midfielder, but for most of his formative years, he has played in the advanced role Chelsea use in their 4-3-3 formation from age 12 upwards – the '10' position.
The Oxfordshire-born youngster has openly admitted to preferring to play further up the pitch, and finds it more natural to play there, but thus far in the first team, Carlo Ancelotti has preferred to use him in the '6' role, at the base of the midfield.
Why is this you ask? Well, there's plenty of theories to be heard.
Over the last decade, the traditional playmaker – playing behind a striker/pair of forwards – has seen a steep decline in success, and therefore numbers. The reasoning behind this is best explained in an article from March 2010 by Zonal Marking.
As a result, managers have been forced to re-think their stance, and find alternatives. Ancelotti himself did this many years ago in re-inventing Andrea Pirlo as a deep-lying midfielder, engineering the play from behind the midfield instead of ahead of it.
Of course, at Chelsea, the position has overseen quite a progression since Jose Mourinho introduced it with Claude Makelele there. John Obi Mikel succeeded the venerable Frenchman, but his game is a vastly different one, more in keeping with modern-day football, where interceptions are key and tackles are tougher to get away with.
And it is in this role that McEachran has thus far been used. Former Assistant Manager Ray Wilkins spoke about the subject after the Champions League match away to Marseille, where Josh turned in an impressive display:
"Carlo likes him in that role…Against Marseille I thought he had a terrific game – particularly for one so young in a wonderful footballing arena."
The player himself expanded upon it somewhat:
"I thought I did alright, playing holding midfield in the first half, and I thought I made some good passes. Defensively I could have done a bit better but in the second half went into the more advanced role which is more natural to me. In that position you have to put yourself about, if you don't make tackles they will just glide past you, but playing deep you get a lot of the ball, John Terry and Branislav Ivanovic encourage a lot and talk all the time, telling me to keep going, or where my man is, so it is easy to play that position, but I do prefer it further up."
Perhaps the most important part of that quote comes towards the end….it is easy to play that position. Regardless of where McEachran may be most comfortable, when giving him his first steps in one of the best club sides in world football, it is imperative to make the player comfortable and give him the best chance of displaying his personality in order to develop confidence.
The idea behind it, as the player says, is to see a lot of the ball, with a little more time on it, and a range of options ahead of you. On a very basic level, the two graphics below show that when playing deeper, the playmaker faces just two players immediately (assuming most teams play a variation of 4-4-2 or a 4-2-3-1 with a withdrawn second forward, as is pretty much the case), rather than a back four. He also has more of the pitch ahead of him.
We can put this into practice by comparing his Marseille performance with the FA Youth Cup tie at home to Arsenal, when he played in the more advanced position.
In the latter, the screenshots below are just two of a number of occasions where the target pass was a low-percentage ball to a lone striker attempting to beat the offside trap: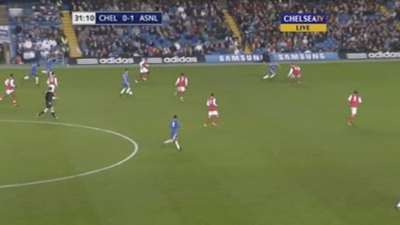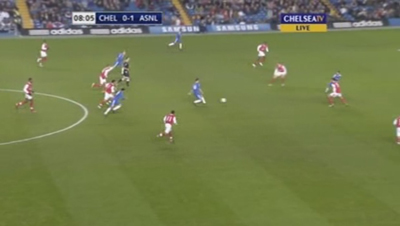 Whether or not the player is capable of making the pass – and McEachran surely is – against better defenders, this already tough pass becomes even harder.
Witness the struggles Gael Kakuta has had in impressing in a more advanced role when given first team opportunities. A player who thrives on being able to burst into space and utilise his agility and dribbling skills, he has instead been found on the periphery of the game, both figuratively and literally, in a less familiar wide role.
Josh is not comfortable in one of the 4-3-3's wide roles, and so to give him more time on the ball, he plays deeper in the midfield, something he has some experience with from youth and reserve team football.
By placing him in an area of the pitch where he will typically have nine other outfielders to pass forwards to (in theory), the player's options are greater than using him in an area of the pitch where he may only have three, who are vastly outnumbered by defenders and covering midfielders (anywhere up to a total of seven, for teams adopting an approach such as Manchester City's, for example).
By way of contrast to the Arsenal examples, look at the space and green-shirted options he was presented with against a Champions League quality opponent: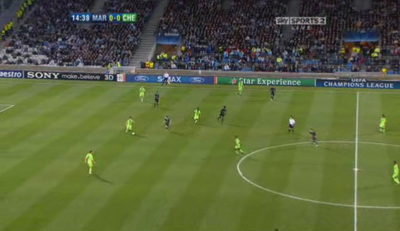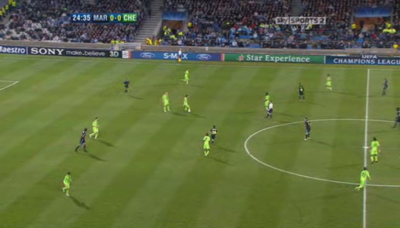 It's a theme which has been present in almost all of his appearances to date, and in some respects is why the player achieves such a high pass completion when he plays.
This is not to say that he will become converted to a Pirlo-type deep regista long-term, as some Blues supporters fear. It is important to realise that where a player lines up on a pitch does not determine what he can do.
Noted tactical expert Jonathan Wilson explains further:
"…the notion that there are only three bands – defence, midfield, and attack – is gone. There is a general recognition now that each of those categories can be subdivided into smaller bands, although as that process goes on, it may be that the bands are so narrow as to cease to be meaningful."
As football becomes more intelligent and teams find more answers to questions posed to them defensively, managers are forced to re-invent their philosophy and find new measures to break down defences.
Wilson continues:
"…given the range of what people consider playmakers, perhaps the truth is that playmaker is not a position at all but a state of mind."
It is an opinion supported by legendary Italian coach Arrigo Sacchi, with a quote attributed to him in Wilson's book, Inverting the Pyramid. He compares the use of a playmaker deeper as opposed to a 'destroyer':
"In my football, the regista – the playmaker – is whoever had the ball. But if you have Makelele, he can't do that. He doesn't have the ideas to do it, although, of course, he is great at winning the ball."
Many managers – many successful ones – disagree with the idea, and prefer to use their creative outlet in their more traditional area of the pitch. In a 2006 interview with Soccer Coaching magazine, Louis van Gaal outlined why he believes the three-man midfield should have a playmaker at the top, not the bottom:
"A lot of teams nowadays opt to play with the point backwards, but I prefer to play with the point forwards. When you want to move one player up from the back there will be more room to do this when you are playing with the point forward. You automatically create more space to move up from the back. When you play with the point backwards you will have to create this space by moving out of the way.

Furthermore, I believe that when you play with the point backwards the distance to the striker generally speaking becomes too big. The striker will therefore often be isolated from the rest of the team. It is then up to the quality of the midfielders whether they are able to deisolate the striker or not."
However, he does go on to clarify the importance of putting your best players in position to take advantage of whatever space is available:
"The attacking team must ensure that the creative players will get as many chances as possible to decide the moment in which a dribble or action can be made. These players have the quality to create something, where other players may not have this. You therefore especially need players who can move the game so that the creative players can be brought into play, whereby they have enough time and space to make the difference.

Creative players can determine whether or not to initiate a risky continuation in a small space. When you have midfielder who can also make the right decisions in the small spaces you are in luck as a coach."
To summarise; McEachran can be used to create from anywhere in the midfield. Right now, it suits him to see a lot of the ball, which in turn nurtures technical development and generates confidence. It also benefits the team to play forward at every possible moment, and launching attacks swiftly on the break when possession is turned over.
It does demand a certain level of defensive nous, which Josh admits is the weaker aspect of his game, but many will have noticed his knack for stealing the ball away from an opponent with a slight flick, something which may come from his slight frame allowing him to get into smaller areas.
Over time, he surely will see time further up the pitch. It's part of a development curve, and with the arrival of Fernando Torres and the potential for a change to a diamond midfield, we may see it sooner rather than later.
Playing at the base of a diamond is somewhat different to playing at the base of a three-man midfield, and it may be that Ancelotti would rather a more robust, experienced head there if he is to go with it for a longer period of time.
For now, don't fret about how McEachran is being used. Simply enjoy that he is being used, and that he is a rareity in English football. As Jose Mourinho describes…
"I can't believe that in England they don't teach young players to be multi-functional. To them it's just about knowing one position and playing that position."
Some young players break that particular mould.