Twenty-eight days after their first meeting, Chelsea and Manchester United renew acquaintances this Friday evening in the second leg of their FA Youth Cup Semi Final.
At Old Trafford on March 16th, goals from Amin Affane and Islam Feruz gave the Blues a slender 2-1 advantage to return south with, one which makes them slight favourites to progress to the Final, but it's a close call.
At the same stage last year the Red Devils overturned a first leg deficit from Stamford Bridge en route to winning the trophy they are stoutly defending this year, and they possess the very same threat this year, albeit away from home in the decisive encounter.
International call-ups and overseas tours have delayed the playing of the match but Stamford Bridge will host some 5,000 fans in a tie which must have an outcome on the night.
Chelsea just about edged the first clash, playing exceptionally well in spells and responding well later in the game, but United displayed their typical class and mental strength in recovering from a poor start to first equalise and then threaten to seize victory.
The majority of their team have since been on club jaunts to either Amsterdam or Dallas, but will have returned match fit and ready for action. Chelsea, meanwhile, will feature a starting eleven fully rested, with none of them having tasted competitive action in over a week, with some last playing a fortnight ago.
The hosts are expected to line up with the same starting eleven as they did in Manchester, whilst the visitors will be forced into at least one change, with first leg goalscorer James Wilson injured at the Aegon Cup earlier this week.
Wilson could be replaced by Sam Byrne, who was introduced as a substitute at Old Trafford. However, coach Paul McGuinness is able to welcome back midfielder Joe Rothwell from injury and could add the first-year into a five-man midfield unit, with Gyliano van Velzen the nominal centre forward.
However, midfield schemers Adnan Januzaj and Tom Lawrence are still sidelined and are huge omissions which impact United's creative options. Whilst they're missing, Chelsea's biggest absentee is Ruben Loftus-Cheek, who despite having returned to training in the past two weeks is unlikely to be involved.
Adi Viveash will be able to add versatile defender Archange Nkumu to his squad, most likely as a sub, but may reward Dion Conroy with another place on the bench after the schoolboy's impressive recent form.
First leg substitutes Tom Howard and Nortei Nortey both played for the reserves on Tuesday, as did Ali Gordon and Walter Figueira, suggesting than none of them will be involved. Danny Stenning's return from a full year on the sidelines may get him a place alongside Alex Kiwomya and Ismail Seremba on what is sure to be a very competitive list of reserve options.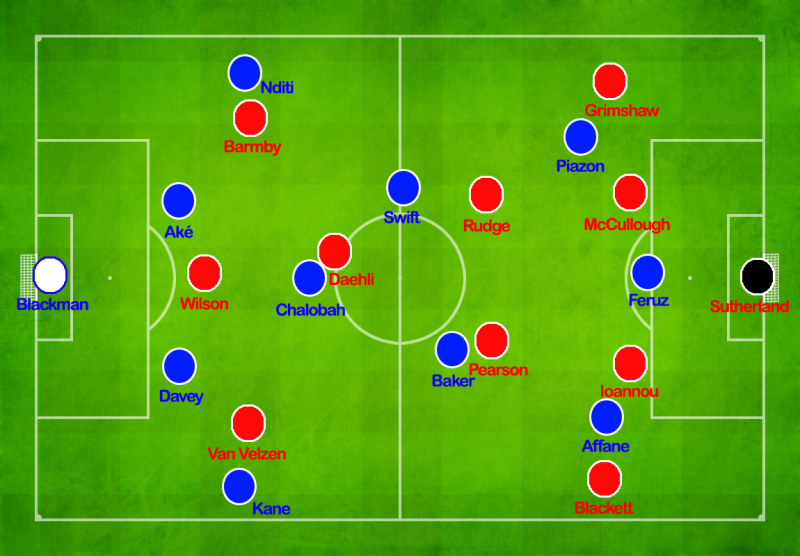 Both sides lined up with a rough 4-3-3 formation – each with their own nuances – in the first leg and should do so again. Viveash has preferred to use inverted wingers in the competition to date, with Piazon and Affane driving inside, whilst McGuinness rotated Van Velzen and top scorer Jack Barmby in the first leg, with the pair swapping from flank to flank at regular intervals.
United used a more recognised two-man midfield base with Jack Rudge and Ben Pearson tireless and dogged in their engine-room roles, but Chelsea typically prefer to use Nathaniel Chalobah as the 'holding' player, with Lewis Baker and John Swift dropping back out of possession depending on who ended up deeper in any given situation.
Chelsea's midfield fluidity has been arguably their strong point this season, with Loftus-Cheek having operated in Chalobah's stead for most of the first half of the Under-18 season alongside Swift and Baker. The versatility of the two more attacking players and their tactical awareness allows any two of them to support the front three, with one of them taking up the slack and filling in defensively.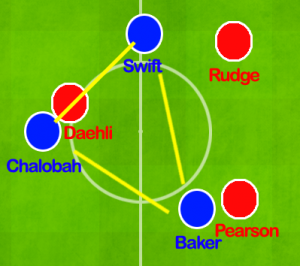 Typically, when the Blues have been chasing the game – which has been quite often in a comeback-filled campaign – it has been Baker leading the charge in the attacking third, with Swift charged to be the man to fill in and tidy up. Stronger in the tackle and a more robust competitor than Baker, Viveash clearly prefers him to regain possession.
However, with Chalobah in the team and a lead to protect/work with, Chelsea will surely look to control the match and cycle the ball around, looking to bring their wingers into play or to release Feruz through the channels.
A feature of recent outings has been for Swift to look to slide through-balls in for the tenacious forward to run onto, but at Old Trafford they didn't quite come off. Instead, it was the pairing of Affane and Piazon who were most effective, coming in off the wing and looking to penetrate the heart of the Reds' defence.
Piazon regularly found himself carrying the ball in from the left and ended up providing the assist for Affane's opener.
He most commonly looked to play a simple 'wall pass' into someone close to the edge of the box before moving off his man to receive it back and make a decisive play, be it a shot or a pass.
Inconsistent final product prevented him from being more of a threat in the first leg but unless United provide right-back Liam Grimshaw with help, the Brazilian could be the game-breaker once again.
Affane is a more direct player, more prone to shooting, but is equally as tidy with his link-up play, and is an ever-improving set piece threat.
Of course, it's not all about the home team, as is very much evident. Knowing they have to go out and win the match to win the tie, McGuinness and his team have no fears and will go for broke on Friday, as the coach told Chelsea TV after the first leg:
We must stand up and have a real go at it…clearly we'll go there with the fact that we're underdogs, we're behind in the tie, so we might as well give it everything. Chelsea, maybe, from our point of view, they've got everything to lose in a sense, but really, there's not too much in the tie.
After a shaky start on home soil, the Reds asserted themselves on the game but were scarcely able to utilise the excellent Mats Daehli nor find regular supply for schoolboy forward Wilson. Instead, centre-backs Luke McCullough and Nick Ioannou looked to drive possession out wide, where Van Velzen and Barmby looked to make hay against Chelsea's full-backs.
Barmby in particular had success against Adam Nditi and that is a particular match-up they will look to exploit once again. The Man Utd full-backs regularly got up in support of their more advanced teammates.
When not seeking two vs one advantages wide, they would look to clip balls into the penalty area and look to take advantage from the 'second ball'. This was the exact way in which they scored their goal, as Davey's headed clearance bounced off Baker and allowed Wilson to sweep home from close range.
With Byrne or Van Velzen leading the line, they'll have a significant presence to work off, meaning a more physical test for defenders Alex Davey and Nathan Aké.
The pair earned rave reviews for their first leg displays, with Davey's positional play and sweeping up perfectly complementing Aké's desire to get out to the ball and compete for possession.
They'll have their work cut out though, especially from set pieces. The two teams are generally well balanced in terms of height, but United were a constant threat from corners in the first leg with Van Velzen a constant target.
McGuinness' team often overloaded the near post and stood the ball up high to ask questions of the Chelsea defence and of goalkeeper Jamal Blackman. They mixed it up on occasion too, with the near post options peeling away to allow McCullough to come across from the far post (under the attentions of Chalobah) to glance the ball onwards.
When they're able to assert themselves on the game they're a match for any club in the country though, which makes it all the more important that Chelsea take advantage of their strong spells and make an impact on the scoresheet.
Throughout the competition so far they've not quite managed to do just that and instead of being out of sight against Norwich and West Ham and at Old Trafford, they found themselves in a contest.
The Blues can ill afford to look ahead to a two-legged Final against Blackburn Rovers in a couple of week's time and must make good on their play.
It promises to be an excellent and entertaining evening, and you can keep fully up to date with the action throughout on Chelsea TV and MUTV, but unfortunately not ITV4 after scheduling conflicts.
If you can't be at the ground or watch on television, follow @chelseayouth on Twitter for live match updates.