The bar has been raised. Not only do Chelsea's academy teams have to live up to a comprehensively successful 2016-17 campaign in which their Under-18s completed a clean sweep of trophies in the coming season, they approach the big kick-off at the end of a summer that has seen a host of those who have gone before them move on from Stamford Bridge in search of pastures new and opportunities afresh.
From the last bastion of evidence that the journey from Chelsea boy to Chelsea man is possible in John Terry saying a teary farewell, to the likes of Nathaniel Chalobah, Nathan Aké and Dominic Solanke all seeking a more welcoming first-team environment elsewhere, the task facing the current generation of Cobham hopefuls has never been more challenging, nor has it ever been less achievable. The 2017-18 academy season gets underway in earnest on Friday night as the Development Squad head to Manchester for a marquee opener against City, and they do so with a new man at the helm.
Adi Viveash's nine-year stay at the club ended in June after three seasons in charge of the 18-23 age group, in which he operated with the league's youngest squad, preparing them for life after youth team football and for the road ahead as they embarked upon the professional game. He did so thoughtfully, candidly, and maintained an air of reality whilst keeping the big picture firmly in focus. His replacement is the 30 year-old Joe Edwards, twice an FA Youth Cup winner with the Under-18s, before taking a year out of day-to-day coaching to successfully complete his UEFA Pro Coaching Licence.
He'll be reunited with many of the same players he's worked with since the ages of 8 and 9, sharing a journey through the ranks together, and will be ably assisted by Andy Myers, who spent a year at Vitesse to strengthen footballing relations and operations between the two clubs. With an even younger squad of players than Viveash worked with a year ago, they promise to cultivate perhaps a tactically more flexible and dynamic approach by comparison, seeking – as ever – to produce the sort of player who is capable of eventually breaking through the glass ceiling dividing them from the first team.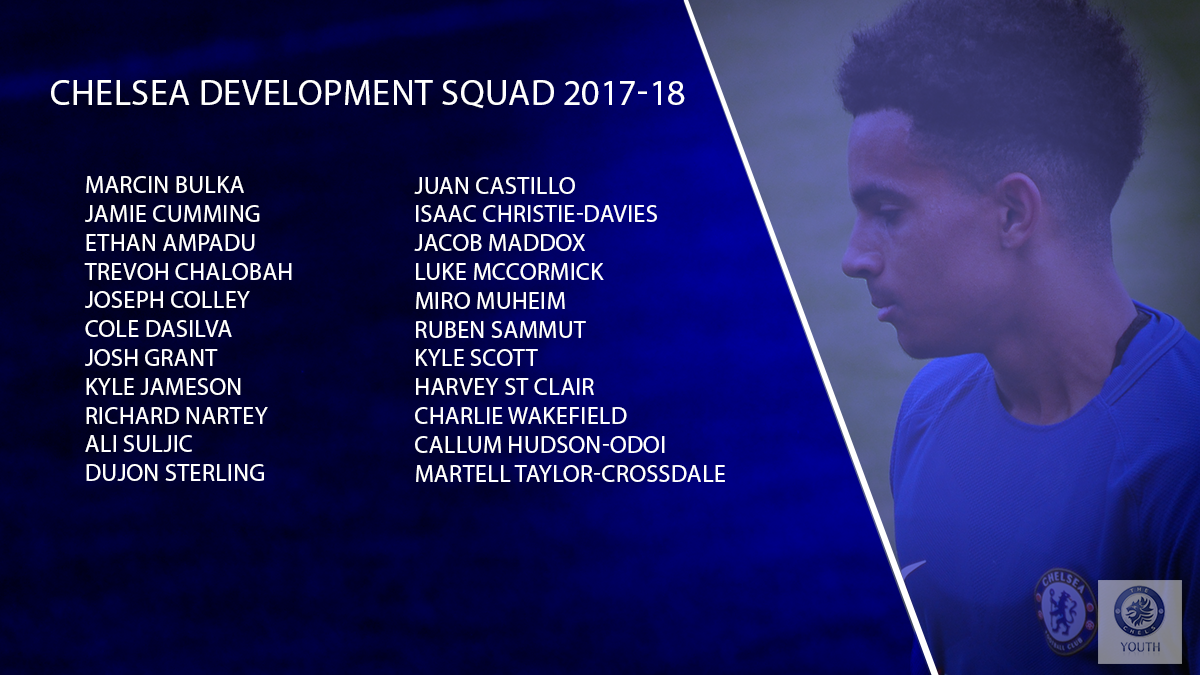 With Jamal Blackman (Sheffield United), Nathan Baxter (Woking), Brad Collins (Forest Green Rovers) and Jared Thompson (Chippenham Town) out on loan, and with Mitchell Beeney set to be allowed to leave should the right offer arrive, a pair of 17 year-olds promise to get the bulk of the goalkeeping work. Jamie Cumming led the way for the Under-18s in his first year as a scholar, whilst Polish giant Marcin Bułka saw limited action in his first season since moving to England, but the latter has spent a productive pre-season with the first team and will see his share of work moving forward.
Edwards has predominantly used the 3-4-3 formation favoured by Antonio Conte (though used extensively by the academy for years before the Italian's arrival) in pre-season and has a strong and capable group of defenders with which to execute it. Trevoh Chalobah is arguably amongst the finest defensive prospects in Europe and, owning to an ankle ligament injury suffered during the Under-19 European Championships, will train with Conte's group when he returns to fitness whilst playing Development Squad football, before being appraised for a loan move in January.
Joseph Colley, Josh Grant and Richard Nartey have already dipped their toes in the Under-23 waters after stellar youth team careers, whilst Ali Suljic returns to the fold after having almost an entire year wiped out by a long-term illness. He's looked very good in the summer friendly schedule, as has 16 year-old Ethan Ampadu, who played a dozen matches for Exeter City's first-team in League Two last season before signing a scholarship with Chelsea this summer. His seamless transition into the left centre-back role for this group is an early indication of just how much he can offer. Reece James will spend time with both Edwards' and Jody Morris' Under-18s groups and will gradually earn more Dev Squad minutes as the campaign goes on.
The most significant difference between the academy's execution of the 3-4-3 shape compared to the first team's is the impact made by the wing-backs in attacking situations. It stands to reason that they can afford to be more ambitious in their approach, as the overall talent level of the opposition is less likely to expose any defensive frailties, but the manner in which Dujon Sterling and Juan Castillo ran roughshod over their foes in the FA Youth Cup late last season was a sight to behold.
Sterling himself had something of a down year after exploding onto the scene as a schoolboy; he found himself used in a number of positions over the course of the year and only found his best form in fits and spurts but, when focused and on top of his game, he can be unstoppable in his rampages along the right flank. Castillo, meanwhile, took six months to really settle into his new surroundings after swapping Amsterdam for Cobham but, when he did, cut a similarly devastating figure on the left, terrorising Tottenham over 180 Youth Cup minutes and forcing his way into the Dev Squad reckoning as a 17 year-old for the season ahead.
Cole Dasilva will follow in brother Jay's footsteps in leaving Under-18 football with a bunch of winners' medals and has different strings to his bow; he'll operate comfortably at either wing-back position and can help out as an emergency centre-back if and when required. He doesn't possess Jay's exceptional composure or top-end potential but he is extremely under-rated in his own right, adding goals to his game over the past eight months, and arguably offers a more complete all-round package to a squad.
Ruben Sammut and Isaac Christie-Davies each turn 20 in the opening months of the season and will be the only players in the group to do so this season. They bear the responsibility of leadership and of keeping a young team together during inevitable struggles, and it's Sammut who Edwards might turn to as captain after he was handed the armband by Viveash late last season. The tenacious and industrious Luke McCormick has blossomed from scholarship afterthought to all-round midfield spark-plug in recent times and will surprise many as he gets set to play on a bigger stage, and Jacob Maddox's ability to knit the play together from the middle whilst staying combative despite his relative lack of stature will make him an important player going forward. It's a role Kyle Scott has played to a high standard in general at this level and, should he secure a first loan away from the club, Maddox will be expected to take over accordingly.
Miro Muheim and Harvey St Clair have been deployed as wing-backs on occasion but are at their best in the central attacking roles behind the striker, roving into spaces between the lines and coming inside from wide positions to use their dangerous shots, whilst Charlie Wakefield is more effective out wide, using the space to beat his man, and is the best crosser of a ball in the team. There will be opportunities for all to earn their stripes in the front three, but Callum Hudson-Odoi threatens to be one of the first names on the team sheet already at the tender age of 16 after proving he had little left to learn at youth team level last season despite being a schoolboy.
He didn't score his first goal until November and wasn't a regular part of the team until the turn of the year but, once he was, he never looked back. Eight goals and eleven assists later, he'll now face a broader range of defenders and is the biggest game-changer available to Edwards and Myers. He'll need to be too, for there's some uncertainty about the centre-forward position owing to Iké Ugbo's loan departure to Barnsley.
He, like Tammy Abraham and Solanke before him, led the line imperiously and productively, but each of them did so with a host of Under-18 experience. Martell Taylor-Crossdale isn't far off that in terms of production but he lacks the same sort of physical development at the same age and so, despite decent returns so far in limited opportunities, they've taken a look at alternatives from outside the club. Benny Ashley-Seal has spent the summer on trial with a view to switching from Norwich City and, turning 19 in November, he fits the bill as the sort of striker the Blues favour.
Edwards also gets his first crack at the UEFA Youth League as Chelsea return from a year's enforced exile. The Blues won the 2015 and 2016 editions under Viveash's tutelage before not being allowed to defend their titles last year as there were no provisions from UEFA to permit that to take place. They've since yielded and allocated a spot but it will come as little consolation to the academy, who will feel that they had everything required to challenge again last year, as the competition was eventually won by the surprise package Red Bull Salzburg.
Edwards will have a mixture of Development Squad and Under-18 players at his disposal, with teams limited to picking players born after January 1st 1999, whilst three over-age players may be registered in the 40-man squad. Grant, Nartey, Maddox, Muheim, St Clair and Wakefield are the six players vying for that particular honour and it will be a welcome addition to a games programme that altogether lacked variety without it last term.
The days when this level of football represented the final hurdle before first-team integration are long gone. Neil Bath spoke recently about wanting to push the club's young players into professional football at an even earlier age so as to develop the requisite experience to begin challenging for first-team football at Stamford Bridge by the age of 21 or 22. In order to do that, the Development Squad will take on an ever-younger look whilst the 18 and 19 year-olds find those much-valued loan moves. Those left behind will in turn step up from youth football earlier than their contemporaries at other clubs and find themselves exposed to a fresh challenge themselves.
It'll be another testing but fascinating year, particularly for those who have experienced such consistent success at younger age groups. The challenge is to maintain those standards in much tougher environments as a team and, as individuals, to work towards a loan themselves. They're in very capable hands and it promises to be a very interesting season.