We often say at the outset of each new Under-18 season that it's becoming increasingly harder to continue the feats achieved by the previous generation. The class of 2017-18 are this year tasked with living up to an historic treble trophy haul from 2016-17, that included a fourth successive FA Youth Cup, and that was secured in record-breaking fashion.
It was all the more remarkable for the fact that it came after the departure of a generation that should – first-team staff one day allowing – go down as a true golden generation in the history of the club. The first three of those Youth Cups were won by Dominic Solanke, Tammy Abraham, Charly Musonda, Andreas Christensen, Jeremie Boga, Kasey Palmer and dozens of others certain to leave their mark on the professional game in the coming years.
With their ascent into the professional game, expectations were slightly tempered accordingly despite the club still setting themselves the same goals year after year and, led by Trevoh Chalobah, Dujon Sterling, Mason Mount and Jacob Maddox, this group got their own deserved moment in the spotlight. It was the depth of the group that truly underpinned a remarkable campaign that saw a 26-match unbeaten run assembled whilst dropping just two points at home from start to finish. It was the blooming of a precocious bunch of first-year scholars and the explosion onto the scene of schoolboy Callum Hudson-Odoi that gave them the impetus to set new standards in the academy, and it's on the shoulders of several of those that the responsibility lies to repeat the trick once more.
They will do so in yet another adjusted games programme following the scrapping of the Merit Stage of Under-18 Premier League competition; where the top four, middle four and bottom four teams in each regional group were joined together for the final two months of the season to create cross-country, meritocratic competition that was otherwise a logistical struggle to achieve during the main part of the campaign.
It was voted out by the majority of the 24-strong cadre of Category One teams, who felt that they were too often on the outside looking in whilst the same half a dozen teams fought it out for the national title each and every year. Quite how that encourages an elite development environment where best-on-best play is now even rarer than before is anyone's guess, and there is a strong case for suggesting that 24 Category One clubs cannot truly represent an elite, and so the national title will now instead be decided by a one-off match between the Northern and Southern section winners.
Between Chelsea and Manchester City – comfortably the best two teams in Under-18 football in the five years of EPPP football – have lost just ten of their last 106 league matches combined, with two of those coming against one another. The regional campaign has become somewhat processional and both clubs – along with another dozen or so truly deserving academies – would be far better served by playing a bespoke set of fixtures against more challenging opponents. The politics of the discussion are clearly sensitive, however, but significant changes are required to the setup in its next five years if the long-term aims of the approach are to be truly realised.
In place of the Merit Stage will be a Category One Under-18 knockout cup, with a three-match group stage taking place throughout the autumn en route to the Final in March. It will complement the league and FA Youth Cup slates but, even for the winner, will still result in a short-fall of at least one fixture, with most clubs losing out to the tune of four matches overall.
Chelsea may find that a blessing in disguise as they also return to the UEFA Youth League – which was discussed in yesterday's Development Squad preview – whilst the FIFA Under-17 World Cup runs throughout October and will deprive the Blues of at least four key players. An inexperienced group that perhaps lacks the star power of previous years will be tested early and often, but it has the potential to come along well over the next twelve months.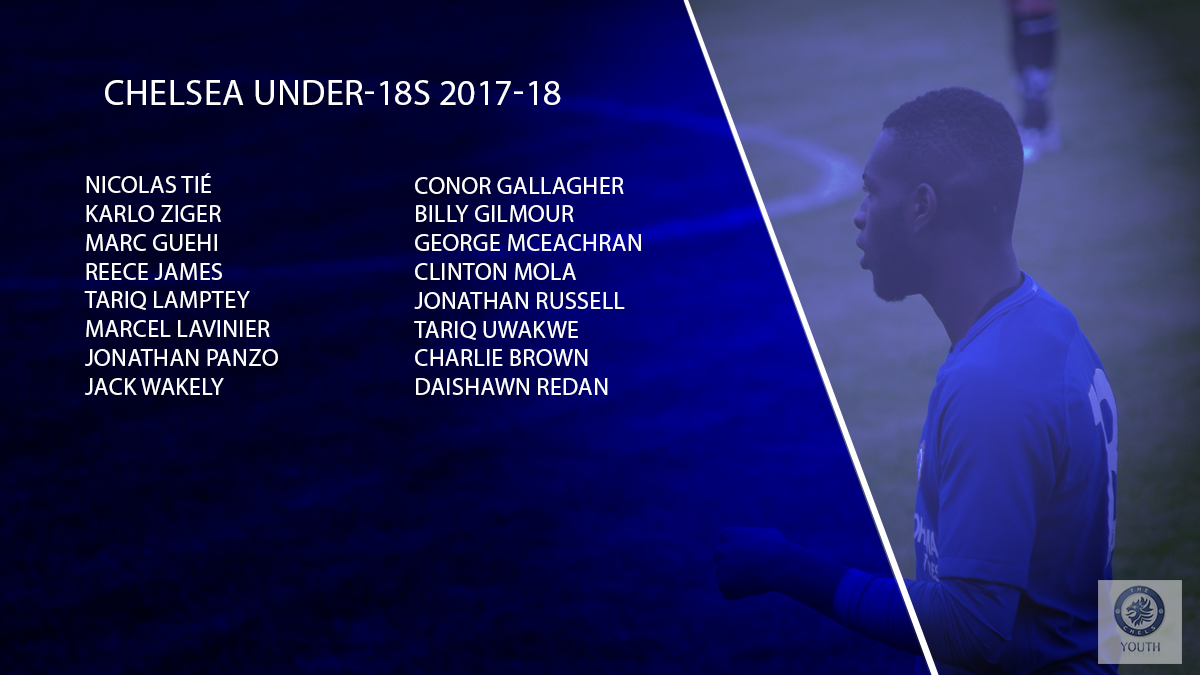 Nicolas Tié and Karlo Ziger come into Under-18 football set to share goalkeeping duties with Marcin Bułka and Jamie Cumming heading up to the next level, and both are very capable custodians with bright futures. They were each sought out as youngsters overseas, earning plenty of attention in French and Croatian footballing circles respectively.
Morris has mainly used a flat back four again over the summer after riding the 3-4-3 formation to treble glory at the back end of '16-17, and it's the versatility of the defensive group that by and large provides the foundation for him to seamlessly transition between the two. Marc Guehi and Reece James lead the way after stunning first-year seasons and will likely bridge their time between the Under-18s and the Development Squad whilst being Youth Cup team mainstays. James' adaptation to the Azpilicueta role on the right side of the back three was one of the highlights of last season whilst Guehi, a July summer baby, held together the defence for club and country as a 16 year-old to an extremely high standard.
The next crop includes England youth internationals Jonathan Panzo and Marcel Lavinier, who are exceptional physical specimens with great technique but who – like everyone – must bring the mental side of the game along with them, whilst Jack Wakely is a two-footed stopper in the mould of an Alex Davey or a Dion Conroy before him and has looked at home throughout pre-season.
Tariq Lamptey can and has operated all over the pitch, but has produced his best work in pre-season at right-back, where he has embarrassed a slew of opponents and promises to be amongst the most fun players to watch over the coming months. His versatility will prove useful at a time when the group lacks a definable left-back following Juan Castillo's promotion to Joe Edwards' group, and whilst Panzo is capable of filling in there, the club have taken a look at a couple of trialists over the summer with a view to bringing someone in permanently. Renedi Masampu, a 17 year-old from the Met Police, has a decent chance of earning a deal as a result.
Conor Gallagher's emergence as the fulcrum for the midfield was a big part of the league title-winning run and he could have a big year ahead of him as he looks set to captain the team on Saturday mornings. Clinton Mola figures to join him in the defensive midfield area though has the ability to contribute elsewhere, whilst Jonathan Russell and schoolboy Faustino Anjorin are tall, rangy, box-to-box types who at their best can take over entire contests.
They'll do the dirty work so that George McEachran, Tariq Uwakwe and Billy Gilmour can go about their creative business further forward. All are capable of orchestrating from deep – something McEachran did to a high standard for England in the European Under-17 Championships – and that could be something to watch in the Youth Cup, but are at their most scheming best in advanced areas. Gilmour is a lovely player to watch who has settled in perfectly since his summer move from Glasgow Rangers and makes everyone around him better.
With Martell Taylor-Crossdale set to get his fair share of Development Squad minutes, Charlie Brown has taken his chance in pre-season to assert himself as the next forward to try to fire the Blues to more silverware. A glut of goals since coming back from his summer break saw him pick up where he left off last season when his goals per minute ratio was as good as anyone in the country despite a small sample size of appearances overall.
His clinical left-footed strikes and his penalty-area instincts will soon be evident again and he'll be pushed by Daishawn Redan, the 16 year-old import from Ajax. He more closely resembles his predecessors in his raw athleticism and shooting power, but might take some time to really integrate into his new surroundings like his compatriot Castillo did twelve months ago.
Midfielder Anjorin has been joined in early promotion to the Under-18s by Marcel Lewis whilst England Under-16 internationals Dynel Simeu and Jordan Aina (brother of Ola) may supplement the numbers on occasion.
The star of the class of 2017, Callum Hudson-Odoi, has already moved onto bigger things and leaves behind a group of new scholars who otherwise made just three league starts between them last season. Chelsea are often more proactive in pushing the next age group through ahead of schedule, but the nature of last season didn't quite allow for that, and this group has more questions to answer than those that have come before it.
By any comparable standard over the entire league they are still amongst the leading 16 year-olds around but they're going to have to work hard and come along quickly under the demanding Morris and his assistant Ed Brand if they are to stay on course for the adjusted development plan now in place across the academy. To get prospects out on loan at 19 requires them to be ready for Under-23 football at least a year earlier, meaning their time spent at Under-18 level has to act as a platform from which to launch them onto that next step.
Whilst silverware is the short-term focus and winning is actively encouraged at Chelsea, the entire ball game is to produce top-class professional footballers, whether the incumbent boss in the first-team hot seat cares to use them or not. Another set of journeys is about to begin.