No one academy season is like the one that preceded it; the very nature of youth development encourages progression, change, and the eternal hope of feeding players through the system and into professional football.
As we get ready for the big kick-off of the 2018-19 Chelsea academy season, things look markedly different, even by usual standards. We'll cover a new-look Under-18 team tomorrow but today's focus is squarely on Joe Edwards' Development Squad as he begins his second season in charge of the Blues' second-string.
Of course, 'second-string' itself is a misnomer; the days of a first team squad dipping into their reserves for reinforcements are long gone, and the current Under-23 age group is little more than another rung on the ladder for aspiring young professionals. Rare is the player released by Chelsea at this age group anymore; the majority of them will instead embark upon a succession of loans to find their footing in the senior game, before spreading their wings and departing permanently.
The dream of turning out for the club at Stamford Bridge never quite disappears though it fades, yet the star of last season's Development Squad campaign is flirting with making dreams become reality. Callum Hudson-Odoi toyed with a succession of opponents in 2017-18 en route to scoring 21 goals in all competitions across the various age groups, and was handed a senior debut by Antonio Conte in January, the first of four appearances for the big boys. Taking advantage of both a pre-season with absent World Cup stars, and the club's desire to please him ahead of complicated contract negotiations, the 17 year-old has lit up the late summer with some scintillating friendly outings, culminating with an hour in the Community Shield.
Whatever the future holds for Callum, it's safe to say that he won't be a regular in Edwards' plans over the next ten months, and he's not the only influential name to have moved on. Eight of the ten leading appearance-makers for the Dev Squad last season will not be back for the new term; Isaac Christie-Davies signed for Liverpool and Harvey St Clair joined Venezia, whilst Ruben Sammut (Falkirk), Reece James (Wigan), Trevoh Chalobah (Ipswich), Jacob Maddox (Cheltenham) and Dujon Sterling (Coventry) have secured loan moves. With Hudson-Odoi moving on up, it leaves Josh Grant and Luke McCormick to lead the way for the next generation, but even Grant himself has missed the entire pre-season schedule through injury.
The door is wide open in the battle to replace them. Half a dozen graduates of Jody Morris' all-conquering youth team join the squad on a full-time basis after dipping their toes in the water at various times over the past year, and those who did that themselves twelve months ago will now be expected to take a more senior role.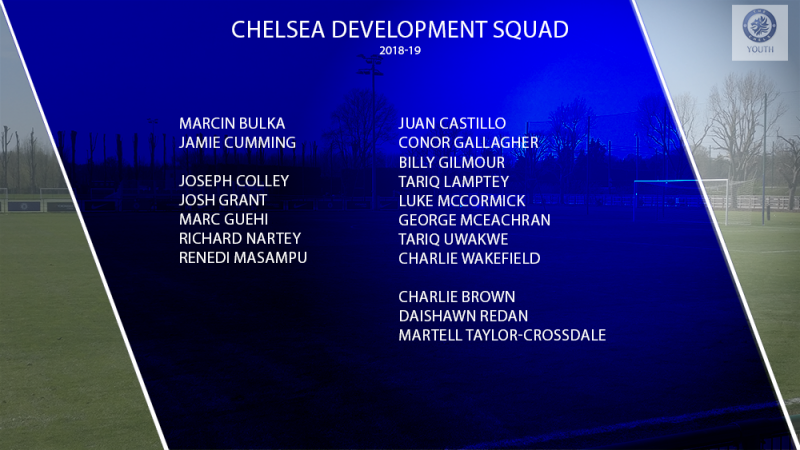 Jamie Cumming and Marcin Bułka shared goalkeeping duties last season, and will likely do so again, with Bułka having caught the eye under Maurizio Sarri against Perth Glory, Inter, Arsenal and Lyon in first-team friendlies. Brad Collins and Jared Thompson spent last season on loan and are likely to repeat the trick before the end of the transfer window, and if a younger pair of hands should be required at any stage, Karlo Žiger is the next man up after starting the majority of the friendly outings.
Edwards and new assistant manager Ed Brand have favoured the 3-5-2 formation since returning from their summer break and they have a stable of defenders who are versatile and confident in the shape. Grant, Joseph Colley and Richard Nartey are all well-versed in playing Premier League 2 football at this stage, and will be aiming to position themselves for their next move as the season goes on, whilst Marc Guehi should get plenty of chances to impress after a standout youth team career. Marcel Lavinier and Jack Wakely will drop back down to the Under-18s after spending some time up with the Under-23s in July and August, but will be given every opportunity to earn further playing time as the season goes on. Ethan Ampadu, like Hudson-Odoi, may have his sights set on loftier goals, after bridging the gap between first-team and Dev Squad last year.
Renedi Masampu has also been deployed as a left-sided centre-back after extending his stay for another initial half-season; the former Met Police youngster was the pick of Chelsea's 2017 foray into grass roots football for emergency depth, and he has worked hard to extend his stay at the country's leading academy. He can also play as a full-back or a wing-back, but has Juan Castillo to displace on a regular basis, and that won't be easy to do. The Dutchman has developed the physical side of his game to go alongside his technical assets, and is now set to be a key player for Edwards.
Tariq Lamptey isn't quite as big or strong yet, but fits the right wing-back spot like a glove, and will take early leave from youth team football to begin terrorising opponents at a higher level instead. He'll rotate with Charlie Wakefield, who missed all of last season whilst addressing a long-term hamstring problem, and will take some time to find his way again. When fit, he's a direct and exciting threat, and is someone who just needs a little luck to finally go his way before he can get on with his career again.
McCormick, an obvious candidate for captain and a natural leader in any regard, has found the back of the net a bit during the summer friendlies and is the wise old head in a midfield that now includes Conor Gallagher, George McEachran, and Tariq Uwakwe. Gallagher's industry, McEachran's artistry, and Uwakwe's potency mean Edwards has a little of everything to choose from, but they will all be challenged to take elements from one another's games, and develop into the sort of all-round threat that McCormick himself has become over the past two seasons.
Billy Gilmour has successfully displayed many of those same traits at the tender age of 16 too and, having scored in the Youth Cup Final and earned Young Player of the Tournament honours at Toulon, he'll be given every opportunity to secure early promotion to the next age level too.
Replacing Hudson-Odoi's impact on the scoresheet will be no easy task but, in Charlie Brown, Daishawn Redan, and Martell Taylor-Crossdale, they have three players that scored 20 goals themselves last season, and have productive playing relationships with each other too. Redan took to Under-23 football brilliantly last season and has the profile most likely to make an early success of himself in the adult game, but Brown's clinical and instinctive finishing continues to impress, and he's been in sharp summer form too, including a brace in the Checkatrade Trophy win against Swindon on Tuesday. Taylor-Crossdale has burgeoning potential waiting to be realised with a broader work ethic and a more refined game, but if Chelsea can create chances, these guys will score goals.
In his '17-18 season review, Academy Manager Neil Bath remarked that their philosophy to get players into the senior game at younger ages "means we'll be younger than most teams we play against in Premier League 2 but that is just a different challenge that our 18- and 19-year-olds", and that challenge will extend to the Checkatrade Trophy once again. Semi Finalists last time around, this year's group stage kicked off with a win at Swindon Town, before autumn dates at Newport County and Plymouth Argyle. A trip to Wembley awaits in April, and the value in pitting themselves against players several years older has been tangible through their two-year involvement in the competition.
Bath and his talented team at Cobham have released their latest crop of prospects into the wild, and the journey continues for the next players in line. They host Everton at Stamford Bridge on Sunday lunchtime in their first league match of the new campaign, and you can keep up with absolutely everything all year long here at TheChels.net, and on twitter @chelseayouth.