Three months ago, the 2018-19 Chelsea academy season drew to an unusually subdued conclusion. The Development Squad claimed a hard-earned 2-1 win away to Brighton on a cool Friday night on the Sussex coast, just a week after the Under-18s had rounded off their campaign with a similar victory on their travels at Reading. There was no hoopla, there were no memorable celebrations and there was no silverware. For the first time since 2013, the Blues finished the campaign without a trophy, having lost the UEFA Youth League Final for the second successive year, this time to FC Porto.
Nothing stays the same for very long on the academy's side of the road down at the Cobham training ground, however; it is in the very essence of development football that players grow wings, learn to fly and leave the roost. That Neil Bath's operation has been able to challenge for – and win – so many honours over the past decade is to his eternal credit, and to that of the highly-motivated and talented staff around him. It's therefore fitting that, as we approach another ten months of toil where joy and despair will be met in equal measure, we start by reflecting on the changing of the guard over in the first team.
For, while another managerial team has come and gone, the new occupants of the main building are the product of that same academy that has sent so many talented young footballers into the world. Frank Lampard, Jody Morris, Joe Edwards, Eddie Newton, Chris Jones, Hilário and James Russell all cut their teeth under Bath; some, like Lampard, passed through briefly while working towards coaching qualifications, while others like Edwards have had a 20 year-plus association with the Blues that took him from schoolboy player to schoolboy coach, to a UEFA Pro License at the age of 30, and now a place among one of the most exciting backroom teams in the history of the football club.
The presence of people in the elite environment who have the academy in their blood, who know what it means to build and maintain a relationship with their colleagues and who are prepared to open the pathways in a way hitherto unseen in the Roman Abramovich era has had a galvanising effect on an already enthusiastic youth development programme. There is a tangible buzz about the place already and, as the next crop of coaches get set to follow their esteemed contemporaries, the excitement is building ahead of the big kickoff.
Edwards vacated the Development Squad's head coaching job after two years in charge, and has been replaced by Andy Myers, who returns to the fold after a year in charge of the Under-18s. Previously an Assistant at Under-23 level under both Edwards and Adi Viveash, he steps up along with his own number two in Jon Harley, and they will be supported by 28 year-old Eric Ramsay, who joins from Shrewsbury. They are an accomplished trio with two Pro Licenses among them and will lead a squad that will be as young and inexperienced as any Chelsea have perhaps ever fielded in the Premier League 2.
They are typically youthful of course but, in saying farewell to Joseph Colley, Daishawn Redan and Martell Taylor-Crossdale, and in watching Conor Gallagher, Richard Nartey, Ethan Ampadu and Luke McCormick depart on loan, they lose age and seniority once again. That means the likes of Billy Gilmour, Tariq Lamptey, George McEachran, Marc Guehi and Charlie Brown – none of whom are yet 20 and some of whom may still join the departed – have to lead the way for the youth team graduates joining them this summer.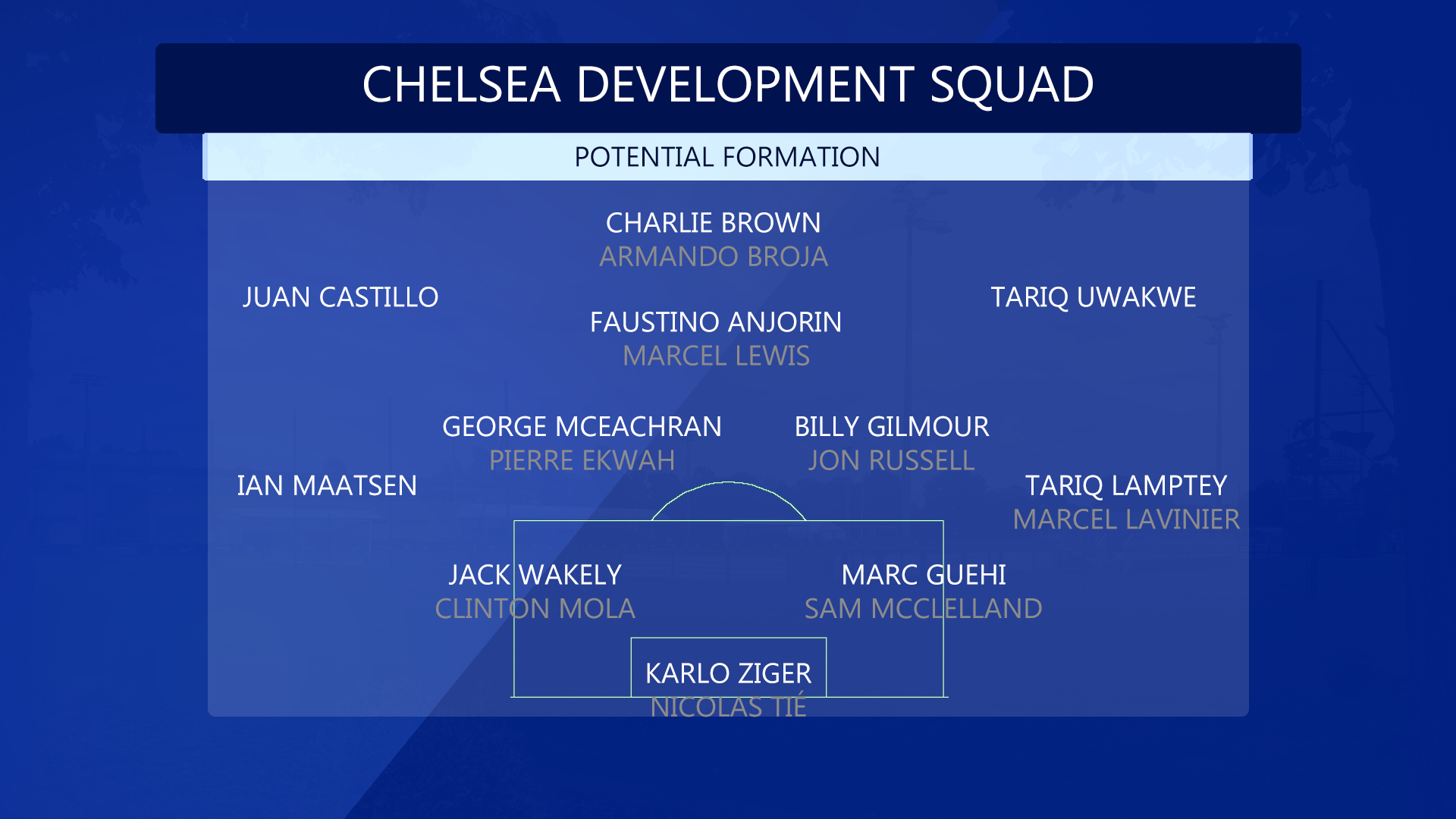 (depth is not fully representative of available options in each position)
That means Nicolas Tié and Karlo Žiger in goal, Marcel Lavinier and Jack Wakely in defence, and Jonathan Russell and Clinton Mola in midfield. Seventeen year-olds Faustino Anjorin and Ian Maatsen showcased their credentials early last season as first-year scholars and moved up full-time ahead of schedule, and will be among the most dynamic options available to Myers in both domestic and continental competition. Žiger (for one match) and Wakely tasted non-league men's football last term and will be richer for the experience, but there will be a lot of learning on the fly.
Fortunately, pre-season results have been largely positive. An early defeat against a much older Portimonense team was quickly followed by a 3-0 win at home to Swansea and a 2-0 win at Poole. A more seasoned team helped demolish an experimental Newport County outfit in Fraser Franks' testimonial, before a 2-2 draw at Sutton United provided the chance to test their mettle against a physical and uncompromising side that almost earned promotion to the Football League last term.
With plentiful depth in midfield but options scarce in many other areas of the team, the individual versatility in the squad will come to the fore, as will Myers' ability to juggle his options from one week to the next. It is widely-accepted by now that the Dev Squad are unlikely to experience the same level of success the youth team have been able to come by because they give up so much in age and experience in comparison to their rivals. Everton won the PL2 last season with a number of young twenty-somethings while Chelsea's were out on loan winning awards at high levels of the professional game and while Callum Hudson-Odoi was on his way to making an England debut. They're comfortable with it and understand that it's just another step on the road to the top, and that the players will move on from Under-23 football just as quickly as they arrived there.
Their numbers could well be boosted by an intriguing bunch of second-years in the Under-18 ranks now led by Ed Brand, who assisted Edwards with the Dev Squad last year, and was second in command to Morris for the two seasons prior to that. A former youth team captain who has a growing reputation of his own in coaching circles, he steps out on his own and will be helped by James Simmonds, who comes up from the Under-16 ranks with as bright a group of new scholars as there has been in some time.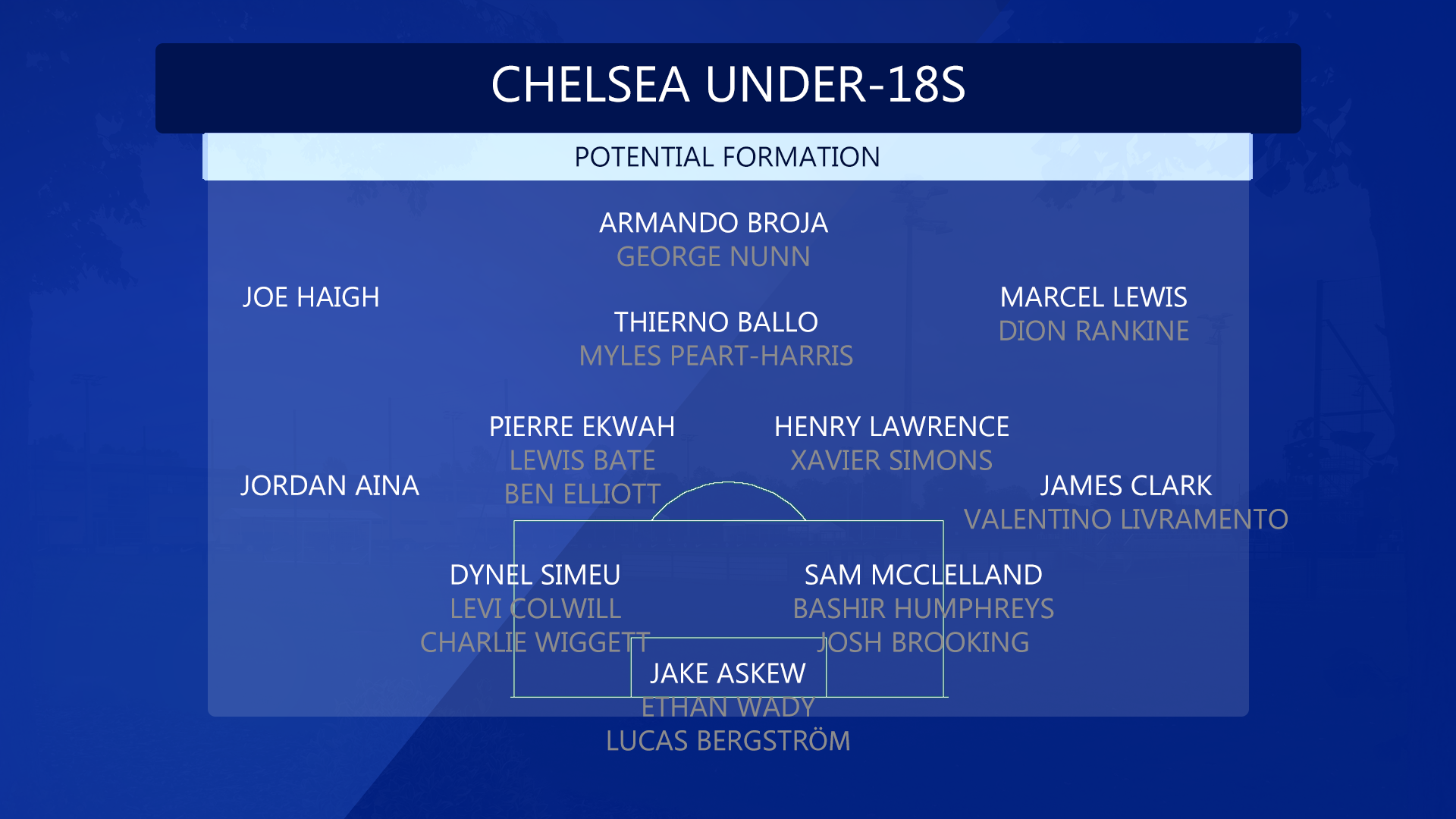 (depth is not fully representative of available options in each position)
More on those shortly, though. The summer schedule typically sees a number of boys play up the age groups – especially when the first team brings youngsters of their own along – and offers them an early glimpse of life there before heading back down for the season proper. This year, Marcel Lewis, Armando Broja, Henry Lawrence, Sam McClelland, James Clark and Dynel Simeu have spent a month or so with the Under-23s and will have done their chances of meaningful playing time no harm whatsoever. Lewis looked lively and creative in a central attacking midfield role, while Lawrence's recent growth spurt has given him the frame to go with his natural tenacity and aggression in a ball-winning role either central or out wide. It was Broja who cut the most interesting figure, though, as much for his endeavours on international duty as for his work in a blue shirt.
The big centre-forward didn't enjoy the best 18-19 season; coming off the bench almost as often as he started, he scored just twice, and was often deployed in a wide role rather than in his favoured central position. Nevertheless, he earned Under-19 representation for Albania, where his family hail from, and grabbed a handful of goals in May friendlies. That led to a swift Under-21 call-up for a double-header against Wales, where he struck three more times, and came back home for pre-season with all the confidence in the world.
And he picked up where he left off, scoring twice for Myers' 23s before grabbing a hat-trick for Brand's 18s against Leeds last week. For every first-year scholar who scales unimaginable heights straight away, there are significantly more who take a little while longer to figure themselves out, to adjust to their full-time workload, and to come along at a slower pace. Both Arsenal and Tottenham finished well clear of Chelsea in the league last season because they had much older squads by comparison, and if the Blues can make the most of their own senior figures while their North London rivals adjust to losing most of theirs, the title will be very much back in contention.
That's also because the twelve newcomers to the group are accustomed to winning things. National Under-15 treble winners in 2018, they added the coveted Under-16 Premier League Cup to the all-new and expanded trophy cabinet in the academy reception back in April, running amok on Arsenal territory to the tune of a 5-2 triumph. With nine England youth internationals in their number, they have an unrivalled pedigree and, collectively, bring different attributes to the table. Josh Brooking's tough tackling; Levi Colwill's strength and composure; Bashir Humprey's elegance; Valentino Livramento's relentlessness; Charlie Wiggett's no-nonsense attitude; Lewis Bate's creativity; Ben Elliott's control; Joe Haigh's decisiveness; Myles Peart-Harris' laconic style; Dion Rankine's dynamism; Lucas Bergström's maturity; Xavier Simons' drive. They all stand out for their own reasons and bring a serious amount of depth to the squad.
Throw in Anjorin and Maatsen for the FA Youth Cup and their chances of wrestling their trophy back from current holders Liverpool look as strong as they did during their historic five-year reign as the best of the best. Yes, winning competitions comes second to nurturing players, but Chelsea have demonstrated they can do both to as high a level as anyone over the past ten years. As we approach the end of a remarkable decade, all that's been missing has been a better pathway into the first team.
Now, with Lampard and company running the show, with Hudson-Odoi and Loftus-Cheek recuperating from injury, with Mason Mount and Reece James and Tammy Abraham on the verge of stardom and with people in that environment who care deeply about the future of Chelsea Football Club, the pieces of the puzzle could fit into place once and for all. There might never have been a more exciting time to be involved with the academy, and there might never have been a more exciting time to follow them. You can do that better than anywhere else both here at TheChels.net and on Twitter by following @chelseayouth. Please do come along for the ride, which starts on Tuesday night as the Development Squad head to Swindon for their EFL Trophy opener. It'll be worth it.