Two years after visiting darkest France in Périgord to catch a glimpse of Chelsea's young players in an exhibition game against FC Bergerac Perigord, I've been immersed into French Brittany to follow the progress of Chelsea's U23 team. First, it's important to emphasis that the sarcastic jibe of "loan army" is growing increasingly inaccurate and, instead, the spotlight i on the work being done at academy level for a few years now. Secondly, the first game of their two-match stay did not resolve the question of who actually owns the Mont Saint Michel (disputed by both regions), despite Normandy-based US Avranches Mont Saint Michel (National, 3rd tier) exporting themselves into the picturesque town of Fougères, belonging to Brittany.
The Chelsea connection between the three clubs has been guided by Christophe Lollichon, working with goalkeepers at the Chelsea Academy, and who recently joined the board of AGL Drapeau Fougères Football (5th tier) in charge of organizing the fixture.
Chelsea travelled to France with two friendlies in mind. My pockets unfortunately being not deep enough to attend both games (7pm kick-off), with the only way out from the biggest fortress in Europe being a dozen bus commutes every day, I only attended the friendly against Avranches and gave a miss to the 1-1 draw against Rennes.
There were a few familiar faces around the pitch. Carlo Cudicini was there after the announcement that he wouldn't be part of Frank Lampard's first team's staff. On loan coach Paulo Ferreira was present too; he had a long chat pitch side with Michael Hector (who wasn't involved). Tore Andre Flo was in also attendance.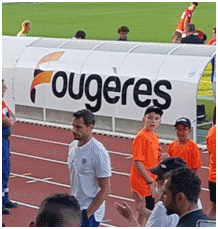 Following his promotion earlier this week, Andy Myers was the man in charge of the team and will be for the Development Squad season ahead.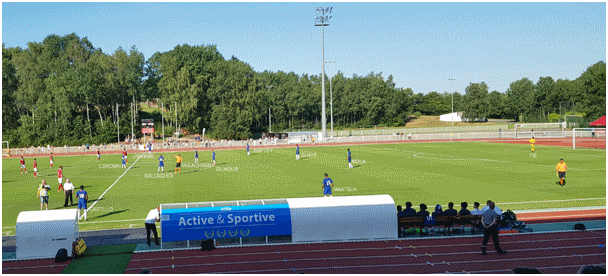 Chelsea kicked off with a younger team than the one which completed the game. Nicolas Tié (the brother of whom I coached at U19 level at my former club) kept goal, behind a central pairing of Clinton Mola and Marc Guehi (captaining the team), flanked by Ian Maatsen at left back and Tariq Lamptey at right back.
Billy Gimour was deployed at the base of a 4-3-3 with George McEachran and Conor Gallagher in front of him. Charlie Brown was the centre-forward, with Juan Castillo providing width on the left and Tariq Uwakwe cutting inside on the opposite flank.
The first half was an interesting match-up between Avranches' extreme emphasis on a short build-up, following their coach Frédéric Reculeau's principles. Chelsea therefore went after them in a very high press for the first half an hour. The fact that it was a pre-season game probably explains why there was little fouling from the English side, nor back to front under pressure type of thing from Avranches. As a consequence, it almost looked too academic a contest at times.
Playing out short relies on firm beliefs; all the more so for team from up North. France is famous for being at crossroads between various cultural influences, and the way to play football is no different. Just as much as supporters will moan about ball being launched forward too early down South, they start to get nervous whenever the team plays more than three passes in a row into traffic and my neighbours in what was a sparse attendance did grunt a couple of times (oh la la!).
Nevertheless, Avranches haven't scrapped everything that made them successful in National on a budget, with several promising 6th-placed finishes in an extremely demanding 18-team league in which only a couple of clubs hold professional status.
Most of their good situations stemmed from either breaking Chelsea's press on a couple of occasions, or playing very direct for runners into space behind the defence, using Michael Nilor as a focal point for wall passes and holding the ball up.
Just like Chelsea in the Football League, most National clubs rely on loan deals in a win-win situation; players who can't get playing time in congested top flight (L1) or Ligue 2 squads get a brilliant chance to be part of a full season in key positions in National. Nilor and Messie Biatoumoussoka (both 1998-born players) will spend the season on loan from Girondins de Bordeaux and Sporting Charleroi respectively after turning professional (both were playing for Bordeaux reserves two years ago, in which the likes of current Saint Etienne players Zaydou Youssouf or Aurélien Tchouameni are the recognisable figures).
Unlike in the Football League where everyone's on professional terms, however, National players are a combination of hard-working (or extremely talented) players who've climbed the ladder (often through successive promotions) but who are on a different type of semi-pro contract (Fédéral). Albeit French B teams can play up to the fourth tier in the football pyramid (and are undeniably the teams to beat in the half a dozen geographical 14 or 16-team sections), the experience of playing first-team football for a club of its own is vital (professional clubs usually play their U17 generations in U19 age groups, and U19 in their B team).
You'll find former top flight players here and there out for a last serious kick-about, frequently offering direction in midfield. Therefore, young players who start and star in consecutive games in National tend to stand out pretty much immediately, and are either quickly poached by pro clubs or already have been (before being sent back on loan). N'Golo Kanté, Olivier Giroud and Nicolas Pépé are in the long list of players who've played their trade in the league.
That said, teams are still shaped to play a certain brand of football and it is something clubs put forward when trying to attract a young pro player on loan (much like in England, thinking of Lewis Baker or Serge Gnabry under Tony Pulis, as opposed to Frank Lampard's Derby). Keeping that in mind, it looked the ideal workout situation for Chelsea to drill their high press.
Lone striker Charlie Brown would be joined to press Avranches' back line by one of Gallagher or McEachran, but predominantly the former. Castillo and Uwakwe's roles would be more to make sure they forced the opposition to play outside. Gilmour had a covering role but could be involved to close down someone back to goal if a pass did beat the press. Consequently, that required central defenders to be switched on to step into midfield to intercept a duel in the adjacent zone to Gilmour's.
Guehi and Mola made very few poor decisions when timing their interventions or keeping control of space behind them on counter-attacks. In the first situation, they did make the occasional 'professional foul' when they were pulled out of position in the opposition half, drawn against Nilor, although he was showing little intent of getting on the turn anyway. When exposed on counter-attacks, they stayed alert to back off and wait for defensive support, before trying anything on their own such as this incident.
https://vimeo.com/348697474
On a couple of occasions though, Chelsea were left open with midfielders out of position, and with nobody close enough to put an end to the move. Guehi was caught in between and forced Tié into sweeping behind his defence, which was pretty much his only bit of action as far as he was concerned (he also had to tip a cross lurking close to the crossbar).
https://vimeo.com/348697136
But some of Avranches' attacking moves didn't get that far, and recoveries also took place right on the edge of the box, such as this first time attempt by Uwakwe after a nice collective effort and presence in the French side's final third.
https://vimeo.com/348697744
In possession, Chelsea played a familiar version of 4-3-3, with emphasis on trying to play out short. It wouldn't be a comprehensive summer 2019 friendly if that didn't involve the new goal kick rule, only cut short by the assistant referee despite Brown starting his run from his own half.
https://vimeo.com/348698277
Base midfielder Gilmour showed for the ball in different spaces but mostly centrally in the first half. Guehi and Mola had steady performances and mostly fed midfielders rather than running with the ball on their own. They would either try to play through the thirds, with Gallagher adding more impact and dynamism than McEachran, who doesn't quite give the same impression in a more advanced position in his overall game as his brother Josh a few years ago.
Brown did what pure poachers do, which is to lurk between central defenders all game, while getting involved in the odd layoff now and then, but most attacking moves broke down on the last pass. Considering that Castillo and Uwakwe had a tendency to ask for the ball into feet, Chelsea's speculative passes over the top from Gilmour – who couldn't quite manage to deliver one with his trademark top spin – looking for Brown were easily dealt with by the home defence.
On the left, Maatsen was positioned rather deep and narrow even when Chelsea were building up, possibly to create space behind Avranches' wingers to allow Castillo to provide width higher up. The two Dutchmen didn't quite connect in the first half and a couple of miscommunications led to them giving the ball away when they tried to offer overlapping runs to one another.
https://vimeo.com/348697231
Chelsea would then mostly progress through the wings. The dynamic on the right flank frequently saw Uwakwe showing for the ball inside, and Lamptey displaying his mesmerizing turn of pace, entertaining the fans every time he was involved.
https://vimeo.com/348697602
At half time, Chelsea switched goalkeepers, with Tié giving way to Karlo Žigerm while keeping the same outfielders until the hour mark. Shortly after the break, a swift counter attack following a corner for the home side was led by Gallagher who released Uwakwe. Lamptey provided an excellent underlapping run at full pace, and Brown tapped the ball in to remind everyone what he was on about despite his limited involvement up to that point.
https://vimeo.com/348697940
The Blues then replaced six players at once on the hour mark, shortly followed by two more, with the inclusion of Trevoh Chalobah, Jake Clarke-Salter, Josh Grant, Dujon Sterling, Lewis Baker, Lucas Piazon, Isaiah Brown and Danilo Pantic. In a move probably testament to his stamina, and in anticipation of future game time, Gallagher came back on for McEachran with twenty minutes to go.

Tactically, the team was more like 4-2-3-1 from the start of the second half, with Gallagher behind the striker. In terms of collective movements, midfielders asked for the ball in different zones compared to the first half, trying to do what the first team had also been doing too in Ireland; collecting the ball deep in the corners to find players between the lines: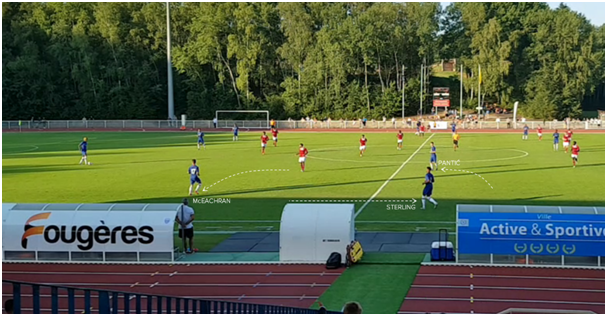 But, because of the lack of coordination, it mostly contributed to slowing the game down in second half. Gilmour's intensity to close down players still stood out and, as it was still an open game at times, both teams rather backed off instead of throwing bodies forward.
https://vimeo.com/348698417
The team that completed the game was more experienced but also more disjointed. Most of them haven't played together for a couple of years, unlike the starting eleven. As a consequence, individual moments began to take over.
Baker came deep to get the ball in order to move it around and both Chalobah and Clarke-Salter were more adventurous with their distribution, the latter picking out full-backs casually with both feet whilst Chalobah played line breaking-passes for Iké Ugbo on a couple of occasions.
Piazon and Pantic had multiple touches on the ball before releasing to a player near them. Izzy Brown brought dynamism in his typical winger/striker role, taking players on and drawing fouls. He duly slotted past the goalkeeper for the second goal with a well-taken first-time finish into the top corner with five minutes to go to make it 2-0. He would also score the only goal in the same stadium against Rennes 48 hours later.
Centre-backs Michael Hector and Matt Miazga were not involved, and it was a little disappointing on a personal level not to see Jacob Maddox feature. Chelsea split playing time in relation to the stature of the opponents they would face over the course of the three days, giving a run out for the younger players against the third-tier team, before fielding a more seasoned lineup against Stade Rennais.
We don't yet know the whereabouts of Chelsea second team's pre-season in 2020 for obvious reasons, but it remains to be seen if Lucas Piazon and Juan Castillo will be involved again, having already featured in Bergerac two years ago.
Lastly, the city of Fougères is a brilliant place to visit, nested in a twelfth-century fortress whose arms manufacturers have most likely now all been replaced by Crêperies (flat pancakes), and I naturally had to order a few just to make sure.
Avranches 0-2 Chelsea
First half (4-3-3): Tié; Maatsen, Mola, Guehi (c), Lamptey; Gilmour, Gallagher, McEachran; Castillo, Uwakwe; C.Brown
Second half (4-2-3-1): Žiger; Grant, Clarke-Salter, Chalobah, Sterling; I.Brown, Baker, McEachran (Gallagher 70), Pantic; Piazon; Ugbo
Goals: C.Brown, I.Brown
Rennes 1-1 Chelsea
First Half: Žiger; Sterling, Miazga (c), Clarke-Salter, Grant (Maatsen 26); Chalobah, Gallagher, Pantic, Piazon; C.Brown, Ugbo
Second Half; Tié, Sterling (Lamptey 77), Guehi, Clarke-Salter (Mola 77), Maatsen; Chalobah (McEachran 77), Gilmour; Piazon, Uwakwe, I.Brown (Castillo 72), Ugbo (C.Brown 77)
I've been involved as a TV pundit on English football on Canal+ and SFR Sport since 2013. I'm coaching U18 in the foundation phase of a professional club (Quevilly Rouen Métropole) and I hold the UEFA A license. Follow me on Twitter @SebC__.