The FA Youth Cup tends to bring out the best in Chelsea, even in the early rounds, and in beating Barnsley 8-1 to get their 2020-21 campaign under way on Saturday, the Blues once again laid out their plans to challenge for honours this season.
Jude Soonsup-Bell led the way with four goals; a first-half hat-trick added to with an audacious backheeled effort later in the game, while the relentless Tino Livramento also got on the scoresheet before Ben Elliott, Harvey Vale and Lewis Bate had themselves a mini Goal of the Season contest late on. The standard of strike on show really was remarkable.
https://twitter.com/ChelseaFC/status/1332741602490650630
Barnsley were always going to be up against it, but it was good to once again see Chelsea take this sort of tie seriously and assert themselves properly so as to leave no doubt about their credentials. Such wins have provided the foundation of so much success in this competition over the past decade; indeed, it was the fourteenth time in seven seasons that they've scored five or more in a Youth Cup tie.
There was little by way of surprise in terms of team selection, except perhaps the choice to use Harvey Vale at left wing-back and Dion Rankine in the more central attacking midfield role alongside Myles Peart-Harris. Vale and Rankine would typically be used the other way around, but their positions here were nominal in the sense that the wing-backs were ostensibly just wingers, with Chelsea having relatively little defending to do, meaning that Ed Brand's team often took the form of an old-school W-M formation. It's not something that will work against more formidable opponents but, for situations where the team are overwhelming favourites, it's too much to handle.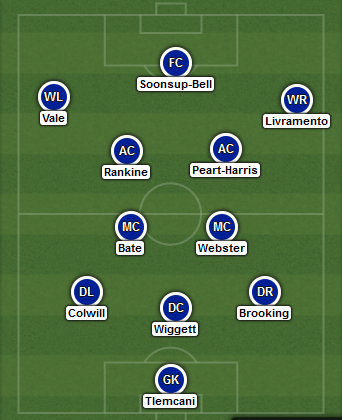 Soonsup-Bell once again captured the headlines with his second four-goal haul of the season, the club's first in the Youth Cup since 1961, and extending a run that has seen him score twelve goals in his last four appearances and fifteen in all competitions this season so far. Comparisons are already being made to Tammy Abraham and Dominic Solanke's dual 41-goal campaigns in 2014-15, but it would take some feat of scoring for Jude to match those totals if only because the number of matches he's likely to play looks set to be considerably lower.
Solanke featured in 39 matches that season and Abraham 44; both were able to play Development Squad football at a regular rate while they both saw plenty of UEFA Youth League action; this season's edition is set to begin in March in an adjusted straight knockout format (the exact details are yet to be confirmed), which will reduce both the number of matches and the scope to load up against some of the tournament's 'weaker' entrants. Still, for Jude to have fifteen goals in 9 matches is an incredible feat (and a game ahead of Abraham at the same stage from 14-15) and continues to demonstrate how well-rounded a young forward he is. Each of his four strikes reflected a different skill of his game and, in a team like this, he will put the ball in the back of the net with great regularity.
Livramento was a force of nature on the right-hand side as usual, weighing in with a goal and two assists as opponents find him just too much to handle over the course of ninety minutes. He was diligent defensively too, making vital interventions to prevent Barnsley from adding to Jack Sherlock's headed consolation goal, and memories abound of the manner in which a young Dujon Sterling affected youth team matches in a similar manner.
While Chelsea have developed something of a right-back production line in recent years, led by Reece James and Tariq Lamptey, the similarities between Sterling and Livramento are particularly interesting for their projection into senior football. Sterling enjoyed a promising if understated introduction into senior football on loan at Coventry City in 2018-19, where he focused on a more defensive role than his buccaneering academy performances, but injuries have rather halted that progress in the eighteen months since, and whether he's more effective as a winger or a full-back is still a question that needs an answer. Livramento might be a little more refined at the same stage himself, but undeniably does his best work in the opponents' half, and is fast approaching the stage at which sterner tests than PL2 football are needed for him to take the next step.
And the same can be said about Lewis Bate, this season's Youth Cup team captain, and the beating hub of this team. His quite stupendous stoppage-time strike capped off a near-flawless performance in which his effort, tenacity and range of passing were on show for all to see, and his place as one of the club's brightest prospects is firmly established. His part in Soonsup-Bell's second goal early in the match is a perfect example of what he brings to the team right now; a fifteen-yard run to win possession back just inside the Barnsley half was followed by a quick exchange of possession with Charlie Wiggett before he launched a pinpoint 60-yard ball to Livramento, who corralled possession before crossing for Jude to apply the finish. He puts in the hard work in and out of possession, he covers ground between the two penalty areas in a way few other players do at the same level, and a first-team debut (when bubbles allow for it) really cannot be far off at this point.
In isolation, a 8-1 win over Barnsley doesn't tell us very much about whether or not Chelsea will win the FA Youth Cup this season, or whether this next batch of starlets are destined for the same stardom as so many of their predecessors. Dig below the surface, however, and you'll find that all the hallmarks of previous glories were there once again. The rest of this season promises to be rather exciting.