"Go see the French lad, he's the star."
If Michael Ballack was having a little fun with reporters back in 2007, it certainly didn't feel like it. Brendan Rodgers' Reserves had just lost to Birmingham City at Brentford's Griffin Park despite fielding six future senior internationals alongside the former Germany captain, who was on the comeback trail after injury, but Gael Kakuta was already well on his way to becoming a household name.
These days, he is better known for his part in Chelsea's first notable transfer ban of the Roman Abramovich era; a situation still misunderstood by the majority of people, but one that nevertheless came along at a crucial stage in the Frenchman's development and served only to complicate a Chelsea career that threatened to be derailed before it even started. That he has carved out a respectable path since for club and country, having switched to represent DR Congo after featuring for France at every junior age group, is testament to his mental strength and determination, but the question will always be asked; what could he have been?
Born in Lille in June 1991, Gael's talent was evident typically early, enrolling in the famed academy at Lens from the age of eight where, despite being a skilful left-footed winger, he idolised Steven Gerrard. Forgiving him for that youthful naivety, he soon attracted the attention of Europe's elite, as many of those who pass through the famed Clairefontaine inevitably do, and that elite now included Chelsea. Roman Abramovich's transcendent impact on English football had an immediate and lasting impact from 2003 but, at academy level, grand plans were being drawn up for a youth system to be the envy of the world.
Part of accelerating the process of making the Blues a competitive force at all ages was the decision to bring in Frank Arnesen, one that wasn't without controversy itself (yes, there's quite a theme developing, more on that later), to draw upon his extensive experience and impressive contacts to build a star-studded Under-18 team. Jeffrey Bruma, Patrick van Aanholt, Miroslav Stoch, Ben Sahar, Michael Woods, Tom Taiwo and many, many others were lured to a brand-new training complex in Cobham, worlds away from a rather more spartan operation at the club's previous Harlington base, but Kakuta was clearly the diamond in the crown.
Just how good was he, though? Well, he scored on his youth team debut alongside fellow 2007 summer import Fabio Borini in a 2-2 draw against Birmingham City and never looked back. A 5-1 destruction of Charlton in November saw him score one and create the other four in a laughably dominant display, and he was the only player to reach double figures in goals (10) and assists (11); a feat that has only been matched by Dominic Solanke (in 2013-14) in the 13 seasons since. He did that in a team that finished 7th of 11 in the Under-18 South league table, one still working towards the consistent success the academy went on to taste in the 2010s, but Kakuta did his best during a stunning FA Youth Cup run that took the Blues to their first Final in 47 years.
Having been forced out of their Third Round win at Stevenage through a first-half injury, he returned in Round Four to help see off Shrewsbury, before scoring against and generally terrorising Leicester at Stamford Bridge in the last sixteen. That set up a Quarter Final trip to Port Vale where he turned in a virtuoso performance capped by a wonderful hat-trick, and it was his game-changing ability away to Aston Villa in the second leg of the Semi Final that turned the tie on its head and secured a place in the showpiece finale against Manchester City.
His individual ability and mesmerising dribbling while moving at top speed was his hallmark, but he possessed a toughness to go with it, a willingness to scrap and battle for the right to play that way, and he was an underrated team player with the technical prowess and vision to unlock defences with his passing just as often. Yes, there were questions about his defensive effort, not uncommon for young forwards, but it was rarely a concern and there was never a doubt that he had the fundamentals required to give him a great chance of making the grade.
Nearly 12,000 packed into Stamford Bridge to witness history and, despite falling behind to a goal scored by future Chelsea forward Daniel Sturridge, Paul Clement's boys fought back. Hardly the tallest or a player who excelled in the air, few would have predicted Gael's equaliser coming via a header, but that's exactly what happened midway through a stirring second half as he met Michael Woods' corner with a thumping finish to leave the first leg all square at 1-1. City prevailed in the return date at the Etihad but the secret was out. Gael Kakuta was about to arrive.
Or was he? If 2007 was his introduction and 2008 was his coming out party, 2009 very nearly threatened to take it all away from him. Limited in the first half of the 08-09 campaign with a few niggles and knocks, he suffered a broken ankle in a February friendly against the Glenn Hoddle Academy that sidelined him for six months. Fit to return at the start of the new term in September, he made international headlines when Chelsea were handed a transfer embargo for allegedly having induced him to break his contract with Lens, an act for which he was banned for for four months.
An appeal to CAS brought short-term relief as all punishments were suspended, and both player and club were eventually exonerated but, for many, the damage had been done. Mud sticks and even to this very day Kakuta is name-checked as the player who earned Chelsea a transfer ban (one they did not actually serve, you might point out). The global notoriety he gained – arguably greater than for any individual act on a football pitch – even led to a fraudster being jailed in 2014 for impersonating him and racking up several thousands of pounds of debt on stolen credit cards.
Back to the pitch, where 2009 would finish in much more positive fashion. Now under the guidance of Carlo Ancelotti in the Chelsea dugout, Gael's coming out party took place at Stamford Bridge on November 21st in a 4-0 win over Wolves. Few fans will remember the goals scored by Florent Malouda, Michael Essien or Joe Cole, but they will wax lyrical about Kakuta's 30-minute cameo in which he lit up the home crowd with a sparkling debut full of flair, skill and invention. It teased a breakthrough; a fortnight later it was his missed penalty in a shootout at Blackburn that saw Chelsea eliminated from the League Cup, though he bounced back well and impressed against APOEL in a dead rubber Champions League tie, linking well with Didier Drogba for the second of two goals on the night.
He made just one more appearance in 09-10 though, dropping back down to the reserves, while Ancelotti led Chelsea to a record-breaking league and cup double. Unperturbed, he linked up with France's Under-19s for the summer's European Championships and was named the tournament's best player as Les Blues steamrolled everyone in their path, eventually seeing off a Spain team led by Thiago Alcantara and Rodrigo Moreno, with Koke in reserve. Kakuta was the outstanding player in a squad that also had Antoine Griezmann and Alexandre Lacazette in top form. The stage was set.
2010-11 was a controversial season for a lot of reasons at Chelsea; the exits of several veterans like Ballack, Joe Cole, Juliano Belletti and Deco were not suitably offset by appropriate arrivals – Ramires and Yossi Benayoun were the only summer signings – and Ancelotti was somewhat forced to turn to youth, previously unheard of at Abramovich's Chelsea. Kakuta was joined by Bruma, Van Aanholt, Borini, Josh McEachran and Jacob Mellis in getting a real opportunity. He featured in five league matches before Christmas, including away games at Arsenal, Aston Villa and West Ham, while playing in all but one of the six Champions League group matches.
Yet with the ups come downs and, as the calendar ticked into 2011, the defending Premier League champions were in fifth place, seven points off the top, and about to make one of the most dramatic panic buys in football history as Fernando Torres arrived from Liverpool at the end of that January. By then, Gael had already taken a short walk across SW6 to Craven Cottage, spending the rest of the campaign on loan with Fulham, where he made just two starts. He would later admit that "I arrived in a relaxed frame of mind; because I came from Chelsea, I thought I was going to play."
And thus unfolds a story of frustration and unfulfilled potential. Fulham then became Bolton – who were in the middle of a curious spell under Owen Coyle's management where the perception of a change in style, moving away from Sam Allardyce's apparently rudimentary approach, saw the Trotters entrusted with the development of the likes of Sturridge and Jack Wilshere; a duo who would also have their careers eventually ruined by injuries. His stay at the Reebok Stadium lasted half a season with no league starts, so he crossed the Channel and returned to France for the first time in five years to find form again with Dijon.
It worked, kind of. Four goals in 14 appearances was a respectable return and offered a reminder of what he could do but, as is often the problem at Chelsea, he came back to Cobham as something of an outsider in an ever-changing club. While he was gone, Andre Vilas-Boas had been hired and fired, Roberto Di Matteo had replaced him and won the Champions League, and another gifted winger from the French league had been signed in the form of one Eden Hazard. With Oscar, Marko Marin and Victor Moses all added to the squad in attacking areas, it was clear the now-21 year-old Kakuta wasn't going to play, so he became just the fifth player at the time (24 more have followed since) to join Vitesse.
A decent first season in the Gelredome was followed by an awful second – he made no league starts in a team that had lost talismanic forward Wilfried Bony and home-grown midfielder Marco van Ginkel (to Chelsea) – and for the third time in his now meandering career, he changed teams in the winter transfer window, this time setting up home in Italy, where he played just 26 minutes of football for Lazio. Spain proved better for him later; a year with Rayo Vallecano was revitalising, with a particularly timely run of form late in the season boosting his stock, but it heralded the end of his Chelsea career. After eight years, seven loans, 16 appearances in a blue shirt, one transfer ban and a lot more besides, he was officially released on a free transfer at the end of a contract he signed at the very beginning of his nomadic loan adventure.
Several of those who followed down the same road – Josh McEachran and Lucas Piazon in particular – spoke of the frustration not of going on loan, but going out and struggling for playing time. Piazon – who like Kakuta also played for Vitesse and Fulham in addition to spells in Spain and Italy – remarked in 2016 that "It makes no sense to go on loan all the time. It is not good for any player in my experience – or the experience of the other boys. I don't see it as a positive thing anymore. To be in a different place every year is not good for me at 22. It's difficult to get a place in the team. They have their own players. You do your best, try to get a place in the squad, minutes on the pitch, score and create goals. That's all you can do." Gael recently endorsed Piazon's take, saying "I always had to come back to prove myself but, when I came back, the team was already built. It was always the same thing; 'Yes, he's got potential, but I haven't seen him in training.' So I went straight back to the reserves or on loan. You had to do the same thing over and over again; it was complicated."
In that same interview with Onze Mondial, he spoke with a familiar refrain that has frustrated young hopefuls for many years; "It's different today; I'm happy for the young players. It's a new generation. Some of them have the chance to play straight away with a coach who is there for the long-term. Others go through the same things as me; signed young and always seen as a youngster. You have to think about playing, you have to move on. Me, I played regularly from the age of 8 until I was 16 and, overnight, no more matches. To progress, you have to play, play, play. You must not stop."
McEachran would later admit that he could have tried harder and it took some time for him to mature and appreciate the opportunities he had available to him, and there are obvious parallels to be drawn to Kakuta. Even at the age of 15, being touted as a potential world-beater, his junior age coaches warned that he was so good that "he didn't try very hard sometimes in training". A year before he left Chelsea, Gael himself acknowledged that he had played a part in the frustrations he endured, admitting that "I had my part and responsibility of why I didn't play and now I'm only focused on football, on the pitch and off the pitch, what I'm eating, my recovery and those sorts of things. I'm careful about that." There were also issues behind closed doors that caused more headaches for a youngster living abroad; "I made a lot of money quite quickly in my career. I invited my friends to London and those friends invited other people. Everyone came to my house to have a good time and experience new things. Some of these people stole from me, even childhood friends…I only remained close with my brother and a friend; I understood quickly."
Despite signing a four-year deal with Sevilla, the story remained unchanged; after not playing in his first six months down in Andalucía, "it didn't go to plan. I made a lot of sacrifices and found myself in a worse situation than at Chelsea. I'd reached a point where I was ready to hit the coach, he pissed me off so much." He moved on to Hebei China Fortune, where he still managed to find a way to go on loan, swapping Langang for La Coruna in a return to La Liga with Deportivo. Amiens took him temporarily and then eventually signed him permanently in 2019 (after a to do), with another stint at Rayo snuck in between, and it's here that his story takes a turn towards a happy ending. Back in Northern France, an hour and a half away from his first club, he underwent a renaissance. The homecoming was truly complete a year later as he donned the red and yellow of Lens for the first time in 13 years. 11 goals in 35 matches on loan saw Les Sang et Or trigger their option to buy, and the circle was finally complete.
These days, age has slowed him a little, he's no longer the same mazy dribbler that saw him terrorise teenagers all those years ago, but he's been impressively productive back in France and, every now and then, he'll explode into life and produce one of those moments that made everyone around Chelsea sit up and take notice. His left foot is still as dangerous as it ever was, whether striking a dead ball, delivering a teasing cross or making line-breaking passes, and the experience of his travels has given him a better appreciation of when and how to use his talents to their full effect.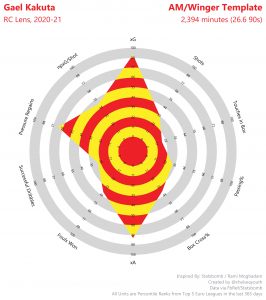 He turns 30 today. Having now found stability on and off the pitch after becoming a husband and a father of three (his eldest was born during his time at Chelsea) and earning regular international selection for DR Congo – where his parents hailed from – he still has much to prove and will be desperate to write his own finale to a career that saw hope snatched away from him time and again at an age when anyone would struggle to deal with continued rejection.
In 2014, he said that "things didn't go the way people wanted so now they think I'm finished but I'm only 23 years old. Some players only really get their career going when they're 28 so for me I have plenty of time and I will end up being where I should be." As he enters the next stage of his career, the promise of youth and the vagabond life of a loanee in acts one and two need not be forgotten, but instead be used as lessons to carry with him, to learn from, and to build a legacy that outlasts the current perception of him. He has ended up where he should be, back at Lens, where he's become the star that Michael Ballack anointed him as all those years ago. In his own words, "I haven't had so much fun since Chelsea."