As good as it is to sign a player like Fernando Torres, it's made me question that just how is Ancelotti going to adapt his team to play with Torres, Malouda, Drogba and Anelka up front?
A change back to 4-4-2 with a diamond midfield? A switch to a traditional 4-4-2? Personally I don't think these suits Chelsea style of play, and as a team we play best in the 4-3-3 first employed by The Special One.
In Ancelotti's first season he tried to change Chelsea's formation to 4-4-2 with a diamond midfield. Anelka partnered Drogba upfront with Lampard or Malouda just behind the front two.
It was effective for the first game against Fulham in which The Blues won 3-0, yet Chelsea struggled to break down opponents, because of a lack of width.
Football became too central and was too easy for opponents to defend against, although Anelka and Drogba both praised the formation and was enjoying playing together, results and performances stuttered. Ancelotti returned to 4-3-3 and Chelsea won the double.
How the team would look: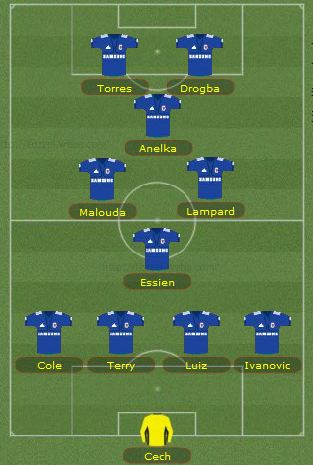 Another alternative would a switch to a traditional 4-4-2; this would give the team width but would mean a rotation of the three strikers, or a part time season for one of them (most likely to be Anelka).
Chelsea would have the width which is lacking from the 4-4-2 with the diamond midfield, but Chelsea doesn't have a natural wide right sided midfielder, either Kalou or Benyayoun would be employed here.
However, they would get over run in the midfield by better teams such as the two from Manchester and Arsenal.
How the team would look: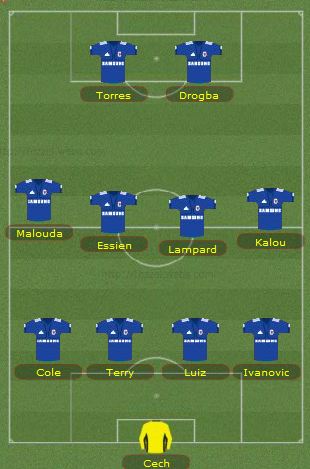 Ancelotti could stick with the 4-3-3 that served him and his predecessor Hiddink so well, this would keep Chelsea playing the way they are used and to and has won them three Premier league titles, but it would also mean you have to force Torres wide or drop either him or Drogba, something which would be unthinkable.
Ancelotti could keep the formation but let Anelka and Torres ghost inside so the width isn't always there but can be if the game is becoming bogged down in midfield.
This would mean Malouda would drop to midfield, not his best position and it would mean players like Mikel and Rameries would hardly get a run in the team because of players like Essien, Lampard and Malouda.
How the 4-3-3 would have to work: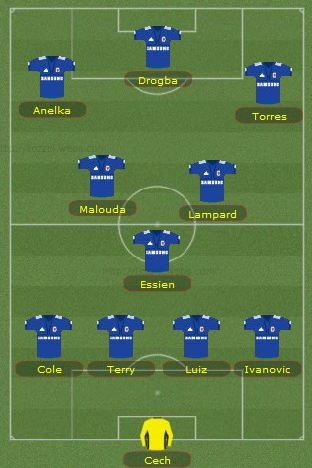 Obviously this is the sort of headache managers dream about, but with only four months left of the season, a wholesale change to the team's tactics and formation could hinder rather than help Chelsea's push for silverware.
Don't get me wrong, I can't wait to see Torres in the Chelsea shirt hopefully bagging a hat trick against Liverpool on Sunday, but it is worrying as to how him and Drogba will be accommodated in the team.