Sunday's outing against Manchester City will prove pivotal in the fate of both sides come the end of the season. For City it is a chance to place some distance between them and the chasing pack; for Chelsea, a win puts them above City with a game in hand to play. While every game from now until the end of the season is labelled a must-win, a draw may not be a bad result for either side. Nevertheless, a win against City is long overdue and would be more than welcome in the circumstances.
A look at the League Table shows precisely how close things are at the moment:


A win moves Chelsea to 54 points and provides the opportunity to consolidate third place, with a game in hand.
Expected side: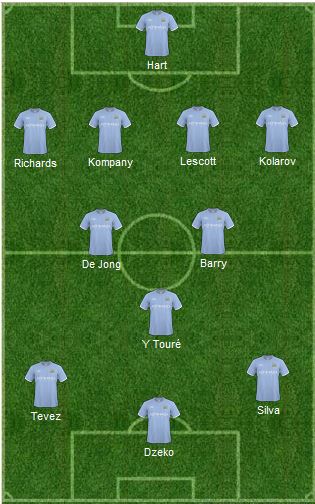 I can see City lining up with something similar to the above. Tevez may start up top, with the more industrious Milner put in a wide berth, but I imagine Silva starting given his form of late. The midfield triangle of Touré, De Jong and Barry are established at the heart of the City side and seem to feature in the majority of City's "Sky Six" games. They were particularly effective in the first game at Eastland: De Jong and Barry are an exceptional shield in front of a very athletic and robust back four.
The thing that stands out about this City side is the competitiveness and physical prowess of their midfield and defence. We have not had much joy playing the Drogba way against City in recent years, this is largely due to their ability to absorb direct play and counter our robust direct style.
Hart is an excellent young goalkeeper who has rightly made the England Number One shirt his own. However, one must look at the few errors that have crept into his game since establishing himself in the England set-up. The added pressure that comes with being the England goalkeeper brings an added level of scrutiny on every performance. You have to wonder if that level of scrutiny is hampering him slightly.
The back four is about as athletic and powerful as it gets in the Premier League. Kompany is an excellent player who continues to develop each game. One of City's less glamorous signings, he is arguably first choice among more expensive colleagues. Very good at timing his tackles and blocks, his one weakness is a tendency to follow the ball too much at times. Looking at the goal against Everton earlier this season, Kompany's awareness was all over the place leaving Cahill entirely unmarked. The arrival of Torres could cause Kompany a more unfamiliar problem.
De Jong provides a gritty physical base for City to build upon in their midfield. Without question I am not his biggest fan, reckless tackles aside, but he does a similar job to Mascherano in his Liverpool days: wins the ball and gives it to better players. In fact, the Barry/De Jong partnership is tantamount to the Alonso/Mascherano one that Liverpool employed so successfully during their stint as a big club. Barry benefits hugely from De Jong's pace by his side. His ponderous nature is hard to isolate in a side that places De Jong and Touré either side when they do not have the ball. If we can get around Barry and actually turn him, make him move, we will definitely get joy out of this City midfield – as many teams have seen, this is easier said than done. Touré has been a decent acquisition and likes to drive forward centrally with the ball. I can see him playing slightly more withdrawn on Sunday, picking his moments to break forward.
Moving onto the front three, Tevez moving wide to accommodate Dzeko could potentially be a blessing in disguise. I do not feel City are the same when Tevez is asked to move from a central role, but it will be interesting to see Tevez up against Luiz if Dzeko does not start. Luiz has been a bit impetuous in the tackle and will need to show more patience against Tevez. Once Luiz times his challenges, he can arguably become the best centre back at the club on pure ability.
We have looked quite open in front of our back four since the move to a flat 442 formation a few weeks back. Rooney exploited the space frequently and the cumulative result was his goal in the first half. City play far better against better opposition and their ability to fire off shots in this area is quite worrying: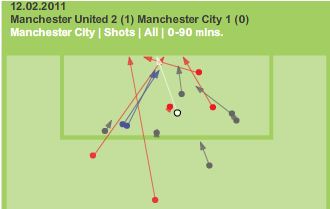 This is where Silva poses problems and arguably will be our biggest problem. He will start wide but drifts infield into the areas that we have been most vulnerable of late. His short passing sets the tempo of City's entire game and allows Barry and Touré to advance forward to help the attack.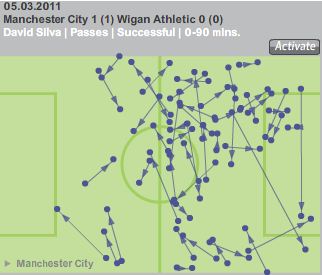 The mixture of short and long passing in and around the 18-yard box will be the aspect of Silva's play that we need to combat the most. He has the eye for a pass that few in the modern game possess and his ability to find people in a decent position ahead of him will be a huge factor in this game.
KEY ISSUES
1. Marshall The Space – The art of midfield play is something that sets apart good sides from great sides. The move to a flat 442 has seen some more fluid performances in recent weeks, but it has left a salient reoccurring problem that needs to be addressed.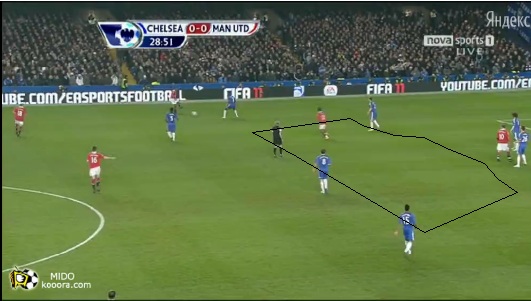 The above is an image of the United game seconds before Rooney drove the ball into the bottom corner. When Ramires and Essien attempt to exert pressure, it leaves a large hole in front of our back four. Playing the flat midfield four means that when one of the central players presses the ball, the other must drop back to cover the space. The dovetailing effect is something that Essien and Lampard have not seemingly mastered on recent showings. The problem arises when players, as Nani has done above, drift into this space and remain unchecked. Gifting players like Silva and Tevez this sort of space could potentially be far more dangerous.
Copenhagen again showed the pitfalls of playing far too flat: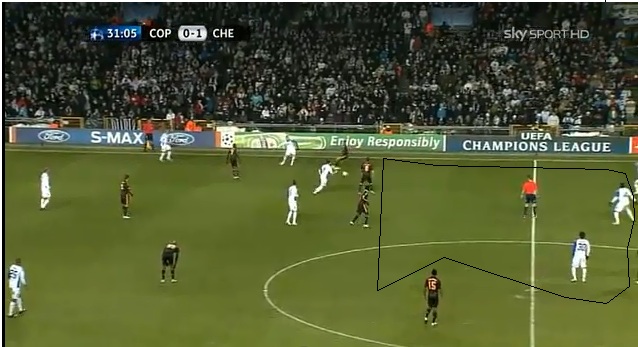 Ramires gets caught pressing the ball too high up the park; Bosingwa then pushes further afield to put pressure on the ball. Essien fails to win the ball and then the ball is played through leaving three Copenhagen players instantly bearing down on the back four. Silva, Tevez and Dzeko would pose more of a problem if given the ball in a similar area.
I am placing the onus on Essien to ensure that the space in front of the back four is occupied when City have the ball. Lampard must also be more aware that when Essien presses the ball, he must sit. We cannot afford to have Terry or Luiz constantly being pulled out of position with the passing of Silva, the dribbling ability of Tevez and Dzeko's threat in the area. If we can provide more cover to Terry and Luiz, I think we can limit their influence in the final third drastically.
2. Taking Chances – While this might be a very basic point to make in any big game, we have been utterly wasteful in front of goal recently. The Copenhagen home game was an insipid affair, but our few bright sparks of football should have resulted in a goal or more. We seem to have developed Arsenalitis, a fear of taking shots, in and around the area. Anelka has been utterly criminal of late, over-elaborating when taking a shot was the far simpler option.
Anelka will be a key figure on Sunday if he plays close to his full potential. His movement and creativity in a slightly withdrawn role are brilliant when he is on song; however the Copenhagen game highlighted his somewhat wasteful nature in front of goal.
Scoring first against City, who will primarily play on the counter-attack (and very well I might add), is utterly crucial. If ever a team needed encouragement to come and play, it will be City. I think they will be content with a point and have the capacity to play in such a fashion that means they will take what they want from the game. You only need to look at the Arsenal game at the Emirates to see how well City can organise when needed. City at times will resemble a 4321, with three non-committal holding players, ready to spring a counter-attack led by Yaya Touré.
If we create any solid chances against City they need to be taken. City have the players to score goals and they have players to sit on their lead. Whether we get the City who parked Eastlands in front of their 18-yard box against Arsenal or the City who largely bossed United at Old Trafford is anyone's guess. I do believe we are playing into the type of form that means we can overcome either style.
3. Midfield Numbers – It is quite possible that with the four in midfield we have been using of late, we could become overrun in the middle channels of the pitch. Anelka may be asked to drop slightly deeper on the right hand side to allow Ramires to tuck infield when we lose possession. City won 43 out of 69 tackles in the first encounter, losing only 26; Chelsea won 40 out of 74, losing 34 in the process. Clearly we need to improve those statistics if we are to control the game.
The key dispossession being Ramires on the halfway line that led to Tevez's goal. Ramires has improved exponentially since his outing at City and given his newly found confidence, City will be foolish to target him physically. I see many comparisons with Dennis Wise and the little Brazilian. His toughness in recent weeks, particularly against United at home, is reminiscent of one of Chelsea's great. Ramires seems to have a lot more ability in his locker though, which is no condemnation of Wise but an endorsement of the potential Ramires is showing.
If Essien continues his slow return to form, the combination of Ramires and Essien may potentially swing the game in our favour. Trying to target Barry is a must in this respect – the turning circle of a ferry and clear deficiencies in terms of pace, Ramires and Essien can both catch him with the ball and get away from him when in possession.
De Jong and Touré are the enforcers in the City midfield. Both will try to shackle Lampard's forward runs, something they did not have to contend with in the first game. Lampard has rediscovered his knack of scoring goals, even if some of his overall performances have been below par. As the old adage goes, goals wins games, and Lampard's return will pose City problems.
If we win our personal battles and are better than our opposite man, we will create a chance that should be converted. I am certain of that fact.
THE TEAM:
I think the above will be similar to what we will look like without the ball. However, there are quite a few permutations Carlo can call upon (finally!) for this game against City. He may pair Mikel and Essien in front of the back four and play with Ramires, Lampard and Zhirkov behind Torres to mirror City's formation. Yet, the most promising part about everything surrounding the squad at the moment is that we finally have some options on the bench to alter the shape and style of the team. The potential is there to throw on Kalou, Drogba, Malouda and Mikel if needs be.
I think this is a game that we cannot afford to lose, but the reward of three points and a potential 4 point cushion over City means a win is absolutely vital. Things seem to be slowly clicking into place; long-term injuries will come back and provide something different (Benayoun) and competition at the back (Alex). Torres is finding his feet, looking comfortable in blue and now only really needs a goal to elicit confidence.
I am excited to see the combination of Anelka, Lampard and Zhirkov working with Torres's movement. Some of the brief flashes of quality against Copenhagen came from some wonderfully incisive passing. We seem to have discovered that Zhirkov can find that pass and that Lampard is slotting into the provider role quite well.
Will Torres break his scoring duck against City?
I hope so…
My Prediction? Score first, win the game.
Carefree.