Twenty-four teams have been whittled down to a final two in this season's NextGen Series, as Chelsea and Aston Villa prepare to face off on Monday evening for the right to call themselves Under-19 Champions of Europe.
The all-English showpiece occasion was put together on a very Good Friday for both teams. Chelsea overcame Arsenal by the odd goal in seven over 120 draining minutes at Como's Stadio Giuseppe Chinigaglia, before Villa saw off the advances of a tough Sporting Lisbon team 3-1 at the same venue whilst also requiring an additional period.
And so London and the Midlands collide in another junior age group competition final, a repeat of the 2009-10 FA Youth Cup finale if you will. Then, a late strike by Irish midfielder Conor Clifford handed the Blues their first notable silverware outside of first team level in a generation, and set the tone for the immediate years to come.
They lifted the Barclays Premier Reserve League crown the following season before getting their hands back on the Youth Cup last year. They are well placed to retain the trophy this term, with a Semi Final date against Liverpool looming in mid-April, but they will first have to deal with the considerable threat posed by the Villains in Northern Italy.
Both clubs will certainly be pleased to have had Saturday and Sunday to recover from taxing outings on Friday. Chelsea went behind early against Arsenal and looked like they might struggle to qualify, but a spell of exhilarating football saw them score three times in ten minutes to take control of proceedings.
An overly defensive mindset allowed the Gunners to get on terms with two goals in the closing four minutes but a late extra time winner from captain Lewis Baker – his second of the day – proved enough to decide the tie.
Under the floodlights hours later, Villa stood firm in the face of a barrage of Sporting CP attacks, twice being reprieved by the officials disallowing Portuguese strikes, before being offered the chance to take the lead from the penalty spot.
Graham Burke did his part but they were only ahead for some ten minutes as Sporting scored a deserved equaliser. In a tempestuous overtime period it was the English side who had the cooler heads and they prevailed through goals from Jack Grealish and Samir Carruthers.
And so we have the eventual final. Barcelona, Juventus, Ajax, Liverpool, Internazionale, Dortmund, Man City, Paris Saint Germain and more have come and gone, and the conclusion of the second instalment NextGen Series promises to be every inch as good as Inter's penalty shootout victory over Ajax at Brisbane Road last season.
Both Chelsea and Villa possess robust, intelligent defenders, tactically intuitive central midfielders and gifted, tricky attacking players and play with attacking intent. It will certainly be a match played in an attractive fashion, as both clubs showed the capacity to exhibit entertaining football on a playing surface which left much to be desired due to unfortunately adverse weather in the region in the weeks building up to the game.
Changes from Friday's teams will be minimal, which allows managers Dermot Drummy and Tony McAndrew to take a closer look at what may ordinarily be unfamiliar opposition. Drummy will be forced into one alteration as the versatile left-sided player Adam Nditi suffered an ankle injury against Arsenal and will not be fit to play.
Drummy is blessed with options in his stead. Connor Hunte was the direct replacement in Friday's game and proved effective, playing a key part in the Blues' opening goal and causing the talented Hector Bellerin no end of problems on the wing.
Alternatively, he could bring John Swift into the starting eleven after a stellar showing from the bench against Chelsea's red London rivals; a move which would require either the influential Baker or the schoolboy playmaker Jeremie Boga to move out to the left side to accommodate him. Both have played there from time to time but, like Swift, are most effective playing in the middle of the park, where they can inflict maximum damage.
There may also be a place for Nathan Aké in defence. He did not make the trip to Italy on Thursday due to potential first team involvement for Rafael Benitez against Southampton but with his services not used he has joined up with his contemporaries and should reprise a strong defensive partnership with Alex Davey, who instead played alongside Daniel Pappoe in the Semi Final.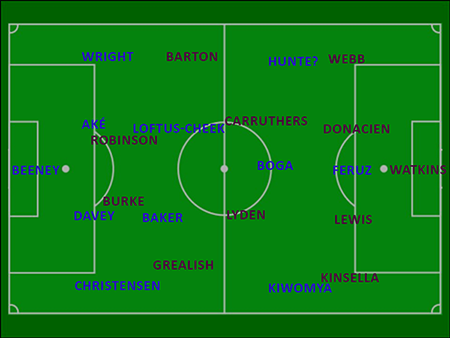 Villa will be without top scorer Michael Drennan, who until Friday was the leading goal-getter in the competition. He's since been overtaken by Feruz but is a big miss for Tony McAndrew's side. Burke replaced him against the Portuguese in the last four but doesn't quite possess the goal threat of the missing man.
McAndrew sets his side up in a simple 4-4-2 formation with the pacy Callum Robinson partnering Burke in attack. His long frame blesses him with a stride that eats up ground and allows him to gallop away on the break, where he can be of full effect.
Another Irishman, or at least Ireland-eligible player, Grealish, is without a doubt the one to watch in claret and blue though. Blessed with exquisite technique and patience, he plays with his head up whilst jinking through tackles and floats around the attacking areas despite nominally starting from a wide area.
Captain Carruthers has become a central midfield dynamo having previously been used more out wide both at Villa and former club Arsenal, and his partnership with Jordan Lyden will be crucial to their chances of success. They will be outnumbered by Chelsea's three-man midfield, as they were against Sporting, and to be blunt they were dominated for large spells of the game.
The big midfielder Fabrice Fokobo was typically the spare man for SCP and as soon as Villa ceded possession, he was onto the loose ball and seeking to play into attack. It's not inconceivable to imagine Ruben Loftus-Cheek playing a similar role for Chelsea on Monday, especially considering both Sporting and Arsenal looked exceptionally dangerous at playing with a quicker transition on a bobbly surface.
At the back, goalkeeper Bradley Watkins is a commanding presence who proved extremely adept at claiming high balls into the box. The back four in front of him, marshalled by the big figure of Janoi Donacien, looked prone to being caught high and out of position, but had the athleticism to recover and just about clear their lines.
The final will likely be decided by Chelsea's quick passing and wide play, or by Villa's intensity and work rate in all areas. There were times where it might have looked as if they were to be eliminated by Sporting but they kept plugging away and the strength of their team as a unit saw them home. Chelsea too looked done for from time to time against Arsenal but as they have done so many times before proved that they have firepower in abundance and never looked concerned whilst trailing, knowing they could and indeed would score eventually.
The game gets underway on Monday evening at 5pm UK time, with Eurosport covering the match live. You can keep up to date with events on the official competition Twitter feed @NextGenSeries or with a Chelsea-slanted view of affairs @chelseayouth.