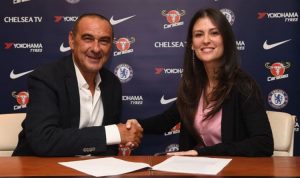 I'm confused…  It used to all be so simple, clubs would have an owner, a board, a sponsorship deal that slapped a logo of some sorts in the middle of our kits. Add to that a squad of players assembled one way or another, who generally did what the bloke on the side-lines in a tracksuit with his initials on them shouted out.
From the then newly established Premier League, right down through to grass roots football, this mostly held true until the Premier League and TV money transformed the game entirely and started to entice the likes of Roman, the Glaziers, City's sheiks, and all manner of 'new money' looking to grab their part of a vastly popular pie.
So, in 2001 when we said 'privyet' to the new richest man in football, I was happy that our then future was finally secured, and despite the scare stories about being Roman's 'short term play things' and 'getting bored', things looked good!
We hired a young fresh-faced Jose Mourinho in 2004 and went on to win trophies, set records, and exceed even many of our wildest expectations, yet come the departure of Jose in 2007 there were already signs that something wasn't quite right, that something was changing.
The conventional football manager as we knew it was being phased out for new job roles; First Team Coach, Head Coach, First Team Manager, the idea of the manager managing the club itself as Alex Ferguson and Arsene Wenger once did was being consigned to football history.
Now on one hand, the idea of having a football board, director of football, head of development and other such roles that span the whole club, rather than just the first team, is a good one. It is supposed to ensure continuity of the direction of the club, despite management changes and means minimal disruption when the manager is sacked. Again.
On the other hand, the negative effect of this change in philosophy has been to reduce the authority of the manager to make key club decisions. Signings, contracts, bonuses, extentions, and as we've witnessed at Chelsea, it seems players are more than aware of it; The 'manager' is no longer fully in charge.
Yet, as a succession of them have come and gone from Stamford Bridge, the overall direction of the club mostly remained the same – a certain way or playing, a policy on signings with a focus on recruiting quality players, with their best years ahead of them, at low prices. The deals for De Bruyne Courtois, Hazard, Salah & Lukaku as cases in point, as is our trophy cabinet on the 'rotational management' point.
This direction only really seemed to change when the much-maligned Michael Emenalo departed and was replaced by Marina Granovskaia, who's focus and experience is far more commercial than football based. Yet she has now the attention of the absent Abramovich and to all intents and purposes is his eyes and ears on the ground.
With Emenalo's departure we lost a football person communicating, or more interpreting what was happening and what was needed in to our owner. He understood what Roman wanted and how to make that happen on the pitch and off it in terms of recruitment, but he would have never been in charge of commercial deals!
Now that the clubs needs are being relayed by someone with expertise in an entirely different field, not only has the direction changed but also the cohesion of the whole, and I think the cracks are beginning to show.
Kepa was courted, negotiated with and then signed by Granovskia, so it's easy to understand why he shows so little respect for Sarri as his 'boss' when he knows the power is just upstairs, and that if he shows enough frustration at the job he does, his employer might act against his boss.
The Kepa situation against City wasn't just a random act of rebellion from a player not wanting to come off the pitch, despite the 'misunderstanding' spin the club is putting on the story. It's indicative of a wider problem at Chelsea, and more worryingly throughout football.
With clubs being run as businesses first, the players know that they are more valuable assets to the than almost anyone else, and whilst this shift to player power has been happening for some time, the Kepa incident was possibly, and sadly, just the first of more to come.